vdimm & vcore mods for ASUS M2N-E SLI
Hello,
I would like some help volt modding my motherboard. I need to know what points to read from and what kind of resistor to use? I have took some pics of my motherboard, and have a good idea where my vcore is (shown in the the pic below).
Maxx voltage via bios is 1.95vdimm and 1.25vcore.
---
ok i got the vcore modded, and it worked! woot! i have yet to try vdimm but thats soon to come.
anyways for anyone else trying to mod this board here's the diagram i used
http://www.fly-well.com.tw/Products/...ek/RT9246A.pdf
. you want to solder the resistor between the "FB" pin and ground, and reduce the resistance to in increase the volts.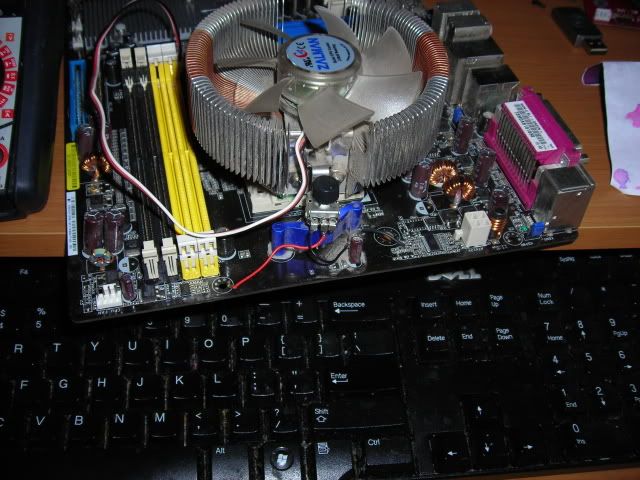 ---
New to Overclock.net
Join Date: May 2009
Posts: 35
Rep: 0
hey thanks dude i've been looking for a voltmod for this board for a while! hopefully i'l get time in a few weeks to try it out
---
GHXpert59-Either way we help cure cancer. One way we get prizes.
I realize this thread is old as the hills, but I've just acquired an m2n-sli board and am making a classic pc gaming machine with it. I'm addicted to overclocking, and 1.2 vcore with an Athlon 64 X2 3800+ makes me sad. The link for the diagram is down, do you happen to have it downloaded onto your machine, or know where i can get it otherwise. There is not much info for volt modding this board anymore as its popularity has fell by the wayside. Any info would be greatly appreciated. I am completely new to volt modding, but am fairly good with a soldering iron, and am not afraid to get my hands (or hardware) dirty.
Currently Active Users Viewing This Thread: 1

(0 members and 1 guests)
Posting Rules

You may post new threads

You may post replies

You may not post attachments

You may not edit your posts

---

HTML code is Off

---