Discussion Starter
·
#1
·
Hey guys,
I'm currently searching for a new headset and have run into a few problems. I already have a few in mind so that's not really what I'm looking for here. I am having difficulties figuring out what the options are for my current setup though, so that's what I've come to ask about. Specs are in my sig, but to make it quick I currently have:
Audigy 2 ZS
Klipsch ProMedia 5.1 speakers
Logitech Precision Gaming headset (stereo)
So... the story is that the Logitech headset is terribly uncomfortable for extended gaming sessions and I'd like to replace it ASAP. I'm still in the process of deciding between one of the following:
Razer HP-1
(5.1, 3.5mm)
Turtle Beach Ear Force HPA2
(5.1, 3.5mm)
SteelPad 5H v.2
(stereo, USB)
Tritton AXPC
(5.1, USB)
My main concern is that I don't know how 5.1 speakers work in combination with 5.1 speakers. When I'm not on Vent/Teamspeak, I use my speakers rather than the headphones and am not going to plug/unplug them all of the time to switch back and forth. Stereo headphones obviously would not have this problem, but I'd like to get a decent 5.1 set if possible. From what it looks like, there are two types available; 5.1 USB headsets and 5.1 headsets with the standard 3.5mm jacks. I'm quite computer hardware literate, but know very little about audio so this is where I am getting lost. Seems like the 5.1 jack headsets plug directly into the sound card, and the USB versions use an internal sound card. The Razers use the 3.5mm jacks, and a USB connection to power the amp/control. Am I able to plug in both the speakers and headphones into the Audigy using splitters like this without losing sound quality/volume?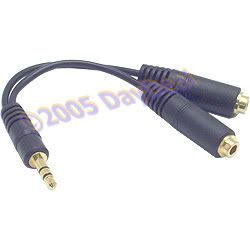 On the other side of things... the sets that use only a USB connection completely ignore your sound card and use their own built-in devices. Basically, I'm looking for a solution in which I can put down the headphones and turn on the speakers, and vice-versa, without having to go change any system/game options for which sound device to use. Would that be an issue or do I not understand it correctly?
Thanks