Discussion Starter
·
#1
·
By SHOGGY
We have to admit that radiators where a thing that we have neglect over the last years. So far the most radiators that we offered lately are Asiatic, the only exception was the airplex Revolution. We were tired of dealing with quality issues that we always had with them so mid last year we decided to produce the radiators in our halls in Benniehausen, Germany. This was a radical step for us and therefore we felt that this must be something innovative which will get some attention in the market and should be the state of the technology at Aqua Computer for the next years.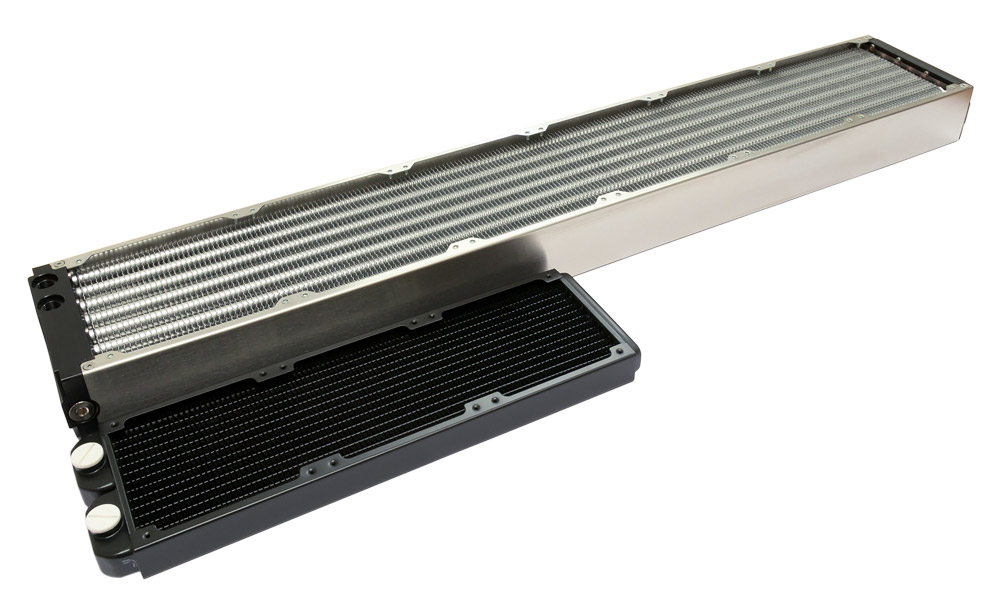 Stephan had several ideas which not only lead to a new radiator but to a new modular system: the airplex modularity system (ams). This system is completely modular and has many advantages over other available systems at the market. The most important are:
*absolutely modular system
*patent-protected connector system
*consistent counter flow principle
*extreme huge cooling performance
*very compact - shorter than the most other radiators, only 146 mm wide
*expandable in all dimensions, unlimited size
*no solder residues since no parts are soldered
*demountable to every single part which also allows easy cleaning if necessary
*system with independent loops in one radiator
*optimal flow / parallel tubes
*no coating for perfect heat transfer
*many colors available for the side frames (stainless steel brushed, aluminum black, blue, red)
*optimized fins for low fan speeds and great performance when used passive
*no mixed metals (especially no tin), no aluminum has contact to the water
*CNC produced Delrin and stainless steel parts
*high accuracy of the parts allow a perfect assembly of all parts
*riveted threads
*very extensive range of accessories (reservoir, pump modules, stands, filter, sensors, ...)
*approved operating pressure of 5 bar (other radiators <1bar)
*copper fins available for best performance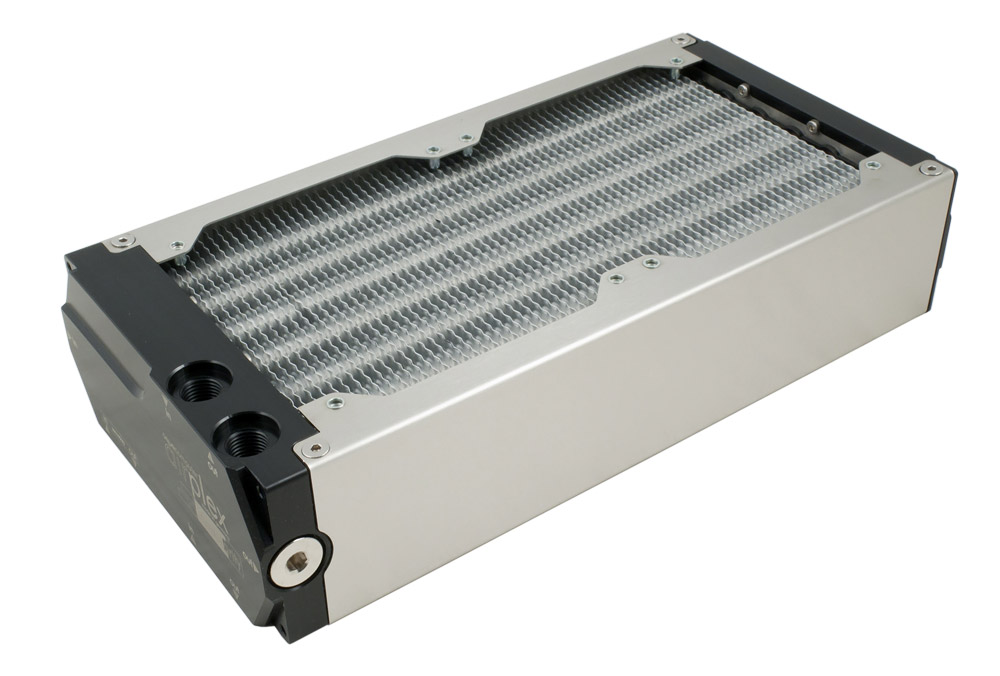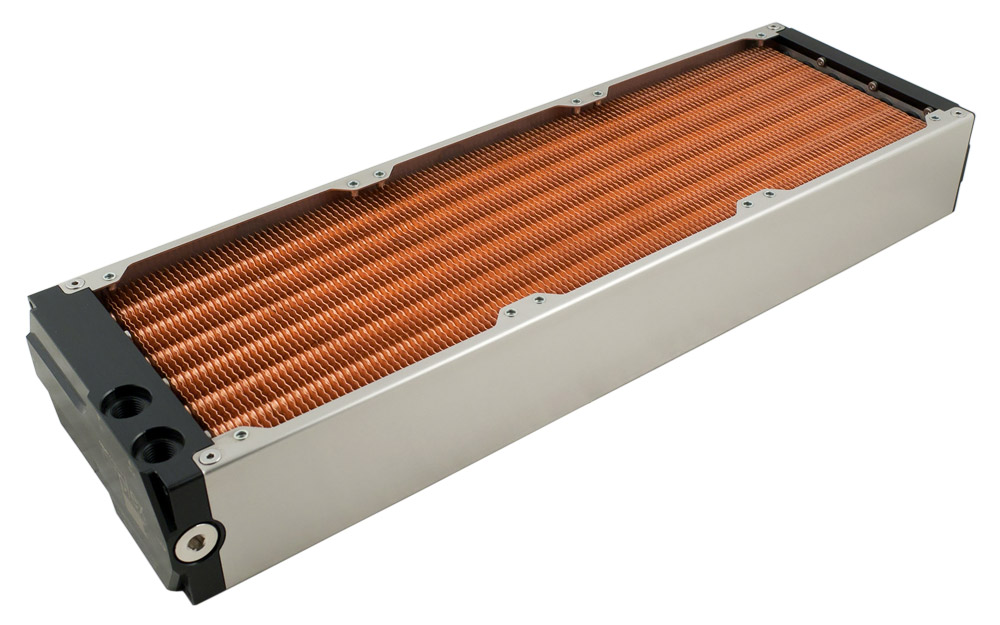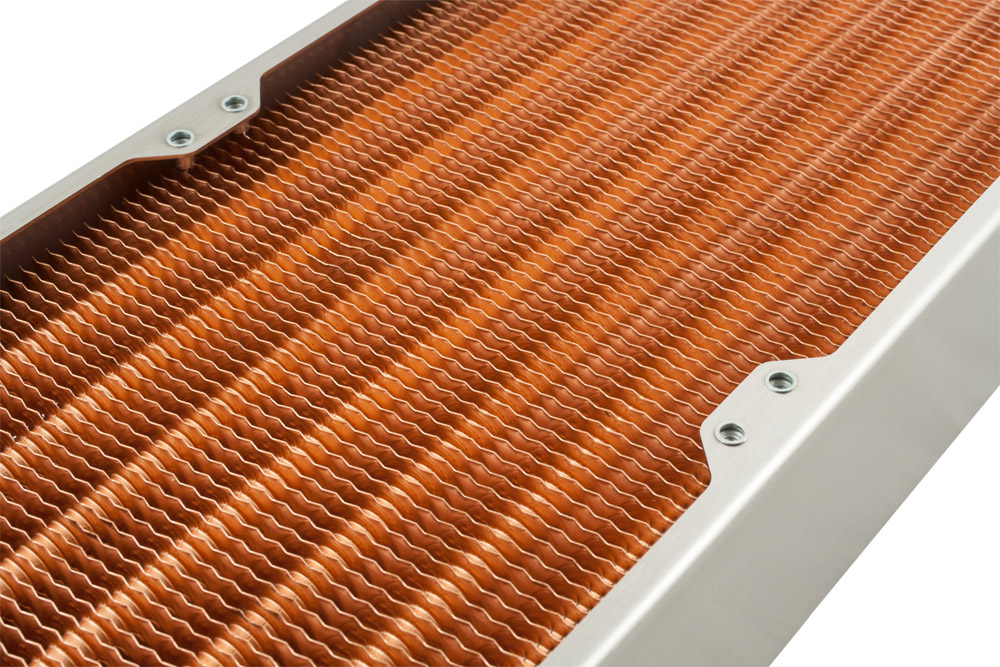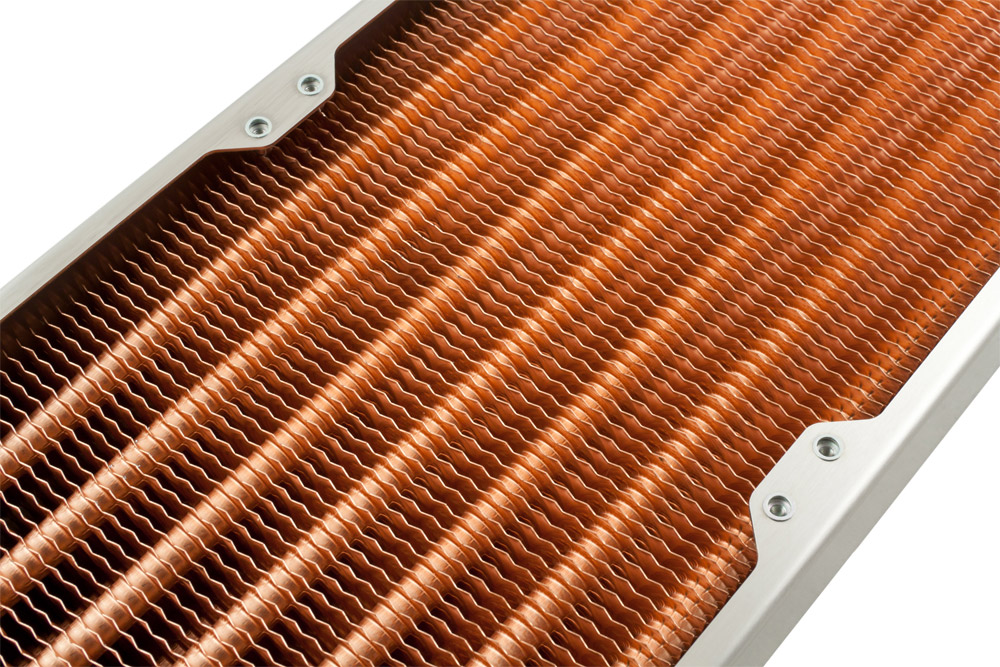 The ams is based on a package of fins with 21 tubes with pre-mounted stainless steel flanges. These are sealed against the fins package with a permanent high quality gasket. On both ends of the package we have delrin terminals which are also sealed against the stainless steel flanges. Everything is attached together with screws.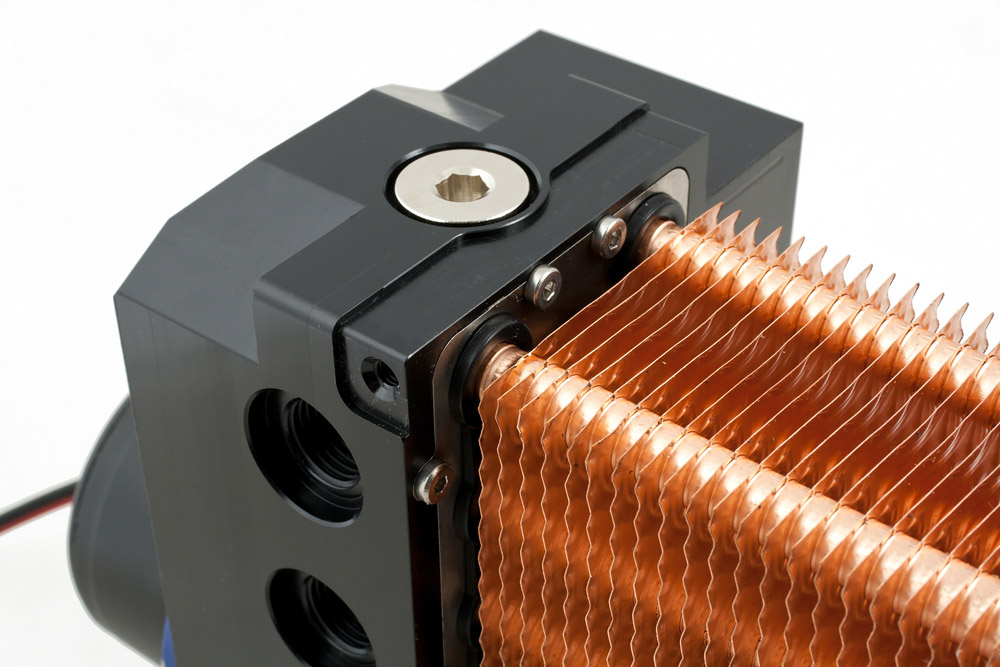 The threads for connectors are counter-sunk hand have a round dent. This dent is a little bit inspired by LEGO because with a little adapter it is possible to mount different ams products together to a single unit.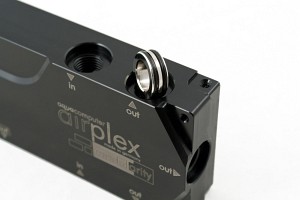 The mechanical fixation is carried out by small stainless steel parts. The Delrin terminals have small dents where these parts can be used. The fixations parts are available for horizontal, vertical or both connections. The flow path in horizontal setups is in series while it is parallel for vertical setups.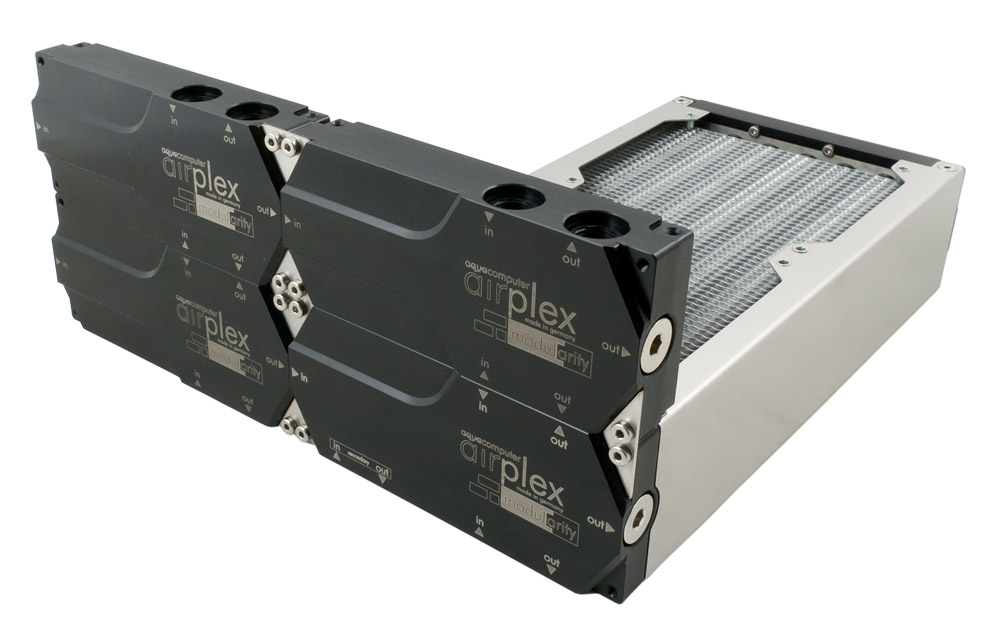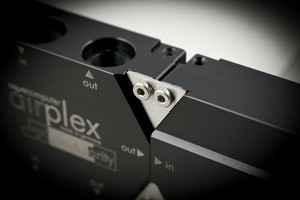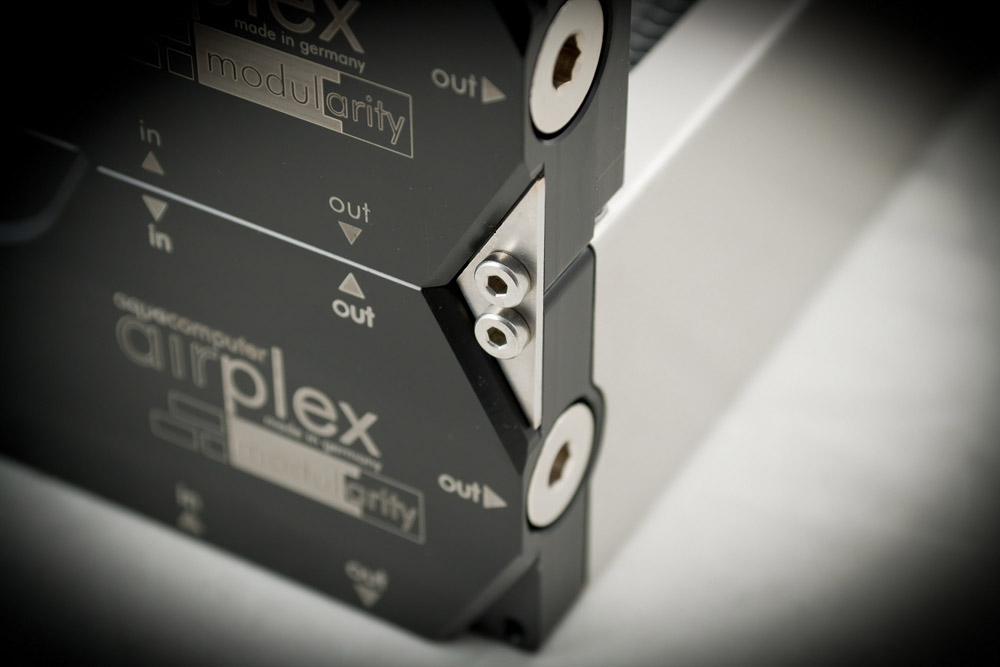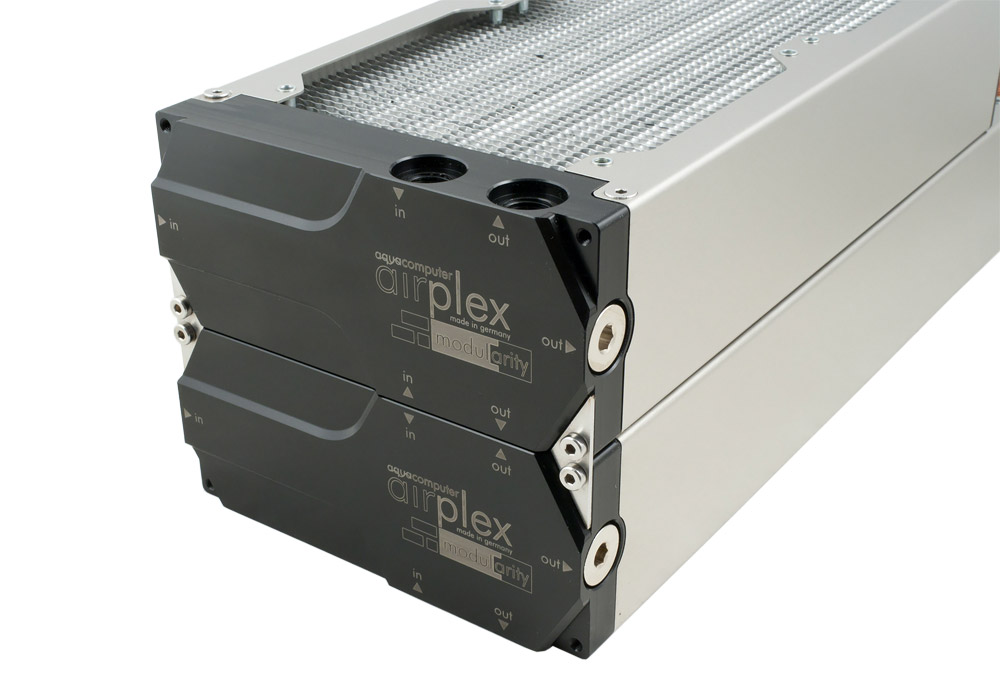 The system can be extended to any length without limits. To achieve this we offer a delrin part which connects two different fin packages together.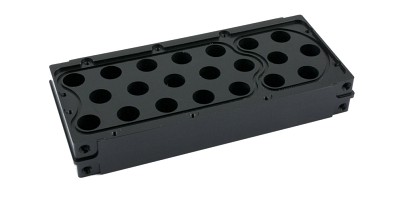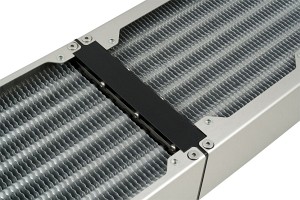 At the beginning we offer the following basic radiators:
1x 140mm
2x 140mm
3x 140mm (copper fins available)
4x 140mm
6x 140mm
2x 120mm
3x 120mm (copper fins available)
4x 120mm
All radiators (120mm/140mm) use the same delrin terminals. Only the side frames and fin packages are different. When purchasing the necessary parts you can also transform a radiator to another model. All types have a width of 146mm so they fit perfect in a 5.25" drive bay. The height of an standard ams package is 63.5mm and it is 44mm longer than the relative fan size. For example 3x120mm = 360 + 44 = 404mm. All threads are G1/4" and can be used with all connectors from our shop.
Two loops in one radiator
The ams offers another nice feature which was not available on the market. Our systems allows to use two independent loops in one radiator. The cooling performance is splitted 70:30 so that the smaller loop is perfect for hardware with a lower thermal dissipation loss like hard-disks or RAM modules. Also this system is modular and the main loop can be extended to any size without limits.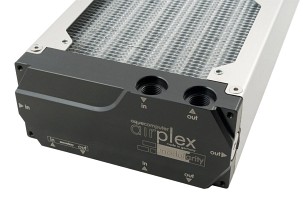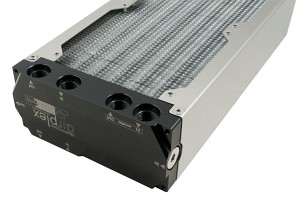 Radiator, reservoir, filter, pump, flow sensor...
An unbelievable compact solution with all things you can think of is the C600 module. This module can carry the following options:
Radiator
Pump
Reservoir
Filter
Water temperature sensor
Flow sensor
Pump controller
integrated fan controller
USB interface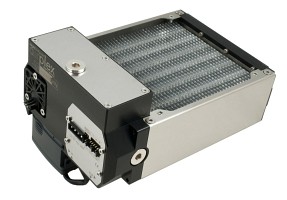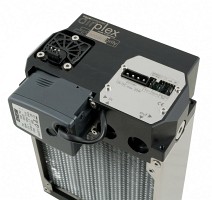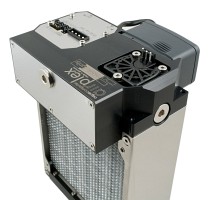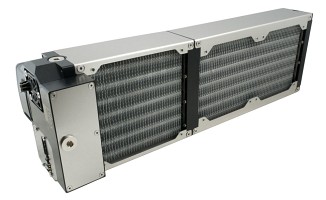 All this in one module without any tubes, directly connected to each other with large cross sections. This module still allows to add other modules in the horizontal direction. The pump uses the ceramic bearing from our aquaduct series. The pump controller is based on the aquastream XT and allows easy control and monitoring options via USB and our aquasuite software. The pump works almost noiseless and does not generate annoying vibrations. A special variant of this module can also be used with 24V and offers potential-free alarm outputs.
The C600 module is as high as a 25mm fan. This way it can be mounted to the top of a case. Of course we will offer compatible mounting covers for it which also allow direct access to the integrated reservoir. The aquastream XT based pump controller allows to use the pump with a pressure of up to 350mbar. Of course the controller can read out the flow sensor and offers a rpm signal output. It is also possible to connect it via aquabus to the aquaero controller.
The module comes with an integrated sensor for the water temperature. This value can be used for the integrated fan controller. Depending on the used fans it might be necessary to use a poweramp to provide the fans with enough power. A flow sensor and filter is available as optional accessories. It can be easily installed later to the C600 module. The filter has a large surface like our single standard filter and the flow sensor is pretty much comparable to our high flow sensor. The pump can be easily removed to clean its impeller chamber. The pump is only locked with two little stainless steel parts and two screws.
Also available with Laing D5
Also pretty compact with a powerful pump and a minimum amount of vibration is the D5 module. It features:
Radiator
Pump
Reservoir
Filter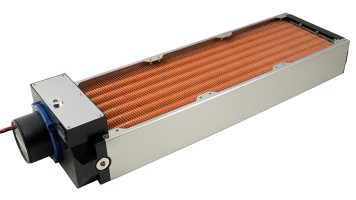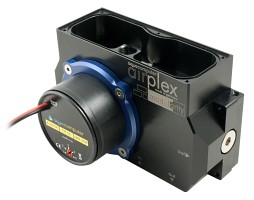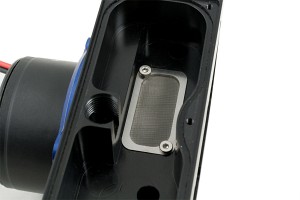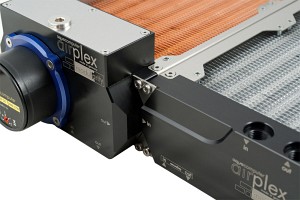 This module can be used with 12V and 24V. The power of the pump can be adjusted stepless via its electronic. Like the C600 module it is also possible to remove the pump. It also offers an integrated reservoir with a filter. Other than the C600 module the D5 module can be extended into both directions.
For both pump modules we will offer another reservoir which can be exchanged with the other delrin terminal. This combination allows to run the whole setup vertically.
Secure stand
Especially very helpful for an external setup we offer three different types of stands for the ams. Other variants will follow.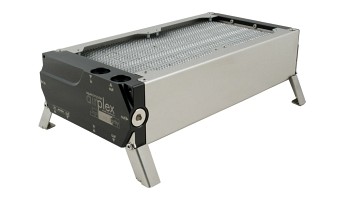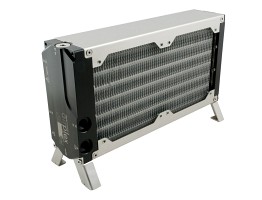 What's next?
The ams is already available in our shop, the delivery will start mid June with the standard radiators. The colored variants and some modules will be available a bit later.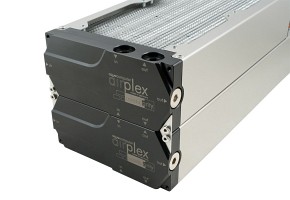 These are only the first steps for the ams. We are pretty sure that this system will redefine the segment of radiators with a level of quality that was not available so far. We already have many other modules and possibilities in mind and a few are already developed. A few of them will be a really big surprise - take that fore sure! The ams is very flexible and will allow hundreds or thousands of combinations so maybe your setup will be unique
EDIT: This is just my repost.
I'm considering the Copper Version
The basic dimensions of the radiators are always
Length: fan size + 44 (e.g. 3 x 120 + 44 = 404)
Height: 63.5
Width: 146
The variants with a pump and integrated reservoir are 25 mm higher (= the height of the fans).
The pump modules without the pump are 26 mm longer so you have to add a total of 70 mm to the fan size.
The D5 pump sticks out another 36.5 mm while the compact 600 pump sticks out 35 mm downward.
Example for a normal 3 x 120 mm radiator without any special module.
Length: 3 x 120 + 44 = 404
Height: 63.5
Width: 146