Discussion Starter
·
#1
·
PowerColor is one of many companies offering ATI's HD5800 series graphics cards. This article contains a brief comparison between the following two models:
PowerColor Reference Radeon HD5850
http://www.newegg.com/Product/Produc...82E16814131184
PowerColor PCS+ Radeon HD5870
http://www.newegg.com/Product/Produc...82E16814131336
Since November, I have owned the following cards for some length of time:
-Sapphire Reference 5770
-Two MSI 5770 Hawks
-PowerColor Reference 5850
-PowerColor PCS+ 5870
I have become very familiar with the 5000 series and have seen their capabilities first hand. I have finally gotten around to posting my results, so I hope they answer some questions for anyone concerned
This is a straight up numbers, experience, and opinions post. If you want to know more about the bells and whistles, specifications, and such go find one of the many online reviews populating the internet. The only additional information I really wish that I would have included is power consumption... My Kill-A-Watt is so lonely.
Relevant Systems Specs
-Core i7 860 @ 4.0Ghz HT Disabled
-4GB G.Skill ECO DDR3-1333 @ 1600Mhz 8-8-8-24
-Foxconn Inferno Katana P55 ATX Motherboard
-Western Digital Caviar Black WD7501AALS
-Drivers: ATI Catalyst 10.2
*Disclaimer: The PCS+ has slightly higher core and memory clocks than the reference 5870, but I will refer to its default clocks as its "stock" clocks. Just keep that in mind.


Overclocking
5850
-When it comes to overclocking, the 5850 is king. Given its paired down design and reduced clocks it lends itself especially well to this task. The results speak to this, as I was able to attain a very comfortable 24/7 overclock at 950MHz and 1250MHz core and memory clock, respectively. This is a massive
31%
increase from the reference core clock. This sample can do a bit more, but I prefer not to work at a maximum attainable clock for full-time use... The performance gain is not worth the increased heat, power consumption, and decreased stability necessary to gain a few extra MHz (I was able to get around 965MHz stable benchmarking).
5870
-This model of the 5870 is a different story entirely. PowerColor has given us a product with amazing cooling capabilities and a very mild 25Mhz on both the stock core and memory clocks, but they've taken something very precious away from us... software voltage control. Thanks to this, my experience overclocking the 5870 was not nearly as riveting. The PCS+ ships with clocks of 875MHz and 1225MHz for core and memory, respectively. For comparison purposes the overclock I used is the same as the 5850 (950/1250), which amounts to a mild 8.6% core clock increase. I was able to attain around 970Mhz core clocks but its stability was questionable. Some dimensional tidbits to note: The 6-pin power connections are located at the back of the card, not the side like the reference model and the heat pipes protrude in excess of an inch away from the card. Make sure your case can accommodate these attributes.
Benchmarks

-It's a short list, but I think it illustrates scaling and relative performance well
-Street Fighter IV
-Dirt 2
-3dMark06
-3dMark Vantage Performance
-3dMark Vantage Extreme
-Heaven Benchmark
Street Fighter IV

-1920x1200 - 8xAA/16xAF - Max Settings - Low Blur - V-Sync Disabled-A great game, but not one that stresses the 5800 series in any capacity at maximum settings. Why include it? Because it scales well with overclocking and it has a built in benchmark. Note: V-Sync was disabled for this benchmark, as it consistently runs over 60FPS.
Dirt 2

-1920x1200 - 4xMSAA - High Setting
-1920x1200 - 4xMSAA - Ultra Setting
-Dirt 2 is a beautiful racing game that takes advantage of the DirectX 11 feature set offered by the 5000 series cards. It's fairly demanding and is a good measure of graphics performance.
3dMark06
-Default 1280x1024 Setting
-Love it or hate it, 3dMark is the standard for comparison benchmarking. It's a good (not perfect) indicator of relative performance, and there is something deeply satisfying about rocking its socks off with a powerful system.
3dMark Vantage
-Performance
-Extreme
-More of the same, just when you thought that you whipped 3dMark06, Vantage comes along to rain on your parade. It's brutal yet wondrous to behold… overstatement indeed, but you try coming up with clever tidbits for each benchmark… (You had better not, it's MY thing!)
Heaven Benchmark
-1920x1200 - DX11 - High Shaders - 4xAA/8xAniso - Tessellation Enabled
-1680x1050 - DX11 - High Shaders - 4xAA/8xAniso - Tessellation Enabled
-Heaven: A DirectX 11, tessellation-heavy benchmark that will make us feel either good or bad about our hardware while showcasing technology that won't ever be fully-utilized in the games we love. That said it's still neat to toggle tessellation on/off while looking at the pretty dragon.
The Numbers
-Now that we've got all of that text out of the way, I'll show you what you're really interested in… The comparison excel charts. Yay! Ooo! Ahhh! Anyway, this review became sillier than originally intended. I guess when it starts to feel like a homework assignment I acquire the urge to inject a failed attempt at humor into an article… Oh well, I already typed it. I won't un-type it.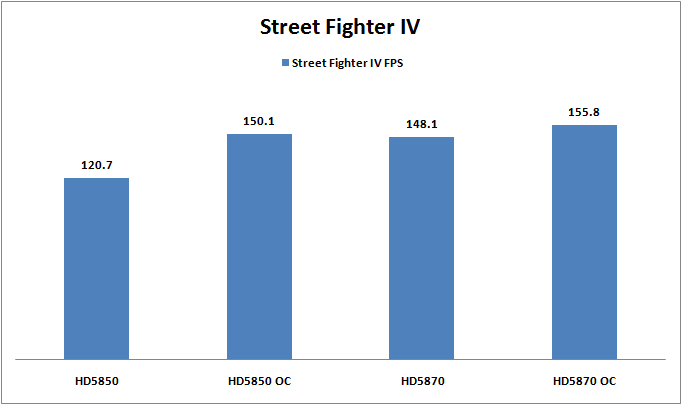 We're dealing with frame rates exceeding 60FPS by two-fold, so really it's a moot point… however it's exhibitory of how well the 5850 scales. A 31%/25% respective clock increase (I'll assume the clock increases from now on to avoid retyping it over and over) results in a 24% frame rate, bringing it past the 5870's stock FPS. Overclocked, the 5870 is able to regain the crown by a slim margin.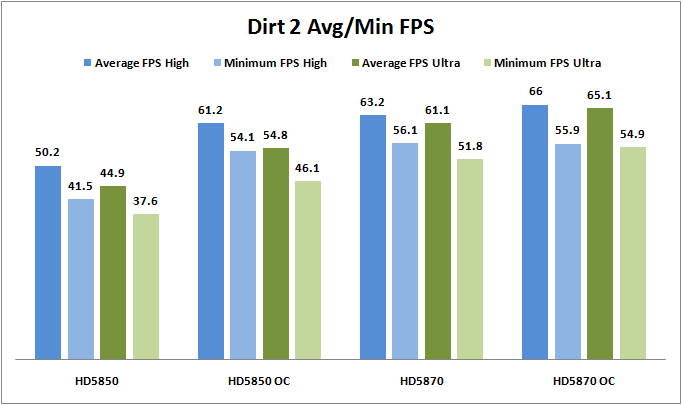 Dirt 2 is demanding. It makes full use of today's high-end cards and requires a fairly powerful system to run well at high settings. The 5870 shows its muscle here, distancing it from the 5850, especially when the ultra setting is enabled. Overclocked, it barely takes a frame rate hit when making the shift from high to ultra. However, the 5850 continues to demonstrate its effective overclocking prowess. Overclocking results in a 21% and 30% average and minimum frame rate increase, respectively (High). The 5870 definitely outshines the 5850 in Dirt 2, but the 5850 continues to make a compelling case.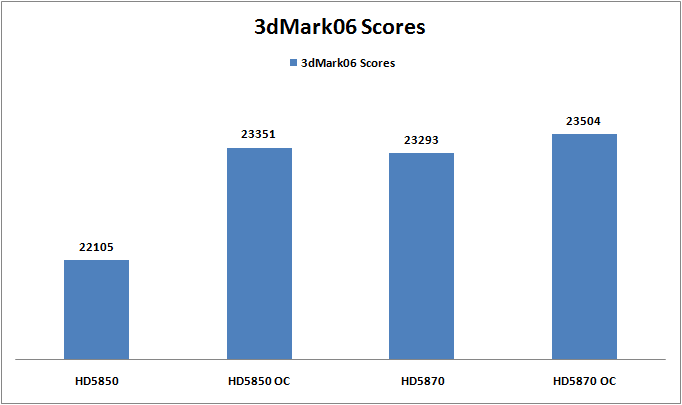 A common theme prevails: At stock settings the 5870 soundly outpaces the 5850, but overclocked to equivalent clocks that difference becomes much less significant. Overclocked, the 5850 overcomes the stock 5870.
In performance mode, Vantage plays the same tune as 3dMark06. However, at extreme settings the 5870 stands firm and flex its muscles.
We have seen how well GTX 400 processes tessellation, but the 5800 series holds its own. The 5850 average and minimum frame rates both increase by 27% as a result of overclocking making it very competitive with the 5870. Given the settings the benchmark was run at, I think these are fairly impressive results.
Conclusion
I purchased the HD5850 in January for $290 and the HD5870 PCS+ in February for $410 (USD). Is the $120 price difference between the two cards justifiable? (Reference 5870s can be had for less) That depends. There are key differences between these two cards, dissimilar from a comparison between two reference models as the raw data does not tell the full story.
This HD5870 is special. It features PowerColor's PCS+ cooling system. What does this mean for temperatures? It means that this 5870 is the coolest running graphics card I've ever used. At 40% fan speed, the highest speed at which the card is inaudible outside the PC case, it idles 3-4C above ambient (in an 18C room it idles around 22C) and loads about 25-35C over ambient when truly pushed in a well-ventilated case. I have yet to see it breach 60C. The reference 5850 on the other hand is a bit louder and definitely runs warmer (especially when overclocked) than this 5870 model. This would most likely not be the case with a reference card, but in this particular situation it is.
One key advantage that (most or all?) reference cards feature is software voltage control. The PCS+ and many other non-reference models do not include this option due to their implemented voltage circuitry.
Which graphics card you purchase depends on many factors. For no-fuss performance and outstanding thermal control, the PCS+ series is a fantastic buy and definitely worth the premium. Those looking for extensive overclocking support should look elsewhere.
Personally, I have decided to keep the PCS+ 5870. The PCB is dorky but the card itself looks fierce, the performance is awesome, and the heat output is fantastically minimal. The main point of this article is to show how minimal the performance difference between the two cards is in most applications when running at equivalent clock frequencies. Across all of the above benchmarks, the overall difference between the two cards is as follows:
Stock: 19.5%
5850 OC vs. 5870 Stock: 1%
Overclocked: 4.7%
Please feel free to ask any questions about my results or post comments… I can run further benchmarks on the 5870 if requested but I no longer have the 5850. Once I find my benchmarks for the 5770 crossfire setup I will post those as well.
Thanks for reading and happy overclocking,
StarYoshi