Discussion Starter
·
#1
·
Long story, but I have alot of machines. Alot of pretty cool ones, I think. There is not going to be any crazy modded stuff, just some good stable rigs, most of which are overclocked. I'll try to separate into separate posts in this thread.
This is my main home machine, which gets upgraded about once a year more or less, not counting little things.
The latest things to change were the case, H2O layout and drives.
As it stands, it's running a G0 Q6600 I grabbed from ebay a while back on a DFI DK X48 T2RSB with 4GB of G Skill PC2 1066. It does daily duties at 3.6 with a 402 FSB. The cool thing about this machine is that it runs with Virtualization, C1E, and SpeedStep ENABLED. Vcore is 1.5 in BIOS but shows 1.47 in CPUz. It throttles down to 2.4 when the CPU is idle, which to me is funny since it's the stock speed of the chip
A single GTX260 does graphics duty and is plenty fast for the 1680x1050 monitor I use.
I originally had 8GB of the GSkill, but it refused to be fully stable with 4 sticks. I can't tolerate any instability, I'm too obsessive and can't leave things alone, they have to be %100.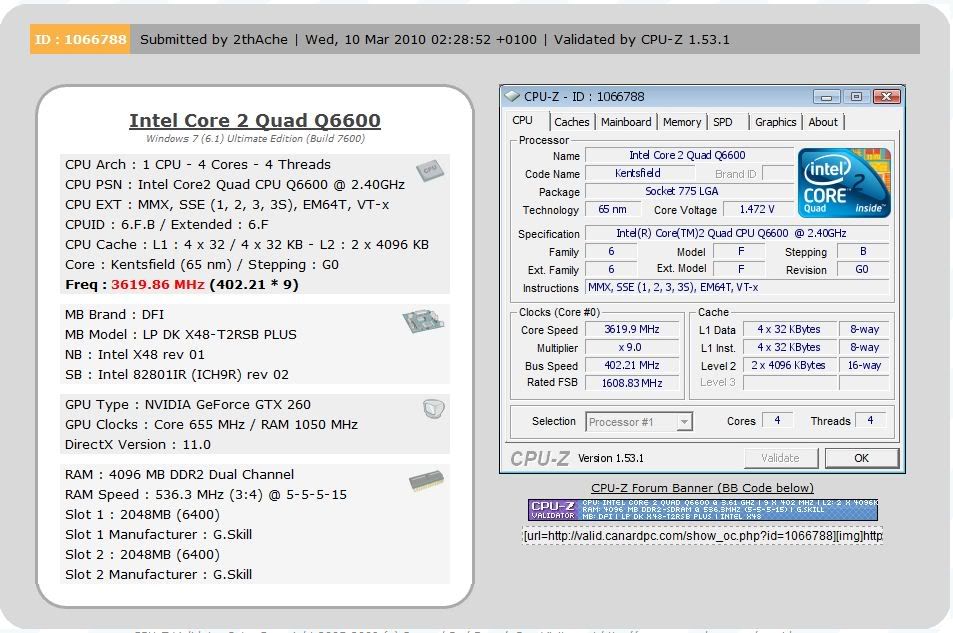 A Lite-On IDE SOHD 16P9S and a Samsung SATA DVD-RW are up front, the reservoir is beneath them.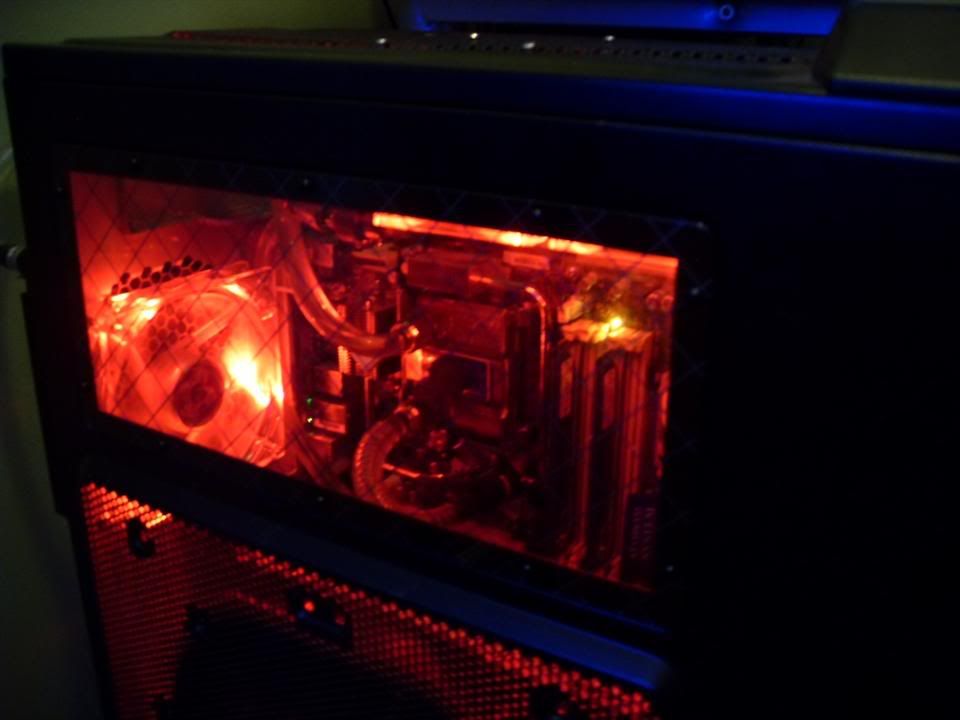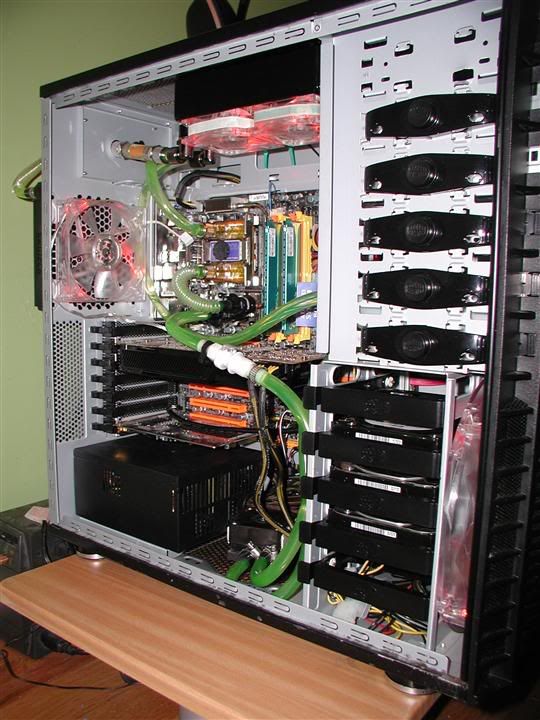 Two WD 500GB/16MB SATAs in RAID 0 are the main storage, with a WD 1TB/32MB SATA used as a clone (I clone the entire array with Casper 4.0) This machine dual-boots Win 7 32bit and Win 7 x64.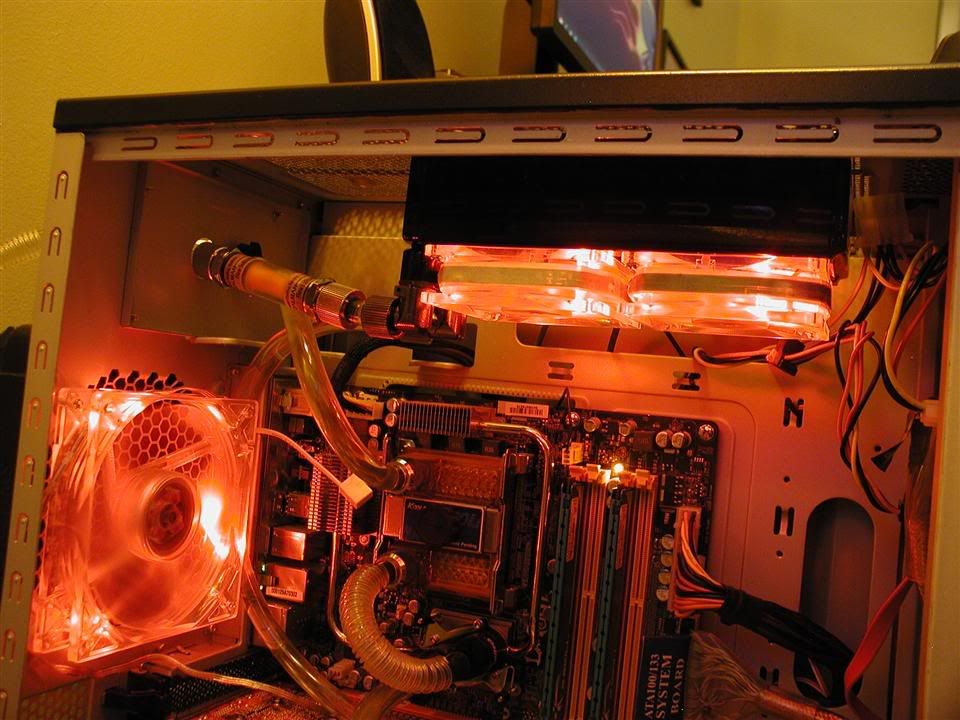 The 3/8" water cooling started as a Corsair Nautilus. I used Tygon tubing for most of the plumbing. A double-deep 2x80 is up top and a 120mm radiator out back. Why 2x80? Because I had it from the old
case and it's an extremely good radiator. I've used blocks on previous GPUs, but IMO they are too expensive for what they're worth unless I go SLI with this machine. Now I just use a manual fan control. I used the quick-disconnect couplers from the corsair system, placed so that the board can be uncoupled from the main loop and taken out of the case without draining fluid. Pretty cool! The pump is fixed to the bottom of the case.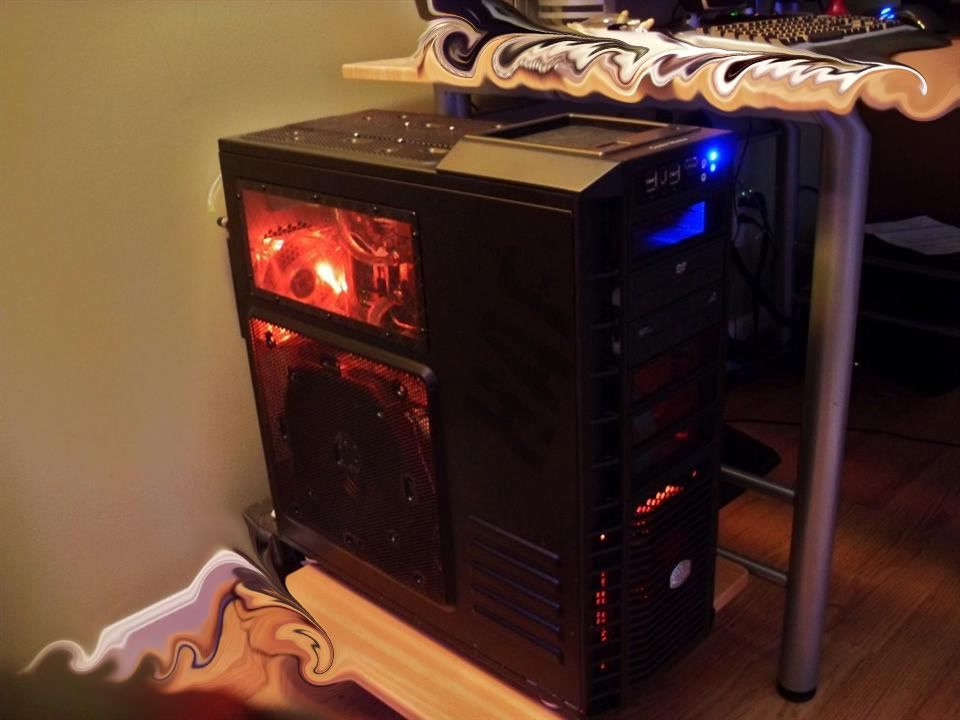 A couple more shots, I blurred some 'cause of the crap on my desk detracting from the machine
Top view you can see the 2x80. Looks small in this giant case.