Discussion Starter
·
#1
·
My Inspiron can become quite hot. So I decided to use my air-conditioner air to cool it. Simple enough.
Bought some 3" aluminum flex tube pipe and a 3" plastic tee to divide the air because I wanted to cool my power amplifier as well.
At first, it was working well, but then condensation became a problem after an hour.
I figured I have to buy some fiberglass insulation to wrap the pipes. I warn you that FIBERGLASS IS VERY DANGEROUS. You should cover your whole body and wear protective gloves, glasses, and mouth guard. So after sealing the fiber glass with duct tape, condensation is not a problem anymore.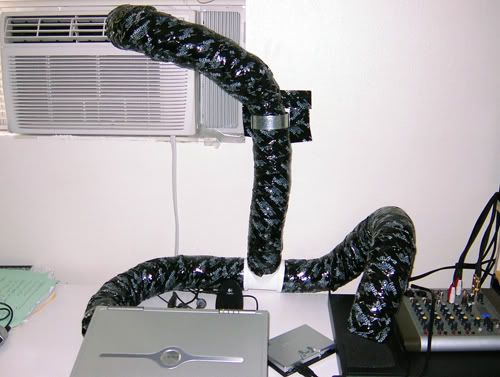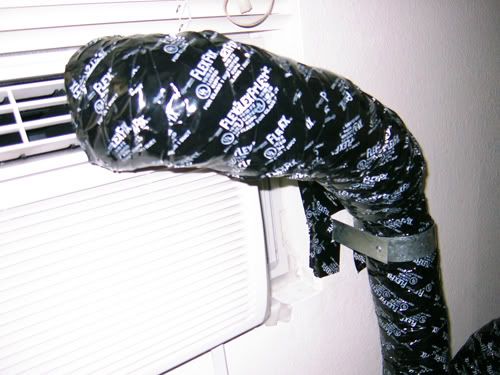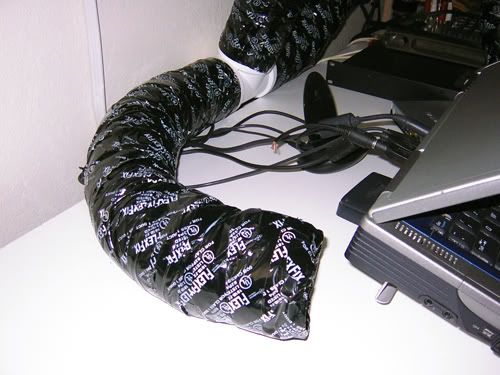 I found that Home Depot had everything I needed (duct, clamp for the wall mounting, fiberglass insulation). All can be bought for less than $40. Their 3†by 8' is quite short because you only get 6'. You're going to have to buy the big bag of fiberglass but its only $10.
I found my notebook's HD, CPU, and video card temperatures dropped about 7C with 21C (70F) air coming from the air condition.
What do you guys think about this setup?
UPDATE 0.5
I have removed my Bytecc notebook cooler and added height with a USPS Priority Mail box. I found that the air from the duct can flow right underneath the notebook without any interference. My temperatures have not increased without the cooler.
UPDATE 1.0
Rearranged my setup and now I have it like this!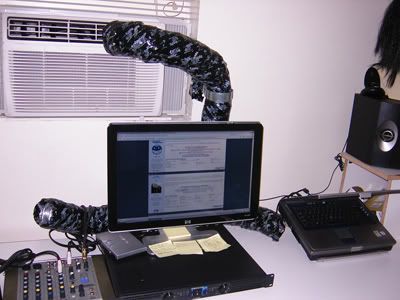 The left vent is for my PS3. I would sit it up vertically and let the duct provide cool air for the bottom front vents.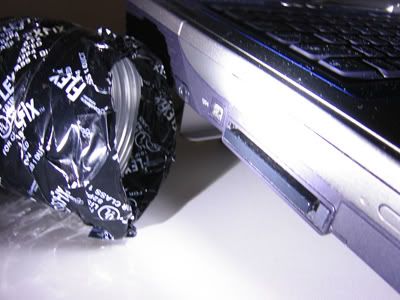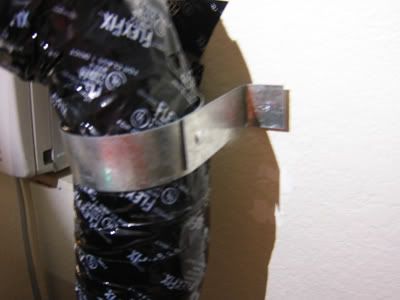 UPDATE 2.0
I rearranged it again, because the placement of the bracket was slipping because I had one side with duct tape and the other screwed in with drywall anchors. The new arrangement has two drywall anchors and a different location on my wall. I also have my PS3 here in the picture.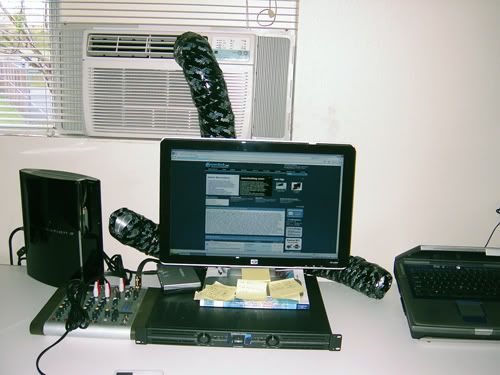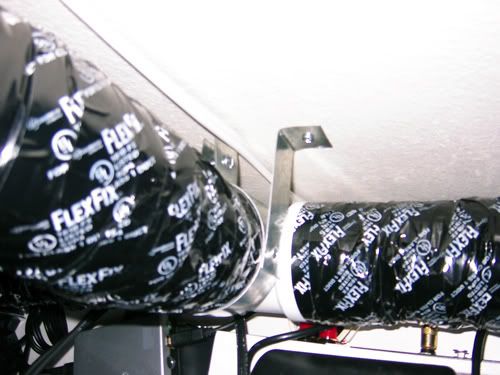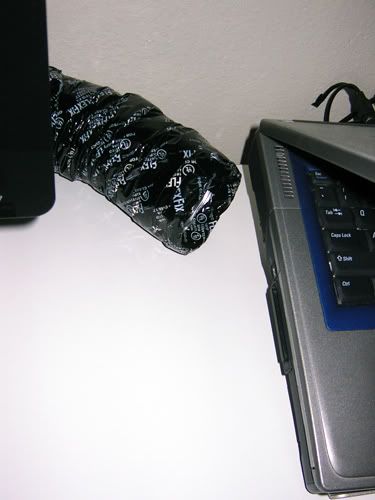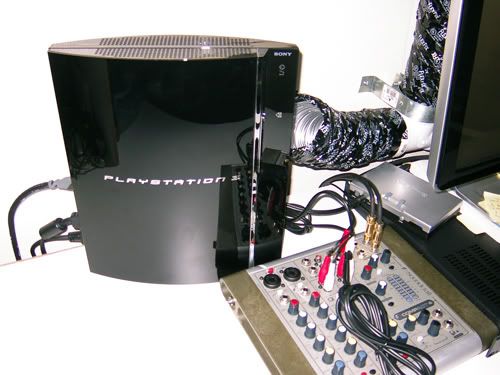 This cooling helps when I'm folding with the PS3
UPDATE 2.5
I changed the location of the duct for the PS3 after looking at this
site
for the location of the fan intake. I also positioned the duct to cool the hard drive as well. I plan on getting some dry ice to test the airflow.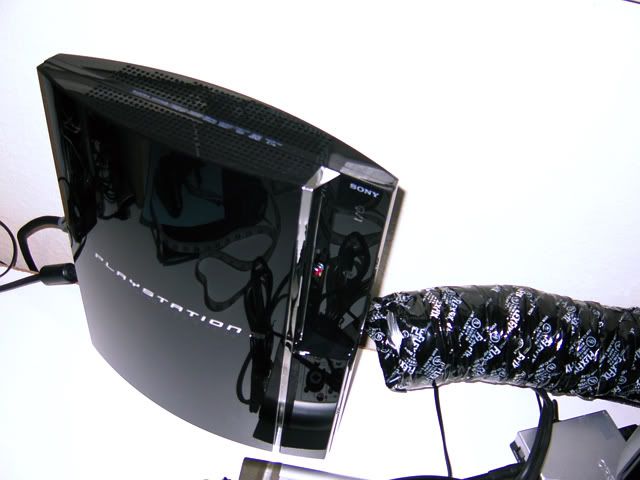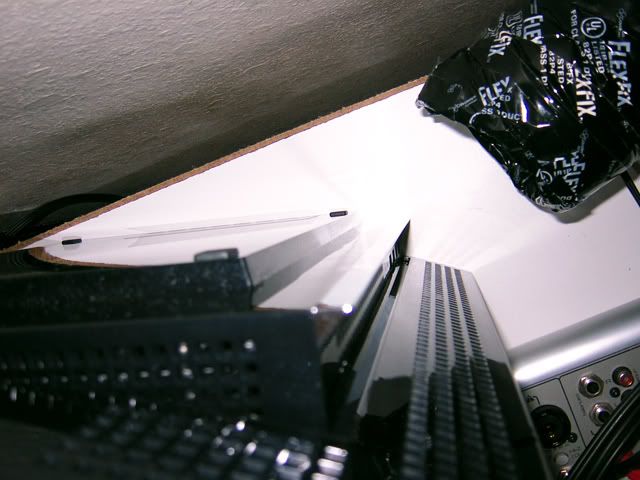 UPDATE 3.0
Okay so I've removed this contraption because my friend would always complain of having a headache.
I though he was being a whiny prick but he had a point because we have identical equipment (other than this duct) in our rooms and yet he doesn't have a headache at his house.
So I pretty much devised a test where I would remove it for a week and invite him back to see if he had a headache and he didn't have a headache.
I have to see that when I finally removed the duct, I did noticed my head feeling lighter than usual.
I can only think of two reasons behind this:
Reduced air capacity

The duct had taken half of the air coming out of the unit. With that as my only source of air, obviously it would be harder to breathe.

Aluminum bits

If you ever tried to handle bare aluminum or tried to polish it, you know it's a dirty business. I figure those black bits may be the cause of it.

I wouldn't thought that I've done a bad job with the fiber glass, but I would've been coughing blood left and right by now.
Also, there really isn't an "intake" to the PS3. After dissecting it to clean it and replace the thermal paste (
link
), I found that the front is a shroud and maybe the lower exhaust in the back MAY be the intake, but I feel hot air exiting that hole.