Discussion Starter
·
#1
·
AMD Radeon HD 6000 Card Pictured... maybe? [speculation]
Quote:
An unnamed Radeon HD 6000 series card has been pictured at Chiphell. Kind of, anyway. Half of the card has been cropped out. The first thing worth noticing is a somewhat bland, boxy, yet elegant, cooler, with a massive fan.

The card also seems to be fairly long - around the same length as a HD 5870.


source:
http://vr-zone.com/articles/amd-rade...red/10018.html
AMD Radeon HD 6870 pictured, can control five monitors(TechConncet Magazine
AMD Radeon HD 6870 leaked(bit-tech)
AMD Radeon HD 6870 Reference Design Looks Refined, Ready to Market(techPowerUp!)
AMD HD6870 info/pic leaked - ATI branding ditched(KitGuru)
AMD Radeon HD 6870 pixellized(Fudzilla)
AMD Radeon HD 6800 Document Leaked(VR-Zone)
Update:
AMD Radeon HD 6870 leaked | bit-tech.net (10-8-2010)
Quote:
The first picture of AMD's reference-build Radeon HD 6870 has been leaked ahead of its launch, and reveals an impressive collection of connections….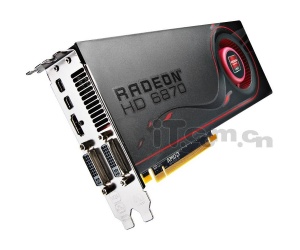 Link
Update: 10-11-2010
Radeon HD 6870 faster than GTX 460[FUD]
Quote:
The latest that we have gathered about AMD's controversial new graphics cores, codenamed Barts (not Simpson ed.) claim that Radeon HD 6870 should easily be faster than a Geforce GTX 460 1GB.

This also implies that this card should be priced slightly higher than a Geforce GTX 460 1GB, so we expect that Radeon HD 6870 should cost around €250 / $250 USD if not a few bucks cheaper.
Update: 10-11-2010
Leak Reveals Supposed Picture of AMD Radeon HD 6850
Quote:
… Now, the HD 6850 has, apparently, been detailed as well and a photo of it has reportedly made its way to the web.

The board is powered by a graphics processing unit with a clock speed of 775 MHz and features 1 GB of GDDR5 VRAM running at 4,000 MHz. …


Update: 10-11-2010
AMD Radeon HD 6850, HD 6350 slide into view (Hexus.net)
Quote:
… Following on from the 6850, Chinese website ChipHell has chimed in with an image of what's believed to be the first product from the Radeon HD 6300-series, presumably the Radeon HD 6350.…

… Based on a 650MHz Caicos core, the low-profile, low-end card is believed to feature 1GB of DDR3 memory hooked up via a 64-bit bus.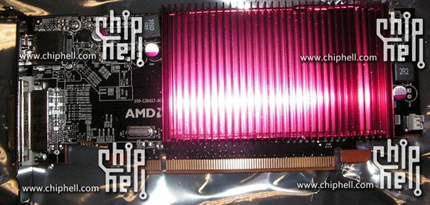 Update: 10-11-2010
AMD Radeon HD 6850, HD 6350 slide into view NDA lifts on new 6k AMD range on 22nd Oct? (TweakTown)
Quote:
Could it be? Only 11 days until the world knows what's under the hood of AMD's new 6k range of graphics cards.

NDA paperwork is starting to come through and it looks like the 22nd is cemented into history as the launch of the AMD 6000 range of graphic cards. While we don't have exact model numbers, our understanding is that the PRO and XT flavours will be coming in, which should carry the 6850 and 6870 names…
Update: 10-12-2010
AMD Radeon HD 6800-series benchmarked (bit-tech)
Quote:
More details of AMD's up-coming Radeon HD 6850 and 6870 cards have leaked, and this time we've got some hard numbers - albeit ones that don't paint the new devices in a particularly good light.

Chinese-language tech site XFastest.com claims to have got its hands on some of AMD's as-yet unreleased 6000-series Radeon HD cards, and has run them through 3DMark Vantage and 3DMark06 benchmarking suites to see how well they stack up against their predecessors.

Before we get into the numbers, it's worth mentioning at this point that these are preliminary results that come from possibly unfinished hardware and…
AMD Radeon HD 6870, 6850 benchmarked ahead of schedule (hexus)
Quote:
With the unveiling of AMD's Radeon HD 6000-series GPUs now just around the corner, web-based leaks are coming thick and fast.

The latest, published by Chinese website xfastest.com, could be the most significant to date as it includes benchmarks for two upcoming products; the Radeon HD 6870 and HD 6850.

Both GPUs have been caught on camera in recent weeks, but whilst card specifications are merely conjecture at this point, the early benchmarks suggest that the new Radeon HD 6800-series won't be a direct successor to current 5800-series parts.

According to the supposed pre-release 3DMark Vantage and 3DMark06 numbers, the new products are outperformed by previous-generation equivalents…
Update: 10-13-2010
Radeon HD 6870 officially at 900MHz (FUD)
Quote:
1050MHz GDDR5 memory
The chip that was supposed to replace Radeon HD 5770 and HD 5750 and that mysteriously ended up with Radeon HD 6870 and Radeon HD 6850 moniker has finally got its clock. It runs at 900MHz.

As we speak AMD is telling chosen press representatives about the specifics of the chips and how they plan to dominate the word. We still don't see many ATI Radeon HD 5870 owners to be that hot for AMD Radeon HD 6870. I guess the message is that AMD's Radeon is…
AMD with rebranding of the new series (ati-forum)
Quote:
We had already been unofficially announced that AMD have a new name of the upcoming AMD Radeon 6000 series. We can offer you today internal document show that the conjecture and rumors could confirm or disprove in recent weeks.…
Update: 10-14-2010
AMD Leaked slide sheds light on AMD Radeon HD 6970 and 6950
Quote:
Much has been made of AMD's upcoming Radeon HD 6000-series architecture - codenamed Northern Islands - but if you're still wondering what exactly is in store in terms of products, here's how it's shaping up.
A combination of recent leaks, rumours and speculation have the Radeon HD 6870 and HD 6850 launching at the tail end of next week.
Based on the Barts core and believed to be arriving as the new mid-range crop, both products appear to have strong performance credentials, with early benchmarks going as far as to suggest that the Radeon HD 6870 offers close to 50 per cent more grunt than...
More of the same but I would say this article is a little better than the others.
AMD Radeon HD 6000 Slides Leaked
Quote:
The source of most early Radeon HD 6000 series leaks - Napoleon from Chiphell - has now leaked what seems to be official AMD AIB Briefings. It is worth noting that these slides are from as early as August 2010, and some of the information may have changed. The first thing worth noticing that only three new products are mentioned - Barts, Cayman and Antilles - with no reference of rumoured entry/mainstream chips Turks and Caicos. As we know Barts will be the first to release, in October, aimed above the GTX 460. Cayman will be above the GTX 480/470 and will release in November. Antilles, with a December 2010 release, will be an unchallenged flagship…
Barts Die Shot and Drivers Leaked
Quote:
With just one week to go to the release of Radeon HD 6800 series, based on Barts, substantial leaks and information are finally starting to appear. A Chiphell poster has leaked blurred picture of a Barts die. Like Juniper, it is rectangular in shape, but rotated 45 degrees, like Cypress, and features a very similar package. This is no surprise, as Barts is pin-compatible with Cypress. The Barts die is compared to Cypress, and a rough die size is posted (albeit with dubious measurement methods) of 230 mm2. Additionally, a Radeon HD 6800 driver has leaked at Station-Drivers…
Update: 10-14-2010
XFX Radeon HD 6870 photographed
Quote:
The new card has a 40 nm 'Barts' GPU, there has DirectX11 support, and the card would have better performance than the 1 GB nVidia GeForce GTX 460.

XFX video card takes two slots slots occupied, for power, two PCI-E 6pin connectors required. The card has support for 2-way CrossFire, there is a 256-bit memory interface and 1 GB of GDDR5 memory clocked at 5000 MHz is present. The card has two DVI, an HDMI 1.4-and two mini-DisplayPort 1.2 connections....
translated.. sort of
Supposed 6870 Vantage score
Supposed 6870 Heaven score
The low-end 6300 "Caicos" card, a low-profile passive design.
6770 "Barts XT"
AMD Radeon HD 6870 PCB and GPU Pictured

Quote:
HD6000 series graphics cards news of the recent AMD has finally come out and check on the official core product related information Barts.

"Barts" for the next generation of AMD end DX11 graphics card, was named as Radeon HD6800: the Barts Pro corresponds to HD 6850, Barts XT corresponding HD 6870, will be officially released on the 22nd of this month.

Today I chatted with a friend in Hong Kong next-generation AMD HD6000 series of products, when showing a friend through a special channel to get its public version of the HD6800 graphics card sample, so I requested a few friends to help figure according to the article on the use. Here we show by the author to look for the HD6800 and the core according to the PCB….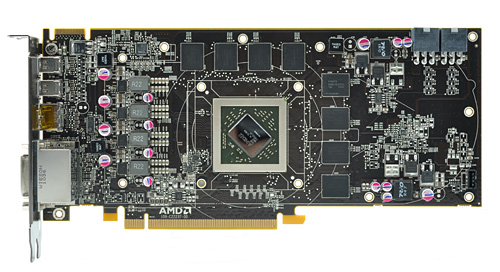 Update 10-15-2010:
AMD CEO confirms next-gen Radeon launch
Quote:
The last rumor predicting the launch date of AMD's Radeon HD 6000 series pointed to a vague November release. However, AnandTech noticed that AMD CEO Dirk Meyer was quite a bit more specific during yesterday's earnings call: "We will be launching our second-generation DX11 graphics offerings next week." Well, that settles it.

Of course, retail availability will lag the official launch. Meyer only committed to...
Radeon HD6870 and HD6850 are accidentally listed
Quote:
Every time, the same accident happens. Someone, somewhere, lists the cards before their official release debut. Hehe, well this time it's a Dutch etailer called Informatique.nl that got listed Radeon HD 6850 and Radeon HD 6870 at 190€ and 255€ respectively. It means that HD6850 is price wise placed in between GTX460 768MB and GTX 460 1GB, while HD6870 seems to...