Discussion Starter
•
#1
•
Quote:
EVGA formally introduced their first motherboard based on an Intel chipset today, the EVGA X58 SLI. For a long time launch partner of NVIDIA based chipsets, this event was somewhat of a surprise when the rumors started spreading a few months ago about the possibility of EVGA utilizing other chipsets. Considering EVGA's continuing in-house development of boards based on their FTW moniker and a quickened pace away from the cookie cutter reference designs, this development really did not surprise us.

What did surprise us is their ability to take a completely new chipset, proceed with a crash development program, and offer a motherboard on the official launch date that is rock solid and very polished for a first time effort. Of course it helps that several engineers from the former EPoX group are on staff and two of the top overclockers around are hand-tuning the product. However, it's not perfect as we mentioned in our early preview blog today, but several of the problems we discussed with EVGA this weekend have already been addressed today with a new BIOS.

...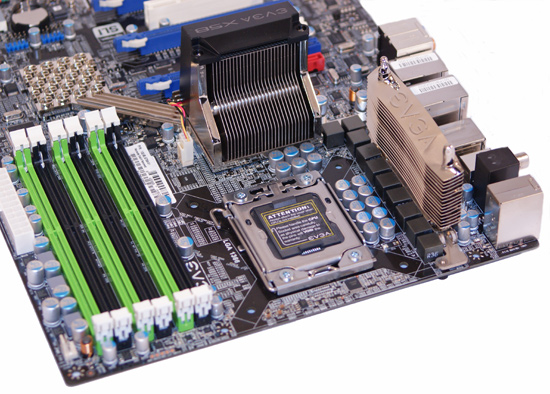 source
Not a total in depth review, but nice pics and some benchies.