Discussion Starter
•
#1
•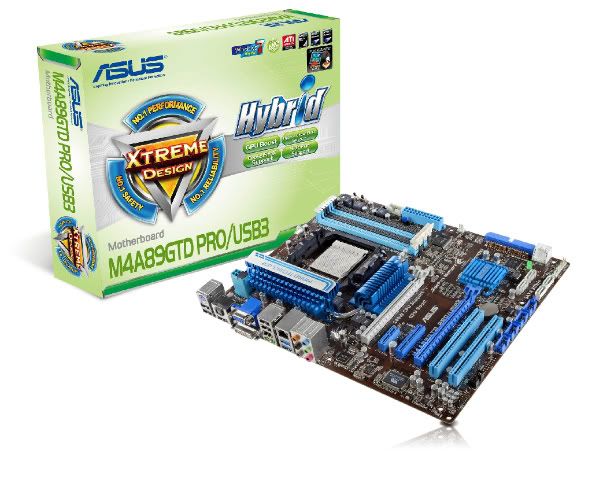 A Few weeks back Asus sent over the M4A89GTD ProUSB3. This motherboard is based on AMD's new 890G chipset with the "G" of course indicating intergrated graphics. Lets have a quick look at the features & specifications:
CPU, Chipset and Graphics Features
AMD® AM3 Phenom™II /Athlon™II /Sempron™ 100 Series Processors
This motherboard supports AMD® AM3 multi-core processors with unique L3 cache and delivers better overclocking capabilities with less power consumption. It features dual-channel DDR3 memory support and accelerates data transfer rate up to 5200MT/s via HyperTransport™ 3.0 based system bus. This motherboard also supports AMD® CPUs in the new 45nm manufacturing process.
CrossFireX Support
Flexible Multi-GPU solutions, Your Weapon of Choice!
M4A89GTD Series brings you the multi-GPU choice of CrossFireX™. Expect a brand-new gaming style you've never experienced before!
AMD® 890GX
AMD® 890GX Chipset is designed to support up to 5200MT/s HyperTransport™ 3.0 (HT 3.0) interface speed and quad PCI Express™ 2.0 x16 graphics. It is optimized with AMD's latest AM3 and multi-core CPUs to provide excellent system performance and overclocking capabilities.
PCIe 2.0 support
Double Speed; Double Bandwidth
This motherboard supports the latest PCIe 2.0 devices for double speed and bandwidth which enhances system performance.
VGA Output Support
HDMI Support
Enjoy Full HD 1080p Multimedia Home-Theater Entertainment
High-Definition Multimedia Interface (HDMI) is a set of digital video standards that delivers multi-channel audio and uncompressed digital video for full HD 1080p visuals through through a single cable. Supporting HDCP copy protection such as HD DVD and Blu-ray Discs, HDMI provides you with the highest-quality home theater experience.
DVI Support
DVI (Digital Visual Interface) provides high visual quality of digital display devices such as LCD monitor. The interface of this motherboard supports dual VGA output both DVI-D/HDMI and RGB.
Next-gen Technology
True USB 3.0 Support
Realize the True Future!! - TRUE USB 3.0 Support!
Experience ultra-fast data transfers at 4.8 Gb/s with USB 3.0â€"the latest connectivity standard. Built to connect easily with next-generation components and peripherals, USB 3.0 transfers data 10X faster and is also backward compatible with USB 2.0 components.
True SATA 6Gb/s Support
The AMD® SB850 Southbridge natively supports next-generation Serial ATA (SATA) storage interface, this motherboard delivers up to 6.0 Gb/s data transfer rates. Additionally, get enhanced scalability, faster data retrieval, double the bandwidth of current bus systems.
Memory Features
Dual-Channel DDR3 2000(O.C.)/1333/ 1066 support
The motherboard supports DDR3 memory that features data transfer rates of 2000(O.C.)/1333/1066 MHz to meet the higher bandwidth requirements of the latest 3D graphics, multimedia, and Internet applications. The dual-channel DDR3 architecture enlarges the bandwidth of your system memory to boost system performance.
Hybrid Switch
Core Unlocker
Unleash True Core Performance Intelligently
ASUS Core Unlocker simplifies the activation of a latent AMD® CPUâ€"with just a simply switch. Enjoy an instant performance boost by simply unlocking the extra cores, without performing complicated BIOS changes.
Turbo Key II
Switch on the Potential, Turn up the Performance!
Enjoy superb performance by auto-tuning your processor to an extreme yet stable state. Simply activate a dedicated switch on the motherboard to unleash extra processing capabilities.
Hybrid Processor
TurboV EVO
The Ultimate O.C. Processor
The ultimate O.C. processor satisfies every level of overclockersâ€"from die-hard enthusiasts to beginners. Auto tuning intelligently pushes the system to the fastest clock speeds while maintaining stability. Turbo Key boosts performance with just one touch; while TurboV offers more options to advanced overclockers to achieve world O.C. record. Moreover, upgrade your CPU at no additional cost with CPU Level UP!
Auto Tuning
Auto System Level Up
to Tuning is an intelligent tool that automates overclocking to achieve a total system level up. This tool also provides stability testing. Even O.C. beginners can achieve extreme yet stable overclocking results with Auto Tuning!
GPU Boost
Instant iGPU Level Up!
GPU Boost overclocks the integrated GPU in real time for the best graphics performance. User-friendly UI facilitates flexible frequency and voltage adjustments. Its ability to deliver multiple overclocking profiles also provides rapid and stable system-level upgrades.
CPU Level UP
Ever wish that you could have a more expansive CPU? Upgrade your CPU at no additional cost with CPU Level UP! Simply pick the processor you wanted to OC to, and the motherboard will do the rest! See the new CPU speed and enjoy that performance instantly. Overclocking is never as easy as this.
Hybrid OS
Express Gate
0 to Internet in Seconds!
Express Gate™ is an ASUS exclusive OS that provides you with quick access to the Internet and key applications before entering Windows®.
ASUS Xtreme Phase
ASUS 8+2 Phase Power Design
Longer Life & Higher Efficiency!
Unleashes ultimate memory performances with independent power to core components, while providing fast transient response and stability for the CPU under heavy loading or overclocking modes.
ASUS Exclusive Features
MemOK!
Any Memory is A-OK!
MemOK! quickly ensures memory boot compatibility. This remarkable memory rescue tool requires a mere push of a button to patch memory issues. MemOK! determines failsafe settings and dramatically improves your system boot success. Get your system up and running in no time!
EPU
System Level Energy Saving The ASUS EPU (Energy Processing Unit) provides total system power management by detecting current PC loadings and intelligently moderating power usage for critical PC components in real-timeâ€"helping save power and money!
ASUS Quiet Thermal Solutions
ASUS Fanless Design - Heat pipe solution
The ASUS heat pipe features 0-dB thermal solution that offers users a noiseless PC environment. Not only the beautiful shape upgrades the visual enjoyment for motherboard users, but also the heat pipe design lowers the temperature of the chipset and power phase area through high efficient heat-exchange. Combined with usability and aesthetics, the ASUS heat pipe will give users an extremely silent and cooling experience with the elegant appearance!
Fan Xpert
Active Quiet & Cool
ASUS Fan Xpert intelligently allows users to adjust both the CPU and chassis fan speed according to different ambient temperature , which is caused by different climate conditions in different geographic regions and system loading.Built-in variety of useful profiles offer flexible controls of fan speed to achieve a quiet and cool environment.
ASUS EZ DIY
EZ Flash2
Simply update BIOS from a USB flash disk before entering the OS
EZ Flash is a user-friendly BIOS update utility. Simply press the pre-defined hotkey to launch this tool and update BIOS from a floppy disk before entering the OS.
O.C. Profile
Conveniently store or load multiple BIOS settings
Freely share and distribute favorite overclocking settings The motherboard features the ASUS O.C. Profile that allows users to conveniently store or load multiple BIOS settings. The BIOS settings can be stored in the CMOS or a separate file, giving users freedom to share and distribute their favorite overclocking settings.
Power eSATA
The Power eSATA solution combines the eSATA connector and power source together, allowing users to use external SATA devices without the need of additional power source*
*Power eSATA requires a specially designed signal cable to provide 5V power for the external SATA device. The cable is purchased separately*
CrashFree BIOS 3
Simply restore corrupted BIOS data from USB flash disk
The ASUS CrashFree BIOS 3 allows users to restore corrupted BIOS data from a USB flash disk containing the BIOS file. This utility saves users the cost and hassle of buying a replacement BIOS chip.
ASUS Q-Connector
ASUS Q-Connector allows you to easily connect or disconnect the chassis front panel cables to the motherboard. This unique module eliminates the trouble of connecting the system panel cables one at a time and avoiding wrong cable connections
Industry Standard
DTS
DTS Surround Sensation UltraPC
DTS Surround Sensation UltraPC delivers exceptional 5.1 surround experience through the most common PC audio setups - your existing stereo speakers or headphones. In addition to virtual surround, "Bass enhancement†provides stronger low frequency bass sound, and "Voice clarification†provides clear human dialogue even with loud background sound. With these technologies, you may experience a better home-theater audio with ease.
High Definition Audio
Enjoy high-end sound system on your PC!
The onboard 8-channel HD audio (High Definition Audio, previously codenamed Azalia) CODEC enables high-quality 192KHz/24-bit audio output, jack-sensing feature, retasking functions and multi-streaming technology that simultaneously sends different audio streams to different destinations. You can now talk to your partners on the headphone while playing a multi-channel network games. All of these are done on one computer.
S/PDIF-out on Back I/O Port
This motherboard provides convenient connectivity to external home theater audio systems via optical S/PDIF-out (SONY-PHILIPS Digital Interface) jacks. It allows to transfer digital audio without converting to analog format and keeps the best signal quality.
Noise Filter
Eliminate background noise while recording
This feature detects repetitive and stationary noises like computer fans, air conditioners, and other background noises then eliminates it in the incoming audio stream while recording.
RoHS
GreenASUS
The motherboard and its packaging comply with the European Union´s Restriction on the use of Hazardous Substances (RoHS). This is in line with the ASUS vision of creating environment-friendly and recyclable products and packaging to safeguard consumers´ health while minimizing the impact on the environment.
Specifications
CPU AMD Socket AM3 ;Phenomâ"¢II /Athlonâ"¢II /Sempronâ"¢ 100 Series Processors
AMD 140W CPU Support
AMD Cool 'n' Quietâ"¢ Technology
Supports 45nm CPU
Chipset AMD 890GX/SB850
System Bus Up to 5200 MT/s ; HyperTransportâ"¢ 3.0
Memory 4 x DIMM, Max. 16 GB, DDR3 2000(O.C.)/1333/1066 ECC,Non-ECC,Un-buffered Memory
Dual Channel memory architecture
*AMD AM3 100 and 200 series CPU support up to DDR3 1066MHz
**Due to OS limitation, when installing total memory of 4GB capacity or more, Windows® 32-bit operation system may only recognize less than 3GB. Hence, a total installed memory of less than 3GB is recommended.
***Refer to
www.asus.com
for the memory QVL (Qualified Vendors Lists).
Expansion Slots 2 x PCIe 2.0 x16 support ATI CrossFireXâ"¢ technology(@dual x8 speed)
1 x PCIe 2.0 x4
1 x PCIe 2.0 x1
2 x PCI
VGA Integrated ATI Radeonâ"¢ HD 4290 GPU
Multi-VGA output support: HDMI, DVI-D and RGB ports
Supports HDMI with max. resolution 1920 x 1200 (1080P)
Supports DVI with max. resolution 2560x1600 @60Hz
Supports RGB with max. resolution 2560x1440 @75Hz
Support H.264, VC-1, MPEG-2, DirectX10.1 and OpenGL2.0
Support Shader Model 4.1, Universal Video Decoder (UVD) 2.0
Max. UMA Memory Size: 512 MB
128MB DDR3 1333 sideport memory support
Hybrid CrossFireX support
Storage SB850 Chipset
6 xSATA 6.0 Gb/s ports Support RAID 0,1,5,10
JMicron® JMB361 PATA and SATA controller
1 xUltraDMA 133/100 for up to 2 PATA devices
1 xExternal Power eSATA 3.0Gb/s port
LAN Realtek® 8111E Gigabit LAN controller featuring AI NET2
Audio ALC 892 8-Channel High Definition Audio CODEC
- BD Audio Layer Content Protection
- Support 192khz/24bit True BD Lossless Sound
- DTS Surround Sensation UltraPC
- Supports Jack-Detection, Multi-Streaming, and Front Panel Jack-Retasking
- Optical S/PDIF Out ports at back I/O
- ASUS Noise Filter
IEEE 1394 VIA® 6308P controller supports 2 x 1394a port(s) (1 at mid-board; 1 at back panel)
USB 12 x USB 2.0 ports (8 ports at mid-board, 4 ports at back panel)
2 x USB 3.0 ports (2 ports at back panel)
ASUS Unique Features ASUS Xtreme Design
ASUS Hybrid Processor -- TurboV EVO
- Auto Tuning, TurboV, CPU Level UP and GPU Boost
ASUS Hybrid Switch
- Core Unlocker
- Turbo Key II
ASUS Hybrid OS -- Express Gate
ASUS Power Solutions
- 8+2 Phase Power Design
- ASUS EPU
ASUS Exclusive Features
- MemOK!
ASUS Quiet Thermal Solution
- ASUS Fanless Design: Heat pipe solution
- ASUS Fan Xpert
ASUS EZ DIY
- ASUS Q-DIMM
- ASUS O.C. Profile
- ASUS CrashFree BIOS 3
- ASUS EZ Flash 2
- ASUS MyLogo 2
- Percision Twerker 3
- Multi-language BIOS
Overclocking Features Precision Tweaker 3
- vCore: Adjustable CPU voltage at 0.003125V increment
- vDDNB: Adjustable CPU NB voltage at 0.003125V increment
- vCPU PLL: Adjustable CPU_PLL voltage at 0.00625V increment
- vHT bus: Adjustable PCH voltage at 0.00625V increment
- vDRAM Bus: Adjustable DRAM voltage at 0.00625V increment
- iChipset: Adjustable iChipset voltage at 0.00625V increment
SFS (Stepless Frequency Selection)
- PCI Express frequency tuning from 100MHz up to 150MHz at 1MHz increment
- Internal Base Clock tuning from 100MHz up to 600MHz at 1MHz increment
Overclocking Protection
- ASUS C.P.R.(CPU Parameter Recall)
Back Panel I/O Ports 1 x DVI
1 x D-Sub
1 x HDMI
1 x S/PDIF Out (Optical)
1 x IEEE 1394a
1 x LAN(RJ45) port
8 -Channel Audio I/O
1 x PS/2 Keyboard (Purple)
1 x Power eSATA
4 x USB 2.0/1.1 ports
2 x USB 3.0 ports
Internal I/O Connectors 4 x USB connectors support additional 8 USB ports
1 x IDE connector
1 x IEEE 1394a connector
1 x CPU Fan connector
1 x Power Fan connector
6 x SATA 6Gb/s connectors
1 x Chassis Fan connector (4-pin)
1 x Chassis Fan connector (3-pin)
1 x S/PDIF Out Header
1 x Core Unlocker Switch
1 x Turbo Key II Switch
1 x MemOK! Button
Front panel audio connector
1 x COM connector
1 x Clear CMOS jumper
1 x 24-pin ATX Power connector
1 x 8-pin ATX 12V Power connector
System Panel
BIOS 16 Mb Flash ROM , SPI, AMI BIOS, PnP, DMI2.0, WfM2.0, SM BIOS 2.5, ACPI 2.0a, Multi-language BIOS, ASUS EZ Flash 2, ASUS CrashFree BIOS 3
Manageability WfM 2.0,DMI 2.0,WOL by PME,WOR by PME,PXE
Accessories 1 x Ultra DMA 133/100 cable
2 x Serial ATA 3.0Gb/s cables
2 x Serial ATA 6.0Gb/s cables
1 x Q-Shield
1 x VGA Switch card
2 in 1 Q-connector (USB, System panel; Retail version only)
User's manual
Support Disc Drivers
Anti-virus software (OEM version)
ASUS Update
ASUS Utilities
Form Factor ATX Form Factor
12 inch x 9.6 inch ( 30.5 cm x24.4 cm )
A few pics: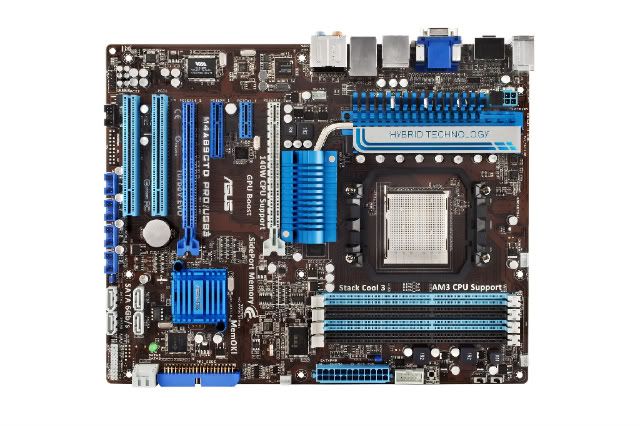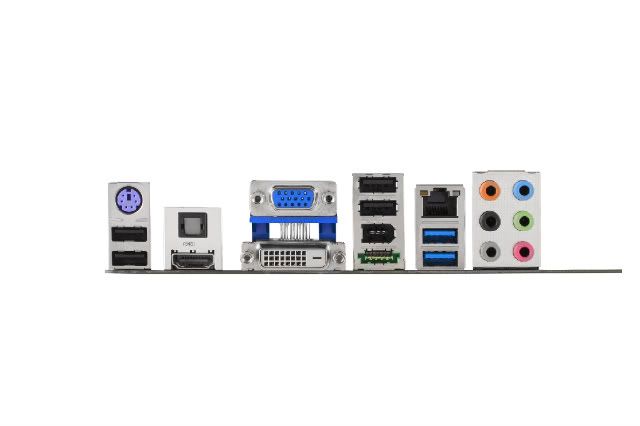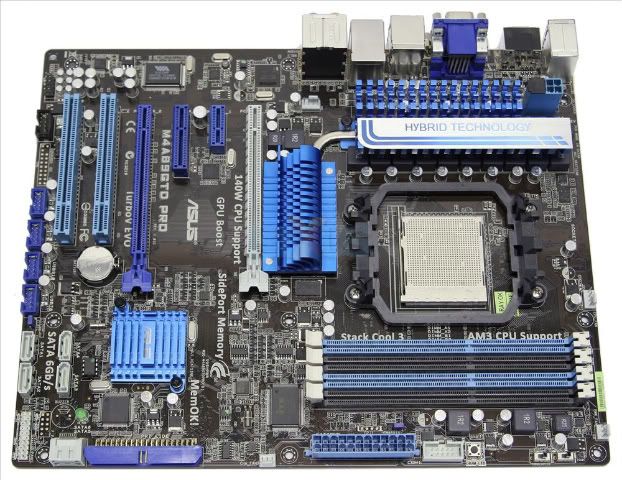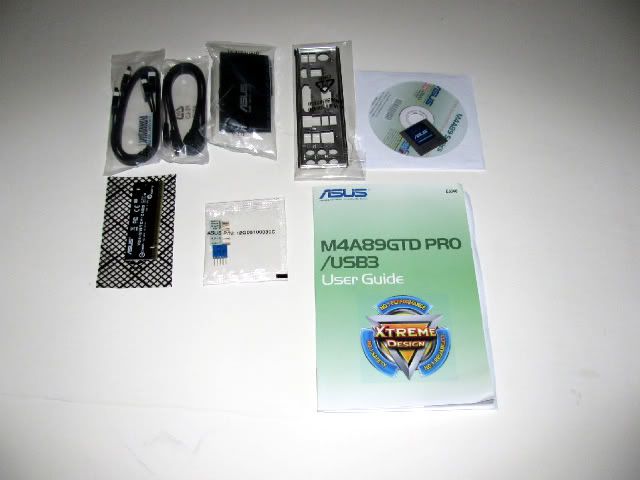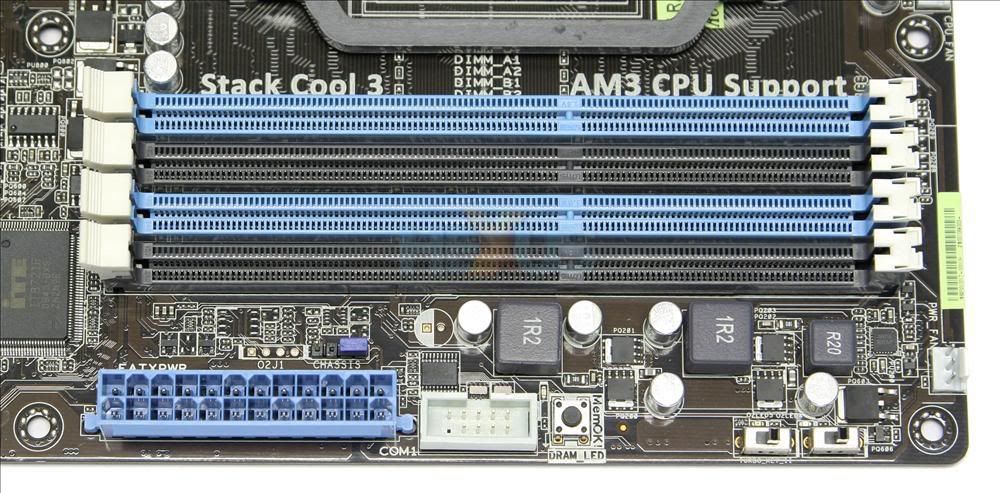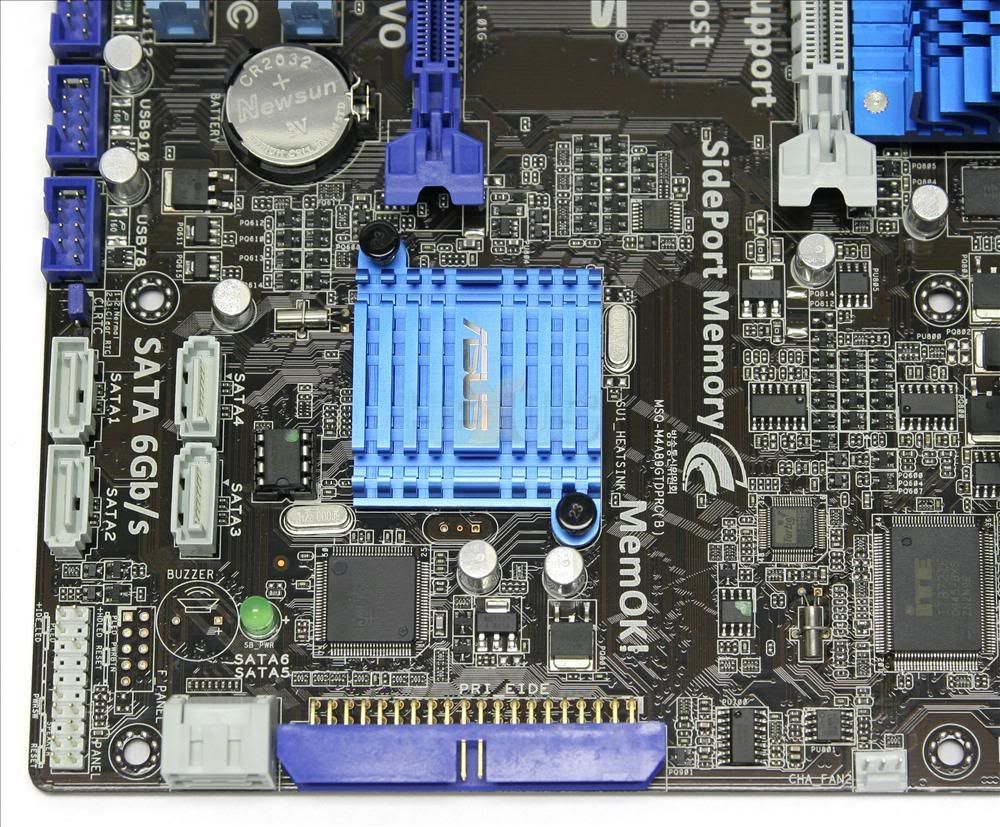 Test Setup
AMD Phenom II X3 720 Black Edition
CORSAIR Cooling Hydro Series CWCH50
ASUS M4A89GTD PRO/USB3
2GB Corsair Dominator DDR3 1800C7 7-7-7-20 1T
4GB OCZ AMD Black Edition DDR3 1600 7-7-7-20 1T
1TB Western Digital Caviar Black SATA 6.0Gb/s
80GB Intel X25-M Mainstream SATA II MLC
Asus SATA Blu-ray drive
Antec Neo-HE-500w psu
HSPC Top Deck Tech Station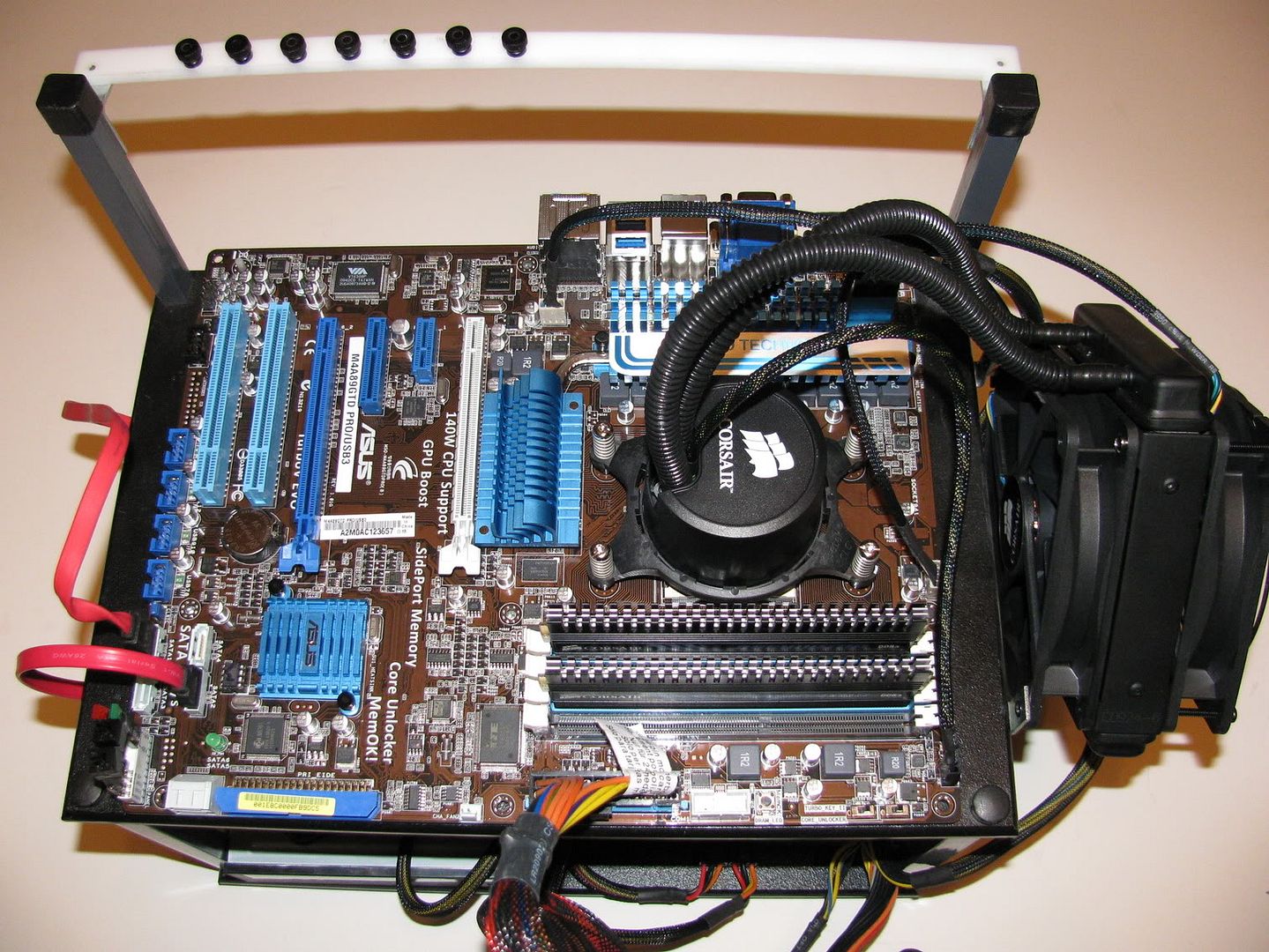 After a quick assembly and boot I was greeted with this screen: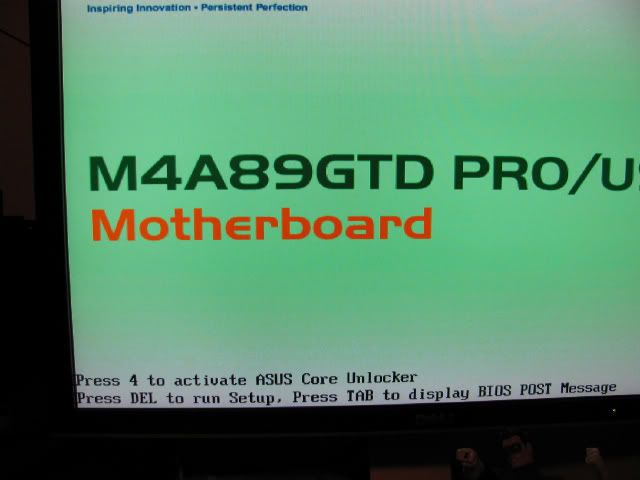 We've all heard the talk of how AMD removed the ability to unlock cores on the new chipset. But not only does Asus provide this feature, they've got a few ways to implement core unlocking. Good going Asus:up: This alone should make the M4A89GTD line a prefered purchase when making an AMD 890G build.
After pressing 4 the systems reboots and a new greeting is displayed :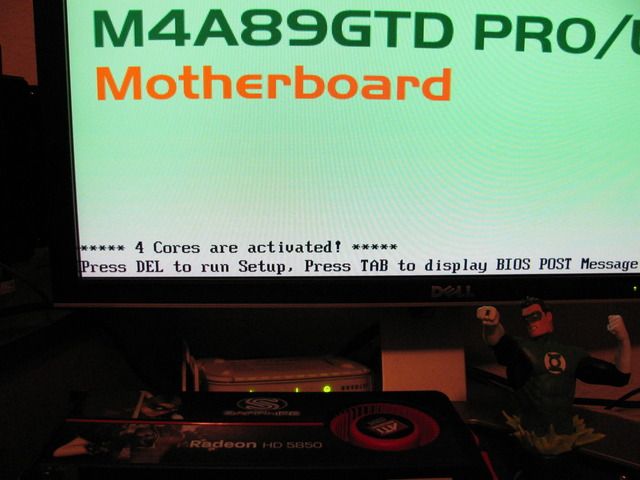 A Few Bios shots: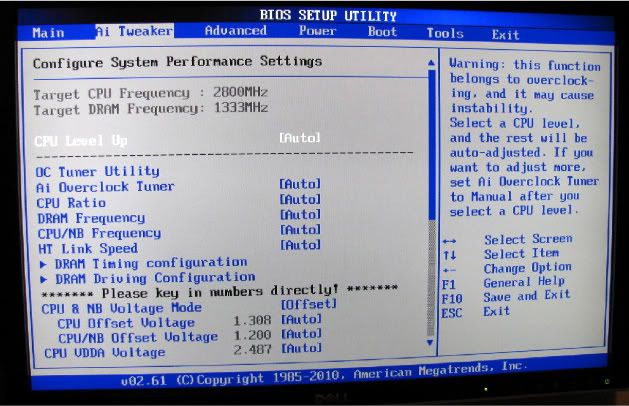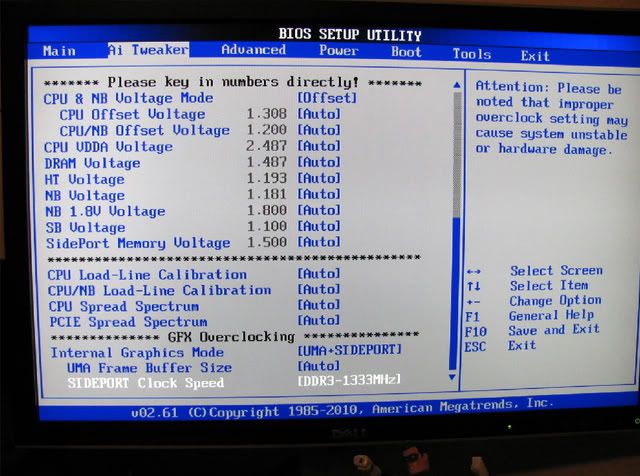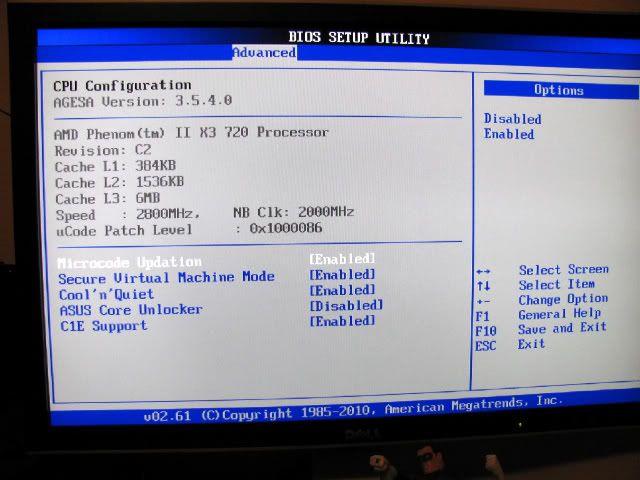 All of the Asus bios I've worked with a very easy to navigate and include just about every option to tweak your system imaginable. As you can see core unlocking is available within the bios as well
I began my testing using the Turbo V EVO CPU Level Up feature to overclock the unlocked Phenom II X3 720 and run a quick bench of prime to see if stable.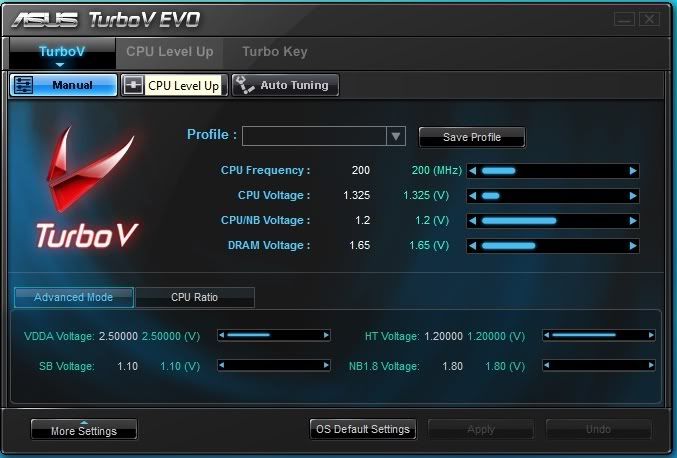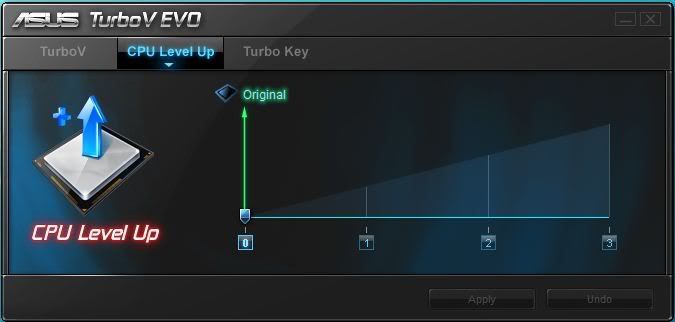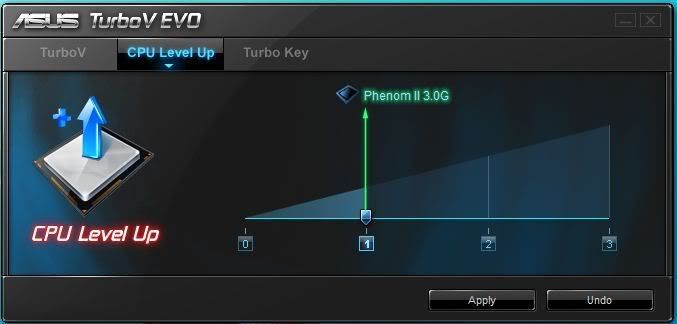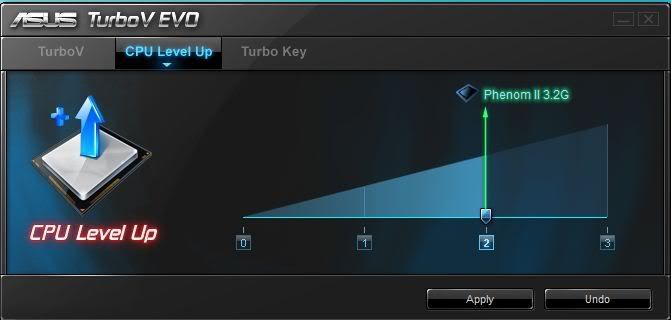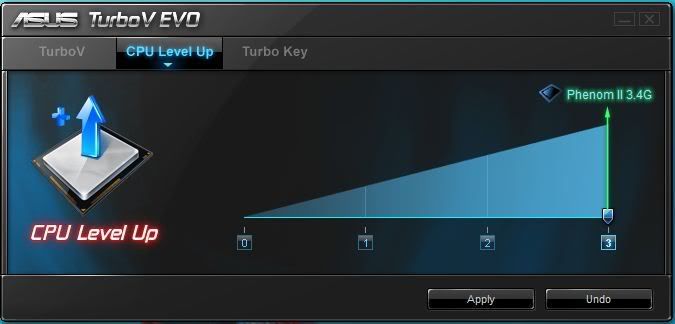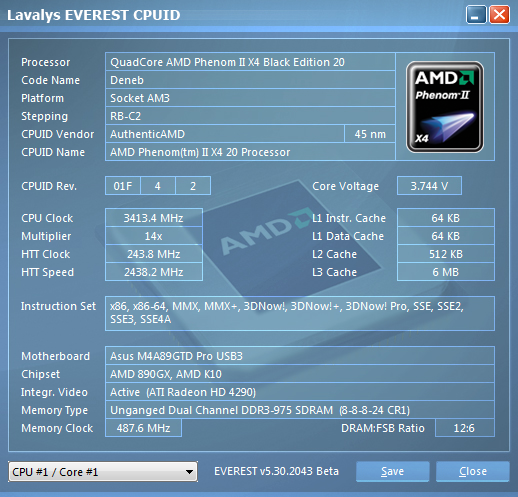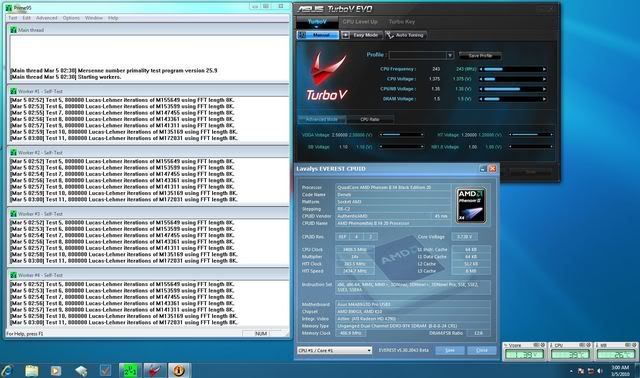 A Few Benchmarks
Everest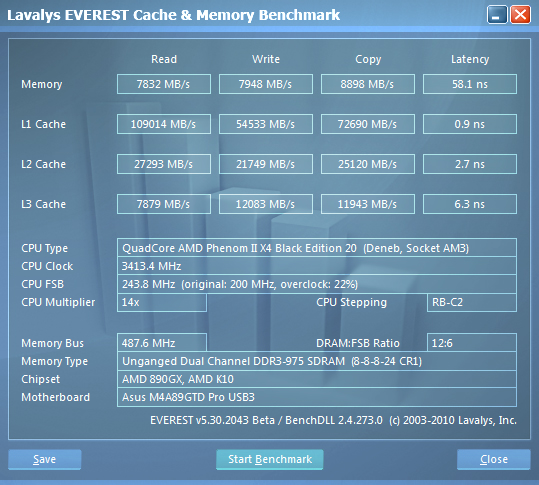 3DMark05
3DMark06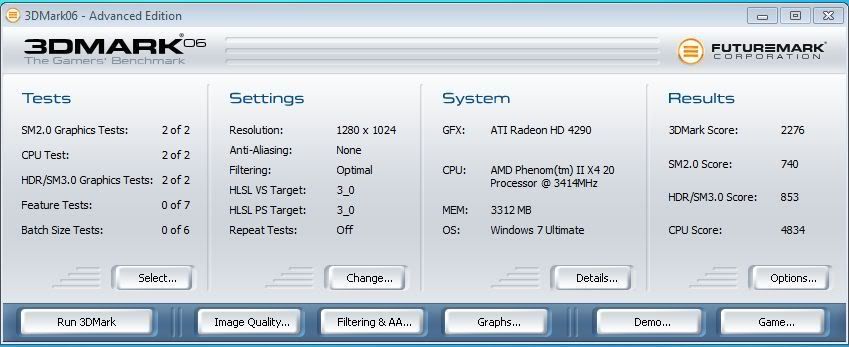 CinebenchR10
CystalDiskMark
WD 1TB
Intel X25-M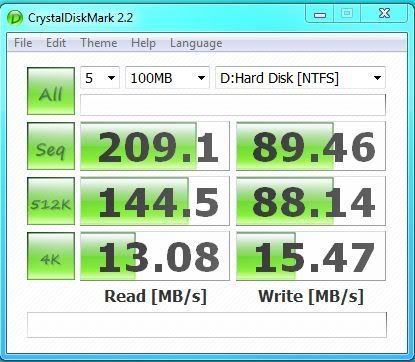 HD Tune 2.55
WD 1TB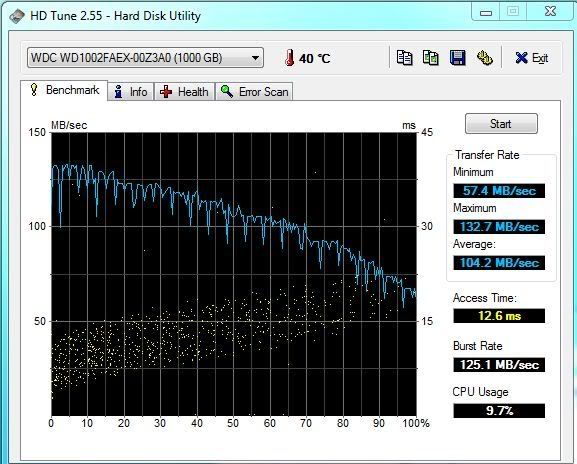 Intel X25-M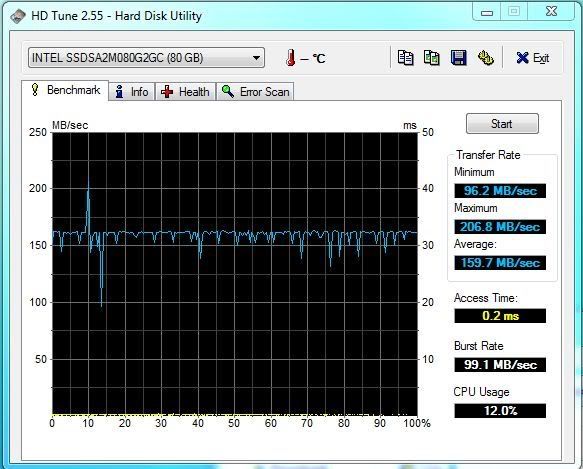 HDTACH
WD 1TB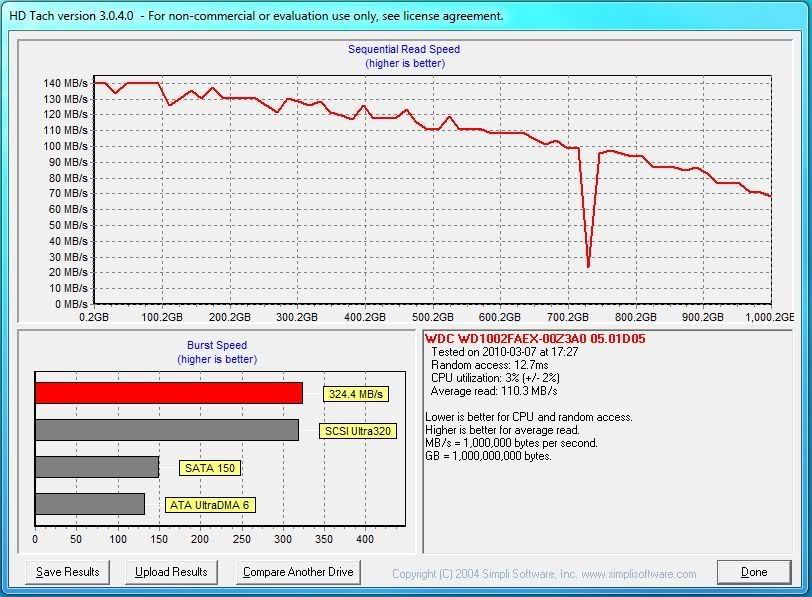 Intel X25-M
AMD's native chipset 6GB/s support is an industrys first and really allowed the hard drives to reach their potential. The Asus M4A89GTD ProUSB3 simply rocks! This board is loaded with all kind of features and was rock solid. I tested an Athlon II X2 555BE, X3 435, and X3 440. All successfully unlocked using the"4" hot key on boot up. Turbo V Evo worked very smoothly and was easier to use vs AMD Overdrive. The OCZ Black Edition memory profiles were not available in AMD Overdrive nor were the native memory timings loaded on boot up. I had to set my memory manually when using both the Corsair Dominator and the OCZ Black Edition modules. Blu-ray play black was flawless over both the HDMI and DVI port when ran to a large screen HDTV.
Up next I'll move on to some more extreme overclocking