I might as well start this thread now. Initially it will be sort of a placeholder as final specs are yet to be revealed.
What we know is; for starters there will be two ASUS Crosshair boards, the X670E HERO and the X670E EXTREME, here is a recent stream from Asus North America presenting both
The X670E EXTREME already has its own page at ASUS, but with not that much information so far:
ROG CROSSHAIR X670E EXTREME | ROG Crosshair | Gaming Motherboards|ROG - Republic of Gamers|ROG Global (asus.com)
Regarding the Zen 4 platform: we know it is built on TSMC 5nm for the chiplets and TSMC 6nm for the IO-die, the X670 chipset is probably built on 28nm by Asmedia but there is no official information on that. The X670E platform will use two of these Asmedia chipsets for extensive IO options. The cheaper B650 platform will use only one chipset.
Leaks so far has suggested that the initial launch will feature four CPU: s and take place on September 15 this fall
Ryzen 9 7950X 16-core/32-threads 170W TDP max 230W
Ryzen 9 7900X 12-core/24-threads 170W TDP max 230W
Ryzen 7 7700X 8-core/16-threads 105W TDP max 142W
Ryzen 5 7600X 6-core/12-threads 105W TDP max 142W
As seen, power is much higher than Zen 3, even though it's a more energy efficient manufacturing process. What that tells us is, clocks will be much higher than Zen 3 and indeed the leaks are stating a 4.5GHz base clock and a 5.7GHz boost clock for the 7950X. Some leaks are even saying boost will be 5.8GHz, it's possible AMD still hasn't decided the exact specs. Anyway, this is a rather big jump from Zen 3.
Motherboard makers will counter this in a similar way as they did with Intel Alder Lake, the new motherboards will have extreme power delivery. 20+2 x110A for the X670E EXTREME.
Other enhancements for the Zen 4 platform include higher IPC at the same frequency, ~10%, double the amount of on processor L2 cache up from 512kB to 1MB per core and a more efficient multithreading engine rendering a higher improvement for multithreading than for single thread. Most of the performance increase is expected to come from the much higher clocks though. Yet another leak stated L3 will be very fast, ~1500GB/s.
Oh, and I almost forgot, Raphael as Zen 4 has as its codename will feature AVX512 support which is absent on both Alder Lake and Raptor Lake. AVX512 renders a 20-60% performance increase in applications that supports it. The PS3 emulator is one well known program, but more exciting is Unreal Engine 5 has AVX512 support which means upcoming games may support it.
New features are
PCIE 5.0 for the graphics slot
PCIE 5.0 for NVME M.2 drives
DDR5 memory, no DDR4 option
AMD has said up to DDR5-5600 is officially supported, but DDR5-6400 is expected to work using new DDR OC-profiles which will come with AM5.
The new AM5 socket is expected to live for 5 years according to AMD, meaning at least Zen 5 and Zen 6 will still use the same socket. A "future proof" platform from the looks of it.
And there is Thunderbolt support from ASUS using an Intel chip. An Intel chip will also provide the latest Wi-Fi 6E. Marvell contributes with 10Gb networking.
Eventually there will be X3D variants of the Zen 4 processors, still unclear when and which models but a leak the other day suggested AMD has solved most of the OC problems when using 3D cache. These upcoming processors will be very exciting, I say this because my own 5800X3D with 4.55GHz max boost easily beats my 12900KF with 5.3GHz max boost in most games and that is considering Alder Lake even has slightly better IPC than Zen 3.
Anyway, this was just a quick starter, I will fill in with more information and thoughts as I gather it, everyone is free to do the same and let's hope this will be an exciting thread going forward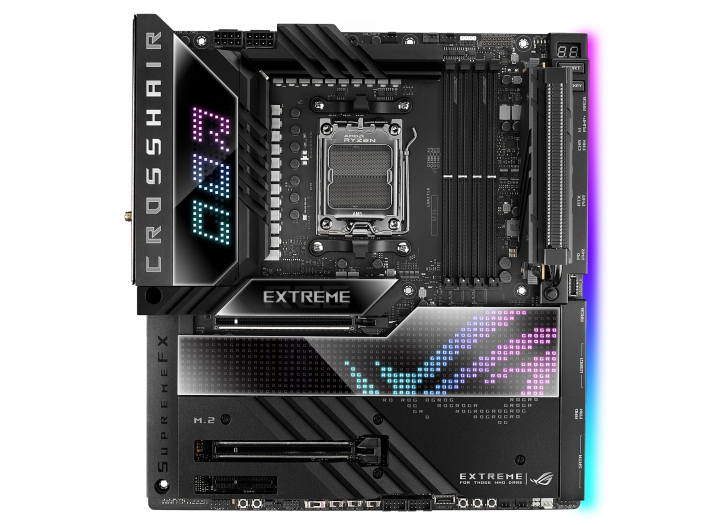 ROG CROSSHAIR X670E EXTREME
More specs to follow!
Intelligent Control: ASUS-exclusive tools including AI Cooling II, AI Networking, and Two-Way AI Noise-Cancelation for easy configuration.
Robust Power Solution: 20+2 teamed power stages rated for 110 A, MicroFine alloy chokes, premium metallic capacitors, and ProCool II power connectors.
Optimized Thermal Design: Large VRM heatsinks plus integrated aluminum I/O cover, ROG GEN-Z.2, high-conductivity thermal pad, five M.2 heatsinks, and dual M.2 with embedded backplates, and ROG Water-Cooling Zone.
High-Performance Networking: Onboard Wi-Fi 6E, Marvell® AQtion 10Gb, Intel® 2.5Gb Ethernet, and ASUS LANGuard.
Ultra-fast Connectivity: PCIe® 5.0, Gen 5 M.2 slots, USB 3.2 Gen 2x2 front-panel connector, USB4® ports.
Industry Leading Immersive Audio: ROG SupremeFX ALC4082 codec with ESS® ES9218PQ DAC for ultra-low distortion.
Unmatched Personalization: AniMe Matrix™ LED display, 2" LiveDash OLED, ASUS-exclusive Aura Sync RGB lighting, including one RGB header and three addressable Gen 2 RGB headers.
DIY Friendly Design: Pre-mounted I/O shield, PCIe slot Q-release, ROG True Voltician, BIOS FlashBack™, Q-Code, FlexKey, Q-Connector, M.2 Q-Latch, SafeSlot, and ROG graphics card holder
Renowned Software: Bundled 1-year AIDA64 Extreme subscription and intuitive UEFI BIOS dashboard.