I didn't see a thread on these mobos yet, so I thought I will start one.
A simple no nonsense B550 board, a little expensive imho but it has a powerful VRM and had great results at OC 3D and Kitguru. I went with the version without WiFi as I have no need for WiFi.
Bios has a lot of sensors without names in HWINFO64, at least in the latest 0608 bios, if anyone find the VRM sensor in there it would be nice as that was the main complaint in the reviews. No sensor info for the VRM. Obviously it only gets lukewarm anyway, but for peace of mind. Hopefully that will be fixed in later bioses.
Product page:
https://www.asus.com/Motherboards/ROG-STRIX-B550-F-GAMING/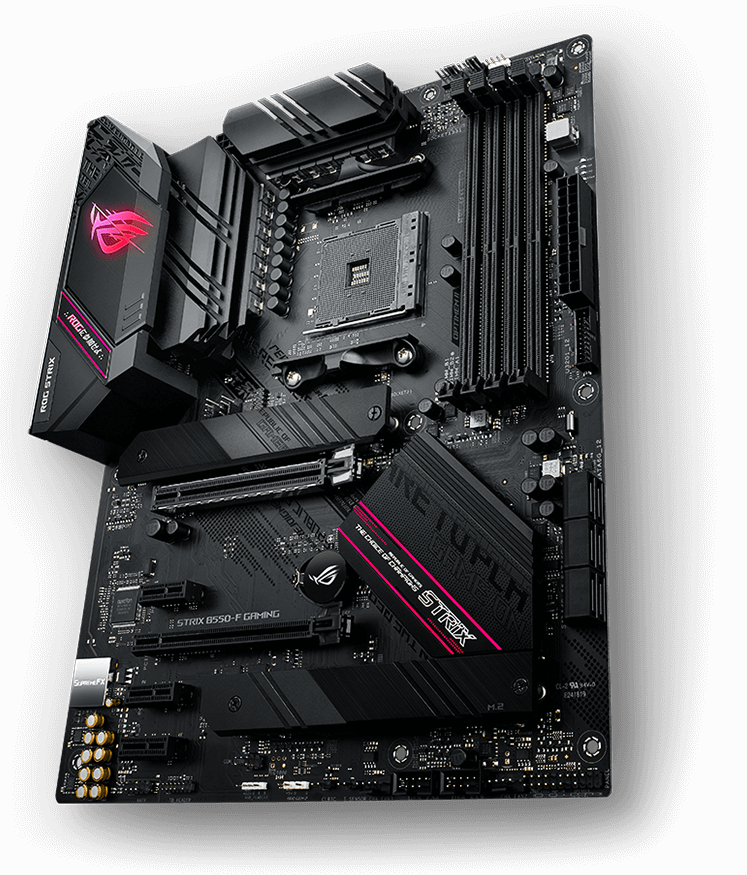 I bought it for my second rig, mainly used as DAW, paired with cheap Micron D-die memory(edit. it was actually Hynix DJR as it turned out) and a GTX1660 Super. It will not be much gaming on this rig, but maybe some light gaming.
Initial impressions are favorable, updating to the latest bios using bios flashback was nice(a more common feature on the B550 boards, and a great one). I wired the reset button to CLR CMOS to be prepared for memory tuning, and it got used a couple of times before I found my initial setting of 3733MHz RAM with 1867MHz IF coupled mode using CL18. Micron D-die(Hynix DJR) won't even boot with tight timings, but it looks fairly OC:able so end results are ok even if not near Samsung B-Die. But it's half the price. Overall, after one day of tuning(of which a lot was getting my old Windows install working without quirks on the new mobo) it looks to be working well and the system feels snappy. Temps are great for the 3700X using a Corsair H150i Pro RGB, Cinebench R20 tops out at 72C and it's 28-30C in the room.
System:
AMD Ryzen R7 3700X
Corsair H150i Pro RGB
32GB Kingston HyperX RGB (Hynix DJR "D-die" "Davinci" on Micron 8-layer PCB)
Nvidia GTX1660 Super
Samsung 950Pro 256GB NVMe
Kingston A2000 1TB NVMe
assorted SSDs/HDDs
Cooler Master NR600 case (with mesh front)
Cooler Master V550S PSU 80 Plus Gold
Windows 10 Pro 2004 (19041)
using a USB audio interface, works fine as far as I can tell, no hearable artefacts in the sound and low latency is working (Steinberg UR22C)
A new PCIE 4.0 system drive with fairly large capacity will be in the future when prices have come down a bit(or, Samsung 980 Pro mmm). More exciting is popping in a Zen 3 without too much hassle in a few months.
With current settings(PBO on Auto, interesting is PPT/TDC/EDC defaults to 1000/1000/180 when everything is on Auto under PBO) :
Any thoughts on the Asus B550-F:s are welcome in this thread! Or the other one, if there already was a thread but I couldn't find one
edit. Here are as many sensors I could cram in one picture, after a while browsing the web in a very hot room. Powerplan is Windows High Performance and C-states are enabled:
My memory settings for Hynix DJR:
edit. regarding my used memory, I was reading Taiphoon Burner wrong, it is Micron PCB and it is D-die. So far correct. But the chips themselves are Hynix DJR which I missed, they are supposed to be high frequency chips and are used in G.Skill Trident Z Neo amongst others. So the relative easy mem OC may have it's explanation.