Its about time for this board to get its own discussion thread.
Personally, I've been using this board daily basis for little over two weeks now.
So far everything has been pretty much perfect, which was rather surprising to see since it is a new platform afterall.
Despite the 3rd gen. Ryzen AM4 CPUs and 3rd gen. Ryzen Threadrippers are based on a different product (Matisse vs. Starship), the software stacks (AGESA) of the two
platforms are extremely similar in terms of functions and features. Because of that, the Threadripper software stack available at launch was more or less at a par with the most recent 1.0.0.4B AM4 AGESA.
This allowed the platform to have the previous improvements and bug fixes in-place by the time of the launch, and hence a similar circus as seen with the AM4 platform never took place.
Despite the TRX4 infra is significantly heavier compared to AM4 infra, from operating point of view there are basically no differences between the two.
Memory clock, FCLK and UCLK tuning wise, Z2E can do anything its AM4 counterparts Crosshair VIII series boards can do. In some cases even more, apparently.
In my case, the board does 3600MHz easily on dual rank B-die configuration (1 DPC), with FCLK and UCLK running in sync (1800MHz). 3733MHz (still with FCLK/UCLK 1:1) is easily benchable
but at this point the memory controller clock (UCLK) is becoming slightly unstable. Naturally the final results always depend on the memory controllers of your CPU and the DIMMs themselves however, there is no question
if the board itself has some serious capabilities also in this regard.
There has been a lot of discussion about the VRMs on different TRX40 motherboards. From my experience the VRMs on this board are sufficient, without a need to elaborate whenever that applies to air, water, LN2 or LHe cooling
For the main CPU VRM (VDDCR_CPU), Zenith 2 Extreme uses 16-phase teamed configuration, consisting of sixteen Infineon TDA21472 OptiMOS powerstages, driven by ASUS DigiVRM+ ASP1405I controller configured in 8-phase mode. Each of the TDA21472
powerstages are rated to handle 70A at 25°C, hence resulting 1120A theoretical maximum capability at 25°C. The de-rated total current capability at 100°C is roughly 560A.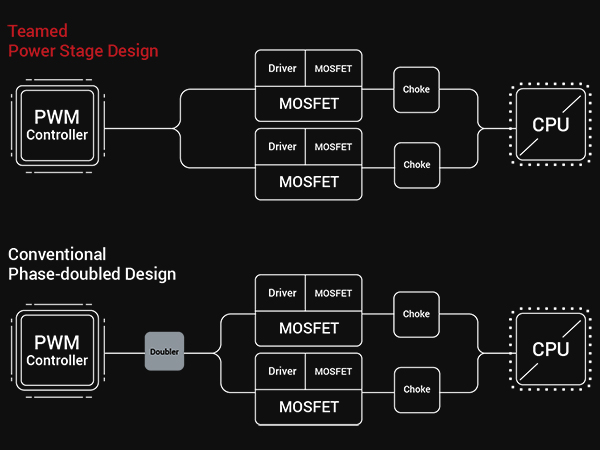 The secondary VRM for the SoC (VDDCR_SOC) uses 4-phase native configuration, consisting of Infineon TDA21462 OptiMOS powerstages. The SoC VRM is driven by a separate ASUS DigiVRM+ ASP1405I controller, which in this case is configured in 4-phase mode. The SoC VRM has theoretical capacity of 240A at 25°C and the de-rated current capability is roughly 120A at 100°C.
I've been using this board with a 3970X ES CPU.
The CPU practically is constantly pegged against its rated 280W power limit in most properly multithreaded workloads.
Despite running the system at these power levels for 3-4 hours straight, I've yet to see higher than 67°C CPU VRM temperatures.
Granted, the system was running in a open air test bench however, the CPU was cooled with Coolermaster's Wraith Ripper heatsink, which basically provides no pass-by airflow to the VRM heatsinks.
After swapping the heatsink to DeepCool's Assassin II, which thanks to its low hanging 140mm center fan allows some pass-by air to the VRM heatsink's IO-section, the CPU VRM temperatures stabilised to 62°C.
I can definitely see further improvement in the temperatures, if direct airflow can be provided (e.g. from case roof installed fan) to the main part of the VRM heatsink, under which the actual VRM is located.
The SoC VRM is located between the first two PCIe x16 slots and the chipset. Due to the location and the relatively small heatsink (dictated by the location), the SoC VRM typically runs warmer than the CPU VRM.
The SoC power consumption on third gen. Threadripper greatly depends on the memory configuration and the clocks. Typically, the worst-case (Ram Test, Prime Blend, Linpack) power consumption is less than 45W when running 1 DPC DR memory configuration
at 3600MHz with FCLK and UCLK in sync. 45W at the typical ~ 1.05V operating voltage is just < 43A, which is peanuts for the SoC VRM, considering its true capabilities. The SoC VRM temperature stabilises rather quickly and I've yet to see it exceeding 69°C at any point.
The vast main VRM heatsink on this board is equipped with two fans.
These are high quality fans made by Delta (KUB0312-HP) and their fan curve is adjustable in the bios.
At default settings, the fan curve is following: 0% PWM until 60°C, 40% PWM at 75°C and 100% PWM at 93°C.
So far I have only managed to make them barely spin, but based on the manual testing they are practically inaudible until the very top part of the PWM curve.
The board is currently fully supported in the newest HWInfo, so monitoring wise everything is available there.
The voltages, fan speeds are reported fine and things like the power reporting has been calibrated. At first you might think that the VRM fan speeds aren't supported, but
HWInfo doesn't report their fan speeds unless they're actually spinning. Because of that and the quality of the VRM solution on this board, the VRM fan speeds should be visible rarely given that you have even a half decent case ventilation.
Z2E compatible ASUS OC Tools (TurboV Core 1.05.03 Beta and MemTweakIt 2.2.0.1) can be downloaded here (haven't tried personally):
https://1drv.ms/u/s!Ag6oE4SOsCmDhjQyvHnqcZXY49VU
Bios flashing can be done using Flashback or EzFlash as usual, but I've verified Flashrom to work perfectly as well. So in case you need to flash modified bioses, or wish to update the bios a bit faster, you can use the instructions and the binary from the OP of this thread:
https://www.overclock.net/forum/11-...04-agesa-fw-stack-patched-bioses-3rd-gen.html
Just remember to strip away the capsule header (800h in the beginning of the file, since this is a 128Mb NOR board)
Known quirks of 3rd gen. TR CPUs:
It might be tempting to undervolt the SoC, since it is drawing quite a lot power on this platform, compared to AM4. I personally advice against it, despite there seems to be quite a large undervolting margin available. Thats because despite the SoC is able to run stable at as low as 0.9375V (at 3600MHz MEMCLK, FCLK/UCLK 1:1) some domain fed by the SoC plane is unable to work properly at voltages lower than ~1.05V. Lowering the SoC voltage excessively will cause issues in posting, despite the system is otherwise fully stable when you get it fired up.