Discussion Starter
·
#1
·
Everyone needs a HTPC build log ... sooo - here we go.
I've already done a
HTPC build log here using the Silverstonetek ML07B
but that case never really grew on me and become redundent once I decided to move my
Ceton InfiniTV 6 PCIe
out of my main PC and into the HTPC (the ML07B is an mini-ITX case with only one PCIe slot ... so that had to be scrapped.
As my original HTPC log discusses, there were other cases that I was looking at ... and I ended up with the
Silverstonetek GD09B
which is a monster ATX case ...
440mm (W) x 170mm (H) x 358mm (D), 26.8 liters
17.32" (W) x 6.69" (H) x 14.09" (D), 26.8 liters
A thing of beauty ... it has been chugging away, doing great duty as the HTPC, recording TV and porting it off to the NAS as required.
However, the wife has never liked it. She is after something much smaller.
So ... I gave her three options ...
I could have thrown in the
Fractal Design Node 202
(14.8 x 3.5 x 13.1) but that is another mini-ITX case.
She said ... sure, much better and selected the smallest one there (the in-win BL631) but she really left it with me. I ended up with the Antec case ... but 2 hrs after ordering it I had massive buyers remorse. It is the right size and all ... but ...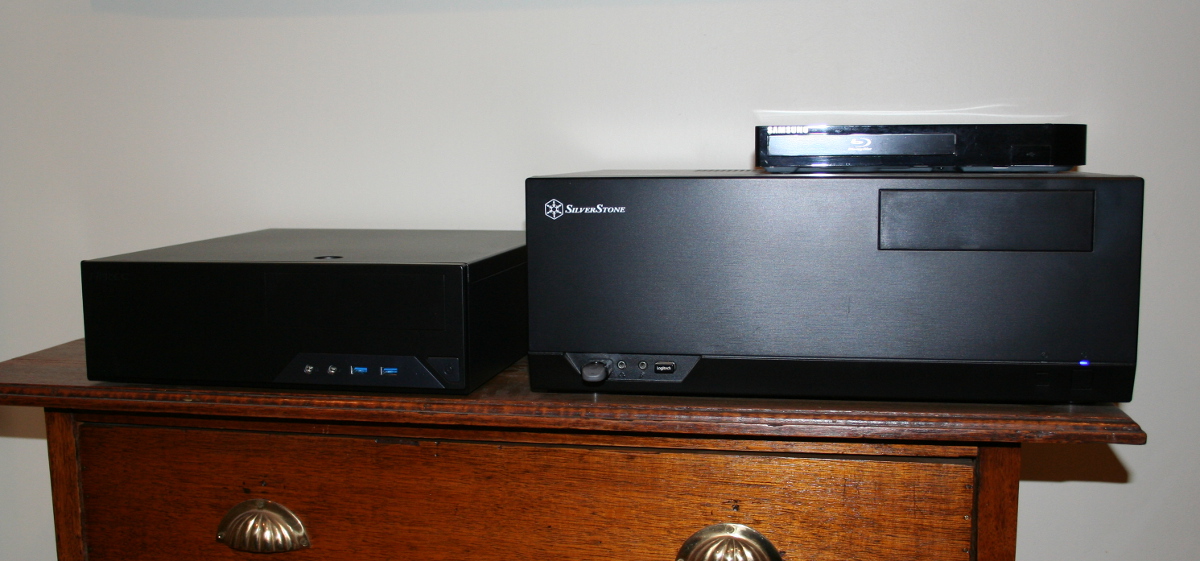 Note the small thing on top of the GD09 is a universal DVD player ... me being a world traveler and all ...