Discussion Starter
·
#1
·
My first build log on OCN. This build will take quite a while as it will involve a little light modding, lots of watercooling, and above all more money than I have.
I was cruising the cases in the for sale thread about a month ago and came across an interesting case. It was the Case Labs M8 and it was for sale locally! I thought about it for about 2 weeks and finally came to the conclusion that I had to have this case. (Thanks to XNine for helping to make this happen!)
It's been sitting in my shop now for a couple of weeks and it is now time to get the ball rolling.
I present the AquaCube build log.
Parts list:
Scavenged from current build:
Core Components:
Intel I-7 2600k
have
Asus P8P67 Deluxe
have
Corsair Vengeance 16gb 1600mHz RAM
have
2-Hitachi SATA III 2TB hdds
have
Corsair Force 3 120gb SSD
have
Core Components to be added:
Corsair AX1200 PSU
have
Corsair AX 650 PSU
2-MSI 6950 Reference 2gb GPUs
Watercooling:
Watercool Heatkiller 3.0 CPU cooler (Special Edition Nickel/Black)
ordered
Watercool Heatkiller MIPS nickel motherboard cooling blocks
Have
6950 GPU blocks and associated connectors TBD
AquaComputer Aquaero 5 XT PRO controller
have but changed to Pro because of XT shorting issues
Aquacomputer Poweradjust 2 (x2)
ordered
AquaComputer flow and temp sensors (x3)
ordered
AquaComputer Aquastream XT Ultra pump(s)
have
AquaComputer Aquatube reservoir(s) (black)
have
AquaComputer Airplex Modularity 360mm radiators (copper fins/stainless side panels, one circuit)
Have 1
Bitspower matte black compression fittings
have
Misc:
MDPC-X sleeving
have
22 Gentle Typhoon AP-15 OR Noiseblocker Multiframe M12-S3HS fans
have
Case:
Case Labs M8 w/ dual drop in 360 rad mounts on top
Reverse ATX
Full windows on both sides (Have to order one side still)
have
Here are a few current photos:
Current Build (Corsair 600t)
New M8 Case: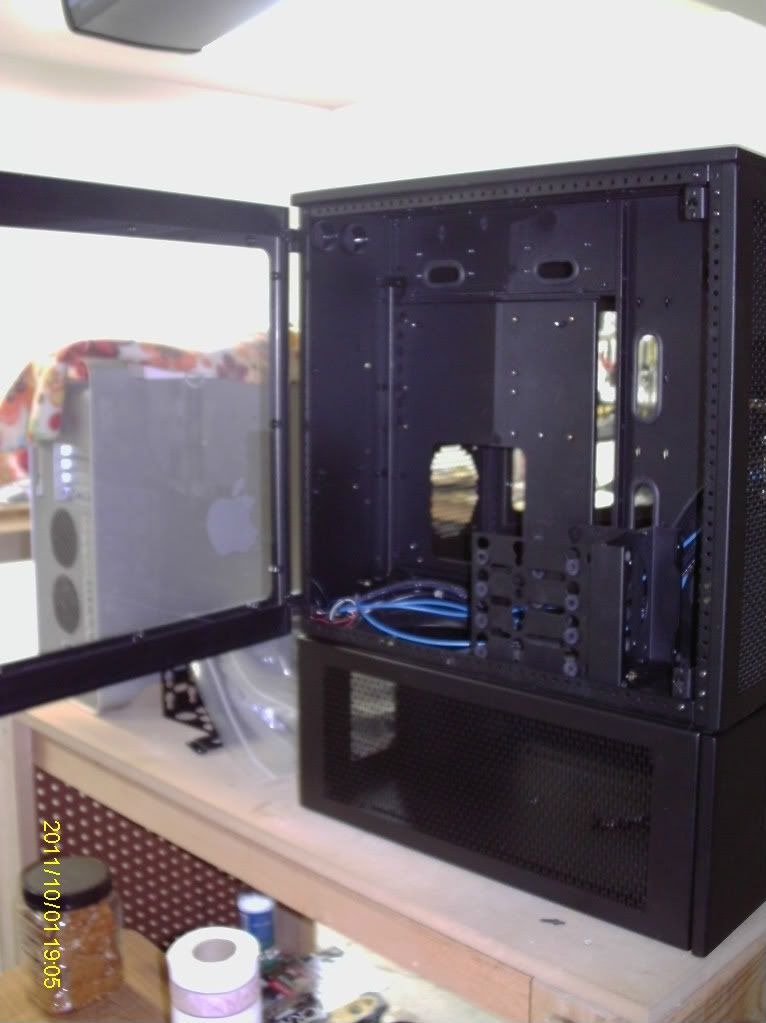 Note: I will not be using the pedestal on this build.