Discussion Starter
•
#1
•
Hello OCN!
I realized it was time to make a build log for my lovely computer, which was completed very long ago (January 2010), but has had a lot of changes since then!
Alright, so here's how the computer looked when I finished building it:
- Phenom II x4 965 Black Edition C3 @ 3.4Ghz
- Gigabyte GA-MA790FXT-UD5P
- 4Gb G-Skill Ripjaws PC3-12800U CL7
- WD Caviar Black 750gb
- Sapphire HD5850
- Corsair TX650
- Cooler Master HAF 932
- LCD 19"
Here are some pictures after the work was done, I was very proud of the build, as it was my first Pc build ever in my life!
Alright, so after using my computer (Mainly on gaming), my Sapphire HD5850 (reference) decided it was time for her to go to Heaven, and be at another life
You can see the artifacts I had here:
As a fellow OCN user, I made a thread here, and asked for help. Ended up having to RMA the card to the eBay seller.
I was VERY surprised how awesome this guy on eBay was! I contacted him on a Sunday evening via Skype, and we agreed that he would ship me a Sapphire HD5850 Toxic on Monday, and I would also send him back the Sapphire HD5850 to him!
Next friday, I had my card at home! Only 5 days from Hong Kong to my house in Germany! I was more than happy with this seller, and definitely recommend him.
I really liked the HD5850 Toxic, it was really cool, quiet, and sexy!
Used it for a few weeks, and realized I wanted more power! This card was awesome, but I wanted more!
Then I saw a deal on a Sapphire HD5970 brand new for 480€! I grabbed it, and loved it so much:
The very same time I recieved the HD5970, I also recieved the Corsair H50 I had ordered for my X4 965 Black Edition, it was time to get rid of the stock cooler!
All I needed then for my computer to be my dream PC was to have a Full HD monitor. My parents gave me a surprise in April and bought me an Acer H233H (1920x1080 2ms) as early birthday present. I was really impressed at how great it looked compared to my old 19" VGA monitor! I was the happiest guy in the world!
I was a bit annoyed at my Sapphire HD5970 fan, it kept doing a rattle noise like this:
I did not really want to RMA the card and end up with no computer for a few weeks, therefor, I decided to order an Accelero Xtreme 5970, it was the first cooler I would ever install on a graphic card, so I knew I could screw the HD5970.
However, after ordering it, I started having buyers remorse, because there was a known issue on this coolers that could kill the GPU if you tightened the screws too hard.
I decided I would refuse the package and just stay with the stock cooler for now.
I was in the garden playing with the dog, when my mother came and told me she had picked up a package from DHL and paid it!
- "Hey Kevin, I paid your package, it arrived just now!" She said.
Then I thought, *Oh crap, now what...*
Well, it was a bit late already to give the package back, so then I told my self, who cares? Let's just install the cooler and give it a try! Ended up working damn great!
Oh boy! I fell in love for this cooler, I was impressed to see my HD5970 at 30ºC on iddle and 45ºC on full load while gaming, it was amazing! Specially because it was dead silent!
After that, my computer had no upgrades for a long time. I went to Spain for summer holidays, and with summer sales on an online retailer, I brought with me some nice stuff:
- X6 1055T
- Auzentech X-Fi Bravura
- A pair of Noiseblockers fans for the Corsair H50:
I loved it, I was so damn happy!
The Noiseblocker fans were great for the Corsair H50, the sound card was amazing, and the X6 1055T even more amazing, clocked to 4Ghz, damn beast!
But that wasn't all. I wanted better cooling, without going to WC Loop, and wanted to upgrade my PSU. So I got a Noctua NH-D14 and a XFX 750w Black Edition in mid of September;
On Christmas (2010 to 2011), I decided I wanted to upgrade to Sandy Bridge, therefor, I sold my X6 1055T AM3 platform, including the motherboard and the RAM, and puchased the following:
As you see, I got:
- X6 1055T @ 4Ghz (replaced for an i7 2600k @ 4.8Ghz HT ON 1.34v)
- Gigabyte GA-MA790FXT-UD5P (Changed to Crosshair IV Formula, then swapped for an Asus P8P67 EVO)
- 4Gb G-Skill Ripjaws 1600Mhz CL9 (Red) for 4Gb G-Skill Ripjaws 1600Mhz CL7 (blue)
- Vertex 2 120Gb (It did not replace anything)
- ASUS GTX460 DirectCU TOP 768Mb for
[email protected]
and Physx
- Silverstone Raven RV02B-W (It replaced my old HAF 932)
On January 21st, I ordered a Sapphire HD6970 2Gb:
Then I decided to order a Thermaltake Frio:
Hoping I have enough money to order a 2nd HD6970 for CrossfireX before summer! Already have it! Here it is: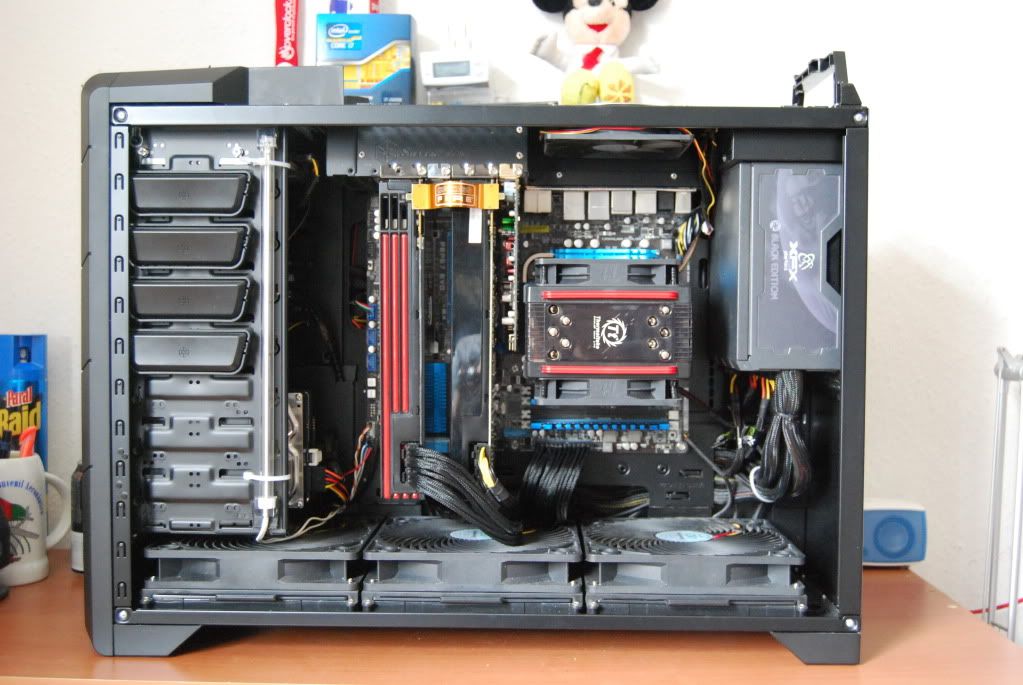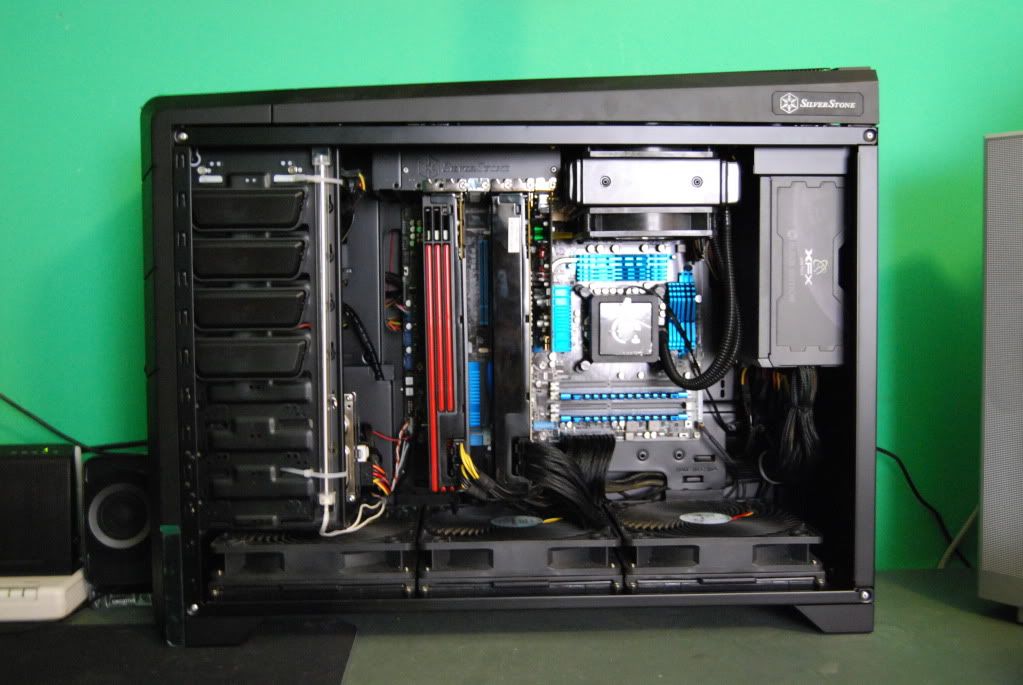 In summer 2011, from July through August, bought a Corsair H80, paired with x2 Gentle Typhoon 1850RPM fans, 8GB G-Skill Ripjaws X 1600 CL7, and at last, a Silverstone Strider Plus 1000W: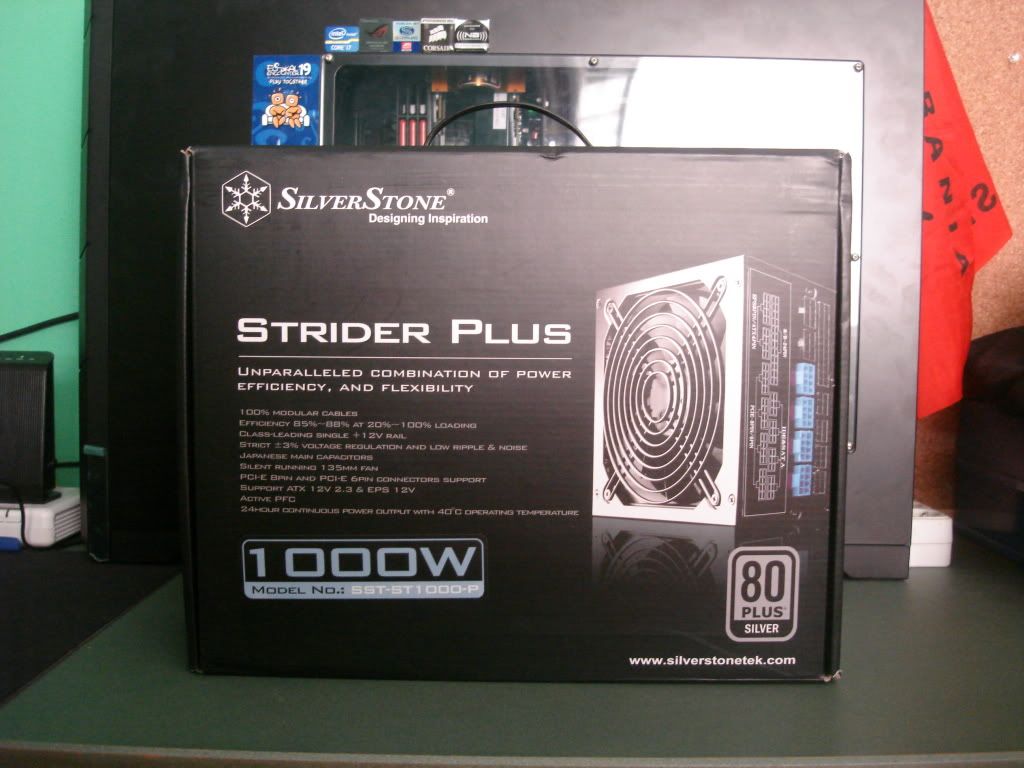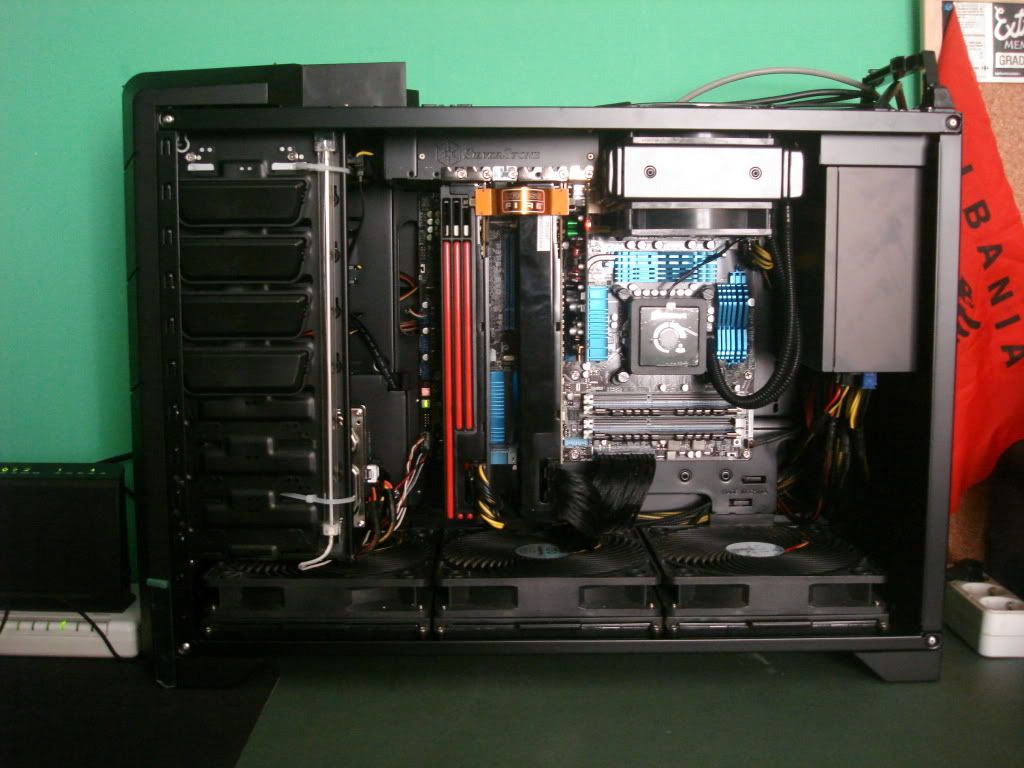 During the mid of September, decided to buy some Bitfenix white sleeving extensions, and then at the start of October, I decided to upgrade to 2x EVGA GTX580;
On December 2011, I had the opportunity to do a straight trade with my friend trading my ASUS P8P67 EVO B2 for his
ASUS P8P67 WS Revolution B3
;
I must admit I'm pretty impressed with the motherboard, it made my top GTX580 ~5ºC cooler, which means now both cards are at the same temperature, well below 68ºC at all times. :wheee:
Next upgrade has been a new monitor, I always wanted to have an IPS monitor, and 27", so without doubts, I went for a
Dell U2711
(IPS 2560x1440);
This is, with no doubts, the best purchase/upgrade I have ever done to my computer. It looks fantastic, I can't describe with words how damn great it looks, I am in love with Battlefield 3 at 2560x1440 and IPS.
On February 2012, decided to do some more upgrades;
- 3rd
EVGA GTX580
-
Beyerdynamic DT-770 PRO (250 Ohm)
-
FiiO E7
-
FiiO E9
On March 2012 with the launch of Kepler I was really teased by upgrading from 3x GTX580's to Kepler, so I first got an EVGA GTX680 on launch date:
A few days later I couldn't resist and bought a second card, since all brands were out of stock except Gigabyte, I went with these.
On May 2012 as my birthday arrived I decided to get a custom water cooling loop which consisted of:
✔ EK Supreme HF Plexi
✔ EK DCP 4.0 Pump
✔ MagiCool Copper Radiator 180mm Dual (360mm)
✔ Reservoir
✔ Fittings (G1/4")
✔ Tubing
✔ 120mm Radiator
Apparently I had installed the CPU block wrong and installed the tubes on the wrong sides. Fixed it and the temperatures dropped an average of ~6ºC under full stress on Linx. :wheee:
And added a blue led to make the reservoir look nicer!
Changed to a much better looking tubing!
And here's my 24/7 Overclock after installing the Water Cooling loop:
On september 2012 I decided to take the GTX680 SLI under water, best decission ever, now the rig is completely dead silent under heavy gaming!
On December 2012 I upgraded to an i7 3930k with an ASUS ROG Rampage IV Extreme:
http://valid.canardpc.com/2613290
Updated to an
NZXT Switch 810
after getting bored of my Silverstone Raven RV02, was not good for water cooling, this one is much better.
Next purchase will be an XSPC Dual Bay reservoir for my D5 pump to make it look cleaner.
And here it is, with an XSPC Dual Bay Acrylic reservoir for my D5 pump:
Also swapped my old and poor clocking i7 3930k C1 for a really nice clocking i7 3930k C2:
http://valid.canardpc.com/2709734
Old one needed this very same voltage for 4.5GHz, really happy with the change!
On April 2013 I decided to sell my GTX680 SLI and try a pair of HD7970 in CrossfireX, really happy with the change, no money loss and I got a bit of a performance boost, plus more vram which is always welcome at 2560x1440!
These cards are such a beast, better overall than my old GTX680 SLI. :thumb:
26-6-2013 Update:
A quick update, two days ago I got some WC goodies from a friend in exchange of helping him with wc loop and other stuff, so pretty much got this all for free.
- Alphacool Monsta 240mm
- Primochill Primoflex Advanced LRT - Red (19/13mm)
- Some 30º and 60º Adapters
- Temperature Display (No brand, I believe it's from Phobya)
- Drain valve!
It looks much cleaner now, hope you guys like it. I'm also getting few Bitspower angled adapters soon to improve it a bit more, specially the drain valve on the bottom rad, I'll use a 90º on that one to make it straight.
July Update:
I got angled adapters for the bottom rad (To move tubing away from GPU's), white sleeved extensions, Watercool Heatkiller backplates for the GPU's, and a set of red LED's for the CPU waterblock:
August Update:
Got a package today:
- EK D5 X-RES 140 CSQ - Acetal (To get rid of bay reservoir)
- 12x EK CSQ 16/12mm Niquel fittings (To replace the non-branded fittings from Aquatuning)
- 4x 45º EK PSC Niquel adapters
- 4x 90º EK PSC Niquel adapters
- 2x Mayhems Pastel White (250ml Concentrate to mix with 750Ml of DI water)
- 3 meters of Primochill Primoflex Advanced LRT 16/11mm clear
- 2x White 3mm LEDs for the CPU block
- Watercool Heatkiller Multi-Link
Sadly the store confused and instead of sending me 16/11 tubing, they sent me 19/13mm tubing, so I couldn't use the new EK fittings and had to use my old 19/13mm fittings, I'll replace them for the new EK 16/12 fittings once the appropiate tubing arrives next week.
Here are a few pictures of the process:
And here's the final pictures (Night time):
And pictures during day time:
And few days later I changed it for the smaller tubing with new fittings from EK, removed the rear 120mm radiator and added 2 more Gentle Typhoon AP-15 fans on the bottom MONSTA radiator:
Here are the final pictures with day time light:
In Christmas (2013-2014) I upgraded to a pair of Sapphire R9 290's in CrossfireX which are also under water:
Better cable management on the GPU's and removed the Temperature display:
In July 2014, after attending a Lan Party (Euskal Encounter) here in Spain, I changed Mayhems Pastel Ice White for new one as it was turning a bit blue due to too many drains and refills and adding more water, and probably crap inside the loop. Cleaned everything and replaced it, now it's all good looking again.
Also changed tubing to white, as the clear tubing (No matter what brand) will end up going yellowish anyways due to temperature. I have also removed the white sleeved extensions from Bitfenix as they gave lower voltage than original cables and caused black screens on my R9 290's.
In May 2015, I sold the i7 3930k and Rampage IV Extreme to move onto an i7 4790k and an ASUS Maximus VII Hero. Sold the custom water loop and moved onto an H110i GT. The reason for this is that every time I upgraded my GPU's I would spend a fortune on GPU waterblocks, and every time I moved my computer to a lan party it would be a huge pain having to drain the loop for safe travel, or even when upgrading anything it would require a huge amount of time because of the loop. Now it runs slightly noisier, hotter, but I am much happier as it is a lot easier and simple to upgrade or swap anything.
During July 2015 and August 2015, I switched from 2x 290X to a single Gigabyte GTX980Ti Gaming G1 and from the NZXT Switch 810 to the Corsair 450D!
Here you can find my review of the Accelero Xtreme 5970:
Accelero Xtreme 5970 - Review
Enjoy, here are the links to the upgrade posts (Click to see)
04/12/2010 - Motherboard Upgrade - Asus Crosshair IV Formula
04/01/2011 - Multi-Upgrade - New CASE/RAM/SSD/MOBO/GPU
06/01/2011 - Case Upgrade - Silverstone Raven RV02B-W
07/01/2011 - Multi-Upgrade - GTX460/SSD/MOBO/RAM
11/01/2011 - CPU Upgrade - i7 2600k
22/01/2011 - GPU Upgrade - Sapphire HD6970 2Gb
31/01/2011 - Cooling Upgrade - Thermaltake Frio
10/03/2011 - GPU Upgrade - 2nd Sapphire HD6970
24/07/2011 - Cooling Upgrade - Corsair H80 + AP-15's
28/07/2011 - RAM Upgrade - 8GB G-Skill Ripjaws X 1600 CL7
24/08/2011 - PSU Upgrade - Silverstone Strider Plus 1000W
12/10/2011 - GPU Upgrade - 2x EVGA GTX580
10/12/2011 - Motherboard Upgrade - ASUS P8P67 WS Revolution B3
17/01/2012 - Monitor Upgrade - Dell U2711
09/02/2012 - GPU / Sound Upgrade - 3rd GTX580 / New Headphones & AMP/DAC
24/03
/2012 - GPU Upgrade - EVGA GTX680 2GB
28/03/2012 - GPU Upgrade - Gigabyte GTX680 2GB
11/05/2012 - Cooling Upgrade - First custom Water Cooling setup!
24/05/2012 - Cooling Upgrade - Changed to a thicker tubing
06/09/2012 - Cooling Upgrade - Watercooled the GTX680 SLI
31/10/2012 - Cooling Upgrade - Laing D5 with EK X-TOP v2
24/12/2012 - CPU / Motherboard Upgrade - i7 3930k & ASUS ROG Rampage IV Extreme
25/01/2013 - Case Upgrade - NZXT Switch 810
12/02/2013 - Cooling Upgrade - XSPC Dual Bay Acrylic reservoir for my D5 Pump
17/05/2013 - GPU Upgrade/Sidegrade - Switched from GTX680 SLI to a HD7970 CrossfireX
26/06/2013 - Cooling Upgrade - Alphacool Monsta 240mm - Temp Display and new loop
26/07/2013 - Other Ugrades - Watercool Heatkiller Backplates and red LED for CPU block
23/08/2013 - Cooling Upgrade - Watercooling Stuff: Fittings, Tubing, Reservoir, Coolant...
27/08/2013 - Cooling Upgrade - Watercooling Stuff: Installed new tubing and fittings...
29/08/2013 - Cooling Upgrade - Watercooling Stuff: Final Pictures with day light...
31/08/2013 - Other Upgrades - NZXT Sleeved LED 2m kit for the case...
20/01/2014 - GPU Upgrade - 2x Sapphire R9 290 Battlefield 4 Edition
28/07/2014 - Aesthetics Upgrade - New Tubing and Coolant
21/05/2015 - CPU/Mobo/Cooling Upgrade - i7 4790k + ASUS Maximus VII Hero + Corsair H110i GT - no more custom Water Loop
02/07/2015 - GPU Upgrade - Gigabyte GTX980Ti Gaming G1
05/08/2015 - Case Upgrade - Corsair Obsidian 450D
I hope you have enjoyed this build log. Stay tuned for updates.