Discussion Starter
•
#1
•
Before I begin, I'd like to thank the OCN community for giving me the sound advice on this build! Everyone's help and feedback is greatly appreciated!
ZERO POINT
This is my first FULL PC build. It's a Sandy Bridge on the P67 chipset. This rig will be used for gaming and multimedia. I originally just wanted to play simple games like WoW, but after seeing the potential of this thing, I think I'll step it up a few notches!
THE BUILD
Processor:
Intel Core i5-2500K
Motherboard:
ASUS P8P67 PRO
Memory:
G.SKILL Ripjaws 4GB DDR3 1600mhz
Graphics Card:
ASUS ENGTX 460 768MB
Hard Drive:
Samsung Spinpoint F3 500GB
Optical Drive:
Lite-On CD/DVD Burner SATA
Fans:
2-200mm Cooler master fans, Push/Pull on the Hyper 212+, Rear 120mm Exhaust
Case:
Cooler Master HAF 912
CPU Cooling:
Cooler Master Hyper 212+
Monitor:
SAMSUNG XL2370HD 23" LED 1080p
PSU:
Corsair 750 TX
TIM:
Arctic Silver 5
THE BUILD
The i5 seated in the socket.
Hyper 212+
Took the stock intake fan out and added it to the Hyper 212+
Front where the intake fan was.
...and now with the GIANT 200mm!
Empty shell ready for hardware!
PSU seated
Mobo, HDD, and Optical Drive inserted. I like the
Rosewell PWM Splitter
's function, however it make's way too much of a mess when you see how it get's installed. Makes this giant tangle at the top. I see a fan controller in my future!
POSTed on the first try. So far so good!
Badges
Corsair and ASUS badges
The CM 200mm LEDs light up pretty bright even in the daylight!
So, my last rig was a Dell from 2005... LGA 755, slow as heck compared to this thing. I can't wait to get some benchmarks and overclock!
So remember when I said I'd be using this thing for WoW... well I loaded WoW on to this thing, and maxed out the settings and...
182 FPS on MAX settings?! The monitor only refreshes @ 60 but... DANG...rendering 182 on max settings... I knew the GTX 460 would be great, but this is stellar. I need to step my games up a bit i think.
Here's a picture of the inside with some of the cables routed behind the motherboard. I'm going to reroute the cables to make it cleaner once I get a fan controller. See the thin cables at the top? The PWM splitter does it's job good, but it makes way too many cables... and they're difficult to conceal. The fan controller will make for better cable management.
SCHEDULED FUTURE UPGRADES
Scheduled for May 2011
HDD:
Second 500GB for RAID 0
SSD:
Corsair P3 80GB
Video Card:
Second GTX 460 768MB for SLI
Fan Controller:
NZXT Sentry (open for suggestions too) COMPLETE (Scythe Kaze Master instead)
Scheduled for August 2011
Sound Card:
Creative Sound Blaster X-Fi Xtreme Audio PCI E (Don't need extreme sound card)
Fans:
4-120mm w/ Blue LED's to match my others COMPLETE!
Optical:
Blu-ray drive (Any suggestions?)
THANK YOU TO EVERYONE WHO GAVE THEIR FEEDBACK PRIOR TO THIS BUILD!

UPDATE! April 29, 2011
Added 2 Blue LED Cooler Master 120mm fans to the CPU Cooler, A "KAZE MASTER" 5.25" Bay Fan Controller, NZXT Premium sleeved ATX power cable, and fine tuned the cable management!

Look at the back, boy that's a lot of cables! At first I wished I had got the Modular PSU, but as long as the side door gets on, we're good!
Here's a look at the KAZE MASTER 5.25" Bay Fan Controller (much brighter in the dark, but my camera wouldn't get a sharp image...)
UPDATE! July 3rd, 2011
Razer Lycosa Keyboard, Razer Naga MMOG Mouse, Razer Kabuto Mouse Pad, and a Z-Line Galaxy Glass Office Desk!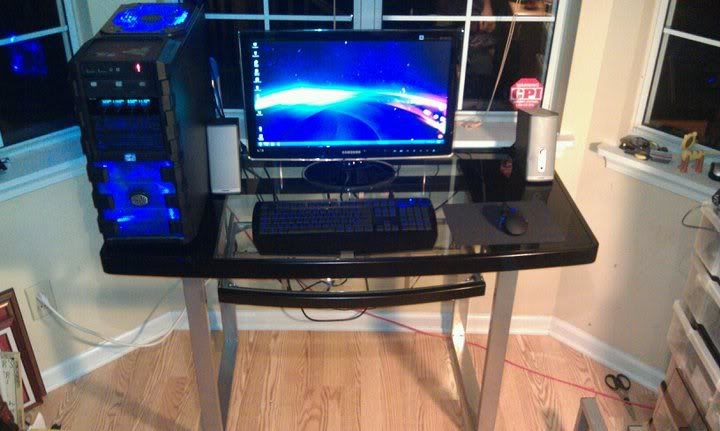 UPDATE! July 19th, 2011
Goodbye GTX460's, Hello GTX 570!!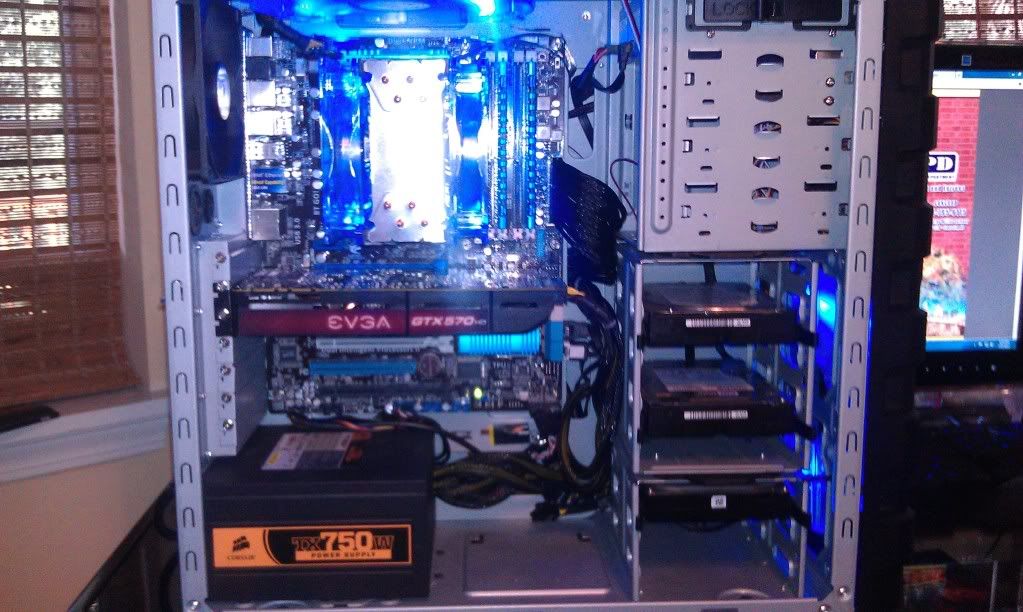 Please let me know your thoughts and feedback. Any suggestions for improvements are welcome and appreciated! If you have any suggestions for my scheduled future upgrades, let me know!