Discussion Starter
·
#1
·
Table of contents:
Physically

Shape
Feet
Buttons
Cable
Weight
Build Quality
Tracking
Lift-off Distance
Jitter
Prediction
Perfect Control Speed
Consistency and Acceleration
_500Hz
_800dpi @ 1000Hz
Software
Conclusions
Pictures
Spawn
Spawn vs Abyssus
Abyssus glossy side
Physically
Shape
Perfect for fingertip grip. Nothing else to say! Some people stated that it requires a bit of time to get used to Spawn's shape but for me this shape was
very natural
. If your grip is fingertip too, I definetly recommend this mouse. It's odd when you first see in the pictures but when you grip it, it just fits. I'm using it for more than a month and I've never expercienced fatigue (with Abyssus sometimes my ring finger felt weird/strained).
It might be very good for claw grip also (and definetly not good for palm grip, unless you have a very small hand).
Feet
They came with sharp edges, but they will break-in really fast (after a few minutes I almost couldn't feel the sharpness anymore). It glides much better than Abyssus feet.
Let's see if newer versions will indeed come with rounded edges.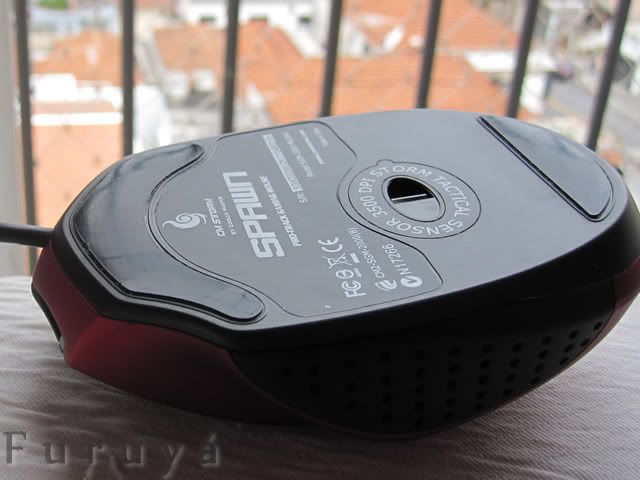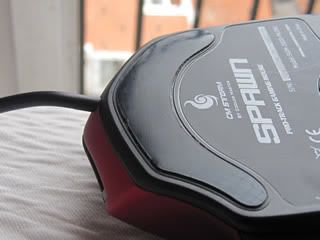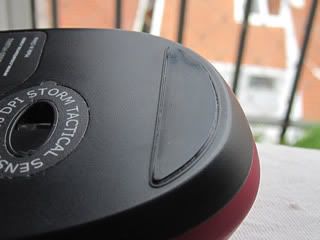 Buttons
Very light activation force (except scroll
button
). As is, it's very good; lighter than that, it would be a problem I think. When I was drawing the lines for the jitter test, I accidentaly clicked the right-button a few times when i had to slowly and firmly draw the lines without deactivating the left-button. Other than that, I've never made accidentals clicks in any button. User
calavera
gave the exact same
review
about the buttons (light activation force but we like it
).
All of them (except scroll
wheel
) has a very good (light) tactile and audible feedback. I would enjoy a clicky scroll
wheel
(as clicky as the other buttons) aswell. Scroll
button
activation force could be a bit lighter too.
Cable
A bit thicker as many has already stated but that's not a problem for me. Actually, that thickness makes it looks very sturdy and reliable in my opinion. It probably is an issue for low sensitivity players.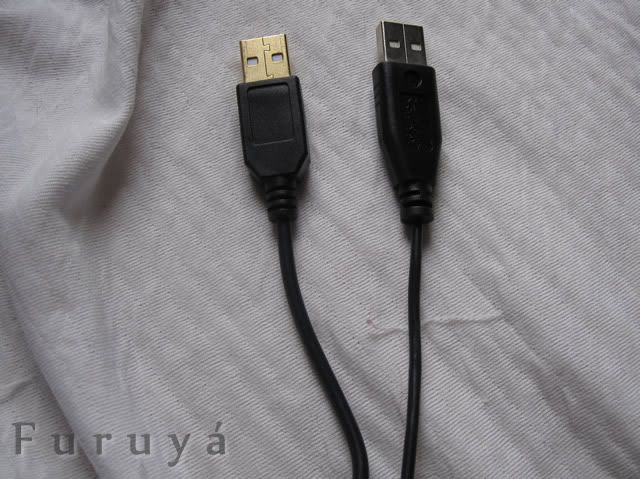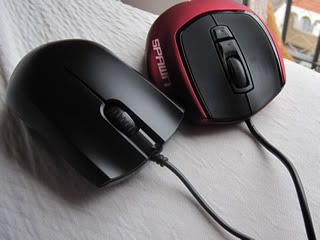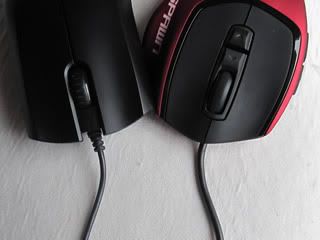 Also, it's worth noticing that Spawn cable has a Ferrite Bead close to the USB plug which should help filtering EMI/RFI: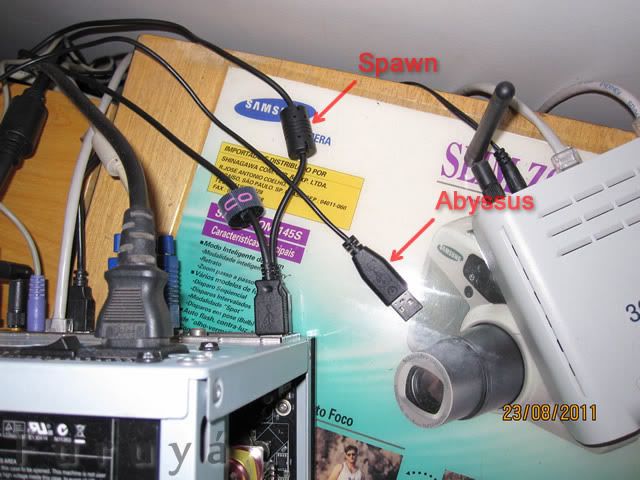 Weight
(without cable)
Spawn: ~
86g
; Abyssus: ~
71g
.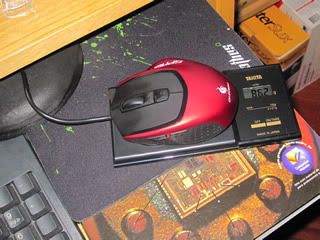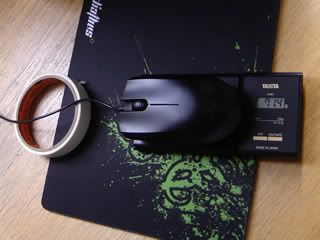 Not a problem at all but I would prefer a bit lighter. About 10% ligher (~75g) would be perfect!
Build quality
Very well built. Every button is "rubber" coated (actually it's a plastic which gives a nice grip), plus thumb and pinky rest (those seems to be real rubber). I won't really describe it, it's better you see it for yourself.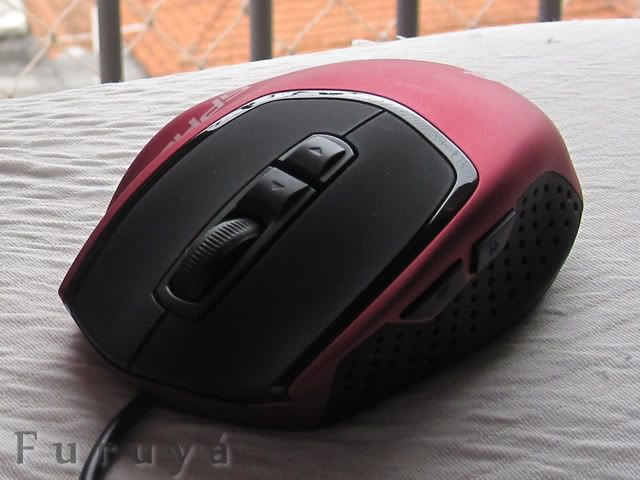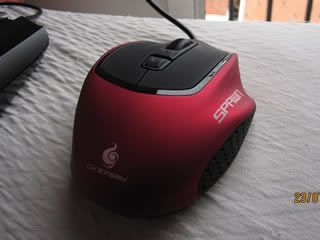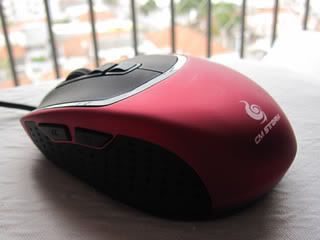 Tracking
Lift-off Distance
(all dpi)
Firmware
30a
: 4CD in Goliathus Speed; 1CD in my
Desk
.
31
: 1CD in Goliathus Speed; 0CD in my Desk (doesn't track).
32
: 2CD in Goliathus Speed; 0CD in my Desk (doesn't track).
With firmware v31 it does skip in the
green splash logo
of Goliathus Speed Fragged edition. I took special care when I made tests with it (used only the dark region). If you want to use firmware v31, an all black and a completetly flat surface are required. In my opinion they pushed too hard with this firmware trying to lower the LOD and it ended up being not too stable and very picky with surfaces.
Jitter
The jitter test is very sensitive to the speed at which you draw the lines. Having that said, Spawn is pretty much jitter-free, except... 800dpi @
125
,
250
and
500Hz
.
800dpi @ 250Hz: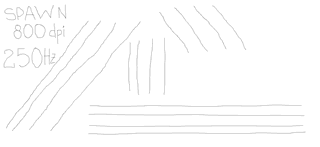 This is the sensor flaw in my opinion
. Because I'm late with this review, I'm seeing already
some users
noticing this flaw
. At 1000Hz though, it is pretty much jitter-free.
800dpi @ 1000Hz: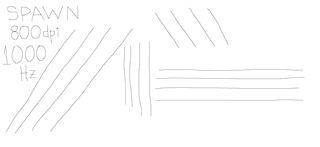 Prediction
From the jitter test, it's noticeable a slight (at low speed) amount of prediction, most prominent in horizontal lines (user
squarebox
has
noticed it
also). Comparing it with my Abyssus, it becomes very clear that Spawn does indeed have a certain amount of prediction.
Spawn: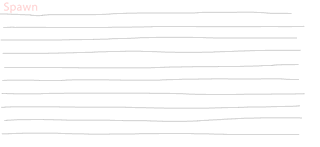 Abyssus: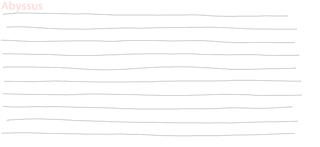 Abyssus has more jitter; Spawn has more prediction. Personally, prediction bothers me far more than jitter and I do prefer Abyssus tracking. But that's so slight and the shape is so superior, that I have to stick to Spawn.
Again, the amount of prediction is so slight that I don't know if it's even fair to say that it has prediction. But you can definetly notice it if you have other mice completely prediction-free.
Perfect Control Speed
Plots of Speed vs Time follow below. Data was collected with
outer
space
logger.
1792mm/s
at 1000Hz and 500Hz:
(I will comment on that instability at 500Hz)
(
2688mm/s
at 250Hz and
3136mm/s
at 125Hz).
The interesting thing here is that - in order to achieve those different speeds - it uses a different amount of bits at each polling rate (
8
,
9
,
11
,
12-bit
for 1000, 500, 250, 125Hz).
Results for all dpi [125, 250, 500, 1000] Hz
800dpi
: [
http://img.photobucket.com/albums/v280/Furuyah/Spawn/800dpi/125/perfect_control/Spawn_800_125_Goliathus_Speed_fw32_speed.png]2270[/url
],
http://img.photobucket.com/albums/v280/Furuyah/Spawn/800dpi/250/perfect_control/Spawn_800_250_Goliathus_Speed_fw32_speed.png]2016[/url
],
http://img.photobucket.com/albums/v280/Furuyah/Spawn/800dpi/500/perfect_control/Spawn_800_500_Goliathus_Speed_fw32_speed.png]2016[/url
],
http://img.photobucket.com/albums/v280/Furuyah/Spawn/800dpi/1000/perfect_control/Spawn_800_1000_Goliathus_Speed_fw32_speed.png]2032[/url
]] mm/s
1800dpi
: [
http://img.photobucket.com/albums/v280/Furuyah/Spawn/1800dpi/125/perfect_control/bigger/Spawn_1800_125_Goliathus_Speed_fw32_speed.png]3136[/url
],
http://img.photobucket.com/albums/v280/Furuyah/Spawn/1800dpi/250/perfect_control/bigger/Spawn_1800_250_Goliathus_Speed_fw32_speed.png]2688[/url
],
http://img.photobucket.com/albums/v280/Furuyah/Spawn/1800dpi/500/perfect_control/bigger/Spawn_1800_500_Goliathus_Speed_fw32_speed.png]1792[/url
],
http://img.photobucket.com/albums/v280/Furuyah/Spawn/1800dpi/1000/perfect_control/bigger/Spawn_1800_1000_Goliathus_Speed_fw32_speed.png]1792[/url
]] mm/s
3500dpi
: [
http://img.photobucket.com/albums/v280/Furuyah/Spawn/3500dpi/125/perfect_control/Spawn_3500_125_Goliathus_Speed_fw32_speed.png]1613[/url
],
http://img.photobucket.com/albums/v280/Furuyah/Spawn/3500dpi/250/perfect_control/Spawn_3500_250_Goliathus_Speed_fw32_speed.png]1382[/url
],
http://img.photobucket.com/albums/v280/Furuyah/Spawn/3500dpi/500/perfect_control/Spawn_3500_500_Goliathus_Speed_fw32_speed.png]922[/url
],
http://img.photobucket.com/albums/v280/Furuyah/Spawn/3500dpi/1000/perfect_control/Spawn_3500_1000_Goliathus_Speed_fw32_speed.png]922[/url
]] mm/s
The highest Perfect Control Speed lies at the 125Hz polling rate in all three dpi's.
It's worth noticing that the "low" 1.7m/s PCS is not a flaw since the official specification states "
60 IPS
" (1524mm/s), so users are more than aware of what to expect from this mouse, regarding this specific aspect.
In the other hand, the measured speeds at 3500dpi (except at 125Hz) don't meet the specifications but I don't think that anyone using 3500dpi will ever come close to hit 1.5m/s even at Full HD screen resolution.
Consistency and Acceleration
500Hz
500Hz showed to be effectively between 250 and 500Hz, not true 500Hz. See this plot: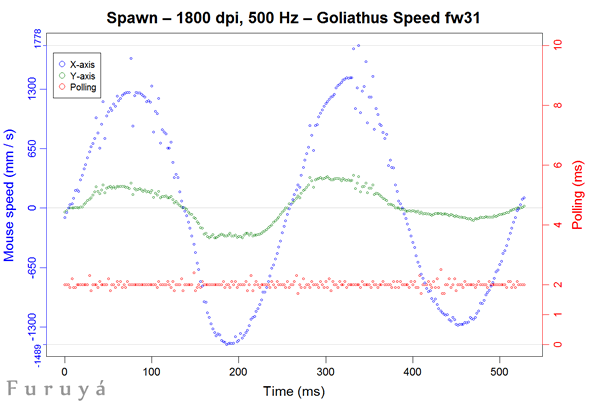 We can see that "ups and downs" canceling each other, making the counts correct only when we look in the 4ms interval (250Hz). In the 2ms interval (500Hz), I think we can call that a "instant jitter" (because it can NOT be noticed in paintbrush test, it's just a "2ms jitter"! And the Counts variation is low).
Also, notice that
it only happens when going from left-to-right
! That's a movement inconsitency. From right-to-left swipe, we observe a very slight amount of negative acceleration, which most likely is completely un-noticiable. That inconsitency was verified in all mousepad positions (0, 90, 180, 270º).
With
Firmware v32
it's less instable than v31, but still inconsistent.
1000Hz
did not showed that movement incosistency. But the slight negative acceleration was there too; again, I'm pretty sure that it's almost impossible to notice that subjectively (i.e. playing a game).
800dpi @ 1000Hz
Unfortunately, 800dpi at 1000Hz showed an even worse inconsitency, which
only happens when going from right-to-left
: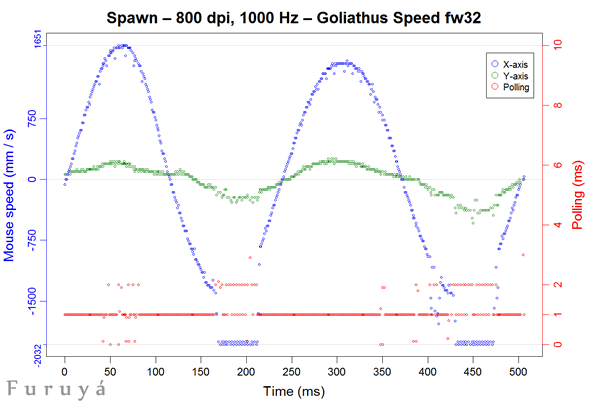 Notice that we can't say that it's only negative or only positive acceleration, because the polling rate falls from steady 1000Hz and oscilates between 1000 and 500Hz. But it's definelty inconsistent and possibly noticiable to the user, because the counts stay flat capped at the PCS (2032mm/s in this case), whereas it should be an curve with higher absolute value but with the same slope as the rest of the curve.
In order to verify how far it is from what it should be (and to take into account the polling rate variation) here's the Counts per Second plot with a curve fitted through polynomial regression:
It's a "jittered negative accelearation" followed by a "jittered positive acceleration" which lasts for less than 50ms in some cases. So, surprisingly and despite how ugly it may look, it might pass unnoticed to the unaware user! In fact, in the
Distance Travelled
plot we don't see any huge deviation. Still, that's the nail in the coffin for the 800dpi in my opinion (others polling rate at 800dpi don't suffer from this defect but they have jitter). If you're a low sens user and your in-game sensitivity won't allow you to down-scale the 1800dpi, then Spawn is not for you!
We don't observe this issue at
low speeds
, but that doesn't matter since the user who needs 800dpi will most likely hit high speeds very often.
Software (and CM Storm customer service)
Spawn English Application (.EXE) - Version 1.0 - Mar 04, 2011
Spawn_Software.exe - 4.267.731 bytes
Software doesn't work if you hit 'Apply' or 'Ok' with Google Chrome opened.
Before figuring that out (1 week ago), I have issued a ticket at CM Storm website and opened a thread at their forum. So far, the ticket remains
unanswered
and the thread got its replies published just a few hours ago. I tried to answer my own thread there to let people know about the issue but the admins didn't want to make it public until today. A few hours ago I noticed CM Carter spreading this information at either CM Storm forum and at OCN as if CM Storm team were working hard in this specific issue and finally figured out the problem. I didn't like that kind of attitude from Carter but, well, at least they keep in touch with community.
(I wrote that in mid-July. Ticket remains unanswered)
And Spawn does have an onboard memory. So once you have set your preferences through the software, you can uninstall it if you want to.
Conclusions
Perfect shape for fingertip grip, great build quality and flawless tracking at 1800dpi.
Major flaws at 800dpi.
This is a mouse that you can definetly use 125 or 250Hz (at 1800dpi). Compared to 1000Hz, you'll only get a 7 or 3ms additional lag (which is completely negligible), but low sensitivity players will benefit from a much higher Perfect Control Speed.
Firmware v31 has very good LOD (less than 1CD) but is a bit instable.*
500Hz polling rate showed to be inconsistent under various conditions.*
Considering that this mouse will perform similarly in other dark cloth pads, my personal recommendations are:
Mid/High sensitivities
(top speed below 1.7/ms): Firmware v32, 1800dpi, 1000Hz.
Low sensitivity
(top speed above 1.7/ms): Firmware v32, 1800dpi, 125 or 250Hz (PCS 3.1 or 2.7m/s). If your in-game sensitivity doesn't allow down-scaling, then you should stay away from Spawn.
One last thing that I want to point out is that 1800dpi on Abyssus felt a bit more sensitive than 1800dpi on Spawn. That proves that those Mouse Speed measurements are only estimates about real world measurements (to calculate Mouse Speed from Counts,
it's made the assumption that actual cpi matches nominal cpi
).
*maybe not instable enough to be a "deal breaker". You probably won't notice anything subjectvely.
Pictures
Spawn








Spawn vs Abyssus





Abyssus "infamous" glossy side (plus sharp edges that can "bite" you finger)