Discussion Starter
•
#1
•
SETUP
Hey guys, it's a long time i'm working on my new rig, so i'll post something about the job
that is almost done, hope it will be interesting for someone, expacially if you like lan party
or mini atx cases. Btw my english is crap, so have fun trying to understand it
Like 3 months ago i decided to build my new rig, it has been my first build ever, so i've read
for very long time all sites and threads about CPUs, mobos, gfxs, and everything else...
(you'll find all of them on the end of the post, if you won't get asleep before you reach it.)
At the end of a big research, talking with some people on forums, i've decided all the items
i wanted to put on it, here is the list:
CPU core i7 920 D0
MOBO Asus rampage gene II
RAM corsair xms3 x3 6GB 1600
CASE Silverstone sugo SG04-H
PSU Corsair 650HX modular
COOLER Corsair H50 push/pull with 2 Delta AFB1212SH (10.92 mm/H2O)
-----> Now replaced with Supreme HF full nickel + MCP355 + EK 240 rad + Tygon tubes
FAN controller Scythe kaze master 3.5
HDD Intel SSD X-25M 80GB G2
AQUATUBE RES
+ ICD7 compound, Arctic Silver 5 and MX-3.
Image taken as all arrived to me, some parts have been replaced later...:
CASE
The problem with all these parts has been to put all together and fit all inside my Sugo, since
the case has been my first choice. I know you'll think "why the hell you've choosen a Sugo case",
that is cause i will have to travel with it from home to work often, and i really hate laptop, since i
think it's a bit difficult to mod them and they can break easily, (maybe i'm wrong about this,
but i really liked the design of the sugo and wanted so bad to build it by myself).
My previous decision was to get an Antec 902 (
), but was so huge that i really couldn't
think about moving it and travelling with it.
Here comes the Sugo:
CPU COOLER, FANS, PSU
As not everyone knows, the Silverstone Sugo Case fit just some special kind of coolers for CPU,
you have only 8.2 cm (height) to work with...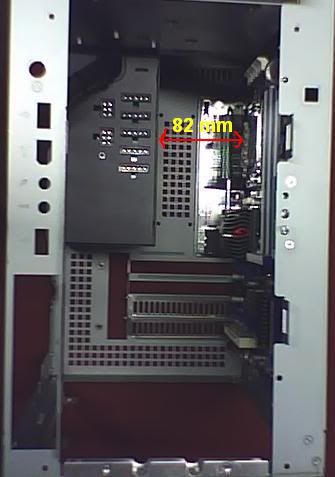 I started thinking about a Scythe Shuriken low profile or a Silverstone NT-06, but after reading some
reviews i found that those were a poor choice, and instead i found many threads about H50, so, at the end, i went for it.
The Sugo itself got some airflow problem, expecially the big new panel on its front, instead of the previous
Sugo SG03, doesn't let a lot of air pass through, only from the bottom and from 4 little side air slot. This
was just a bit of the problem, since a big filter was all over the fan panel behind the front one, plus the fan
panel itself wasn't the best for a pair of 120 mm fans.
I hope you understand better from images: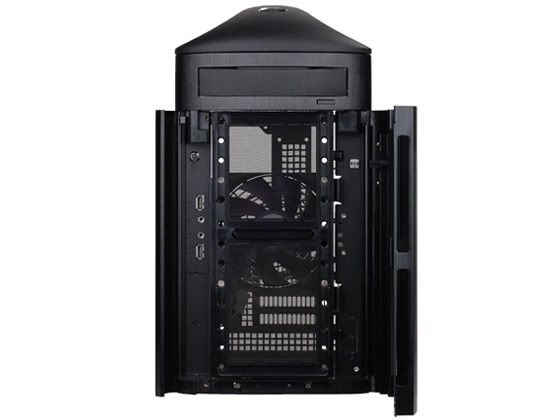 Here you can also see how a 120 mm fan fits inside the inside panel:
Let's start from here, i decided i had to dremel this panel a bit, to let more air get caught by the fan:
Ok, this being done, i had 3 cool Yate loons 120HS to put there with the H50 radiator.
Obviously, with the originale case you cannot put a push pull setup using 2 120mm fans, actually there's
no space for them, the problem is that the pull one (intake config) will simply touch the ATX 24 pin connector
from PSU to mobo. I had to work also here, this way:
(the image doesn't show a yate loon, but a delta, my last choice, will speak about that later...)
and this is where the problem was: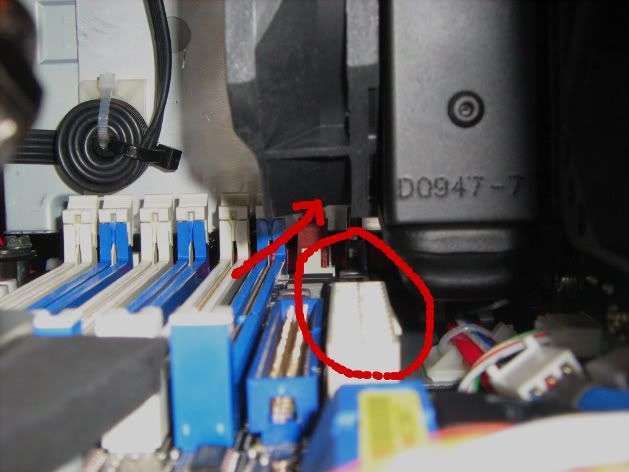 you can see how a second inside fan could touch the white 24 pin atx mobo connector.
Now that i could put there 2 120mm fans with the H50 radiator, it was time to think about cables arrangement.
Most of the cables have been shortened, expecially on the PSU (poor Corsair):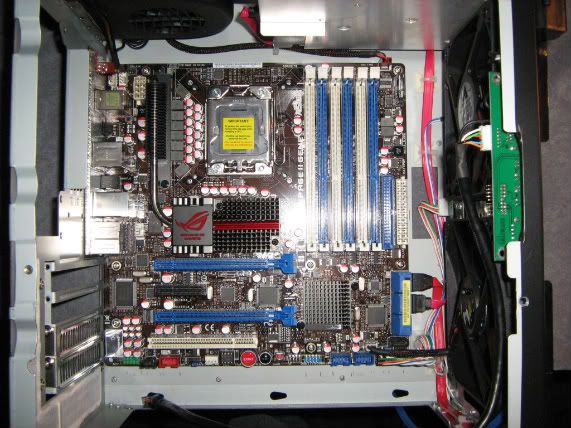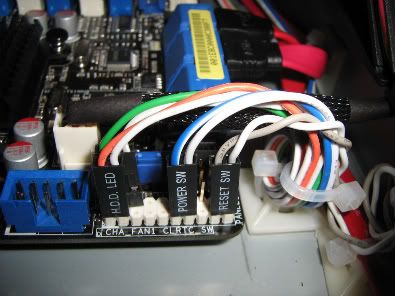 Ok, try to don't get bored yet, we're on the way
Watch the Corsair PSU that seems an elephant in a doghouse: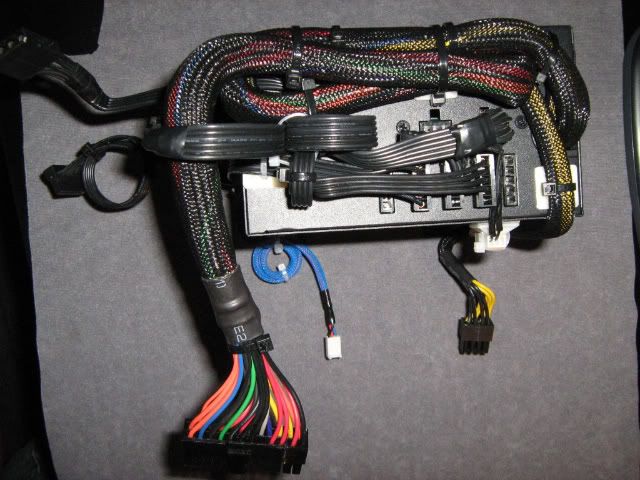 The PSU fan has been changed, from Adda to one of the 3 Delta i had, and i decided to
Control its speed directly from my mobo, so you can see the fan 3-pin connector cable
Coming out from the PSU case, ready to be connected on rampage gene.
It's important to say that this decision was taken since the PSU fan will be used as
The main motherboard exhaust fan, and when overclocking, it's really useful to get out
Fast the hot air pushed in by H50 setup as intake with same kind of fans.
Probably you noticed the blower upperside the case, after trying various slot blowers,
I decided Antec Tricool was the right one to use, is the only one with 3 speed,
And, since the backplate of motherboard connectors had a little hole for the
LCD asus system, that i'm not gonna use (i mean the hole, not the lcd), i decided to
Mod the tricool and try to put the switch for 3 speed on that place, it looked really cool.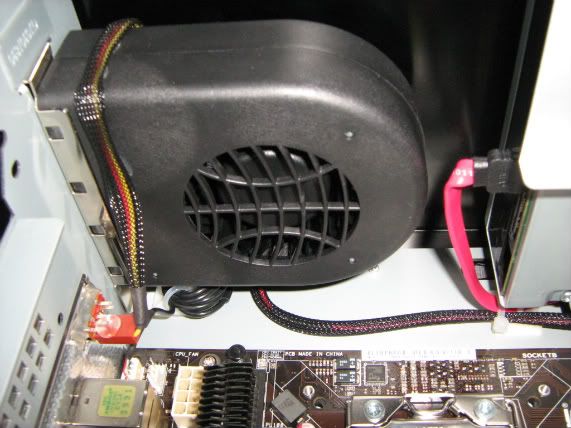 So this is the setup, intake air from the front, exaust air from the back by PSU and
Upperside blower.
THE FIRST SETUP - ORIGINAL H50
Now the job is near to be completed, but, i must say to you we're just half way to the end.
I started using original H50 setup, this is the image that shows how i fit it into the system: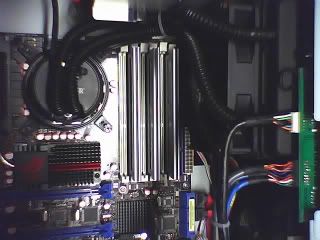 Sincerely i didn't like this setup, not only because the hoses were arranged incorrecly
from my point of view, but also because there was too much stress on them being
constringed by that area of the case.
I'll speak later about results and core temps i've got with the first setup.
That being said, i decided to go for H50 modding, and here comes overclock.net!
I sterted with modding tubes and try to find a better way to put them inside the case,
right after that, and after seeing some post by Willhemmens and some guides, i
decided to go for a complete modding, with a reservoir.
THE SECOND SETUP - MODDING H50 + RES
This is the image of the first step of the modding, obviously i mounted it and completed
the system before i changed my idea....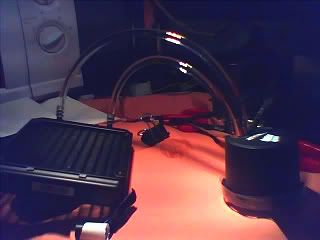 My system isn't gonna have an hardware update in the next years, i decided to spend
some money on it and stop there right after the final building. Thinking about this
i decided that a single ati HD5770 was more than enough for my purpose, and the intel 80 GB ssd
could always be replaced by a bigger one or anyway could be really easy to add another of them
since they take just some space. So the space to fit the RES wasn't that much, but
one of the two 3,5" bay for hard disk drives was actually free.....
Here comes the aquacomputer reservoir (aquatube), even if Swiftech ones are very good and also cheap,
i really liked the design of the first one so i ordered it:
The images will show you the system just started and running with all the tiny bubbles inside,
and the system completed after 24 hours. I had to shake it many, many times..... and no bubbles at
all were left. This was very important for me since the position of the RES would have been downside,
at the bottom of the case, while pump and radiator were gonna be at the top.
After 24 hours :
THE LAPPING JOB
While reading how to drop temps right before ordering CPU, sp a while ago, i starting to read
about the lapping job, and i fallen i love.. So i thought it was for me, and even if it could be really risky,
i decided to lap my new CPU and also the base of the H50 pump, and try to see if this copper could shine
and become like a mirror, even if we all knows that is not so important, while having a perfect flat surface is.
Well guys, some good guides and tips, using forums and youtube can really help you to do all you want!
This is what i used apart from all kind of grits (from 600 to 2500) and hydrophilic cotton: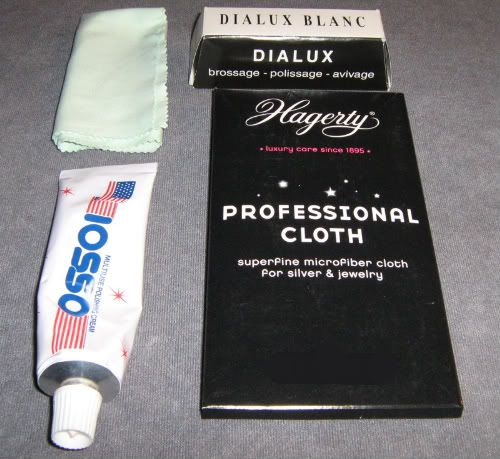 And what i've used to clean surfaces before applying TIM (multiple times and different TIMs):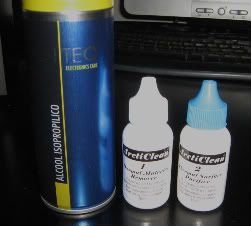 Preparing the CPU for the lapping:
And finally here it comes the job is done: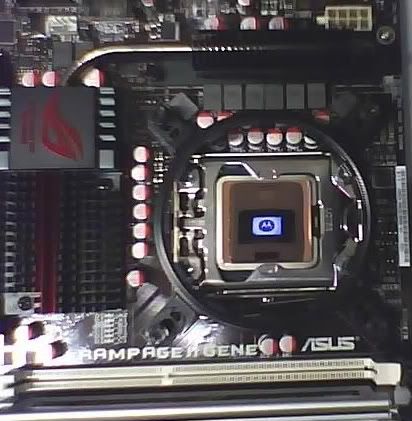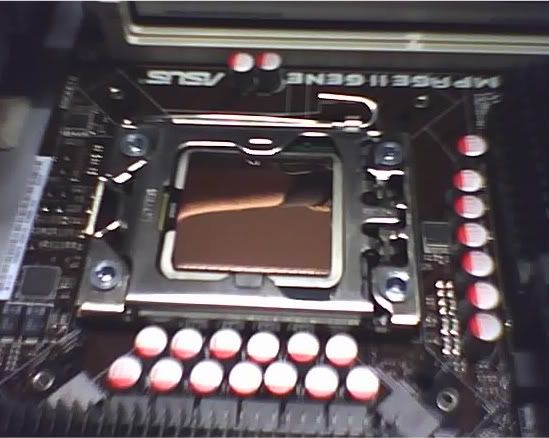 The pump of H50 done too: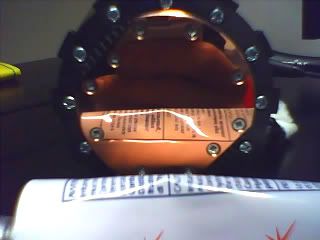 PUTTING THE MODDED H50 INSIDE THE CASE
I known i was gonna have some trouble doing this.. but after solving some problem,
at the end i made it. You'll see i used some accessories like 90° turns from aquacooling
and some other things, that was a must because, remember, the PSU will be right there
over the mobo, and i don't want hoses to touch the PSU in any way, being free to move a bit...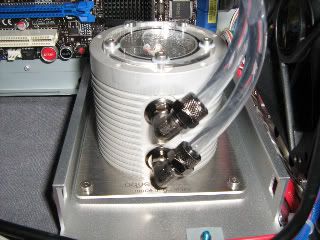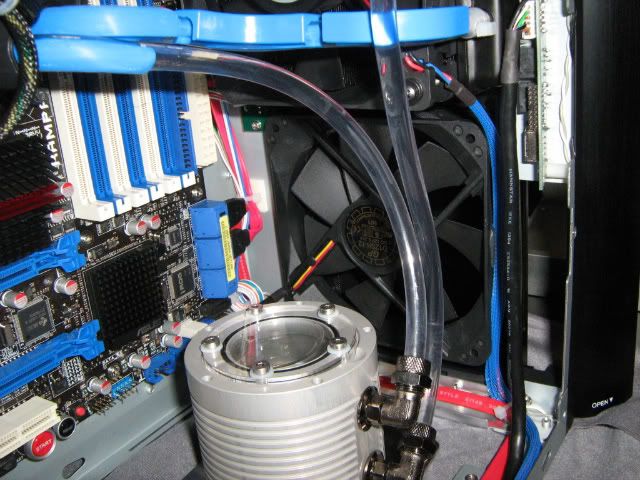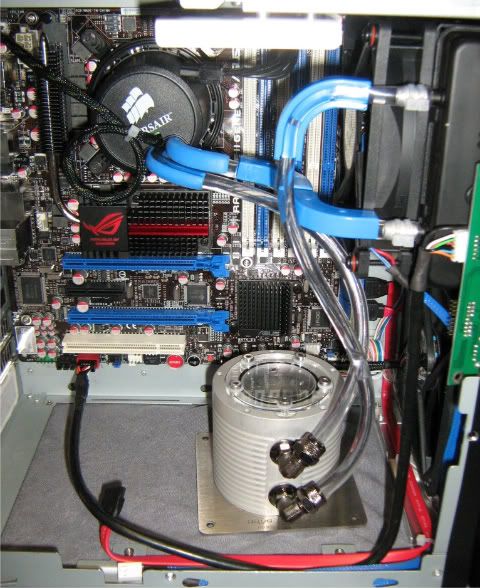 Some photos of final case cable arrangement, told you yet i like it clean: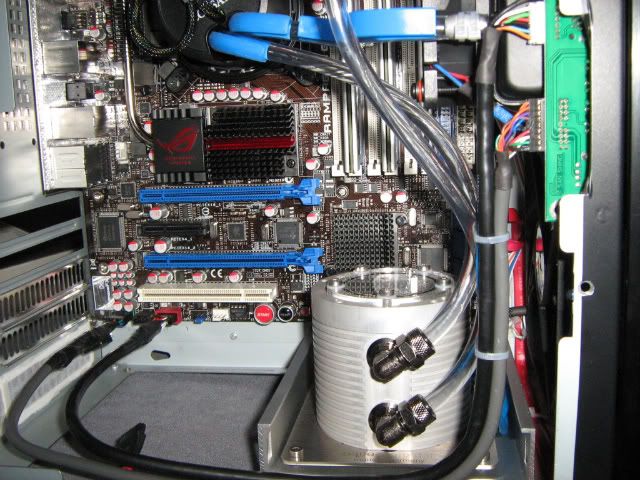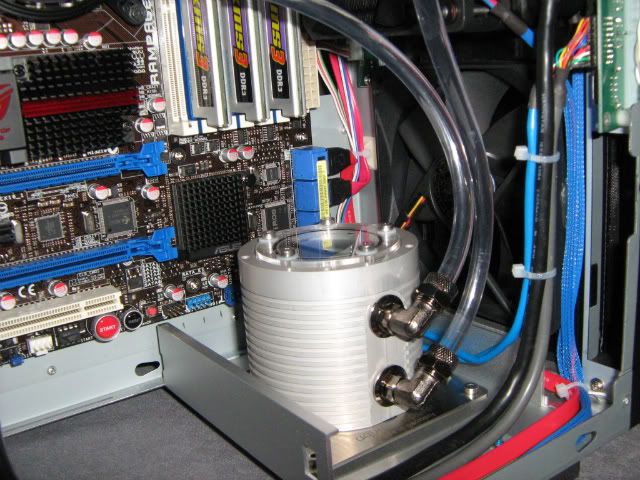 continue on part 2 on next reply!