Discussion Starter
·
#1
·
Finished pic's in post #2
Edit: Please be prepared for a lot of rambling and pic's
Due to running out of room for pic's, I have restructured this thread. The following are links to the posts with the updates!
Update #1
Update #2
Update #3
Update #4
Update #5
Update #6
Update #7
Update #8
Update #9
Update #10
Update #11
Update #12
Update #13
Update #14
Update #15
Update #16
Update #17
Update #18
Update #19
Update #20
Update #21
Update #22
Planing Stage
Well it's been a few months since I moved my system in to the Monstrous Mozart. From there I upgraded to a Core 2 rig so I have a few extra parts laying around. I figured I load up the old Armor again, with a few mods of coarse. Some of you may remember the 'Throne' I built for my Armor quite some time ago. As well as it worked I want everything in the case this time. I figure this will take a few weeks to get done and maybe longer to get the few parts I still need. Moneys kinda tight right now, planning a big trip to BC in a few weeks! I'll be starting out with a few mods out of the way, it's already been painted and had the fan grilles and fill port cut at the top. The paint will need a fresh coat and the cut's cleaned up a bit, but it will be easy work. The main part of this mod will be the front panel as well as trying to find a place for the heater core I have kicking about in the Throne. I'll be cutting on the front flaps and locking them closed. I will also be sealing the top of the flaps to the bezel with some mesh and filters, looks sick in my head. I'm a little unsure as to the lines I'm going to cut for the bottom of the closed flaps, but the tape in the pic's below kinda gives an idea. I will mount a 2x120mm rad flush in to the closed flaps with a push/pull config on the fans. Also some mesh filters on there. Well enough rambling, here's a few shots that may give you an idea as to what I'm doing
These were taken with the case laying sideways on my foot stool, that's why they look kinda odd, lol.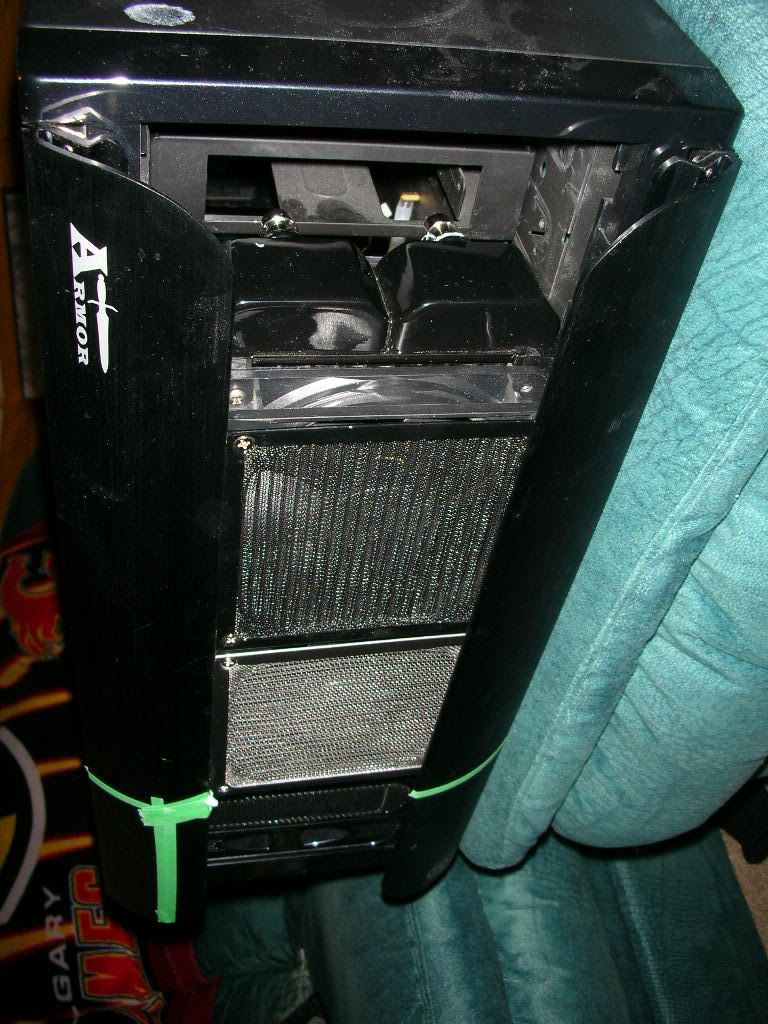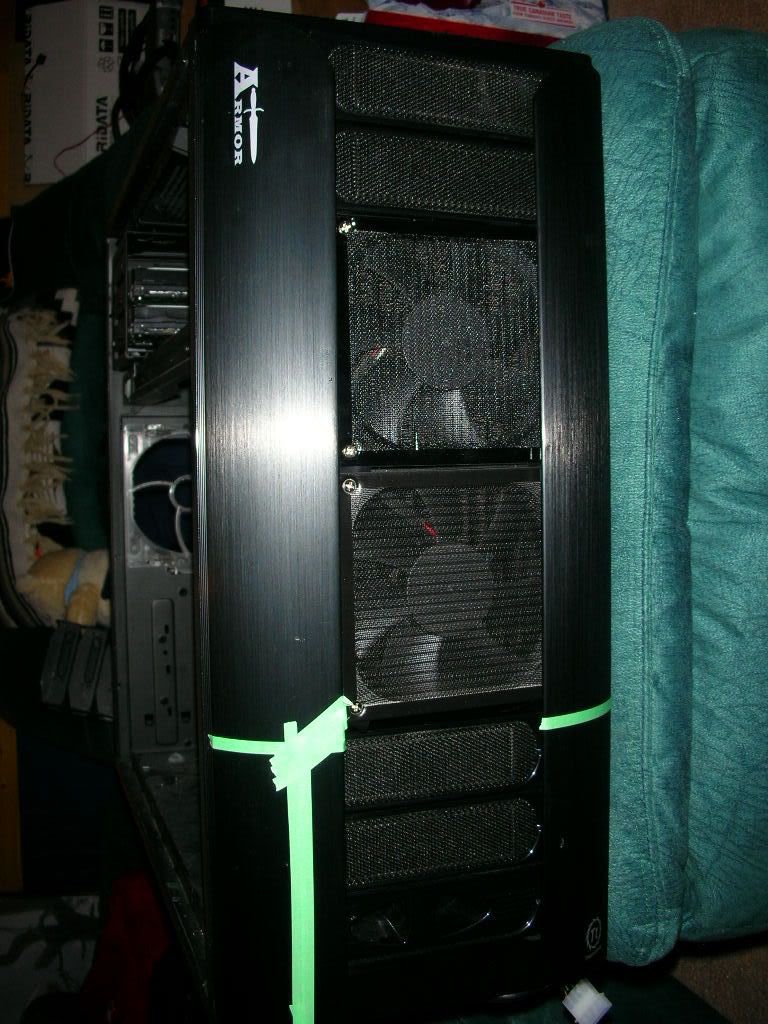 The DVD/RW, Drawer and power button will mount in the lower three bays, I just put the filters there to line stuff up a bit.
If my Mozart mod is any example there should be many more pic's to follow!