Discussion Starter
·
#1
·
Now
So I finally got home and it's time to get the tools out. My build now consists of two 360mm radiators with one hanging off to the side and the other one mounted on the inside of the top. The top Black Ice Pro III Compact has three Scythe Ultra Kaze 3000 RPM pushing with three thin Medium Speed Yate Loons pushing. The MCR320 has a single Medium Speed Yate Loon pushing.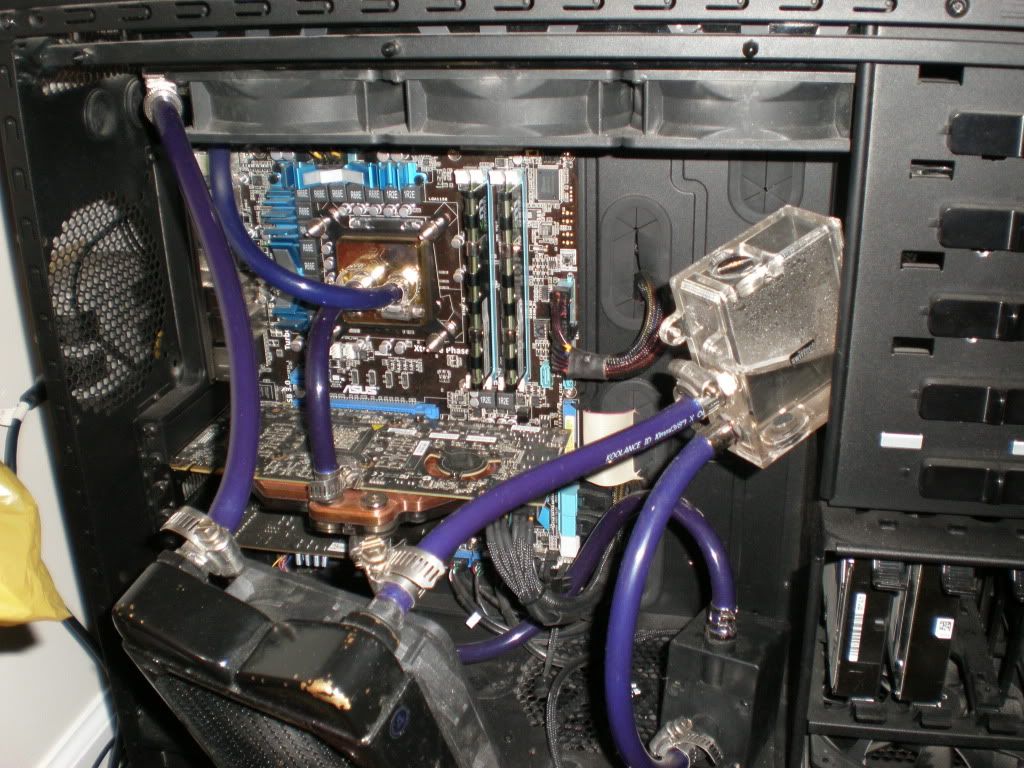 The Idea
This was originally inspired by another OCN build which I just spent the last 20 min looking for but can't find the log but here it goes. My plan for now is to remove the bottom hard drive cage and mount the MCR320 on its side (TJ07 style) with push pull fans. A 360mm long hole will be cut into the side panel and fitted with a homemade mesh grill.
Mesh Grill
The idea is quite simple and hopefully will come out well. Since this is on a tight budget I'm going to be making the grill myself. After cutting into the size panel and softening up any edges with a jewelers file I'm going to line the edge with heat shrink. When I sleeved my powersupply I mistakenly got 1/16" heat shrink. So the plan is to cut that and use it as U-Channel. The mesh itself will be whatever I can find at the local Home Depot. It will be held on by 8 small bolts with washers on the other side pinching the mesh in place against the side panel.
Old Parts
Black Ice Pro III Compact
MCR320
OCZ Hydropulse 800L/min
EK Supreme HF Full Gold
EK Full Copper/Plexi GTX 470
Swiftech Micro Res
3x Scythe Ultra Kaze 3000 RPM
3x Thin Medium Speed Yate Loon
1x Medium Speed Yate Loon
New Parts
2x Medium Speed Yate Loon (Arrived)
2x EK Compression Fitting (Arrived)
3x Koolance 3/8" ID Blue Tubing (Arrived)
Tools
Dremel
Jigsaw
1/16" Heat Shrink
Jewelers File
Drill
Updates:
Update 1
Update 2
Update 3
Update 4
Update 5
Update 6