Discussion Starter
·
#1
·
Crucial Ballistix Tracer Blue DDR3 PC3-12800 3x2GB Model BL3KIT25664TB1608 Stability Testing and Review
Special thanks to Kelly at Crucial Memory for providing this test sample for review.
Crucial has been a long time provider and manufacturer of Computer Dram Modules and Ram based products. Crucial is part of the Lexar Media Family of products and is owned by Micron Technology. They manufacture high-quality products in several memory based categories which include USB flash drives, all popular form factors of memory cards and card readers, and DRAM computer memory for PC and Mac systems. They also manufacture solid state drives (SSD) which are now becoming more and more popular and accessible to the general public.
Quote from Crucial.com:
Quote:
What is Ballistix memory?

The Ballistix line is specifically built for performance enthusiasts who want to push the performance envelope without worrying about data loss or corruption, mysterious intermittent errors and display problems, or worse â€" the dreaded BSOD! The Ballistix line of high-performance memory modules features advanced speed grades, low latencies, and integrated aluminum heat spreaders.

Why should Ballistixâ"¢ be your weapon of choice?

We ensure 100% of our Ballistix modules pass rigorous testing to meet or exceed specifications. Read more about our testing process.
Crucial has received many awards for various products, which you may view here and follow links to the full reviews and awards.
Crucial's Awards
This particular series of Ballistix Tracer Colored modules I am reviewing today has won the following rewards noted at Crucial's site:
Techgage Best of CES 2009 Award
Techgage - Best of CES 2009
Bjorn3d Golden Bear Award
Crucial Ballistix Tracers 6GB Kit (BL3KIT25664TB1608) - Bjorn3D.com
BCCHardware's Editors Choice Award
BCCHardware - Podcasting WeeklyTechUpdate - - Crucial Ballistix Tracer DDR3-1600 6GB Kit
PureOC's Great Hardware Award
Crucial Ballistix Tracer 6GB DDR3-1600
3DGameman's Gameman's Choice Award
http://www.3dgameman.com/content/view/14635/103/
The kit I will be covering here is one of Crucial's new Ballistix Tracer Blue kits, Model BL3KIT25664TB1608, which is rated at PC3-12800 and rated to run at 888-24 with 1.65V.
Memory Specifications
Model # BL3KIT25664TB1608
Module Size: 6GB kit (2GBx3)
Package: Ballistix Tracer 240-pin DIMM (with Blue LEDs)
Specs: DDR3 PC3-12800 • 8-8-8-24 • Unbuffered • NON-ECC • DDR3-1600 • 1.65V • 256Meg x 64 • 128Meg x 8
Crucial's Product page
BL3KIT25664TB1608 - 6GB kit (2GBx3), Ballistix Tracer 240-pin DIMM (with LEDs) , DDR3 PC3-12800 from Crucial.com
Product Images and Packaging (Click to enlarge)
Just a few of Crucial's stock images.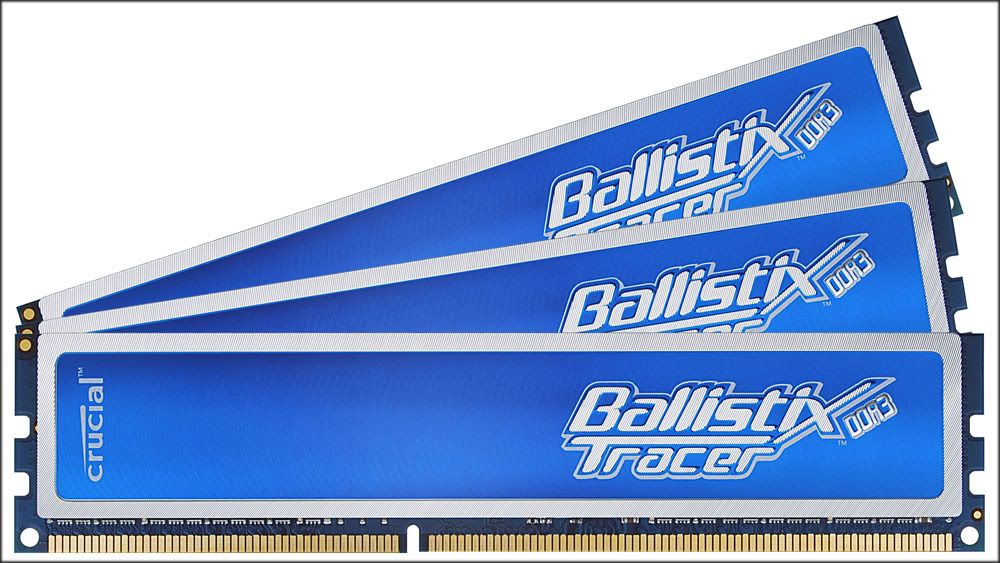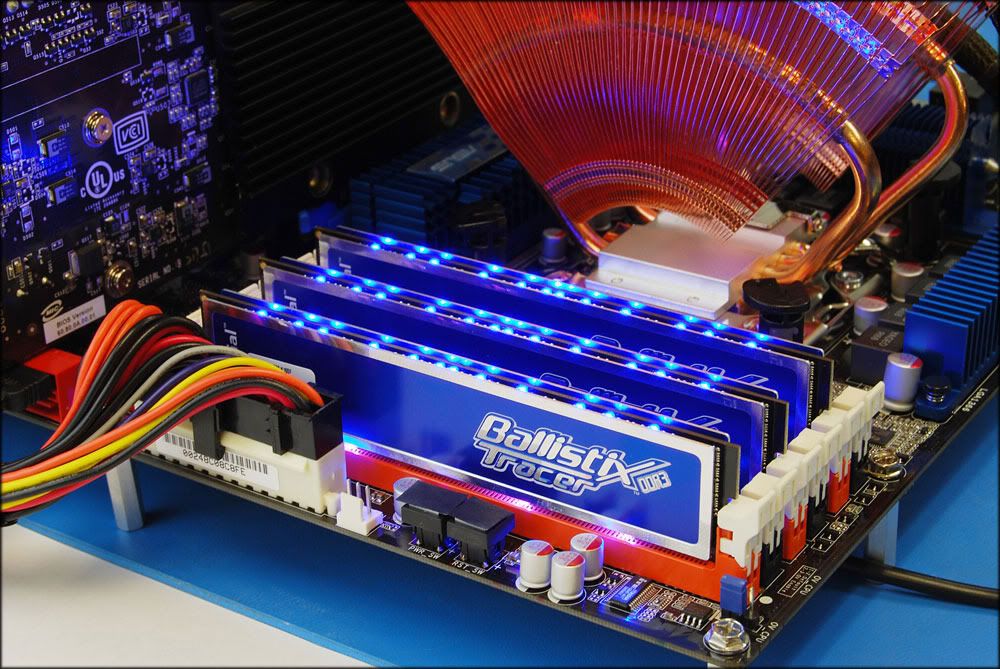 I like Crucial's new packaging design, and have noticed a few similar types showing up in a variety of kits.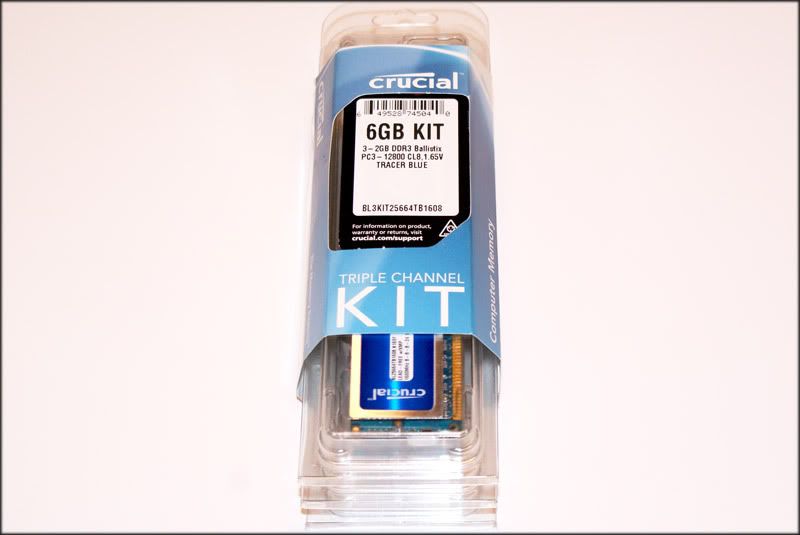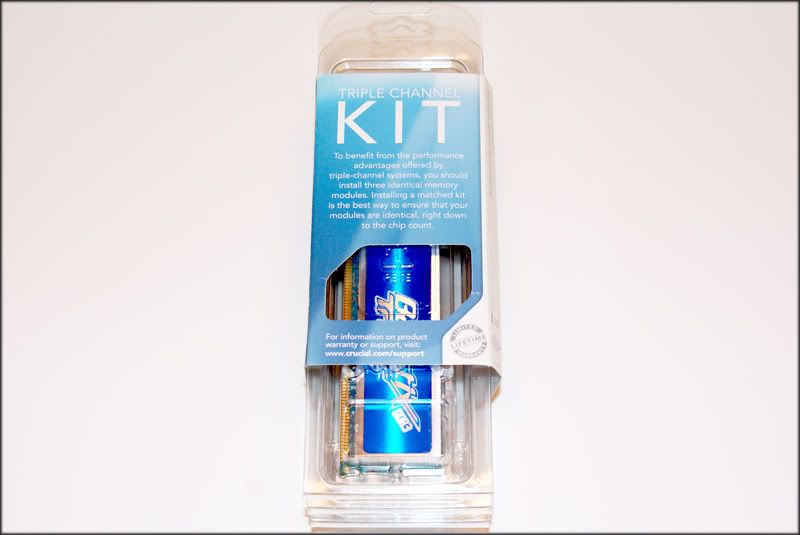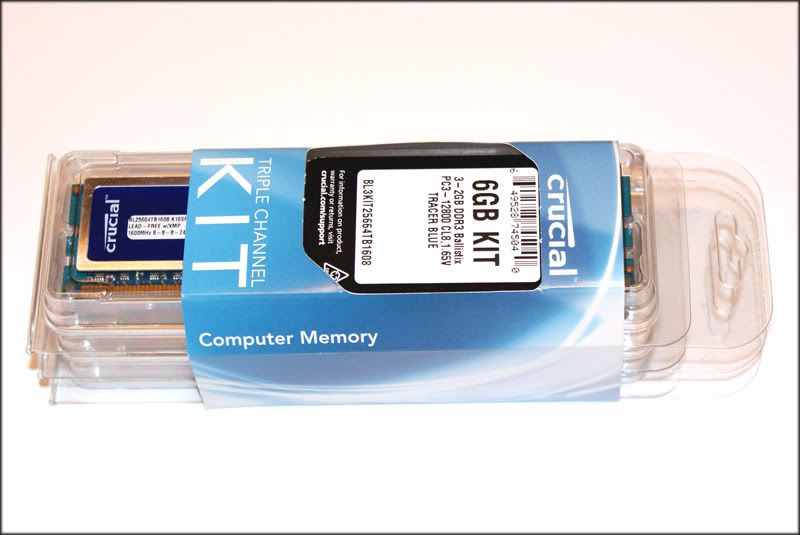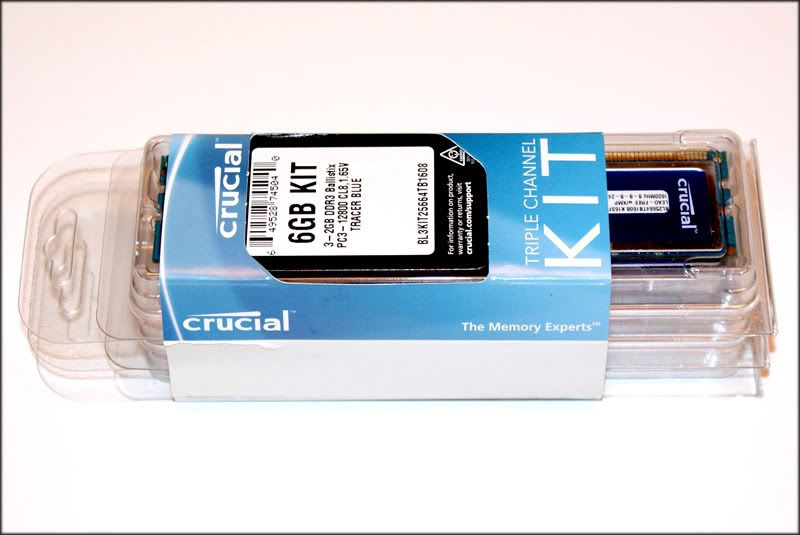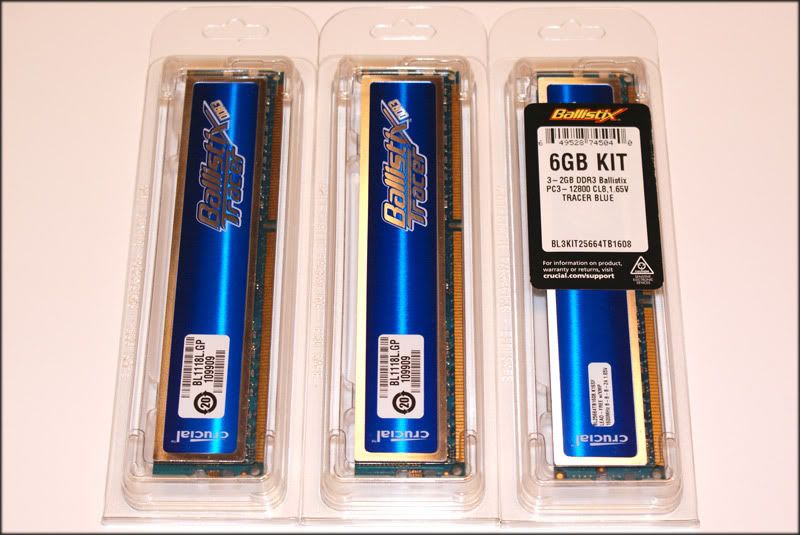 Crucial has started packaging memory in plastic blister packaging, while this is nicer looking, it may not be as secure and durable as their older cardboard packaging. The kit is sealed inside three individual plastic blister packages, bundled by a cardboard wrap, and the ram is well secured within the package. A few additional images below are on a black background, to show some contrast for anyone who may wish to see them against black.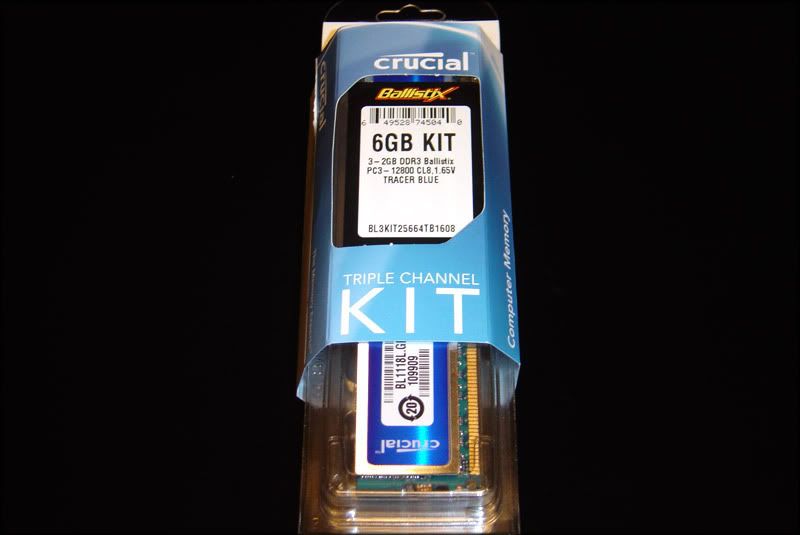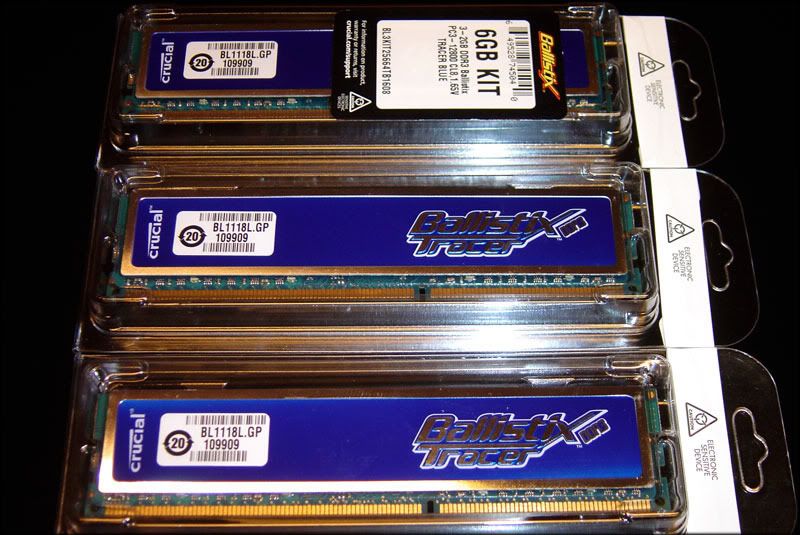 Now let's have a closer look inside the packaging.
These sticks look AWESOME, there are few words other than awesome that we can use to describe them without possibly offending someone. The blue PCB and blue heat spreader look superb together, along with the silver etching and trim, combined with the new LED patterns are unmatched when it comes to looks.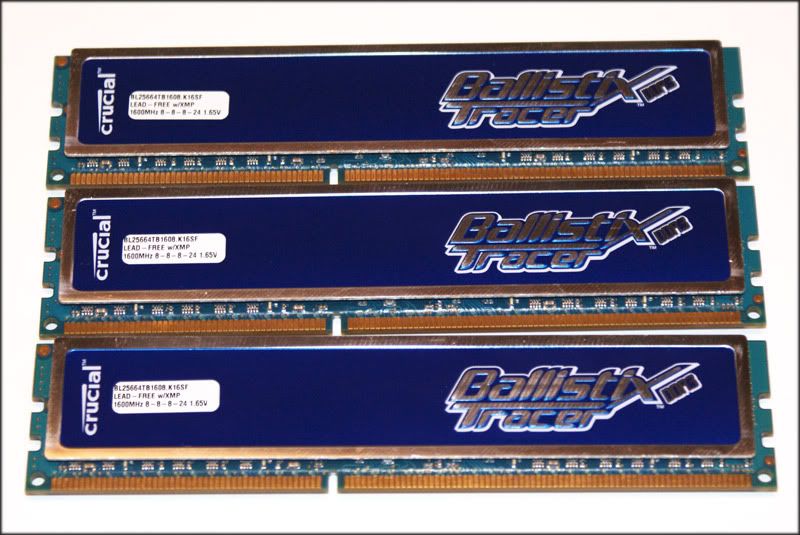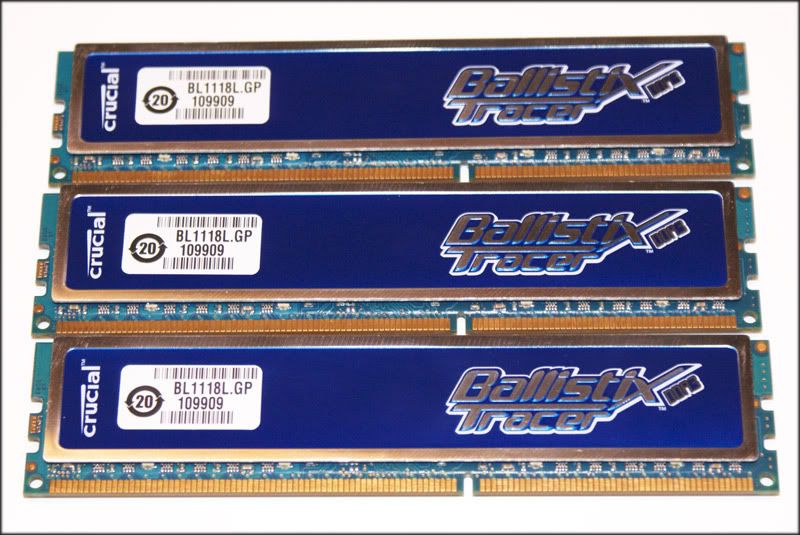 A closer look at the single module.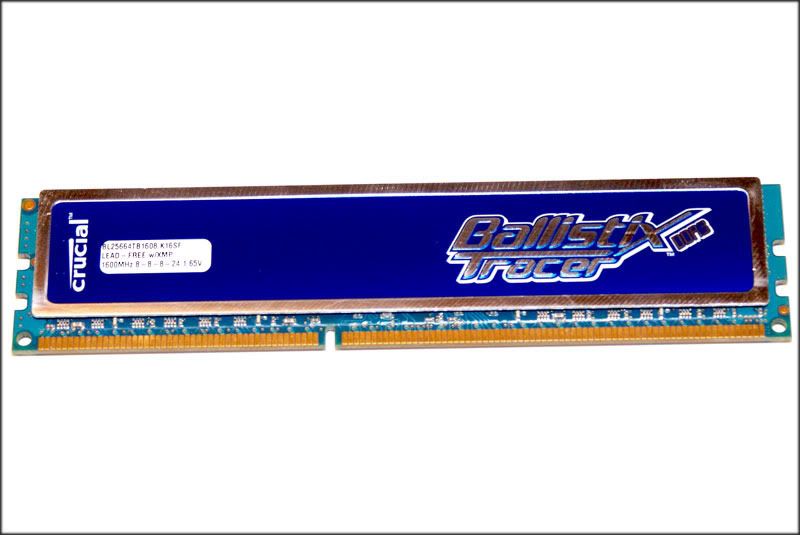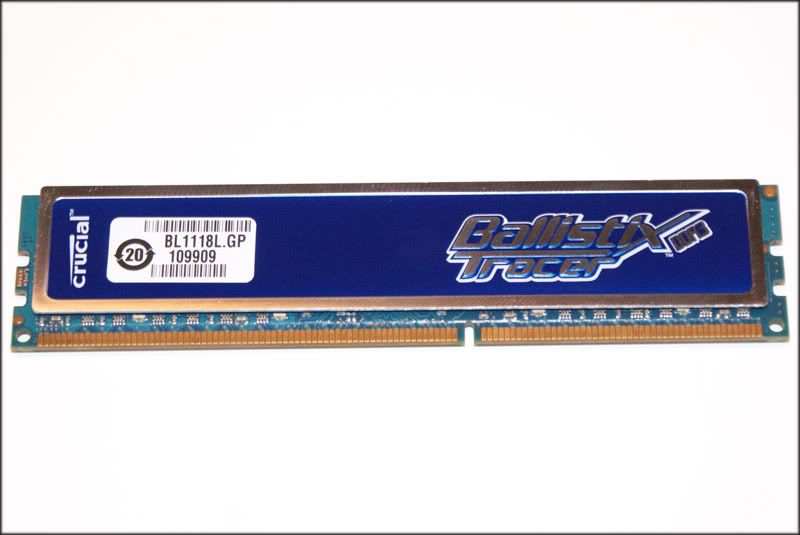 I did manage a few images that show how colorful these modules are, however, the lighting is bad due to over-flash in order to show the colors. The color of the images is so nice though, that I will publish the images in spite of my lack of photographic expertise.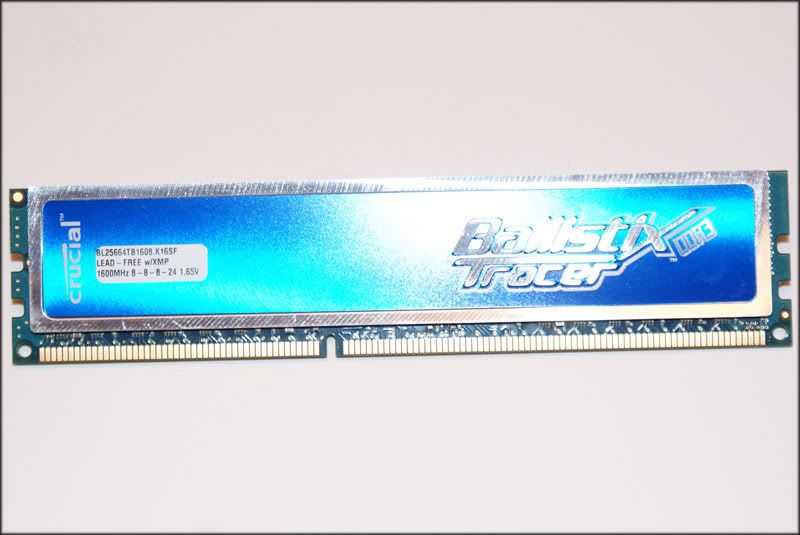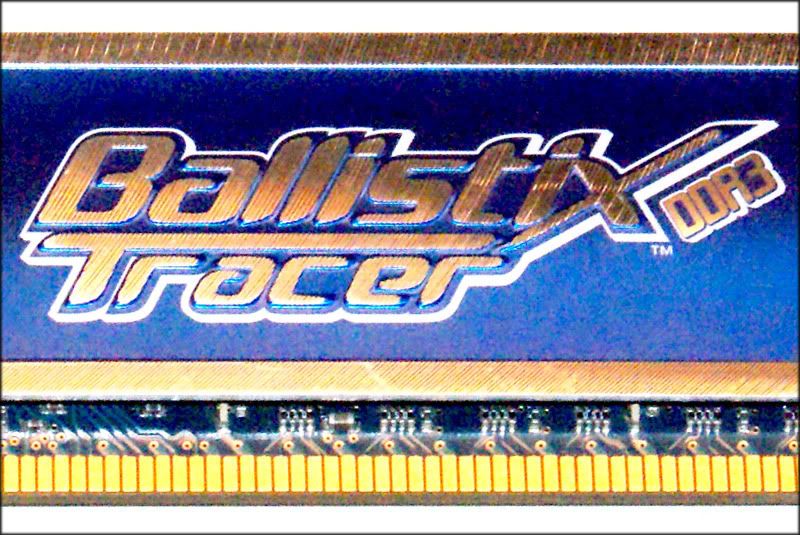 The heat spreader is a very brilliant blue, and has tiny silver metal flakes throughout. The Ballistix emblem is etched into the heat spreaders in a silver and white-lined etching. These new modules looked great online, and when I received them, I was even more impressed with their appearance.