Discussion Starter
·
#1
·
Crucial RealSSD C300 128GB Review
Single Vs. RAID - W/ Marvell - ICH10R & HPT RR 640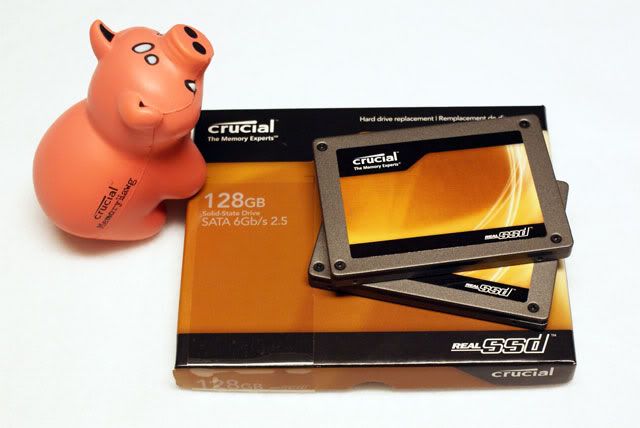 Special thanks to Kelly & Sam @ Crucial Memory for providing these samples for testing and review.
Crucial has been leading the way during the past year with the worlds fastest SATA SSD, the RealSSD C300. The C300 was the first, and still remains the only SATA 6GB/s solid state disk. These 2.5" Real SSD C300 drives offer blazing speeds for both desktop and mobile users, with many SATA 6GB/s enabled desktops reaching read speeds of 350+ MB/s with a single drive. There are many users who are often on the fence about choosing between a C300 SSD, or a Sandforce based SATAII SSD. Hopefully, with the benchmarks presented in this review your decision will be much easier to finalize. These drives are super fast, sleek looking, and very resilient to abuse by heavy benchmarking and massive file writes. I attempted to slow these drives down multiple times, using several methods, and was unable to make them even blink an eye at me (More on this later).
Crucial is part of the Lexar Media family of products and is owned by Micron Technology, a long time provider and manufacturer of Computer Dram Modules and Ram based products. They manufacture high-quality products in several memory based categories which include USB flash drives, all popular form factors of memory cards and card readers, and DRAM computer memory for PC and Mac systems. They are now also forging a path into solid state disk production, with the M225 series already EOL, and the blazing fast C300 currently being produced. There has also been a few hints rumored around the web in regards to the upcoming C400 series, plans which as of now include a SATA 3GB/s and a SATA 6Gb/s lineup. I'm anxious to see more information on the C400. Once Crucial releases these drives, I am positive they will overtake most any SSD on the market today.
Let's jump in and have a look at the C300 and see how it performs....
The complete lineup of C300 SSD drives natively support SATA 6Gb/s, and SATA 3Gb/s on legacy systems, with each capacity offering an available data transfer kit, making it easier for users to move existing hard drive data to the SSD.
The Crucial C300 line of solid state drives provide the following advanced features:
Quote:


Originally Posted by Crucial

Innovation in Solid-State Technology:
Designed with high-speed synchronous MLC NAND, advanced controller technology, optimized NAND management, and the new SATA 6Gb/s interface, these drives dramatically improve data transfers for bandwidth-demanding applications like audio and video.

And our expertise in NAND design and development makes us best equipped to optimize NAND components to specifically address the performance needs of solid-state storage. These innovations change the rules of storage and deliver breakthrough speed that transforms your computing experience.

Better Alternative for Mobile Computing:
Solid-state technology in the RealSSD C300 means no moving parts for a quieter, cooler and more durable storage solution to withstand the rigors of mobile computing. Its industry-standard storage interface and dimensions makes it an easy upgrade and a better alternative to a mechanical hard drive.

Advantages for Mobile and Beyond:
The improvement in boot time and application load times push performance to new levels at the desktop too. You will experience improvement across a variety of common tasks such as viewing and editing photos, video, music and other media, gaming, communications, productivity and security.

• Performance-Improve boot up and application load times
• Reliability-Withstand extreme shock and vibration
• Compatibility-SATA 6Gb/s, backward compatible to SATA 3Gb/s
• Quality-Crucial is a trusted name in DRAM and NAND products
• Three Year Limited Warranty

The RealSSD C300 is available in the following configurations:

256GB RealSSD C300 - CTFDDAC256MAG-1G1
128GB RealSSD C300 - CTFDDAC128MAG-1G1
64GB RealSSD C300 - CTFDDAC064MAG-1G1

256GB SATA 6Gb/s
• Sequential READ: up to 355MB/s
• Sequential WRITE: up to 215MB/s
• Random 4k READ: 60K IOPS

128GB SATA 6Gb/s
• Sequential READ: up to 355MB/s
• Sequential WRITE: up to 140MB/s
• Random 4k READ: 60K IOPS

64GB SATA 6Gb/s
• Sequential READ: up to 355MB/s
• Sequential WRITE: up to 75MB/s
• Random 4k READ: 60K IOPS

Sequential READ/WRITE numbers are measured using IOMETER, using 128k sequential transfers with queue depth of 32 and write cache enabled. Typical I/O performance numbers are measured using IOMETER, using 4k random transfers with queue depth of 32 and write cache enabled.


Crucial RealSSD C300 Product Flyer
C300 128GB CTFDDAC128MAG-1G1 2.5-inch SATA 6GB/s SSD Specifications:
Features:
Capacity* (Unformatted) - 128GB
NAND - Micron® MLC
Controller - Marvell
Firmware - Field Upgradeable
RAID Support - Yes
Interface - SATA
Transfer Rate - 6Gb/sec (compatible 3Gb/sec)
2.5-inch SSD Power Supply - 5 V
Certifications - FCC, CE, RoHS, UL
Command Set - ATA-8 w/ TRIM
Monitoring - Self-monitoring, analysis, and reporting technology (SMART) command set
Performance:
Average Access Time - < .1 ms
Sequential Read (up to) (Note 1) - 355MB/sec (SATA 6Gb/s) 265MB/sec (SATA 3Gb/s)
Sequential Write (up to) - 140MB/sec (SATA 6Gb/s) 140MB/sec (SATA 3Gb/s)
Random 4k READ (Note 2) - 60,000 IOPS
Random 4k WRITE - 30,000 IOPS
Physical Dimensions:
2.5-inch SSD dimensions (L x W x H) - 100.45 x 69.85 x 9.50 mm
2.5-inch SSD weight - 74g
Environmental Factors:
2.5-inch Active Power - 1.7W Read, 3.1W Write
Idle Power - 0.092W idle
Operating Temperature - 0°C to +70°C
Non-Operating Temperature - -55°C to 95°C
Shock Resistance - 1500G / 1.0ms
Vibration Resistance - 2-500Hz at 3.1G
Reliability:
MTBF - 1.2 Million Hours
Data Reliability - Built-in EDC/ECC
Warranty - Limited 3 Year Warranty
Read Endurance - Unlimited
Crucial RealSSD C300 Technical Specifications Datasheet
CTFDDAC128MAG-1G1 - 128GB, 2.5-inch Solid State Drive , Product Web page
This review will be covering the
128GB RealSSD C300 SSD
. Testing will be done in several configurations, and several storage controllers will be utilized in order to show users how various setups may perform when using the Crucial C300 SATA 6GB/s SSD in multiple ways.
But first, we shall have a have a look at the product itself...
Product Images:
Packaging: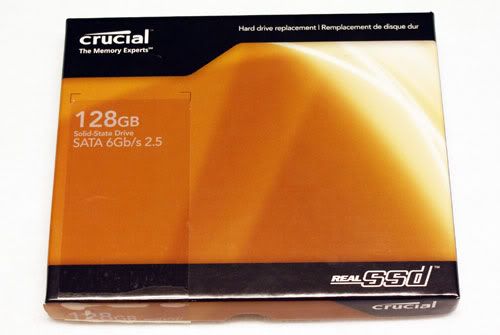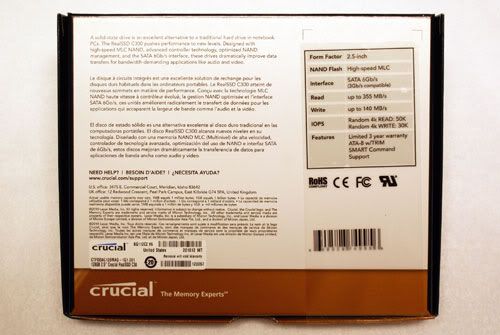 The front of the C300 packaging states the general drive info, size, type and speed specifications. The overall design is very similar to the actual SSD itself, coated in amber and gold waves, using "Vista-like sprites" down the right side of the package and SSD label. On the reverse you will find a general performance statement, in several languages, and a full list of specifications as well as a quick lesson in MB/GB correlation to usable drive size. Also on the reverse is the product sticker, indicating the model name and number, serial number, and UPC codes.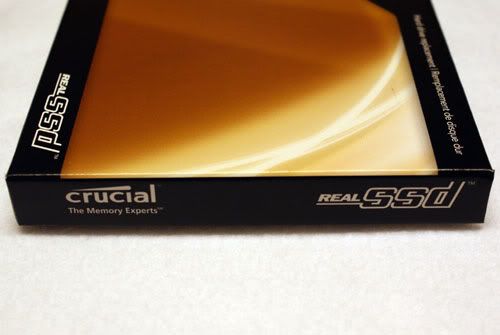 A quick look at the sides, which match all around, you see the Crucial and the RealSSD logo - what a great name for an SSD.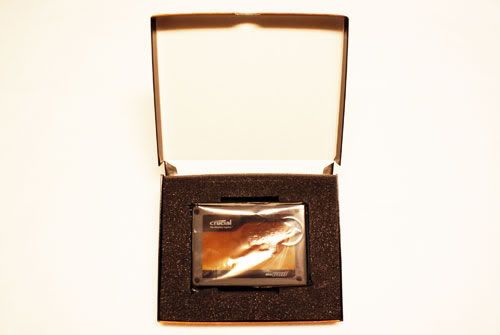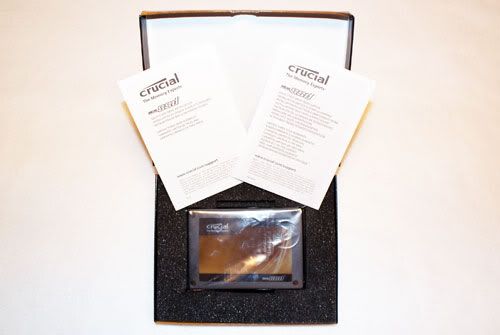 The SSD is snugly held inside the packaging with two foam inserts, one has a cut-out that the C300 fits firmly into for safe shipping. Inside you will also find a short installation guide and the warranty papers explaining the 3 year warranty.
A closer Look at the C300 itself: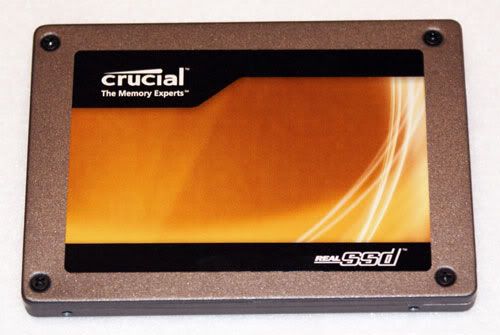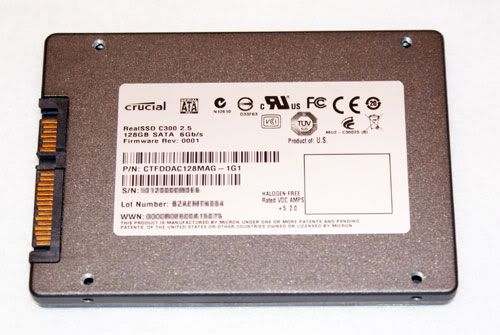 As previously mentioned, the SSD logo itself is very similar to the packaging. The label on the front of the C300 shows the full logo, a smaller portion of this image has been used on the outer package. The drive case itself is coated in a very sleek looking gun metal gray, with a very light amount of evenly distributed silver sparkles within it. It is not completely smooth, feeling similar to 1500 grit sandpaper, this is a nice touch that matches the colorization.
On the rear of the drive is the product sticker indicating the drive capacity, the model name and number, serial number, various certification logos, and the native drive speed. The shipped firmware revision is also noted on this label, as you can see this drive was shipped with firmware revision 0001, the initial version.
There are also 4 screw holes on the back, and two on each side of the drive for use when mounting the drive in a laptop caddy, or an adapter using side or bottom style mounts.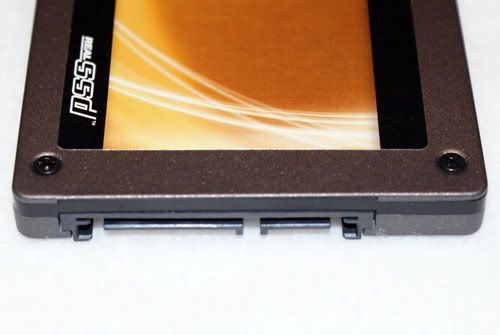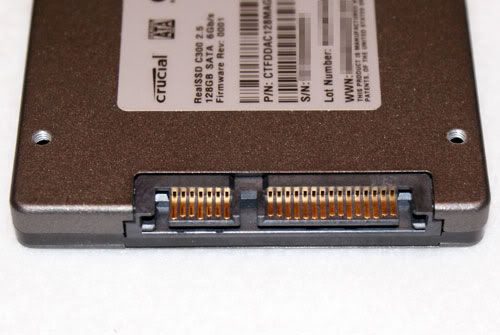 The drive has normal SATA Connections, a 7 pin data connector, and a 15 pin power connector. The connector has been placed in the proper location as well, so it does line up correctly with other drives when used with a 2.5" to 3.5" adapter.
What's inside you ask? (Please do mind your warranty)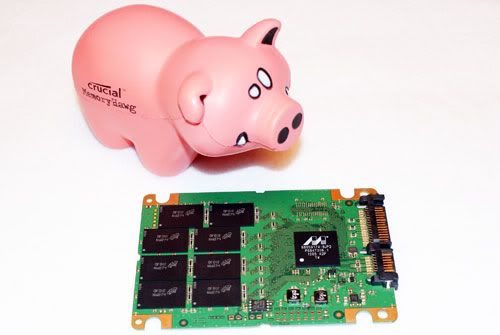 Ohh no! The Crucial Hawg has reared it's head again, heavily eyeballing the 128GB of NAND memory in there! It is rumored that he really prefers flash memory over any other kind, and this would be a real treat for him.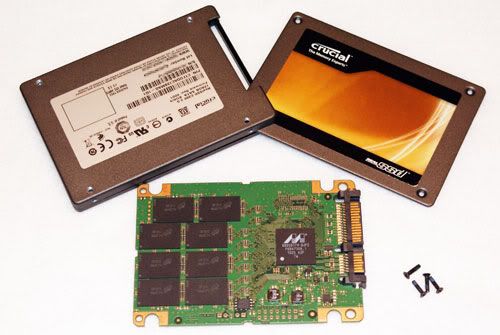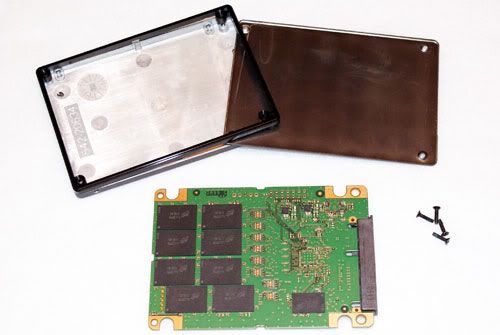 So, after wrestling the Hawg into submission, I was able to get a closer look inside the drive. The outer drive cover is secured in place with 4 screws, after removing these we can see the case is made up of three parts. The top and bottom covers are made of a rigid and very sturdy metal. Between them is a small black plastic mid-piece which allows the metal plates to be sealed together without damaging any of the internal parts or the case housing itself.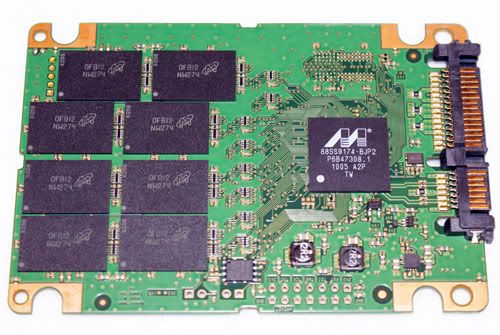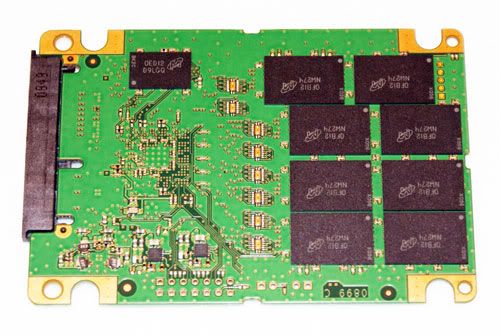 Here you can gain a closer look at the components on both sides of the drive. There are sixteen 8GB ONFI 2.1 MLC Flash NAND chips, 8 on each side. The Marvell 88SS9174-BJP2 controller, which utilizes two ARM9 processor cores. Finally you can see the dram cache located on the reverse, this helps with write tracking, mapping out data tables, and aiding in the processing of data between the controller and the NAND channels.
A closer look at the main components:
Marvell 88SS9174-BJP2 Controller: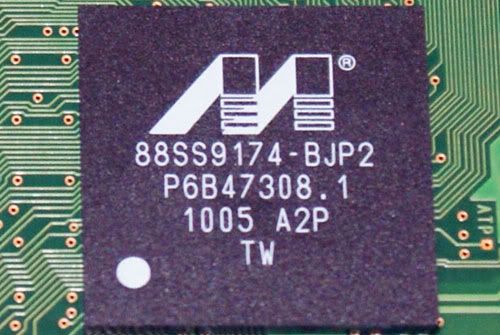 IMFT (Intel & Micron) 34nm High-speed ONFI 2.1 MLC Flash NAND (16 x 64Gbit or 8GB for this SSD)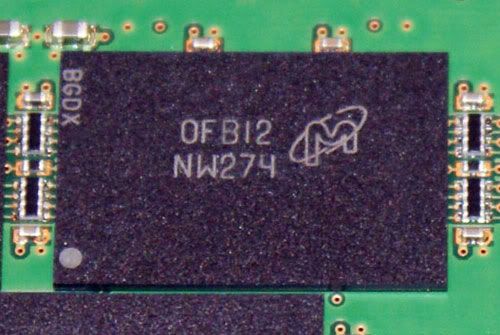 Micron 128MB DDR3 1333Mhz OED12 D9LGQ Cache Buffer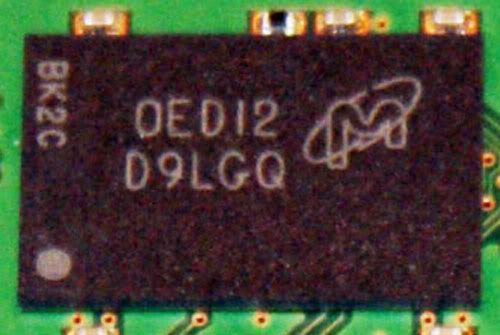 Highpoint RocketRAID Controller: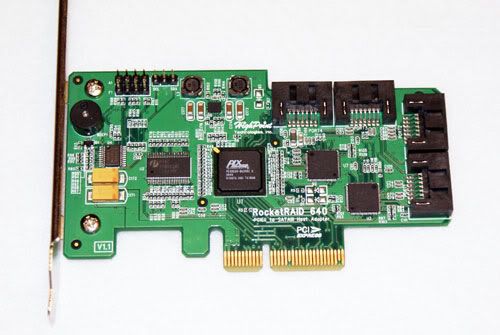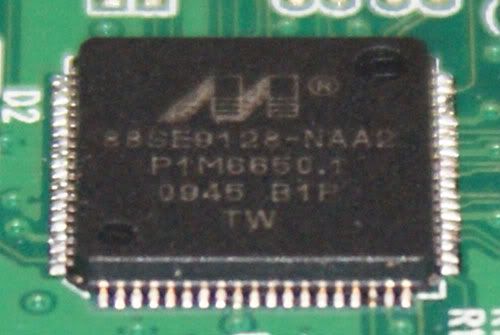 Finally, here we have the Highpoint RocketRAID 640 controller used for the review. This controller utilizes the Marvell 88SE9128-NAA2 SATA 6GB/s controller chip, and a PLX Bridge chip. These are the same controllers that many motherboards currently use for SATA 6GB/s connections, however, motherboards are only equipped with one Marvell controller thus only being able to offer 2 connection ports.
Testing:
Testing Setup:
Gigabyte GA-X58A-UD7
Intel i7 980X ES EX Hexa-core Processor
6GB Kit Crucial Ballistix Tracer (Blue) DDR3 1600Mhz Memory
Crucial RealSSD C300 SATA 6GB/s SSD 128GB x 2
Western Digital WD1001FALS 1TB SATAII Hard Drive (Short Stroked to 238GB)
Gigabyte 5870 SOC (GV-R587SO-1GD) Graphics Card
Ultra X3 ULT40312 850W Power Supply
Highpoint RocketRAID 640 SATA RAID Controller
Mushkin 8GB Mulholland Drive 8GB USB Drive (32MB/s Read / 17MB/s Write)
AS SSD Benchmark V. 1.5.3784.37609
This benchmark has quickly become a favorite benchmark for many SSD users. The program now shows current firmware version for the drive being tested, what disk driver is in use, and what disk offset is being used (And notes if that offset is good or bad for SSD's).
The benchmark tests random data in 1GB file sizes, offering sequential, random 4K, 4K 64-threaded, access times, and also combines those results into an overall total.
http://www.alex-is.de/PHP/fusion/downloads.php?cat_id=4
ATTO V. 2.34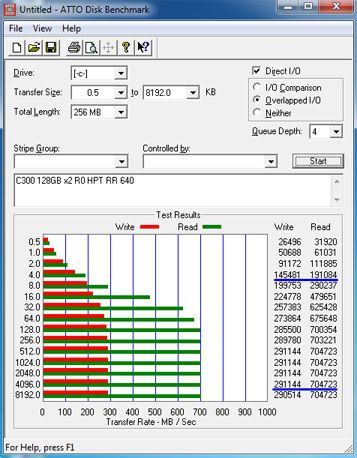 ATTO has been a major disk testing utility for many users, for quite some time, offering the ability to test performance using various transfer sizes and test lengths for reads and writes.
It also offers several options to customize your benchmark testing including queue depth, overlapped I/O, a comparison mode and the option to run the test continuously.
http://www.attotech.com/products/pro...Disk_Benchmark
IOmeter V. 2008-06-22 RC2
Iometer is an I/O subsystem measurement and characterization tool, it is often used as a benchmark tool and is easily configured to replicate the behavior of many popular applications. We will be using this tool to measure IOPs. This program was created by Intel, they are no longer updating or offering support for it, and it is now fully open source. You may download my test configuration files
Here
if you like, if used for comparison you may need to adjust CPU target cores used, and the target test drive letter.
http://sourceforge.net/projects/iometer/
CrystalDiskMark V. 3.0.0f
CrystalDiskMark is another staple in the disk benchmarking world, offering measurement of sequential read and writes speeds, random 512KB, 4KB, 4KB (Queue Depth=32).
Users may also select the method of how data is tested, random, 0Fill, or 1Fill - in the testing done for this review only the default testing method was used - Random Data.
http://crystalmark.info/software/Cry...k/index-e.html
PCMark Vantage Professional x64 V. 1.0.2.0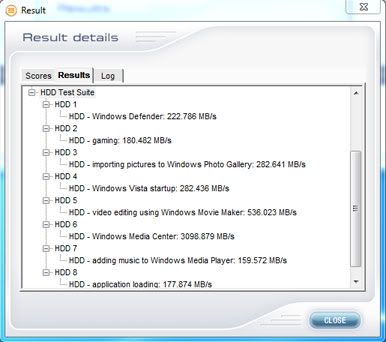 Quote:


PCMark Vantage is a PC benchmark suite designed for Windows Vista offering one-click simplicity for casual users and detailed, professional grade testing for industry, press and enthusiasts.

A PCMark score is a measure of your computer's performance across a variety of common tasks such as viewing and editing photos, video, music and other media, gaming, communications, productivity and security.


The HDD Suite uses a variety of real world hard drive tests to simulate various tasks, such as virus scanning, gaming, application loading, importing files, and media editing.
HDD Test Features:
* 6 HDD Tests total
* HDD Tests use new 4K block size
* All HDD Tests use RankDisk using Intel's IPEAK Storage Performance Toolkit
* WinTrace is used to record the HDD tracesAnalyzeTrace is used to analyze precisely what the traces are doing
* RankDisk: a Futuremark modified version that it is non-destructive and runs in a temporary sandbox file.
HDD Suite includes the following tests:
HDD 1 - Windows Defender
HDD 2 - HDD: Gaming
HDD 3 - HDD: Importing pictures
HDD 4 - HDD: Windows Vista start-up
HDD 5 - HDD: video editing
HDD 6 - HDD: Media Center
HDD 7 - HDD: Adding music to Windows Media Player
HDD 8 - HDD: Application loading
http://www.futuremark.com/benchmarks.../introduction/
Winbootinfo V. 1.02 x64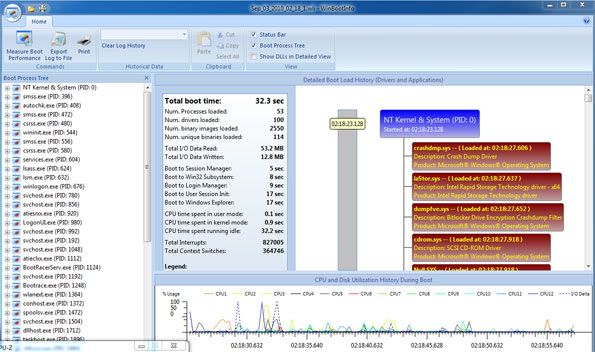 WinBootInfo is an advanced windows boot analyzer, it logs drivers and applications loaded during system boot, measures Windows boot times, and it also records CPU and I/O activity during the booting process. It also logs many other things as well, but for this review I will only be using the overall total boot time result.
http://www.clockmod.com/index.php?/p...nbootinfo_1.0/
Bootracer V. 2.3
BootRacer allows you to test your Windows booting speed, offering timed results of "Time to Logon", "Time to Desktop", and "Best Desktop Time".
Results used for this review are the "Time to Logon" result times.
http://www.greatis.com/bootracer/
VBS Reboot Script (ReBoot Time) by mrkristins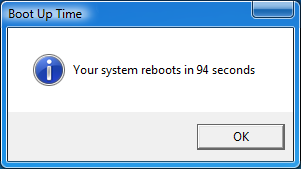 This is a simple visual basic script, written by a Deviantart user.
It tests full rebooting time, which includes shutting down for the reboot, and any POST or Pre-Operating system screens, ending the timer at the desktop after the reboot has taken place.
Boot time in Vista,7 by ~mrkristins on deviantART
Microsoft Office 2007
The testing I completed using Office 2007 is two-fold. One test was opening a large 183MB Excel test file that included many large images and random data.
The second test measured the time it took to install from start to finish, with the program being installed from the desktop.
Adobe Photoshop CS3
Very similar to the Office 2007 tests, two tests were used for real world testing using Photoshop CS3.
The first test was opening a large 1GB image, with many large images within, and several layers of high resolution variances between layers. The second test was install time, from start to finish, from the desktop.
Windows 7 Pro x64 Install Time (Via USB)
A custom created ISO was used for this test using RT Seven Lite 1.4.0, and the installs were completed using a Mushkin 8GB Mulholland USB drive. Nothing affecting the install time was changed, except making the install unattended. No programs, services, or files were removed, and for certain installs controller drivers were loaded. The unattended installer was set to install to the first available partition, which was pre-aligned before the install process or timer began. The install was universally the same, except for controller drivers changed for certain installs, the unattended XML and a sample INF file used for these tests can be downloaded
Here
for anyone that would like to have a look.
http://www.rt7lite.com/