Discussion Starter
·
#1
·
After patiently waiting, nafljhy finally got his custom Xiggy mounts back in stock. I finally had the cash to spend on one and waited on the reserve list
.
First off, I commend nafljhy for very quick shipping and the packaging was very appropriate for what it is.
My pictures got resized in email, so bare with the size. I WILL re-edit them once I get back to my own computer.
Intro:
I've put together bolt-thru kits for Intel before, but it's a rarity that I see them for AMD. The first thing you notice about the kit is the thick aluminum mount. For convenience, everything you need is included. It took me in all 1 aluminum plate, 4 rods, 8 nuts, 16 nylon washers, 4 springs, and 4 brass thumb screws.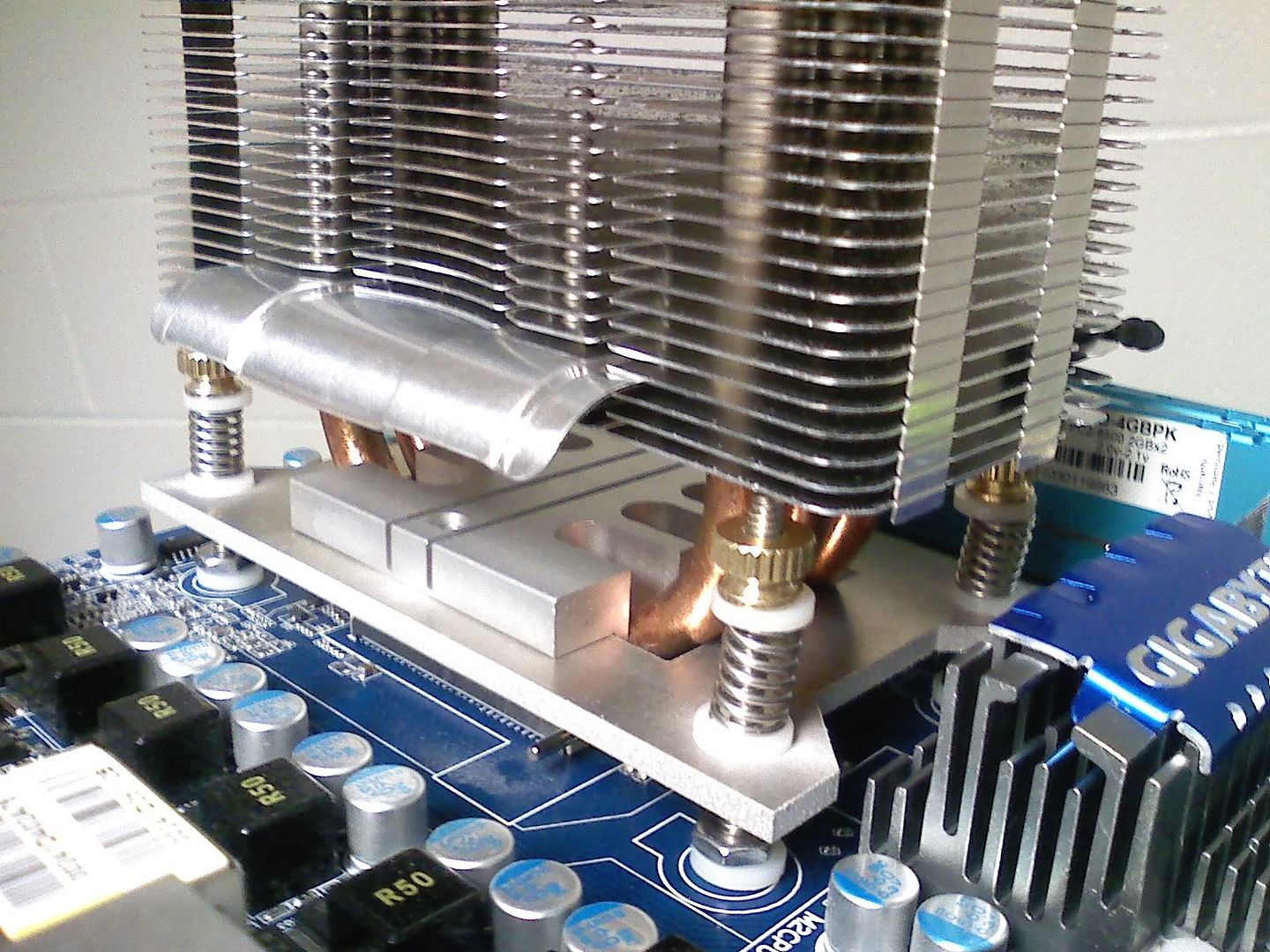 A small glimpse of what all is being used. Yay for cooler mosfets!
Installation:
Installation was a bit tricky for me. I ran into a couple conflicts, but nothing deal breaking, and one was just my own fault
. The first problem I had was the length of the rods. By estimated, they are about 3-4 inches. I'd say I had to cut around an inch off for me to get it one right. Because I didn't neccessarily have the proper tools for this. I lost a rod for about an hour and had to come back (lol). Again, my fault, and my college dorm isn't exactly the best place or most handy place to carry out such a task. My second difficulty which really didn't phase me as really calling out, but I will is the springs. It was pretty difficult to hold the spring together and put a thumbscrew on. But then again, this is a good thing as it ensures it's tightness.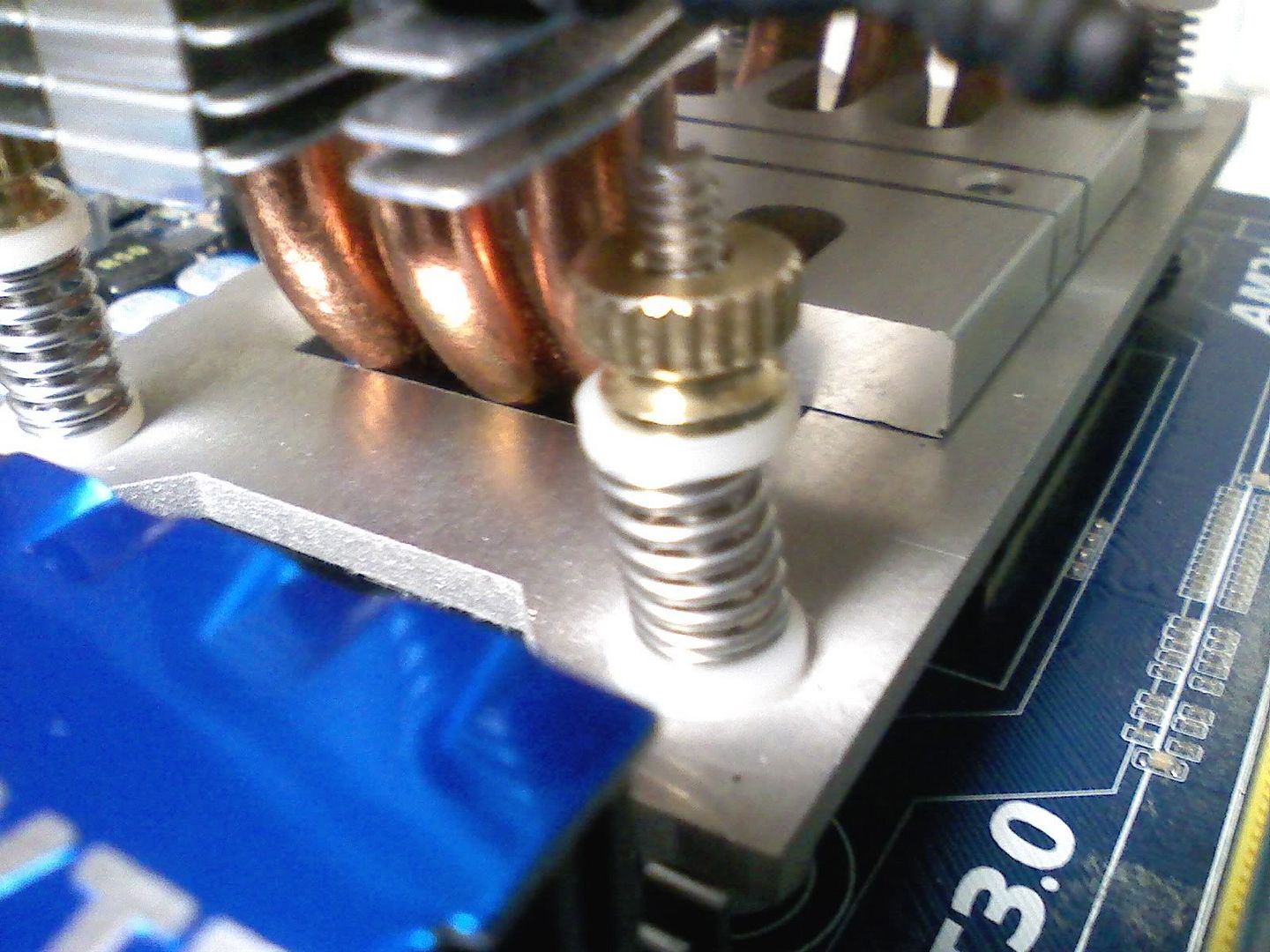 Closer look at spring tightness, and the nice brass thumbscrews!
Performance:
One of the main reasons for me buying this kit was that I kept my GPU OC'ed during 2-6 hour gamin sessions. HD 4870's get pretty hot under load, and even more when OC'ed to the max CCC allows. Because of this, a lot of air would travel up throught the CPU cooler. With my CPU idle and the GPU OC'ed(790/1100), 39-40C was a normal temp while 37-38 was normal when it was underclocked (500/500). With the kit, my idles sit anywhere from 34-37. While a lot of factors can show impact on these results, the temps never go up anymore when the GPU is OC'ed.
Yay, we can use taller RAM now!!!
Conclusion:
All in all, the price you pay for it is worth it. It's not Megahalem, but it's basically half the price as well. The two biggest things that benefit me by this kit of course is the ability to invest in RAM with taller heatsinks, and also, it lets me use the included fin made specifically for cooling the mosfets. (Which my board needs since it has no cooling there.)
I will revise this to be much better when I get more time and am back at my own computer, but for now, I hope this can help some people out there.
And now a final product in the new case. Altogether, the bracket dropped me down 2C, and the better case dropped me down another 4-5C. I now idle at 30C and load no higher than 41-44C.