Discussion Starter
·
#1
·
This project has been going on for a few months now, it is not complete yet but getting close. There will be 3 more posts following this one. This is the mod that sidetracked me from my current project, So in all rights this should be my second mod, but I have more completed than mine.
Hope you all enjoy.
This is the original case that was bought over 6 years ago, It didn't look like this when it arrived with expert handling by ups. the whole face was broken off, so it wasn't used on my main computer, stuck an old emachine in. This ended up turning into the family room computer where my son Dante took it over as his own.
This project was going to be nothing more than a window and wire management, but of course it evolved.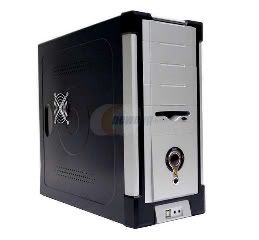 This was going to be one of the two things I was going to do. Not bad for my first window. Had to do it with a nibbler, that is all I had at the time. (rebuilding my tools, story for a different time)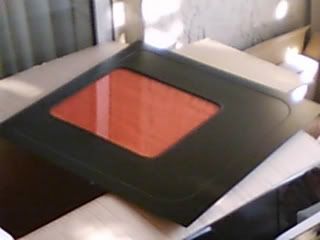 This is the cheap power supply that came in the case. Of course it was gray, and I forgot to take pictures before I painted it. Of course I wasn't going to paint it and just sleeve it for looks. I know some people will say "WHY, even bother with that junk?" but I like sleeving, its good for my brain, plus I wanted it to look nice, I cannot stand the look of multiple colored wires.
I did get a picture of me working on it. I bought the connectors off ebay for .01, that's right 1 penny. It came with sleeving, this is the worst sleeving ever, but hey for what I paid for it I cant complain. I had to double sleeve everything and it actually came out pretty well.
This is only the 2nd time I sleeved a PSU. Looks pretty good.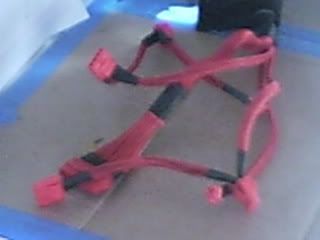 These aren't the stuff that came with the connectors. Still working on the heat-shrink trying to get them all lined up. Pretty close. Yes that zip tie will be removed later,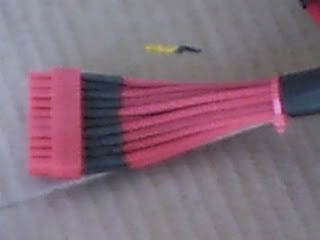 Cut in for new 80mm fan in top. (couldn't fit any bigger with power supply and drive bays)
This is what the front panel looked like before anything done. Except I was playing around with some screening to see what it looked like....didn't go with it of course.
This is the front panel before I decided to cut it up.
This is the panel after cutting it away and acrylic arrived.
Here is the case strip down waiting for cut-outs, sanding and painting. There was only one intake fan which was an 80mm on the side, and a 80mm exhaust on the back.
Here is the back with the old 80mm fan hole.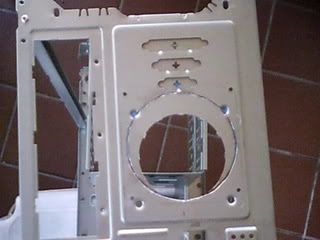 Here is the new 92mm exhaust fan. There will be a new acrylic cover to go over that location also.
Here is the front where all that was there where the small grills no fans. A 120mm will be going in the front. Wont fit in in front of the cage, so it will go in front of the case.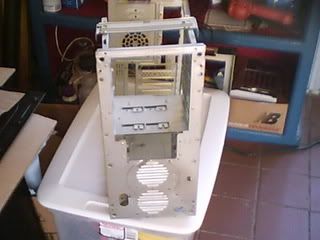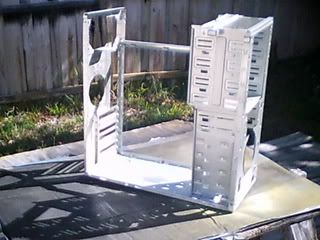 Here it is outside drying after painting and clear coat,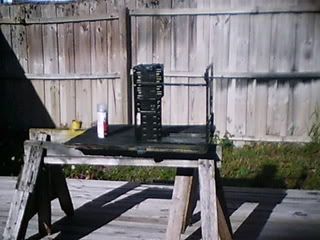 Here is the motherboard tray and exhaust fan blades getting some loving. Color not showing right for some reason. I have a horrid camera, make due with what you have.
Here is what it looks like sitting there.
Here is the tray amd power suppply in. Just wanted to see how it looked together for colors. For some reason I left the sticker on the power supply (actually thought it would be on the other side) So of course I will be pulling that off and repainting.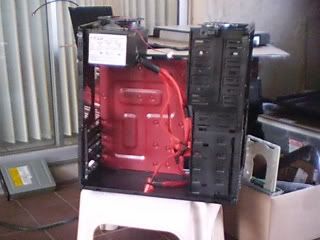 * This Worklog post was generated using WorklogCreator - Version: 1.0.1.7
* Free Download:
http://www.mod2software.com/worklogc...logcreator.zip