Discussion Starter
•
#1
•
The Prologue
Since the introduction of LCD's, and the replacement of CRT's the pursuit for the perfect LCD has been an ongoing research, and tribulation for nearly two decades.
LCD TN technology introduced color discrepancies due to low bit color but came at a very reasonable price. Not only did they introduce bad color reproduction and viewing angles but they also introduced Input lag (response time), something the CRT's they replaced were not plagued with.
Many technologies existed to alleviate TN LCD's problems, and fix the problems came in the form of VA and IPS panels, however the manufacturing of these panels was very expensive and troublesome. So often IPS panels were left to professional graphics, photographers, and video editors. Anyone who needed* or wanted a better LCD had to leash out several times (3x-4x) the cost of a TN panel just to get their hands on an IPS panel, so obviously these IPS LCD's were often more in the market for professionals.
Enter the e-IPS
Expensive, until eIPS panels came along. By simplifying the structure of the pixels and increased transparency (allowing for fewer or weaker CCFL to give the same amount of luminance on S-IPS) cut the costs of manufacturing down.. Presumably identical to S-IPS panels to the naked eye from a center shot, the e-IPS panel made it's way into some monitors, presumably to this reviewer NEC was first and Dell second in 2009 with LG making the panels for both.
It made IPS panels affordable. While not as good as quality as it's bigger brother the S-IPS panel, the e-IPS panel still boasts (against TN) better color gamut, RGB/Adobe RGB compliance, superior viewing angles to TN panels, superior image quality to all TN panels (sub $400~) as well as typically better warranty..
In my search for a better LCD I stumbled across a 25% off coupon for Dell's Ultrasharp monitors, thanks to Overclock.net (thanks to slickdeals.net). This pushed the originally $279.99 U2211H down to $206~ free shipping +$16 tax.
The superior (and famous) Dell ergonomic stand, 4x USB 2.0 integrated hub, and display port connection alone where to me well worth the $50~ difference in price compared to other 1080P 21.5" LCD's but to add an e-IPS panel and 3 years 0 bright dot+advanced replacement warranty was beyond a steal.
TFT Central did a phenomenal review (as usual) which sold me.
The Dell Ultrasharp U2211H
Specs:
Size (Diagonal): 21.5"
Type: LCD, E-IPS
Native Resolution: 1920x1080P
1 to 1 pixel mapping: Yes
Color Gamut: 82%
Contrast ratio: 1000 to 1
Brightness: 250cd/m2 (typical)
Response time: 8ms GTG
Backlit: 2x CCFL Edgelight system
HDCP: Yes, DVI HDCP is compliant.
Aspect ratio: Yes.
Connectors
: Click spoiler for Picture
4x USB 2.0/1x Upstream USB 2.0
Display Port
VGA
DVI-D HDCP compliant
DC Connector for Dell Soundbar
Compliance and standards:
TCO 5.0
ENERGY STAR 5.0
EPEAT Silver
Included Accessories:
Monitor with stand
Power Cable
DVI Cable
VGA Cable (attached to the monitor)
It is this reviewers opinion the VGA cable is far too screwed in. Screwdriver will likely be necessary (Flat head or philips cross)
Drivers and Documentation media
USB upstream cable
Quick Setup Guide
Safety Information
Review:
Acceptance of package:
The monitor came housed in a brown cardboard box fitted/cushioned by shaped Styrofoam. The packaging came in immaculate condition, and was delivered promptly (2 days) by Fedex Ground early the morning (quite convenient). The monitor arrived with no dead pixels, but did have a back lighting (mild~) issue only noticeable on a black screen.
Warning: I love visuals (often aroused/entertained), is why I am often more interested in the image quality of an IPS panel.
First response: Looked great out of the box but needed obvious calibration particularly on the reds.. A few minutes calibrating using images/pictures/Lacom LCD testing, a quick visit to TFTCentral's review and the LCD's image quality/color/contrast improved.
Gaming
It makes a huge difference in games. Fire in Left 4 dead 2 actually looks like fire, vibrant and full of different range of color intensity. I actually found my self staring at the acid pools of the infamous team killing Spitter, and the unmerciful tankdooming flames of a bottle-shaped girl profusely called "Molly" by the players of L4D2. Not only were colors showing that hadn't shown in general before but colors were considerably more vibrant and visible (like the glowing health auras around the survivor's bodies).
Lighting was much improved thanks to superior color reproduction allowing to clearly show different shades of a color depending on lighting. This is embarrassing to say but I jumped once at the sight of a smoker being at the corner of a door. The image quality, and shadows played their role well on the Dell U2211H, something that never happened on cheaper TN LCD's.
Photo editing:
Color reproduction, color reproduction, color reproduction!
Editing pictures is not only faster because I don't have to print a reference picture, but the image quality/color reproduction on the Dell U2211H beats an:
Acer H233H 1080p
Acer 24" (Forgot the model) 1080P
Dell 24" Non VA variant. 1200P (1920x1200)
Few Samsungs
A few older Dell Ultrasharp monitors
The image quality on the Dell U2211H was great for editing the pesky hair tint left behind.
Also communicating with others was easier as when they saw the monitor they knew the colors on the screen where the same as the ones I was looking at, not affected much if at all by viewing angles..
Viewing angles
Front
Front Portrait mode
Left side
Right Side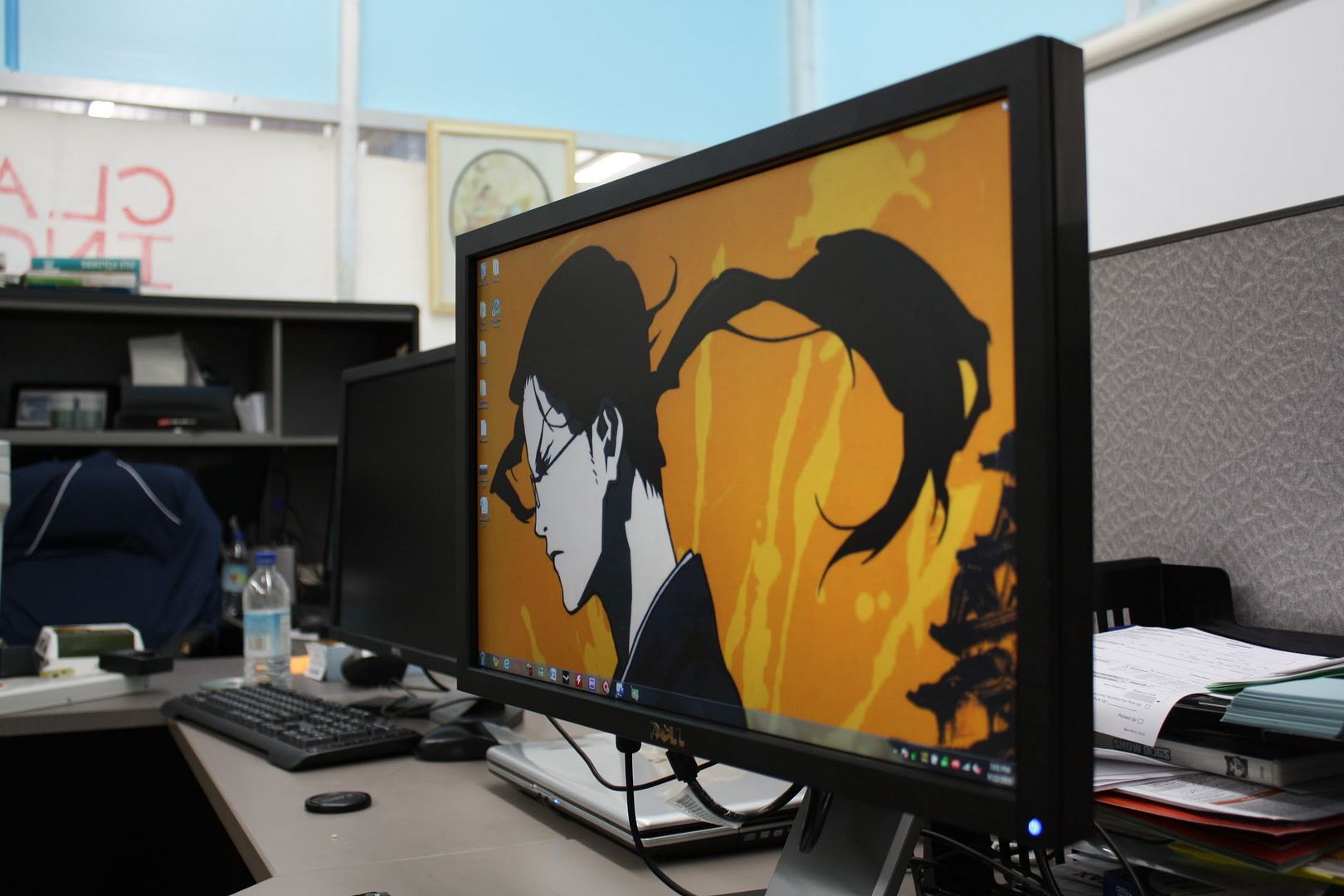 Top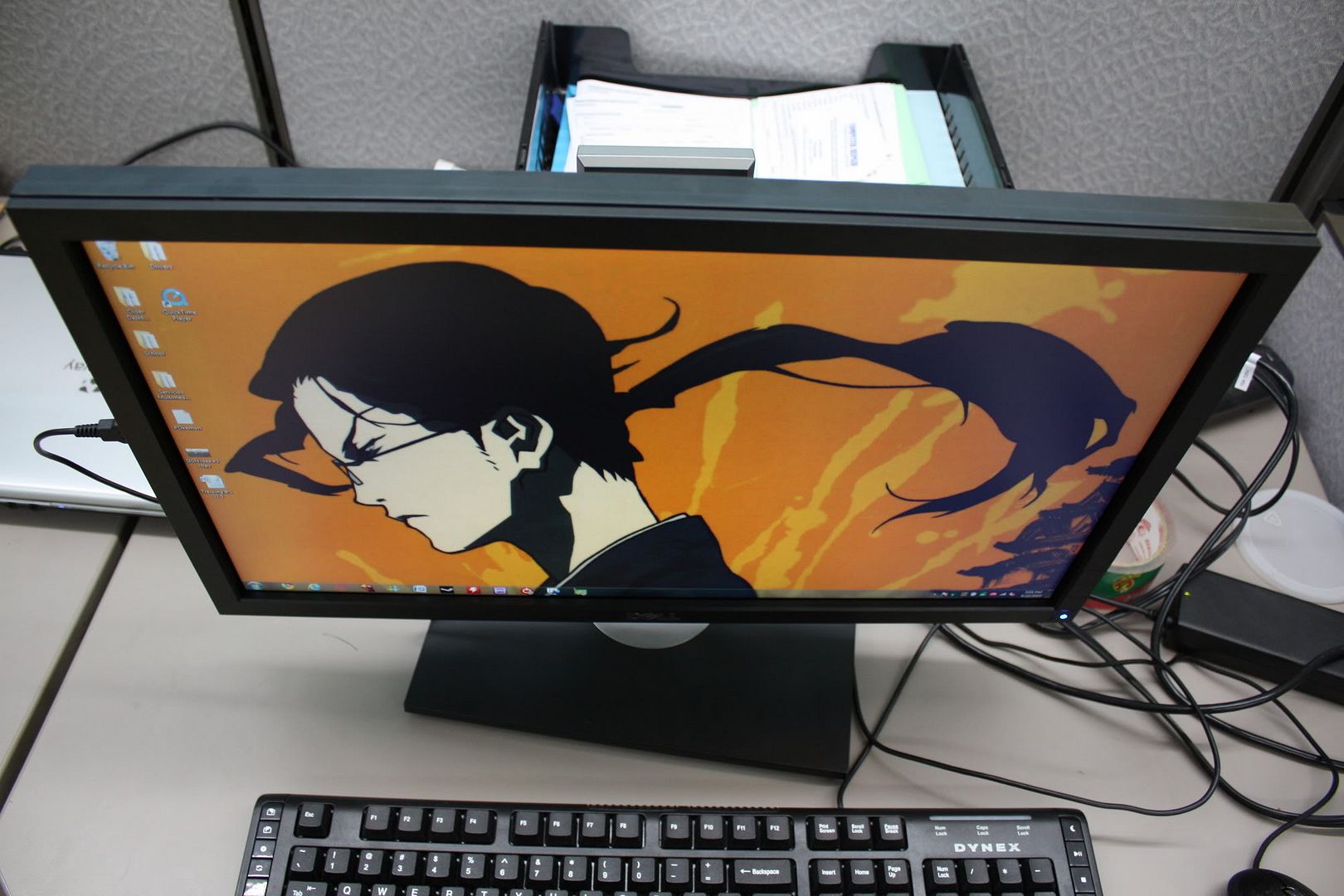 Bottom- The brightness was my fault on this one. I had to go manual, thus ISO/AF were not in place.
Additional USB's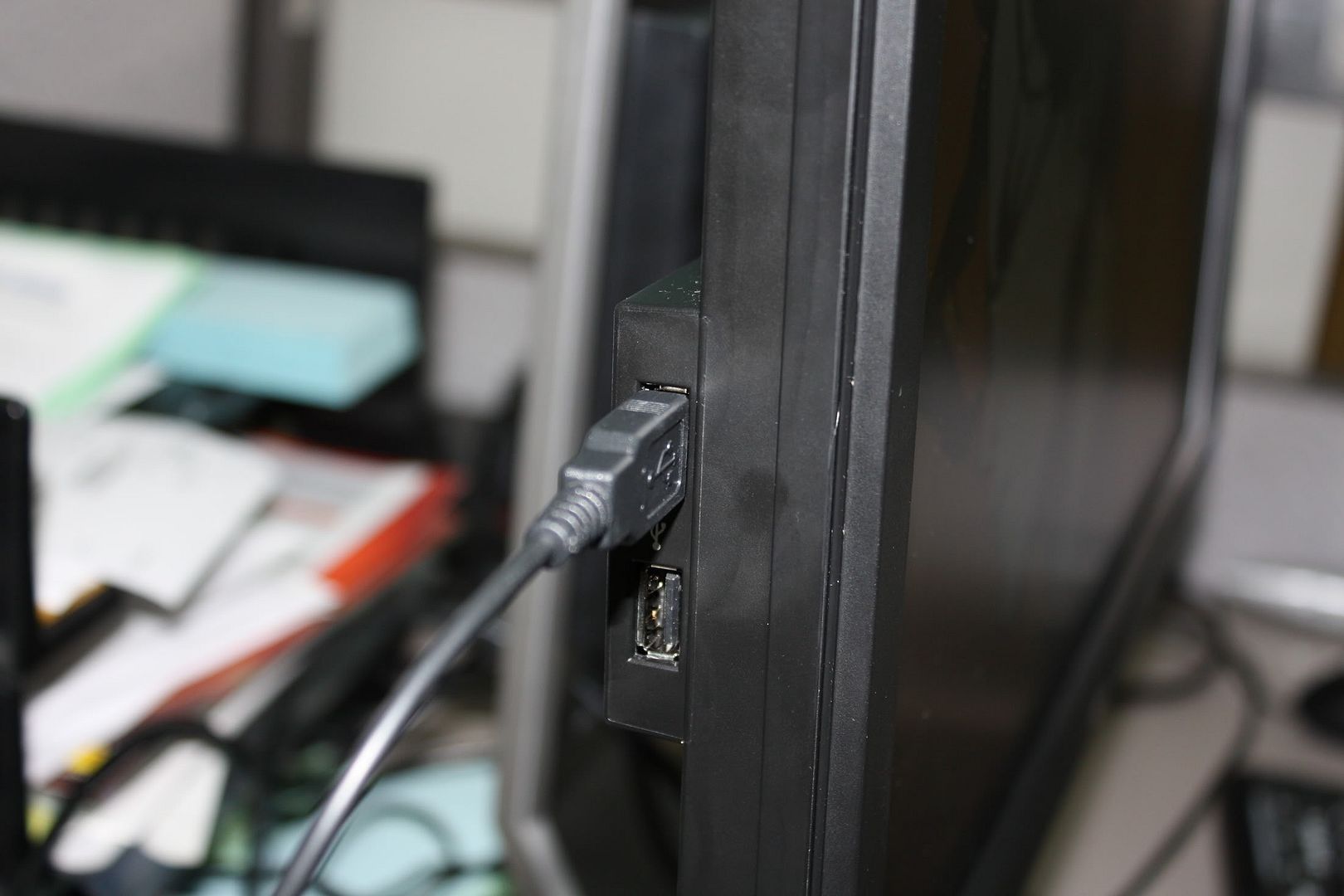 Overall:
I give this monitor a solid 9/10 at the price of $206~ simply because for the price there is not a better monitor, unless you use the five finger discount and survive a 5 year almost free to you stay at one of USA fine prisons.
At the original price of $279.99 however I'd give it a solid 8/10. For comparison's sake the best TN LCD i've seen was a Asus 24" (or 23") I saw at Fry's, which I would rate at a 6.5/10~.
Pro's:
e-IPS panel
*Superior Image quality to most if not all TN panels.
*Good color reproduction
*Good viewing angles
*4x USB 2.0 ports
*Absolutely great ergonomics with the stand
*1080P resolution (Norm at 21.5" but still a pro as there are other LCD's with lower res)
*Display port, makes a nifty sub $700 IPS way to get Triple 1080p displays using HD 5xxx series eyefinity.
Con's:
*Lack of HDMI... :/ sucks but that's okay I'll live
*It's not pleased with my humor..
Please read on the Red colored Con's on the segment titled "Warning".
* Blue tinting. Present in some U2211H's and not in others. If it's present from day 1, return it if you want. If it isn't present from day 1 that LCD is not affected.
* Backlight bleeding. A problem with most LCD's in all price ranges. However some report heavy backlight bleeding that impedes with day to day function.
* Bright pixels- Few people had this problem, but those people had it several times between original and replacements (some taking 4 RMAs).
Warning
Due to many reports on very common defects on the U2211H I decided to add this segment to the review. At the same time I am quite pleased to know that the U2211H seems to be a popular choice because of the sale price, hopefully the Dell U2211H transitions awareness towards IPS LCD's, more demand= less price and supply can very well keep up with demand.
These defects, apart from minor backlight bleeding are being RMA'ed by Dell at this time
. There have been no issues with RMA-ing reported. Dell is doing right by its customers for now.
-Edit- In recent change of events one of the cons was fixed by enabling EDID or default drivers control of the LCD. Thus giving it it's name, and enabling Windows to recognize it as a PnP (plug n play) monitor. This enabled various more resolutions/aspect ratios in Left 4 dead 2.
Personal rants:
*Buttons were badly placed IMO, whenever I adjust the stand I am habitual in my holding. Left hand on the side, right hand on the other corner. Thus I hit the power button accidentally turning it off.
*The USB ports in the back could use some plastic to cover the openings surrounding the USB ports to give it a nice flush appearance. 2x USB 2.0, and the 1x USB upstream... Then again you only really see them when the monitor is on portrait mode and your looking at it from the left side.
Blacks Comparison of a regular TN, IPS, and turned-off LCD, all matte screens.
I went ahead went with all black background then fullscreen
and one 17" Dell LCD that was turned off.. I am surprised myself at how good the blacks are, even blacker then the 17" Dell i have on the side that is actually turned off!
Pics are up:
Pictures taken with a Canon Rebel XSi DSRL on Manual focus
Three monitors, First is a Dell 24" E248WFP (TN panel), Second is the Dell U2211H (IPS), and third as an older Dell 17" E171FP that is turned off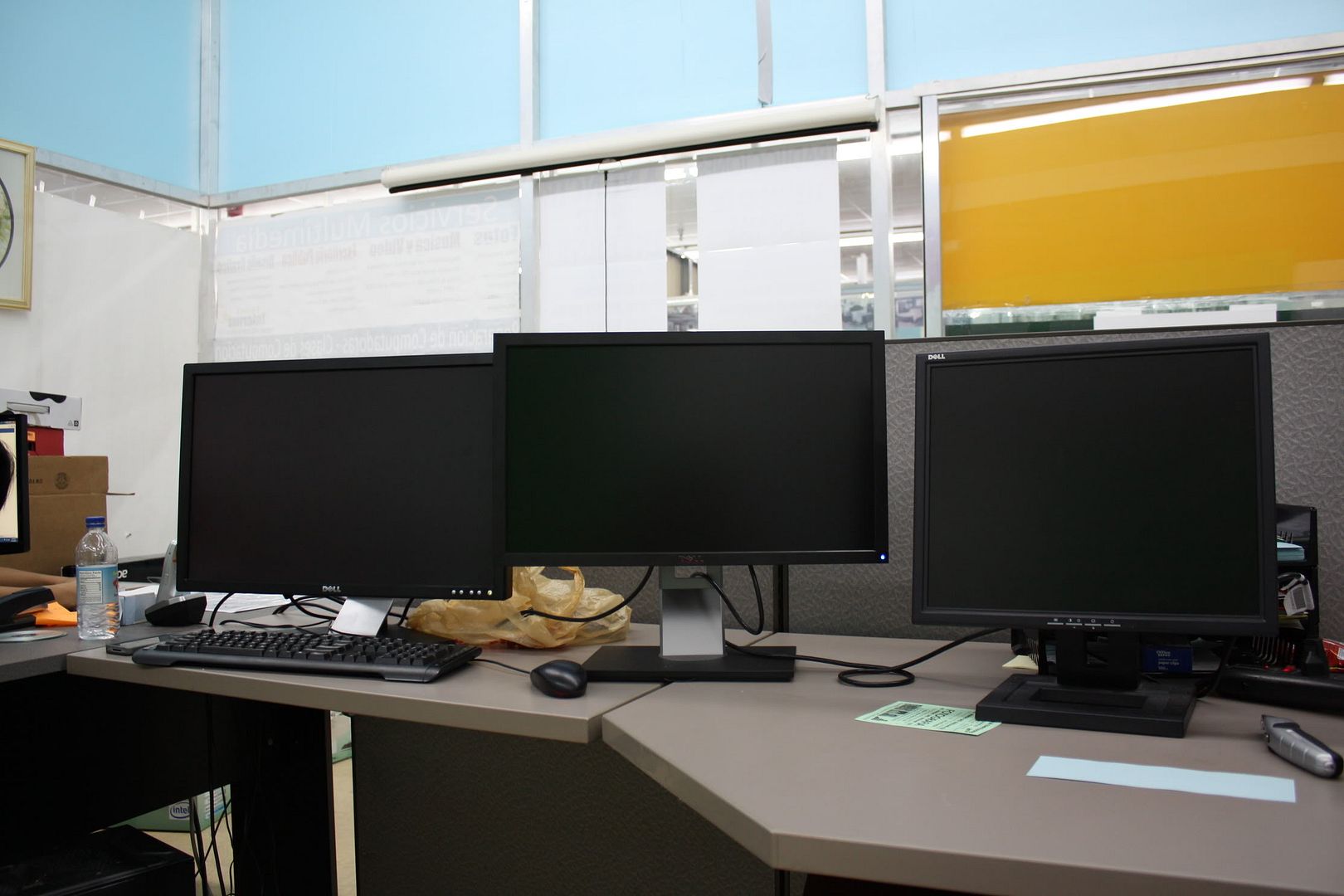 Dell 24" E248WFP (TN) Side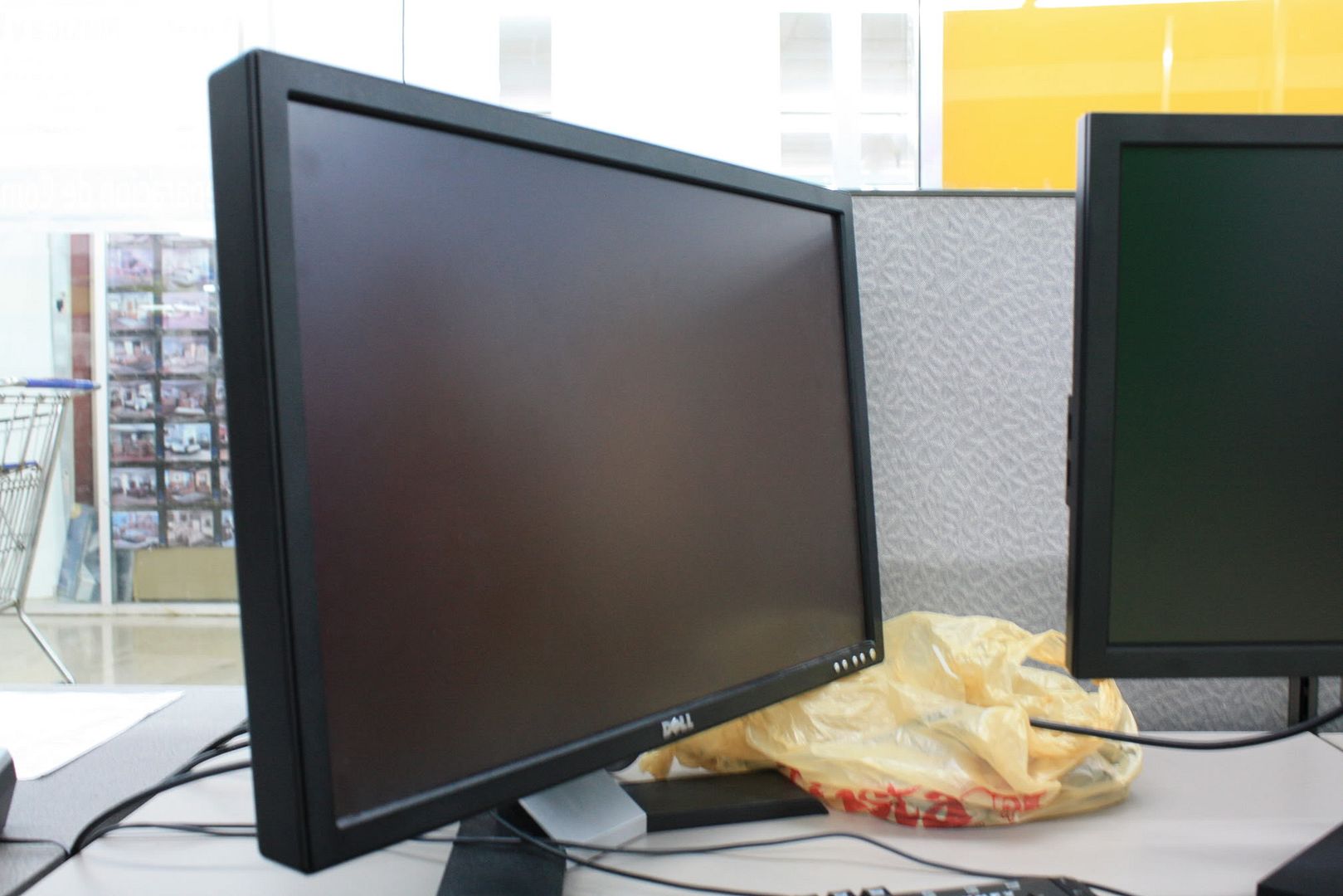 Dell 21.5" U2211H (IPS) side
Dell E171FP TN Turned off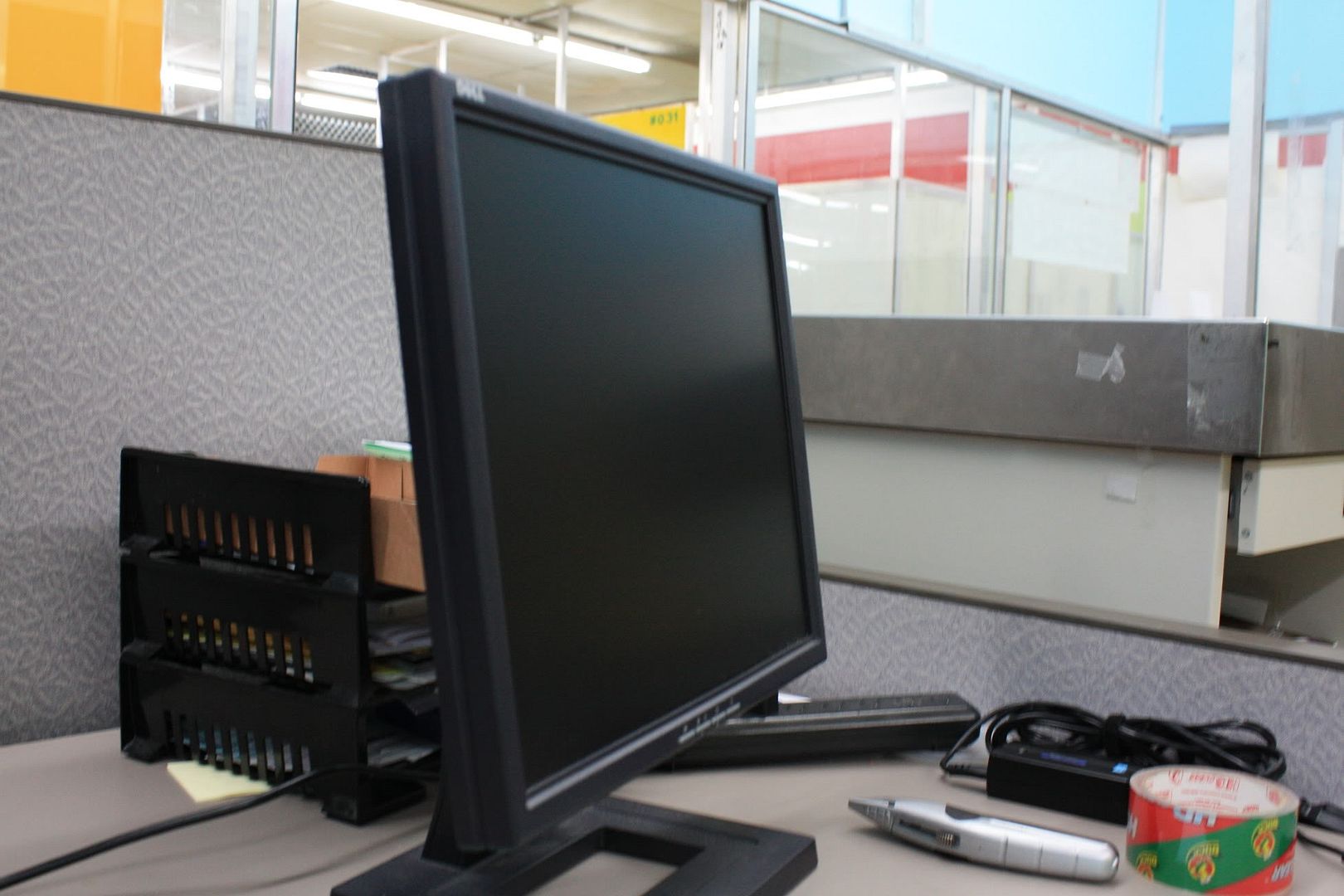 On LED Backlit IPS panels:

Some people may see the CCFL backlight to be a problem with brightness and "awesomeness" however there is a perfectly good explanation to use CCFL over LED"s in IPS panels. The reasons are also the reasons why high end IPS panels (S-IPS~) utilize CCFL backlighting over LED backlighting.
The majority, or entire LED backlit industry for TN panels utilize blue LED's for backlighting. This presents an obvious color reproduction problem where blue tinting can be severely overpowering, thus giving offset colors. For an IPS panel which offers better color reproduction for photographers and graphics design artist, it can be a major problem.
Apart from the obvious blue tint issue there is also problems with uniformity. LED's lighting is a bit more difficult to diffuse and give good uniformity to a screen, however is not impossible. CCFL on the other hand is a lighting used for a little over a decade in lighting of widely-available LCD's (Been around for a long time however most people owned CRT's back below 1990's~, because it was cheaper and better then LCD's). The research is there to provide uniformity with good diffusion.
LED's and IPS
The only company that I know to use white LED's/glossy IPS panels on their screens is Apple, however there are apparent issues present in their screens: Bad contrast, overpriced (HP offers a monitor using the same panel but CCFL+Matte, making it preferred and cheaper), bad gamma balance, and not so accurate color reproduction (still considerably better then TN panels.)
LG is introducing several LED backlit IPS panels however it is trained eye's opinions they will be edge lit LED's which are horrible due to it being thin.
Update- RMA needed- October 8, 2010
I had to RMA my U2211H because the USB hub was having an issue. Anything connected, once every minutes, would freeze. Since I am using a laptop, this is problematic as I need all the USB ports possible, having unusable ports is a big problem.
Support was very helpful, phone call took around 20 minutes was no hassle, they took my word for it that I took any steps needed. New LCD monitor replacement order was placed. Would have shipped today but it was late. It will ship Monday, and I will receive it Tuesday. (next day replacement ftw).
Let you guys know how it goes.