Discussion Starter
·
#1
·
Background
Those who are interested in purchasing a 8800GT have probably noticed quite the
peculiar model put out by Galaxy
... for a nice $178 shipped after MIR, it seems too good to be true!
Right off the bat, many who see this begin to wonder
1)
Who the F is Galaxy? Should I be trusting these guys? Wouldn't I be better off with EVGA or XFX?
2)
What is up with the shortened length?
3)
What the crud is up with the coolers?
4)
What is up with the two PCI-E requirement? Is that some sort of joke?
5)
What is the deal with that random jumper I see?
6)
I heard that these don't use standard Quimoda ram and see people on OCN with Galaxy 8800GT memory OCed to 2100-2200MHz... what's up with that?
Visual Representation: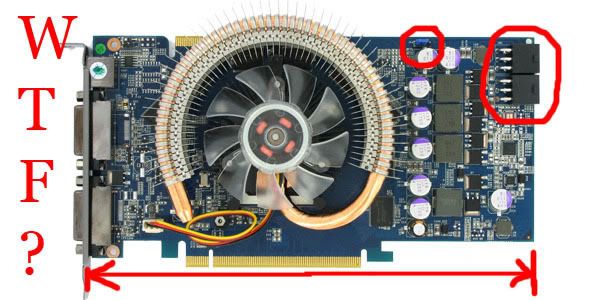 First off, the answer to the above Qs
1)
Galaxy is a (not very well known) Hong-Kong based computer parts manufacturing company that mainly produces video cards... they're new to the game, so don't expect the warranty/service to be as nice as XFXes or EVGAs (duh)
2)
The card only measures 8.5" inches long vs the standard 9"... it is also manufactured with 6-layer PCB instead of the standard 10-layer... this is because of a suggestion made by NVIDIA to manufacturers in order to cut down on costs and make the 8800gt about $10 cheaper to make
3)
The nice thing about Galaxy is that they provide 3 types of (non-vanilla) coolers! :
.....
a)
is a Zalman-esque spiral cooler...
.....
b)
is the same spiral cooler+ramsinks
.....
c)
is a full coverage, large fan, dual slot cooler! <--- this is the one they're primarily shipping I believe
Although unknown which you will get, both are a welcome change over the noisy stock, single slot, small fan cooler
4)
Stock 8800GT only require 1xPCI-E Connector...these require 2xPCI-E for added stability..Why do these things need more stability? Read below!
5)
That random jumper is actually a 3-stage voltage jumper (the sexiest feature of these cards IMO)
6)
That's right guys! These use nice Samsung chips! The memory clocks up to 2200MHz no problemo as opposed to standard Quimoda ram used by the big names (which generally hit a wall @ 2000MHz) I have verified this with Galaxy Cards I've received
Shipped and initial tests!
So my card arrived today... I received the full coverage, large fan, dual slot cooler revision:
After hopping around like a giddy schoolgirl, I popped the card into my Opty Rig (my Quad is being rebuilt and is currently not functional)
Let's see if the voltage jumpers really work! (Stock is 1.15vGPU)
....here's a diagram of voltage testing points:
....
testing: no jumper 1-2-3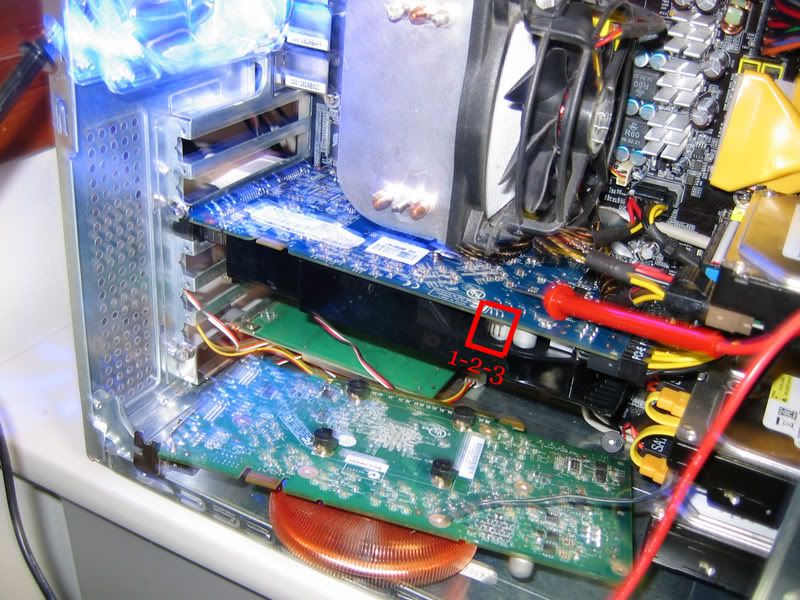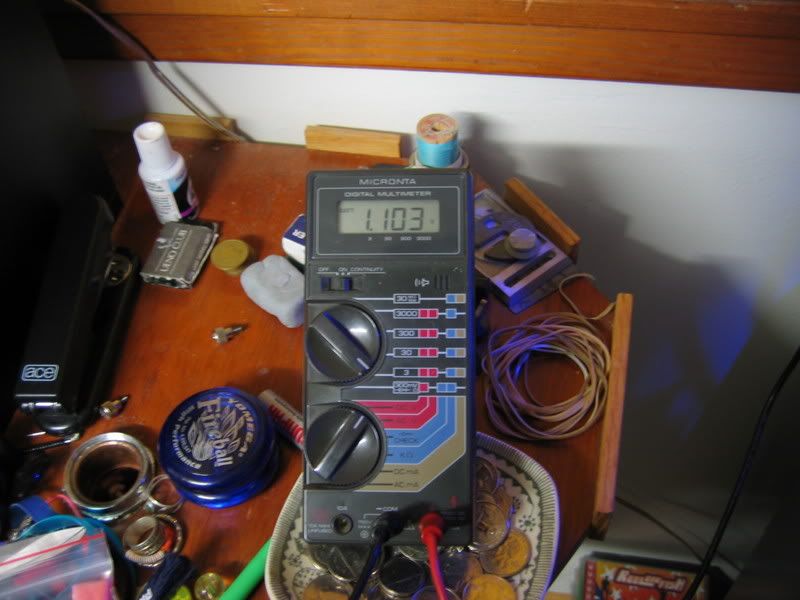 ....
testing: jumper (1-2)-3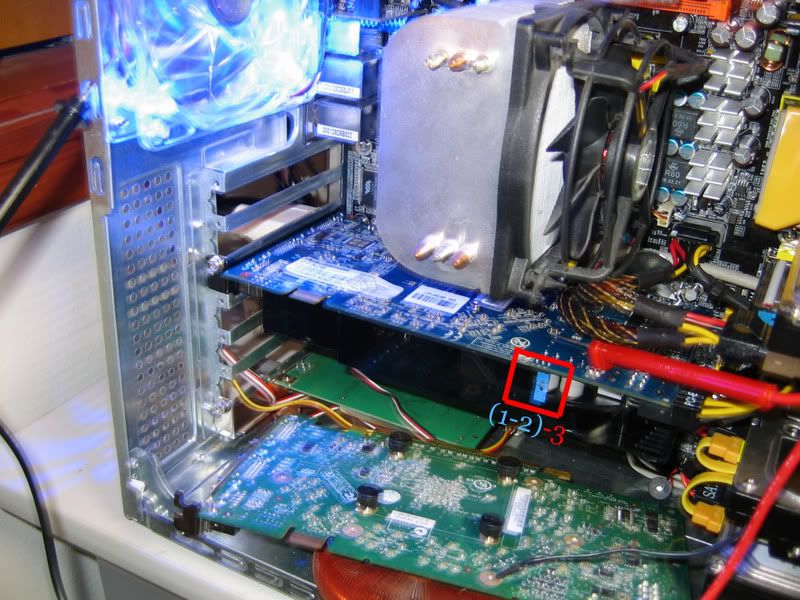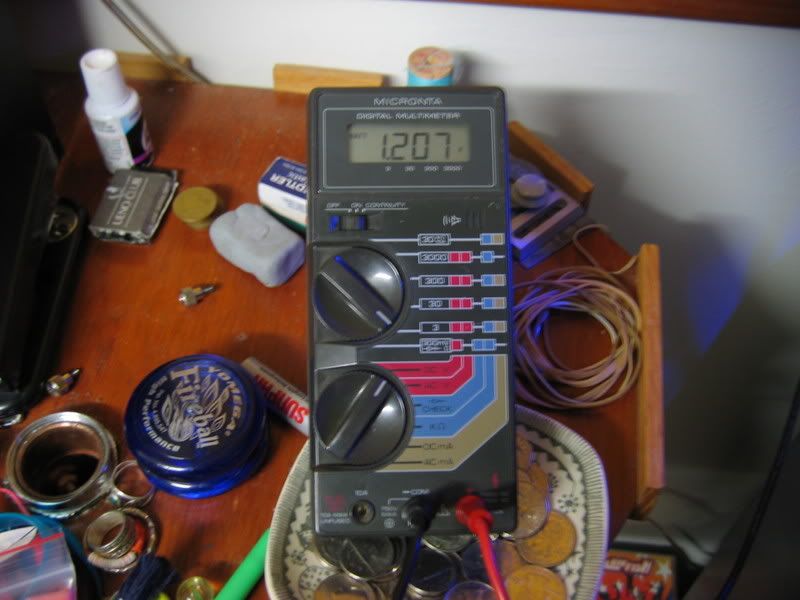 ....
testing: jumper 1-(2-3)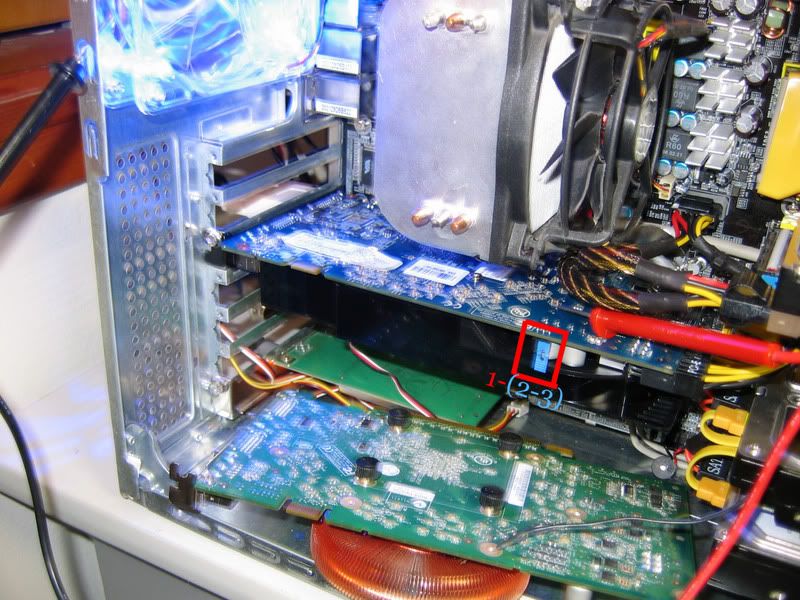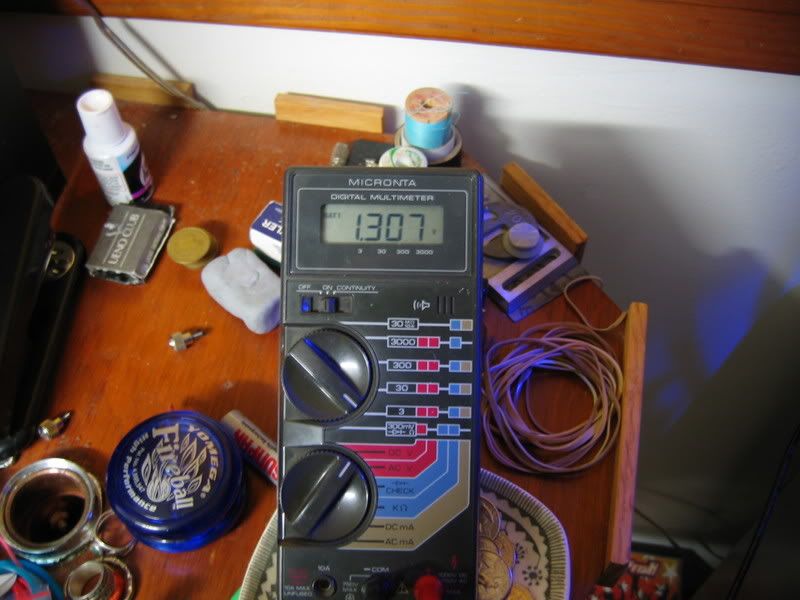 Behold guys! The ability to easily switch from 1.1v, 1.2v, and 1.3v at the touch of a button (eer... move of a jumper) Quite the awesome feature eh?
So Lets Clock 'er up and Check Temps! (1.3V)
First test - 700/2000
Second test -725/2000
Third test - 750/2000
Sadly there are mild artifacts @ 775/2000
Fourth Test - 765/2000 stable

Happy with the Card, Snagged Another!
Ordered a second for SLI (Spiral Cooler version was only one shipping).... ran me $200 shipped (now they're going for $178). I'm slightly disappointed that the two coolers don't match but at least I can frankly say that the Spiral Cooler version is nice and quiet!

Currently running the two cards in SLI @ 740 core / 1800 shader / 2200 mem