Discussion Starter
·
#1
·
Afternoon all. I finally got my new cpu cooler installed (stock cooler ran stock settings at 90°C), so it's time to get this baby overclocked just a tad more. I've got it running stable at 3.0Ghz @ 1.2675 (load temps 43°C) but I want to go to 3.2 so my ram can run at stock speeds using 1:1.
However, if I set it up at 3.2 with a 1.3 vCore I get a Prime95 error after 2 hours. Should I crank it up even higher, or adjust other settings?
Some screenies, don't know if you'll need them but there ya go.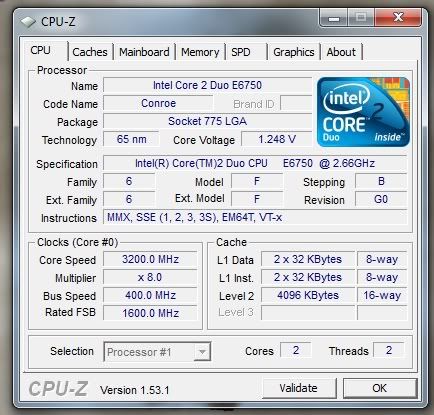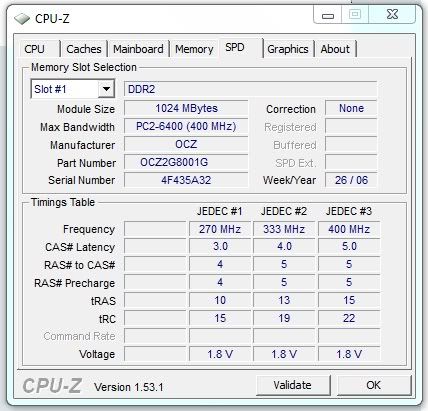 (I don't have a camera, so I wrote down my MIT settings)
Code:
Code:
M.I.T.
Robust Graphics Booster: Auto
CPU Clock Ratio: 8x
CPU Host Clock Control: Enabled
CPU Host Frequency (Mhz): 400
PCI Express Frequency (Mhz): 100
C.I.A.2: Disabled
System Memory Multiplier: 2.00
Memory Frequency (Mhz): 800
High Speed DRAM DLL Settings: Option 1
Performance Enchancements: Standard
--
System Voltage Control: Manual
DDR OverVoltage Control: Normal
PCI-E OverVoltage Control: Normal
FSB OverVoltage Control: Normal
(G)MCH OverVoltage Control: Normal
CPU Voltage Control: 1.30000V
Normal CPU Vcore: 1.30000V (I can't change this one, I'm assuming that's a reminder in case you forget...or something?)
Ctrl-F1 brings up ram timings and what-not, I forgot to write them down. I set it on manual and entered the values that were present when it was set on auto just to make sure nothing got altered when I changed my FSB (you can check the values on the cpu-z screenshots). Probably pointless, might be the problem?
Thanks in advance everyone.