It wouldn't be long to find a way to use your PS3 controllers on your Xbox 360 console. XCM has today informed us their first of its kind, the XCM Cross Fire adapter for Xbox 360 is near completion. Boxes are being printed, and products should be rolling out to distributors within a week or two.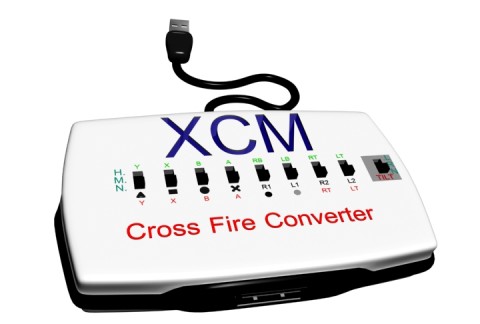 The XCM Cross Fire adapter allows PS3 controller to be used on Xbox 360 console, and is compatible with original xbox wired as well as the Xbox 360 controllers. In fact, it does more than a simple adapter; the unit also has a built in rapid fire/turbo with forced feedback support, and analog tilt functions for added features.

Main features :

1. Use your Playstation 3 controller on your Xbox 360 console.
2. Enables Rapid Fire / Turbo on Wired Xbox 360 and Original Xbox controllers when connected to your Xbox 360 console.
3. Supports Forced Feedback on PS3/Xbox 360/Xbox controllers.
4. Supports 2 stick analog tilt functionality of the PS3 controller on the Xbox 360.
5. User controller Rapid Fire / Turbo firing rates (High Speed, Medium Speed, Off)
6. Must be used in conjunction with a Wired Xbox 360 controller.