Discussion Starter
·
#1
·
Today I bring you the Steelseries Sensei. The proclaimed master of ultimate customization.
I would personally like to thank Kim Rom (Steelseries chief marketing officer) for providing me with a review sample!
Lets begin!
As I stated before, the Sensei claims to be very customizable. To quote Steelseries'
Quote:
The World's Most Customizable Mouse

1) Egronomic, Ambedextrious Shape and Size is optimized for all types of gamer grips; palm, claw, swipe

2) Programmable illumination with 16.8 million color options in 3 zones

3) Instant, effortless setup via built-in LCD menu of 5 gaming profiles and steelseries ExactTech precision settings*

4) LCD Supports personalized bitmaps

5 )Double (x2) your mouse speed with DCPI: From 5.700 to 11.400 DCPI

6) Supported by Steelseries Engine technology offering operation and configuration, Customization, and advanced macros across SteelSeries peripherals*
Shape
If I were to compare the Sensei to anything, it would be these two classic mice above. While it takes most of it's design cues from the Microsoft Wheel Mouse Optical, it shares the the larger dimensions of the Microsoft Intellimouse Optical 1.1. The WMO is a fairly comfortable mouse to begin with, but I feel the sensei extends that versatility.

The ultimate mouse shape?
Not necessarily.
It's quite amazing for both the claw or even fingertip, but palm grippers may still feel a tad more comfortable with ergonomic contoured mice like the Razer Deathadder, Microsoft Intellimouse Explorer 3.0, or even certain G series Logitech mice. Can it be palmed comfortably? Of course, but it depends on the individual person.
Weight

The Sensei tips the scales at 102g. While I would normally find this above my personal comfort spot, the mouse itself feels fairly good for it's weight which ultimately surprised me. Nothing more I can really say.
Cable
The cable is braided and fairly thick. Quite honestly, I don't see this adding anything to the mouse. I do understand that there is a proclaimed durability factor, but out of all the gaming mice I've owned and lans attended, I've never had a cable break. In fact the cable braid would be in 2 parts before anything serious went.
Example of one of my older mice. NOT the sensei
Does the Sensei have a fairly stiff braided cable?
No. It's actually quite flexible (compared to others) and seems to be "dual" braided, but I have no clue what that means in terms of longevity. The quality of the braid itself is fairly high.
What would I find superior?
A simple and flexible rubber cable, but that's my own preference and opinion.

External Build Quality and Coating
If I were to claim that this wasn't one of my top pics as far as overall build quality went, I'd be lying. Much like the Xai, I haven't really come across a mouse another mouse that can rival Steelseries' flagship mice.
Changes from Xai include 3 Zone illumination and the glossy plastic shell which may or may not increase grip depending on the individual.
On a personal note, I find the coating to work really well, but it does acquire contamination much quicker.

Internals

I actually don't mind opening mice up to benefit the community.
To start off, the mouse is equipped with Omron D2FC-F-7N(10m) microswitches for the left and right click. The 10m indicates that the switches are good for 10 million clicks. These are the same ones that were exclusive to Logitech for a greater part of the decade.
While the standard variation of the switch is found in a large majority of gaming mice, the Sensei's shell design and plastics complement them well.
The scroll wheel and middle CPI button ultize TTC
15900061360122000
The side buttons utilize TTC
15900041360132000
The MCU/ARM processor is a
STMicroelectronics STM32-F103C8T6
The encoder is unmarked, but looks and feels similar to TTC's offerings. The feedback it gives is more than acceptable.
Sensor and Tracking Quality
dun dun dun....
The Sensei utilizes Avago's ADNS-A9500 Laser sensor and while I've had and replaced a handful of 9500 mice in the past, I ultimately came to the conclusion that these mice just suck on cloth pads. That might have been true with the Xai and High end G series Logitech mice, but the Sensei seems to have a fixed SROM (aka firmware) allowing it to perform as optimally as a hard surface on a fair range of cloth pads!
http://youtu.be/X-rVd_JFxxE
Kinda whipped this up a tad too fast since I was in a hurry to get to class. Accidentally fired a few times because I wasn't used to the G500's actuation point.
Why test on source engine?
The source engine offers raw input. I just needed a simple place and map to test max tracking rates in game.
What are your settings?
400 CPI (450 on Sensei) , m_rawinput 1, 0.5 sensitivity. They're a little unorthodox, but work really well for testing max speed in game. While I would never use or flick that fast with settings that low, you can easily see the difference between the Sensei and the G500.
How old is your G500?
It's a recent replacement model from earlier this year. The sensor is clean and I've only really used it a few times.
So does the QcK work w/ the Sensei?
Yes and No. Certain areas of my pad are fairly worn and will hit neg accel or malfunction. While I'm moving my mouse pretty fast, I can still reach a malfunction point in the "good areas" as shown in the video above. Other pads like my Raindrop, Talent, Kai.G3, and Goliathus Speed seem to offer superior consistency from what I've tested.
Enotus mouse test?
I'll talk about this shorty, but the CPI values on the mouse itself aren't technically correct. I suppose there are a couple of lower values which are accurate in cohesion to how the program works, but I don't think it's necessary as the above video shows me flicking a mouse pretty fast on an already underperforming pad.
Native sensor resolution
I originally assumed that Steelseries was going to be using a similar SROM to Logitech, but along with the higher tracking rates, it's fair to say that this might be Avago's recently added SROM A0
The native CPI range on this sensor seems to be 90-5670 in steps of 90.
What does this mean?
The Sensei doesn't really have 5700 CPI. 1 CPI= 90 CPI, 91 CPI-180 CPI= 180 CPI, 181CPI-270CPI=270 CPI... and so on. 5581-5700 is the same distance 360 wise.
Anything over 5670 is simply just interpolation of the native CPI range. If we really want to get real technical, it only has a max interpolated CPI value of 11340.
Tracking quality.
Fairly good.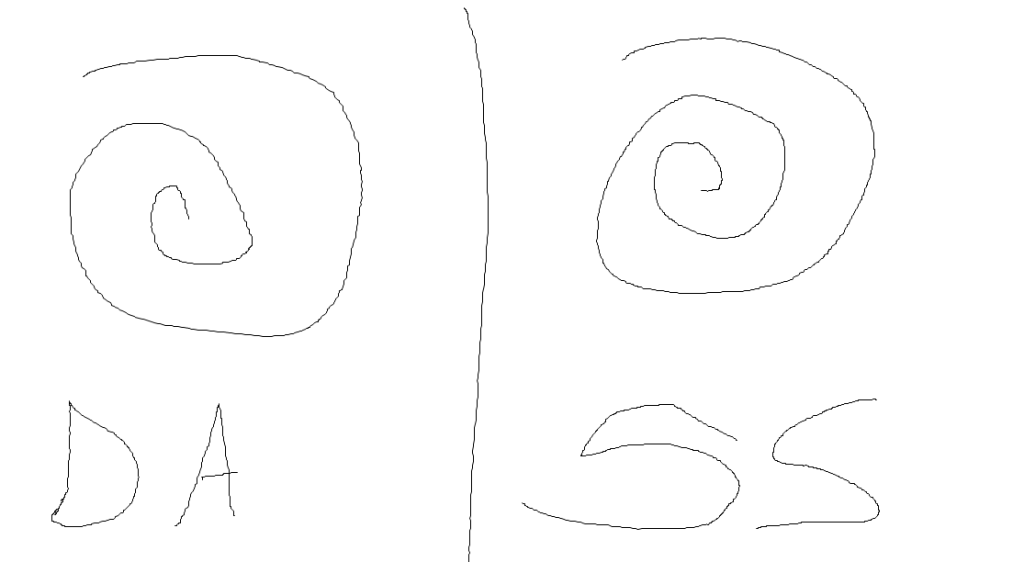 3500 CPI on DA 3.5G vs 3420 CPI on Sensei
1800 CPI on DA 3.5G vs 1800 CPI on Sensei
I didn't really go overboard with this, but I figured I'd draw a couple circles at two similar CPI values.
While the LED based sensor of the DA is reaching it's limits upon it's 3500 CPI setting, The laser sensor could probably go a little further with out severely freaking out. Both mice were tested on my Raindrop XL.

Positive Acceleration?
Unfortunately, the sensor still has it's small acceleration flaw which may be a deal breaker for gamers that prefer a 1:1 cursor response ratio.
Slower movement under 40 ips will generally land closer to the point on the right, but my average to high speed movement will almost always end on the left. I would like to comment that this is much better than I expected as my cursor would be all over the place with the older 9500 mice.
Drivers/Customization/Whatever's Left

The drivers can be finicky, but are honestly unneeded after you configure up to 5 profiles with illumination. On, Off, Green or Blue. The choice is yours.
The main configuration of the mouse can be set by holding the center CPI button down for a few seconds and scrolling between settings on the LCD on the bottom.
Is it that useful?
Depends on the situation. I myself would be content with Razers setup on the Abyssus, but the Sensei allows for full and extent customization.
Lift Off Distance (Exact Lift)
Very low if you so desire. MCU allows the mouse to scale between 1mm and 5mm as stated on the box. I personally use the lowest setting. Works great.
Angle Snapping/Prediction/Drift control/Correction (Free Move)
Whatever you want to call it, the Sensei allows you to change the degree from low to moderate to even high amounts. This is also controlled via MCU.
Mouse Enabled Acceleration (Exact Accel) and Exact Aim.
I can't comment on these. Native mouse acceleration is something I'll never use, but Exact Aim does look interesting. If anything, I'll post my findings later in this thread.
Polling rate
Configurable on the mouse itself. 125-250-500-1000hz.
Final Thoughts
Is the Sensei What I expected
? Honestly no. The max tracking performance is much better on a large spectrum of surfaces and behaves more like a LED based optical sensor than previous lasers I've used.
Is this mouse an upgrade from my Xai?
Depends.
-If you play with a hard surface or with high sensitivity, I honestly wouldn't see much of a point.
-If you like cloth and require high max tracking rates, the Sensei is a fairly capable mouse with the right pad.
What CPI settings are optimal?
Anything below 5670. Sensor works in 90 steps. 400 CPI = 450 CPI. 451 CPI= 540.. Etc....

Worth the Price? ($90 USD)
I actually have to disagree with the price tag. Yes the build quality is excellent, Yes the mouse is fully customizable, Yes the shape is perfect (for me), but I don't think it's necessarily worth the premium.
Do you like this mouse?
Yes. Minus the acceleration flaw, it's near perfect.

Bonus Gallery:
Feel free to comment below_
Edit 11/18/2011: Added underside PCB pics, fixed some improper grammar.