Discussion Starter
·
#1
·
GF106 and GTS 450: Fermi Goes Mainstream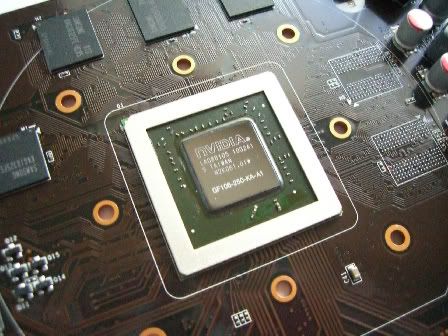 (Pictured: GF106 die)
Introduction
Roughly six months after the release of nVidia's flagship Fermi graphics cards, their first truly mainstream variant has finally arrived. GTS 450 they call it. Built around nVidia's GF106 GPU, this little bugger is meant to contend in the value-performance market segment with the likes of ATI's Radeon HD 5750 and HD 5770, while supplanting their own GTS 250 graphics card. Though a late entrant, the GTS 450 fills a glaring void in the Fermi product line and should provide nVidia with a much-needed boost in GPU sales at a reduced production cost.
Whether you're looking to purchase a new graphics card without breaking the bank or have succumb to interminable curiosity, I suggest you read on to get a glimpse of what the GTS 450 can do!
*As always, please feel free to post your commentary and ask questions to your heart's content!
Value Proposition â€" $100-200 Market Segment Breakdown
Consumers now have a wealth of choices in the mainstream market. Provided below is a breakdown of approximate retail prices for models in the $100-200 price range. These prices are general but should reflect the common price range e-tailers are offering at the time of writing.
Note: I have obtained these prices from one or more sources, primarily e-tailer websites, so their actual MSRP may vary from the figures below. Prices are estimates and are listed in $USD.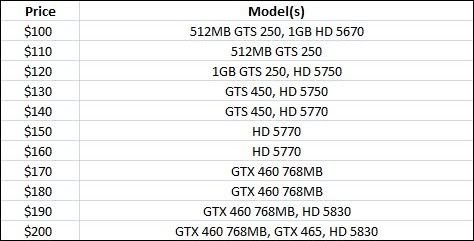 GTS 450 and Its Place in the Fermi Line-Up
Listed below are the available Fermi models as well as many pertinent specifications.

The Fermi architecture has been extensively cut down to create the relatively petite GF106 GPU and hit its performance target. The result is a Fermi model that comes in at 106w, just shy of half the TDP of the GTX 470. It does sport 1GB of GDDR5 video memory, however the memory bus width has been cut down to 128-bit, which is in line with the HD 5700 series. We will find out how much performance nVidia was able to pack in this comparatively small Fermi package.
nVidia's GTS 450 Performance Target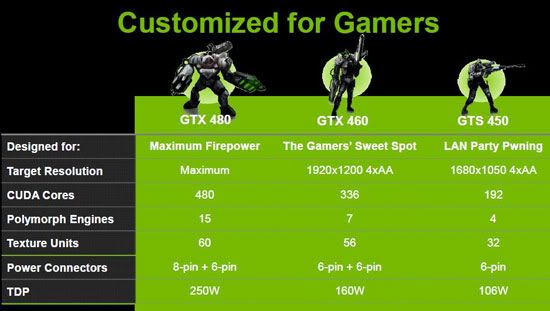 nVidia intends to aim this card at the budget-performance market segment given its $130 price tag and reasonable power requirement. This chart illustrates their intended performance targets for their GTS 450, GTX 460, and GTX 480 models. Gamers that play at 1680x1050 or less may find that the GTS 450 is the card for them.
Changing of the Guard: GTS 250 to GTS 450
The GTS 450 is meant to replace the GTS 250 in nVidia's GPU lineup. Pictured below is a specification comparison between the GTS 250, GTS 450, and HD 5770.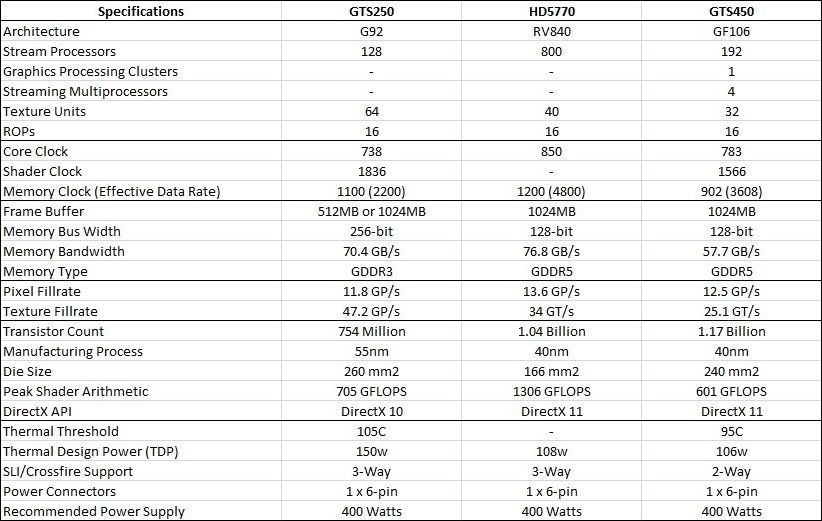 The size of the GTS 450 die still dwarfs that of the HD 5770, as it's nearly 50% larger. Despite this, nVidia has managed to bring its TDP in line with the HD 5770's. These cards share the same amount of VRAM and bus width, but ATI's use of higher frequency memory creates a sizable gap between their respective memory bandwidths. The grizzled GTS 250 is the result of several iterations of nVidia's previous-gen architecture. It has found a suitable replacement in the GTS 450, bringing nVidia's budget-performance offering up to speed with 50% more processing cores and DirectX 11 support in a more efficient package.
An Overview of Fermi Architecture

I decided to include a brief overview of the three Fermi GPUs currently available. It is not a technical analysis, but rather more of a brief overview regarding currently available products and potential future offerings.
GF100
Debuting in March of this year, the original GF100 is the foundation of nVidia's enthusiast offerings. The GTX 480, GTX 470, and GTX 465 are the models built on this architecture. The chart below displays nVidia's specification differentiation between their GF100-based graphics cards.
The GF100 architecture contains 4 graphics processing clusters (GPC), each containing 4 simultaneous multiprocessors (SM). Within each SM are 32 CUDA processing cores. This would theoretically allow for a GPU powered by 512 CUDA cores. However, nVidia's flagship graphics card, the GTX 480, has a single SM disabled resulting in a total of 480 processing cores. The GTX 470 has two SMs disabled and features 448 processing cores. Its younger brother the GTX 465 has been cut further, featuring 11 SMs and 352 processing cores. While not particularly profitable, the GTX 465 allows nVidia to earn a return on their less than perfect GPUs. Each GF100-based GPU features a unique memory bus and size. The GTX480 sports a 384-bit bus and 1536MB of video memory, the GTX470 320-bit and 1280MB, and the GTX465 256-bit and 1GB.
Pictured below is a high-level block diagram of the fully-realized GF100 architecture: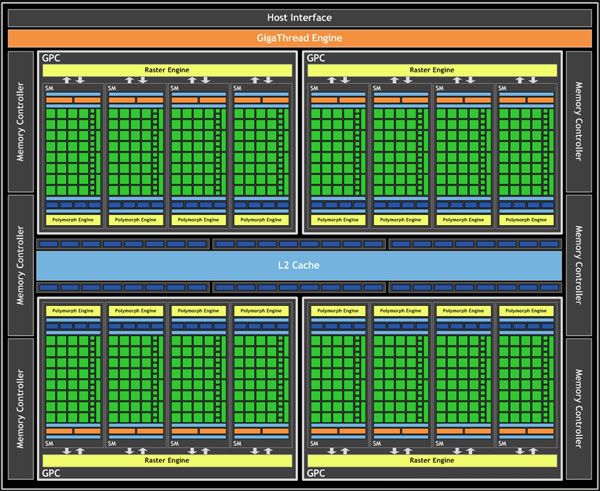 GF104
The new architecture which debuted with the release of the GTX 460 in august has been dubbed GF104. It's Fermi alright, but it certainly differentiates itself from its older brother. The only currently available graphics cards using this architecture are the 768MB and 1GB models of the GTX 460. The chart below illustrates the full GF104 and the GTX 460 specifications.

The GF104 features 2 GPCs (Reduced from GF100's four), each containing 4 SMs (As with GF100). Unlike GF100, each SM contains 48 CUDA processing cores, a 50% boost from GF100's 32 cores. Theoretically this would allow for a graphics card containing 384 CUDA cores. Like the GTX 480, the GTX 460 has a single SM disabled. The end result is a graphics card rocking 336 CUDA cores. The GTX 460 comes in two flavors: one featuring 1GB/256-bit and one with 768MB/192-bit memory and bus widths respectively. The other key difference between the two cards is their number of ROPs. The 1GB model features 32 ROPs while the 768MB model has only 24. Performance between the two cards will differ as a result. The 1GB model will perform a bit stronger across the board depending on the application. Applications dependant on processing core count and core/shader performance, such as
[email protected]
, should be unaffected by the difference between the two cards.
Pictured below is a high-level block diagram of the fully-realized GF104 architecture:
GF106
Fresh off the press (Literally and figuratively), the newest entrant in the Fermi lineup arrived on Sept 13th to some fanfare. Perhaps not generating as much buzz as the GTX 460 series did upon release, but far from unnoticed. GF106 is nVidia's second effort to shrink and rework Fermi to reach more budget-minded consumers. The first graphics card built on GF106 is the star of this review, the GTS 450. It is the only GF106-powered graphics card currently available. See Below for the GF106 specfications.
Unlike previous Fermi iterations, GTS 450 bucks tradition by featuring a fully-realized GF106 GPU. It features a single GPC containing 4 SMs. Like GF104, GF106 packs 48 CUDA processing cores per SM. The end result is a graphics card featuring 192 CUDA cores. Future GF106 models could come in flavors features 48, 96, or 144 processing cores. However, GF108 may become a more viable, profitable option once core count is reduced due to production costs and reduced prices.
Pictured below is a high-level block diagram of the fully-realized GF106 architecture: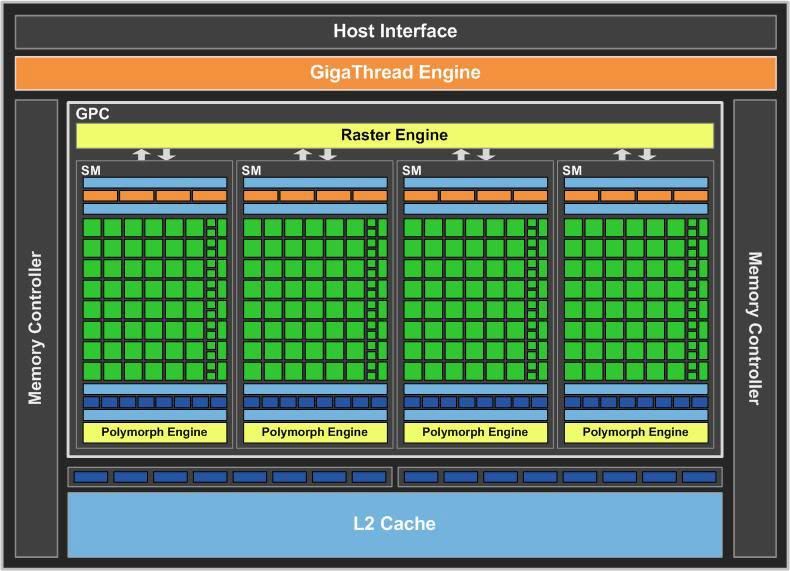 Getting Up Close and Personal with EVGA's GTS 450
The centerpiece of this review is EVGA's GTS 450 offering. It is backed by EVGA's solid reputation and strong build quality. This particular model only carries a two-year warranty. This is a non-issue for some but others may wish to take it into account when selecting their graphics card of choice.
Box and Packaging
This box incurred cosmetic injuries during delivery, but is otherwise perfectly healthy.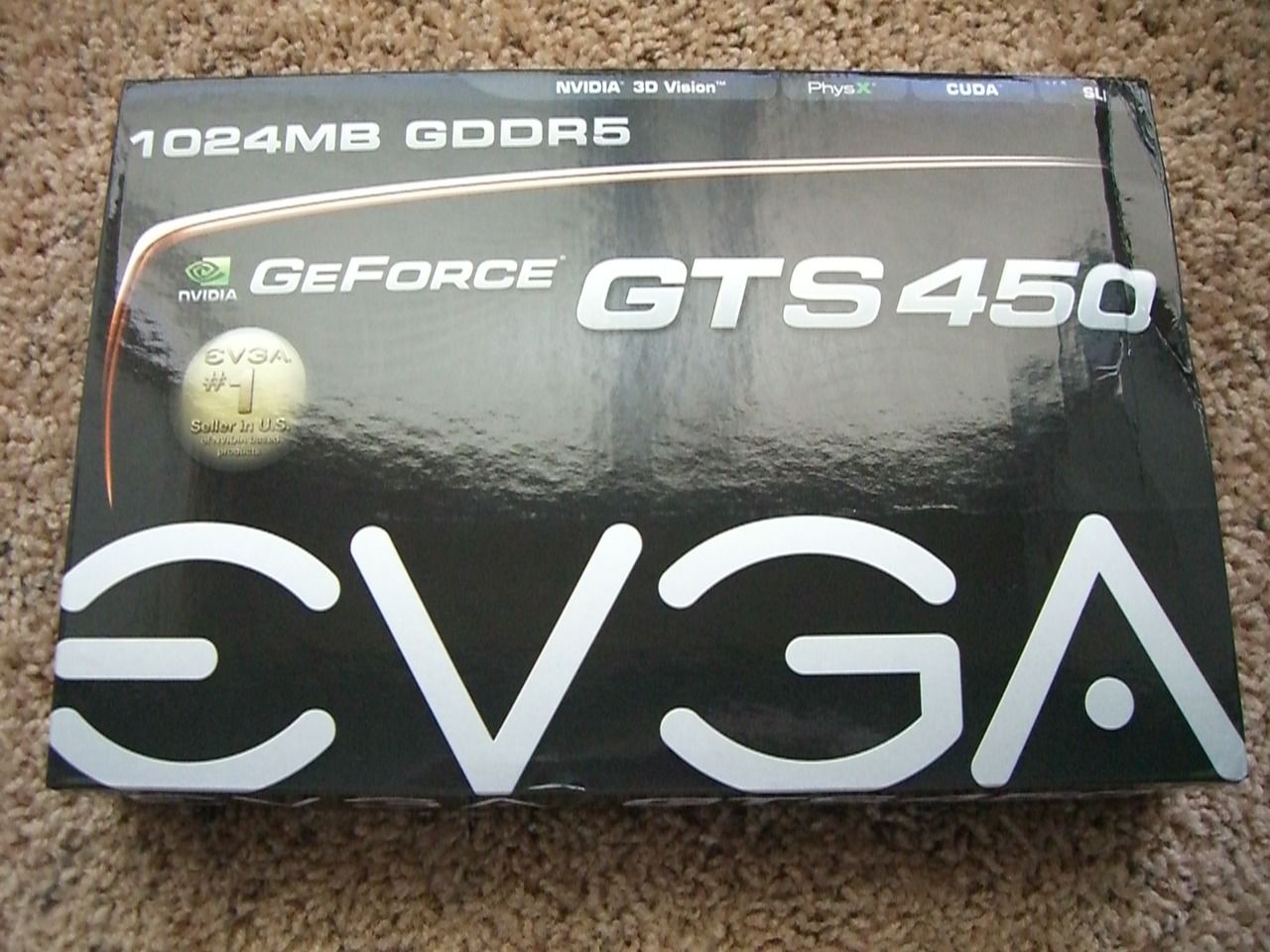 The included accessories are meager yet standard for this price point, including only a DVI-VGA adapter as well as a Molex to PCI-E cable. Also included are a driver disc and documentation. The graphics card is packed snuggly in its own compartment and sheathed in bubble wrap. I was disappointed by the lack of a snazzy EVGA sticker. (It is an honor reserved for enthusiast cards, I suppose)
The Graphics Card
Here are some shots of the graphics card which display its overall look and connectivity. It's a reference model, but it looks sharp.
This EVGA GTS 450 has two DVI and one mini-HDMI output. A mini-HDMI adapter is not included in the retail packaging.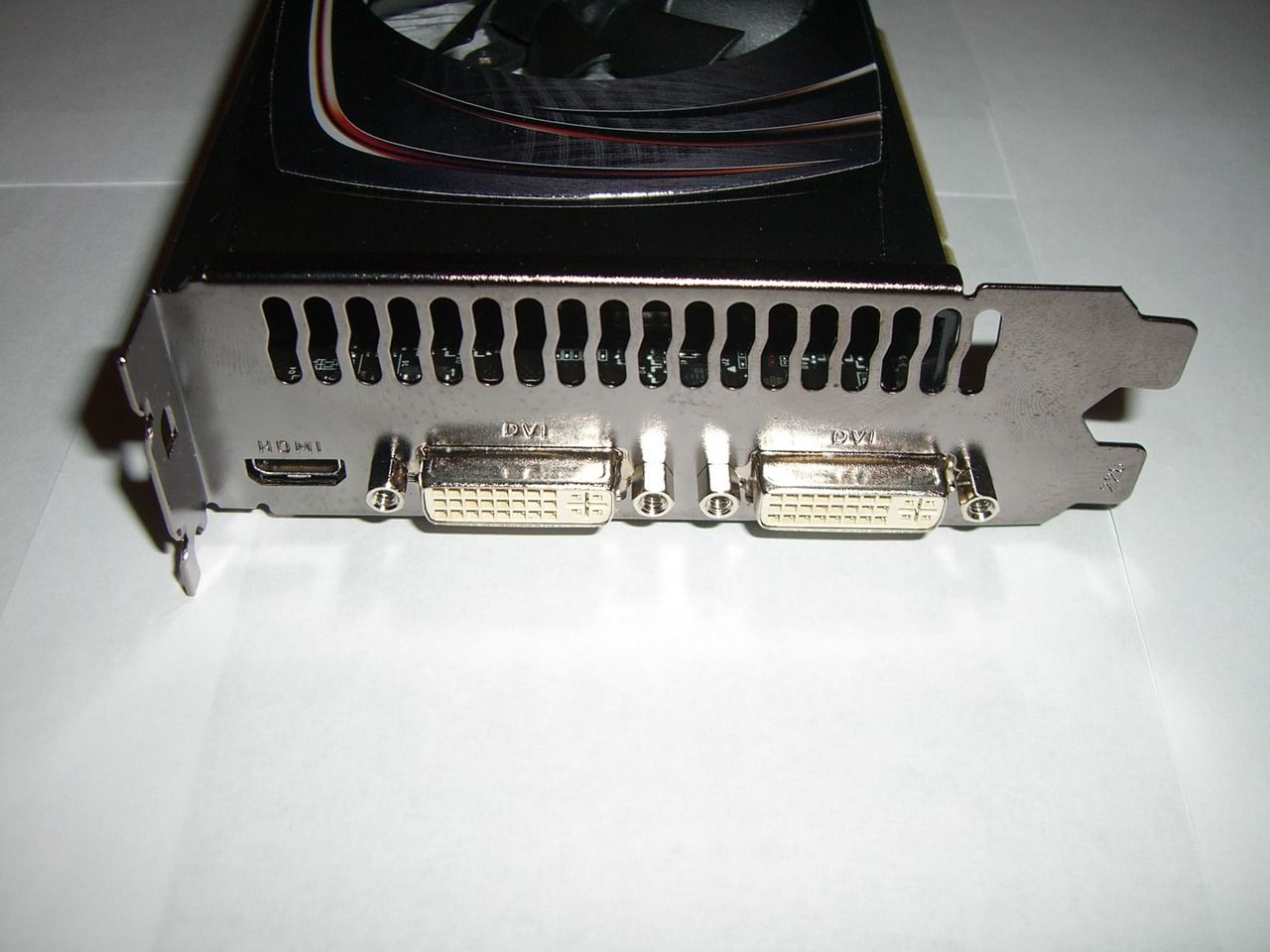 EVGA has gone with a brown PCB for this card. They have opted to use Samsung's K4G10325FE-HC05 memory modules with this model, which are specified to run at 1000Mhz (4000Mhz effective). This is disappointing, as I have seen at least one other GTS 450 model utilize Samsung's K4G10325FE-HC04 modules which have an effective rating of 5000Mhz. (See techpowerup's
Zotac AMP! GTS 450 Review
) Additional memory overclocking headroom would help make up for the lack of memory bandwidth on this card, but I have to work with what they give me.
A Few Quirks
The GTS 450 I received has been mislabeled by EVGA. The side-sticker proudly states "GTX 460.†Given that this side is visible from outside the case and that the two cards look very similar, it may cause confusion amongst onlookers. It is good for a quick laugh at least. Highlighted in green are the two incongruent labels. On the subject of the GTX 460, I noticed a difference between it and the GTS 450. EVGA's GTX 460 models feature a foam spacer on each side of the heatsink shroud that helps reduce vibration and PCB bending. This feature is absent on the GTS 450. They would normally be positioned on both sides of the PCB approximately where the yellow box is located. It is most likely a non-issue, but it is worth noting. I believe its absence may be due to the reduced weight of the GTS 450 heatsink (smaller and all aluminum) compared to its older brother, but it is an affordance that is missed.
Here is a comparison picture of an EVGA GTX 460, please forgive me for the picture quality as my camera is an uncooperative hooligan… either that or it is just severely outdated (highlighted in yellow):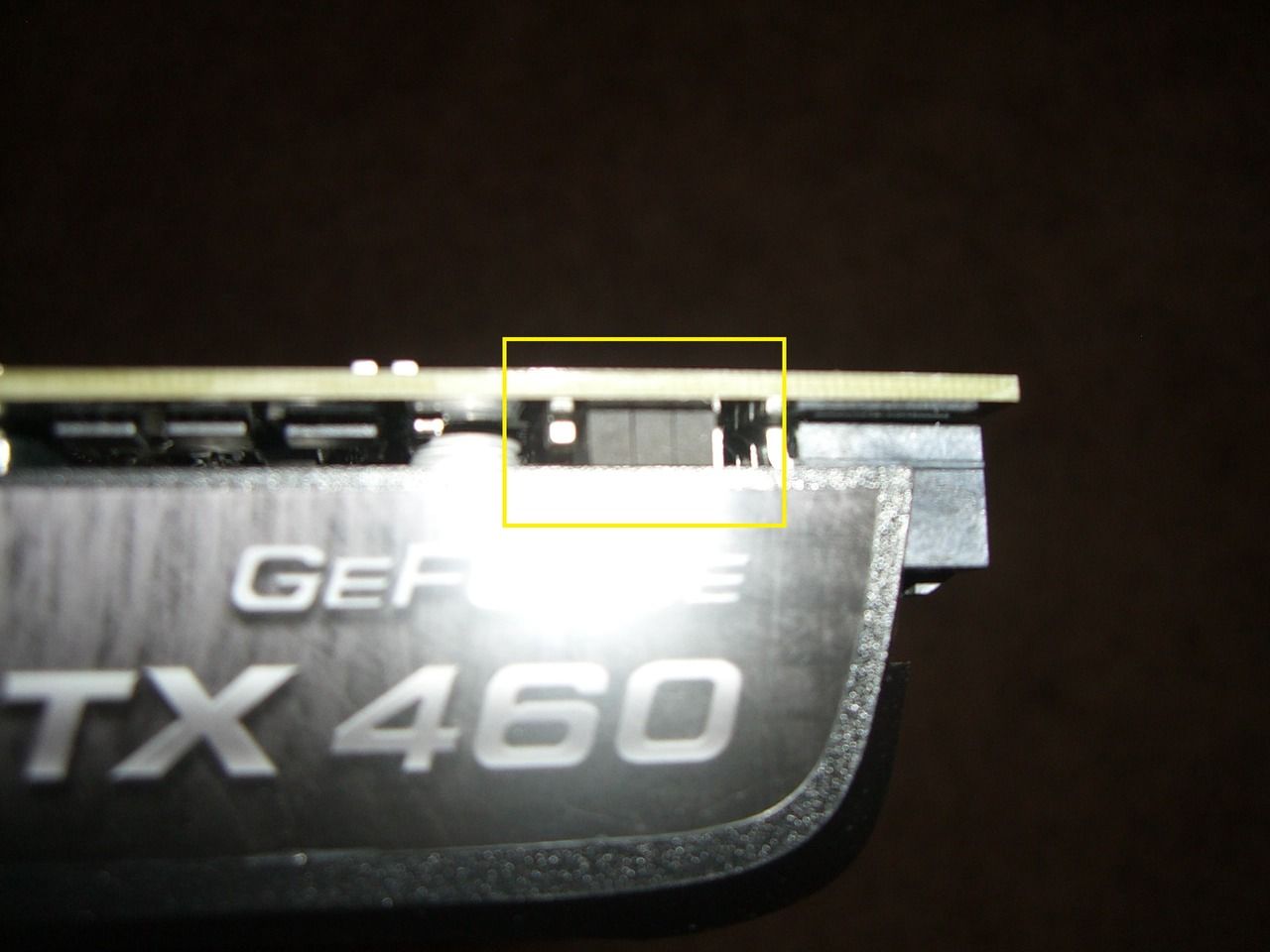 Another difference between the two cards is the absence of many PCI-E pins. According to the
GTS 450 SLI Review
from Legit Reviews, nVidia states that a few pins dedicated to unused functions have been removed but it will not affect performance or signal reliability. (I confirmed with EVGA that they were unnecessary)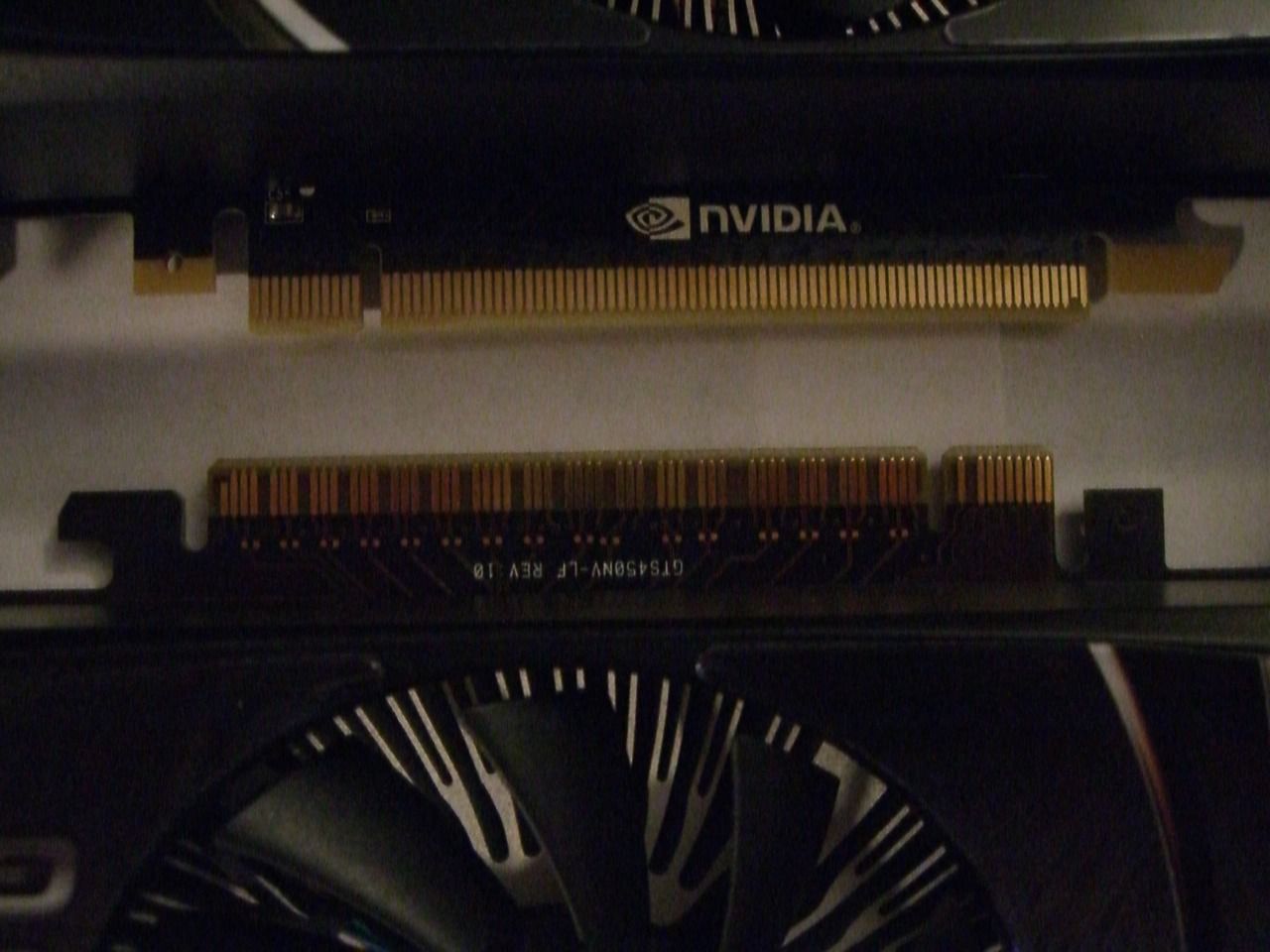 (Top: GTX 460, Bottom: GTS 450)
Under the Hood
EVGA has opted to follow the reference design with this model. It features a radial heatsink with a single 75mm fan that dissipates heat. Airflow is guided by a plastic shroud that should ensure critical circuitry does not overheat. Unlike the GTX 460 reference design, there are no heat pipes to be found. It reminds me of an Intel stock heat sink with a larger footprint.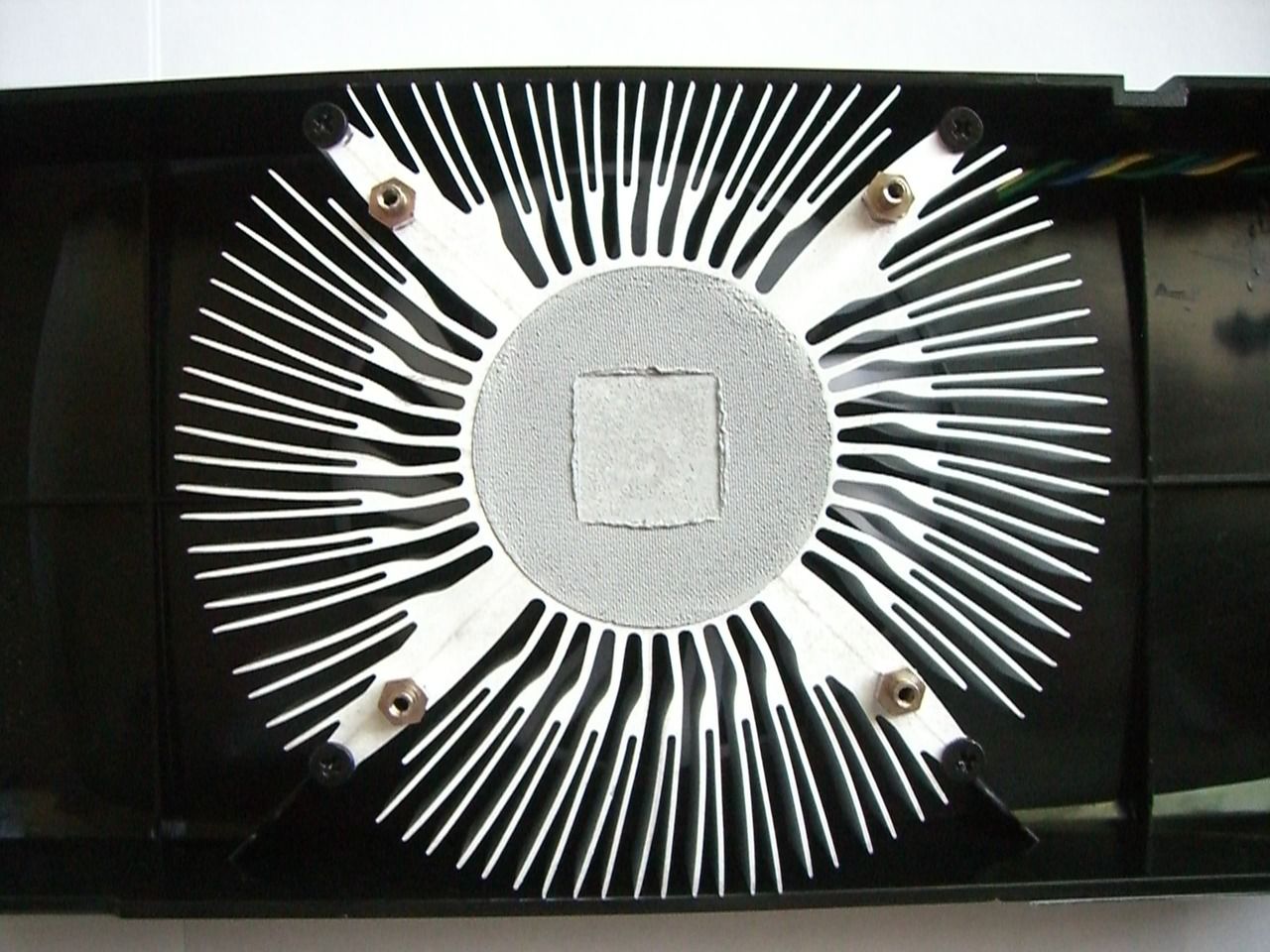 You can see differences between the GTS 450 and GTX 460 reference heatsinks without removing them. The GTX 460 features a more robust heatsink with a copper base and pipes (Featuring two heatpipes, somewhat similar to
MSI's Cyclone
design but downsized and contained within a shroud). The GTS 450's heatsink was designed with its reduced TDP, die size, and resultant cooling demands in mind.
After removing the factory-applied thermal paste we are able to see the GF106 GPU in all its glory. Unlike its older brothers, the GTS 450 does not have a massive heat spreader to obscure our view, so we are easily able to gauge the size of the die first-hand. It is larger than that of the HD 5750/5770, but it is significantly smaller than its Fermi predecessors.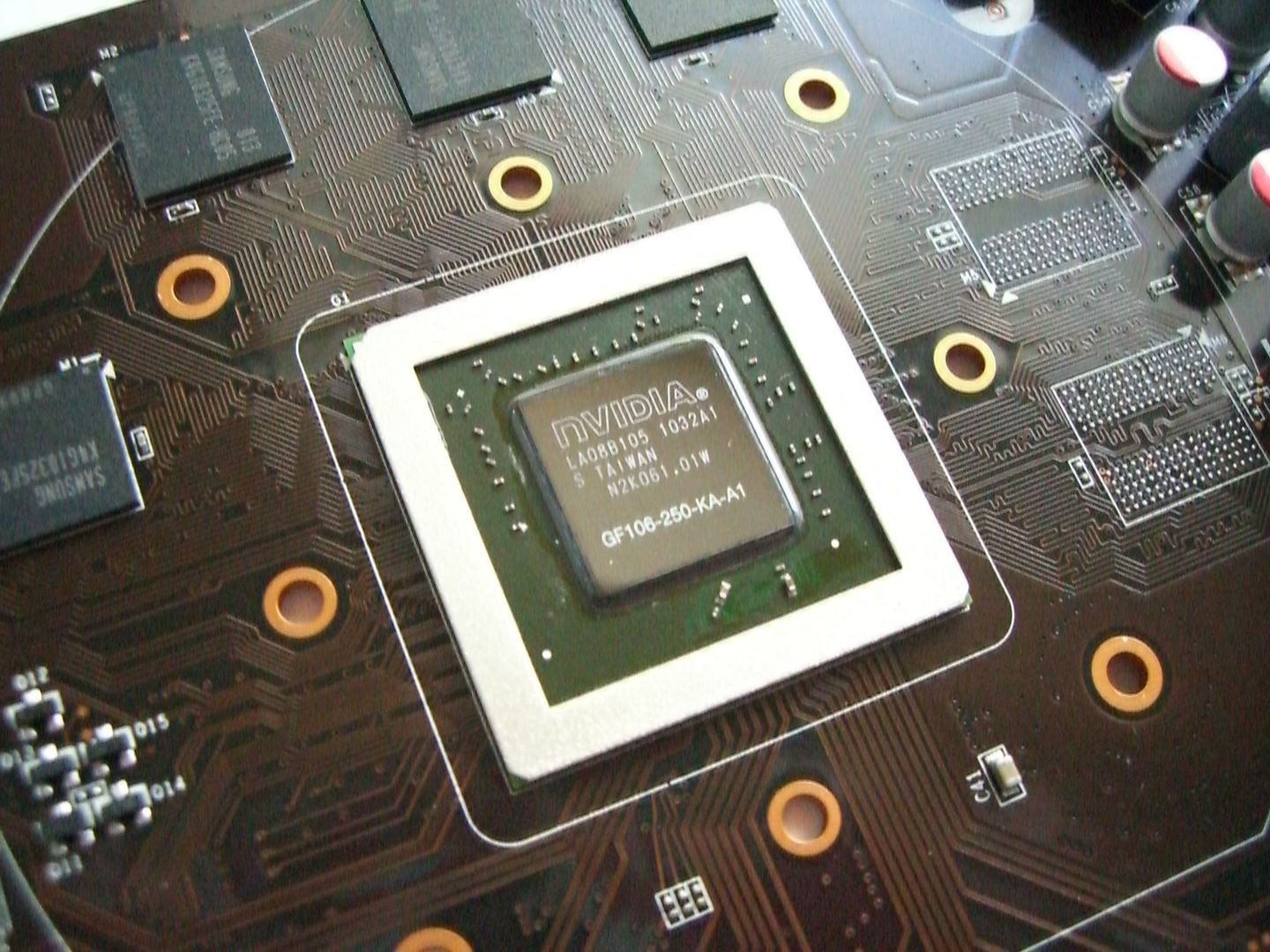 The mounting holes assume a more traditional design than the GTX 460 (51mm x 61mm) with dimensions of 53mm x 53mm, which is the same as G92 and other models. There are also several unused holes on both sides of the card that AIB partners can take advantage of when utilizing non-reference cooling solutions. Purchasing an aftermarket heatsink yourself may not be in your best interest though, as the additional expense will bring your investment in the card toward or beyond GTX 460 territory.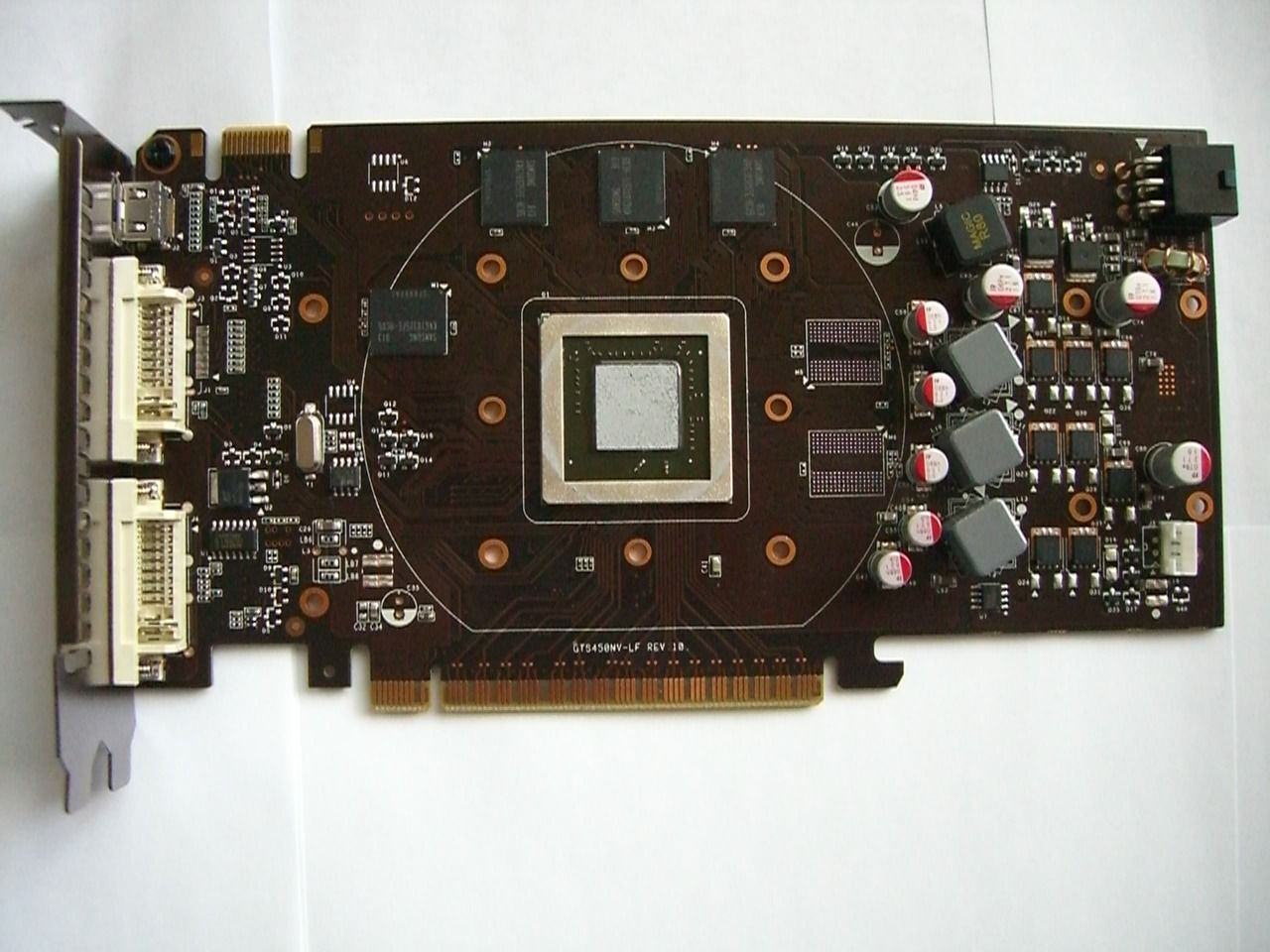 Here is a closer view of the GTS 450's power phases (3+1) and voltage circuitry. You can also see that the GTS 450 requires a single 6-Pin PEG power connection. The graphics card can draw as much as 75 watts from the PCI Express slot and another 75 watts from the power connection. This will provide ample power for a card whose TDP barely exceeds 100 watts.
The reference GTS 450 measures 8.25â€, as does the GTX 460.

GPU-Z Screenshots
GTS 450
GTS 250
HD 5770