Discussion Starter
·
#1
·
To be able to view the below tables correctly, you must have the "View Forums Full Width" option enabled within your Preferences. It will be mostly functional without doing this, but a portion of the "Review" column will be chopped off which is not ideal!
How do I do this?
1.
Hover over your username in the top right of the screen, a pop-up menu will appear. Click "Preferences".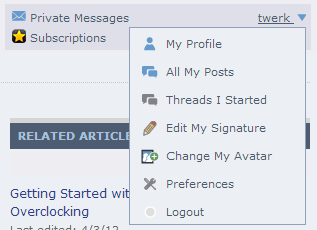 2.
Under the "Forums" section of your Preferences, you will see an option called "View Forums Full Width". Tick it and click Save! You're done, everything should look as intended.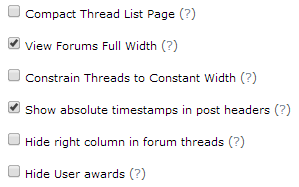 What we have here is an extensive, but not exhaustive, list of quality, reliable power supplies. It's a constantly updating resource that will be amended as new relevant products reach the market or current ones end their production cycles.
The list is mostly comprised of high availability units offered by global brands, if your current power supply isn't among those listed you shouldn't automatically assume it's an inferior, non-recommendable product, there are many other good-to-excellent PSUs sold under a variety of local or regional brands, if you're uncertain about the quality and/or reliability of your PSU just ask, either here or by creating a dedicated thread.
I assume, since you're reading this, that you're aware of the importance of buying and using a quality power supply, so without being a bore I'll just say this: it will allow your hardware to function properly, it will not negatively impact its lifespan and it provides critical electrical protections.
You can access the manufacturer's product page of each and every unit listed below by clicking directly on it, green units are yet to be released and orange units are new and may not be readily available, links to relevant reviews are also included. Many of the power supplies listed below share the same internals, so for units that lack competent reviews but have mirror products in the list that do have such reviews you'll be forwarded to the respective mirror product's review, these reviews are marked with an asterix*.
For a proper, comprehensive review database I suggest you visit
RealHardTechX
, an extensive, easy to navigate and up to date resource. Try to stick to reputable, competent reviewers when doing such research, I'd recommend
JonnyGURU
,
TechPowerUp
,
Hardware Secrets
,
HardOCP
,
PC Perspective
,
KitGuru
and for a touch of exotism
IT OCP
and
Playwares
.
One last thing, before buying anything, do your homework, size your PSU properly and keep an eye on value as well.
Last update:
25 August 2014
Contents
(Click on a specific section to jump to it)


1000-1700W



800-999W



700-799W



600-699W



500-599W



400-499W



Sub 400W



SFX and TFX

Units suggested based on wattage:
-------------------------------------------------------------------------
1000-1700W
-------------------------------------------------------------------------
-------------------------------------------------------------------------
800-999W
-------------------------------------------------------------------------
-------------------------------------------------------------------------
700-799W
-------------------------------------------------------------------------
-------------------------------------------------------------------------
600-699W
-------------------------------------------------------------------------
-------------------------------------------------------------------------
500-599W
-------------------------------------------------------------------------
-------------------------------------------------------------------------
400-499W
-------------------------------------------------------------------------
-------------------------------------------------------------------------
Sub 400W
-------------------------------------------------------------------------
-------------------------------------------------------------------------
SFX and TFX
-------------------------------------------------------------------------
-------------------------------------------------------------------------
Standing ovations for previous thread owners/admins:
PeDrO305
(original thread creator)
wierdo124
(retired from thread to be an editor for Overclock.net)
Tator Tot
(Overclock.net Managing Editor)
Original Sin
(retired Editor of the Power Supplies section)
twerk
(Forum Moderator)