Discussion Starter
·
#1
·
I thought I would do a quick writeup with an explanation of those of you who are receiving gray "error" screens, or grey screens with vertical green lines. I'll answer questions as best as I can. This is information was obtained through various forms of customer support and other forums.
The Gray Screen
The ATi 5xxx series of cards contains new RAM modules. This newly revised GDDR5 memory is known to have issues. Whether it be heat or faulty chips, when the RAM on your card has an issue, you're likely to see your system lock up with the newly termed, GSOD, or Gray Screen of Death. Almost all owners of the 5xxx series have seen this screen once or twice, however in most cases it does not mean your card needs to be sent out for RMA.
Image borrowed from user "greatone" on the AMD Forums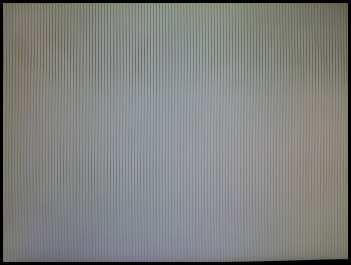 When the Gray Screen is Bad
A few weeks ago I had an unfortunate run-in with a faulty XFX 5870 card. The card, upon startup, would get the GSOD usually within a few minutes. Thinking it was a driver issue, I reinstalled the drivers and attempted to run the Windows Performance index measurement. It didn't last the DirectX testing. This was a faulty card. Some of the RAM chips that were placed on some of the reference cards are faulty. This is a known issue. RMA your card if you are getting the GSOD doing simple tasks such as:
- Web Browsing
- Videos (YouTube)
- Starting Up
- Activating Screensaver
- Playing Non-Demanding Video Games
Once again, RMA your card if you are getting this error frequently.
When the Gray Screen is NOT Bad
Look, whenever we see any error in our systems other than a BSOD, we all freak out. Some jump to the forums with hectic posts, others disassemble their systems and reformat their drives. This is not needed per say with the GSOD. With some 5xxx series cards, the GSOD is the new BSOD. No, I'm not joking. Instead of your system getting a BSOD when it is supposed to, you will receive the GSOD instead. This is not a bad thing. All that is happening is your RAM is, well, freaking out during the BSOD and giving you a GSOD. There is probably some long-winded technical explanation as to why this actually happens, but know it's not an issue. If you get a GSOD, your system is simply unstable. For example, my system does this. If I have a bad overclock, GSOD. Memory timings off on my RAM? GSOD. You get the point. Here is the good news about this. This is a driver issue. It was not corrected in the 9.12 update, but that's not saying that it won't be fixed in the next. What is happening is the driver is not processing the BSOD correctly and locking up with the GSOD. That's all there is to it. No need to RMA. To prove this, go into your Windows error reporting log. You will see that you did, in fact, BSOD, and you can check the stop error to continue to correct your overclock. The GSOD is a video card version of an IRQL_NOT_EQUAL error.
Look, this guide is not a panacea to fixing anything. It's just explaining what is wrong. You will need to contact the manufacturer if you feel as though your issues are bad enough to warrant an RMA.
The purpose of this post is for informative purposes only.
Do not reply to this thread with the sole purpose of stating that this has not happened to you.
I hope this helps put your mind at ease.
- skitzogreg
1/21
EDIT: Update! Possible Solution Found!
I know this thread has been battling back and forth with various solutions, but I seem to have found somewhat of a fix. Please try this and report back on whether or not it worked for you or not. Here's my explanation:
I have been running tests with another video card (4350) to replicate a BSOD where my 5870 was getting a GSOD. It appears as though the the BSOD Error number is BC: 101. When this error occurs, your system is freezing at about 40% of the memory dump during the BSOD. This explains why your computer does not automatically restart whenever you receive a GSOD. Essentially, this error has to do with CPU voltage. Regardless of whether or not your overclock is stable, add voltage to your CPU (VCore). There is obviously some sort of connection (other than the obvious NB/SB link) between your CPU's voltage and the 5xxx card. It might not be a driver issue after all.
Please test this out on your card.
Add voltage to your CPU until the GSOD goes away and report back. Obviously, don't put your CPU's voltage at an unsafe level. I will remove this excerpt if it does not work for the majority of people. Try it first, it has worked on all of the tests I've thrown at it.
*1/27 Catalyst 10.1 Update*

Note: The CCC 10.1 update lists the gray screen as a "known issue under all Windows Operationg Systems" on page 5-6 of the release notes.
Quote:
"Intermittent grey screen or vertical line corruption may randomly appear on the screen" (Catalyst Release Notes 10.1, ATi 2009)
*4/28 Catalyst 10.3 Update*
I haven't updated this thread in awhile, but I thought I would share that since 10.3, I'm happy to say that this is not happening anymore.