Discussion Starter
·
#1
·
Hi guys. Yesterday i just received my Inno3d GTX 460 768mb OC.
Installed it last night and up until today i had it running just to make sure it doesnt falter. And it didnt! I just upgraded from a GTS 250 and I must say I'm seeing a big increase in FPS.
So I'm satisfied - or so i think i was
The card is factory overclocked with these speeds (GPU-Z)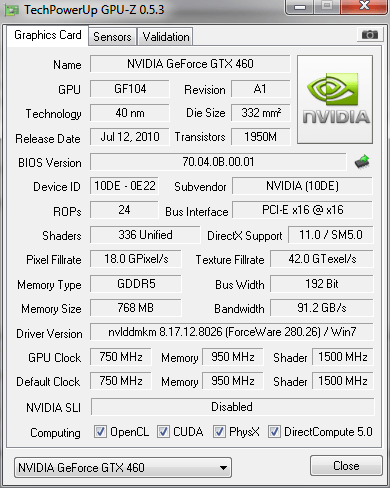 So i was wondering if i could still overclock it a little bit. Like raising the Core speed from 750mhz - 800mhz and the memory from 950mhz-1ghz.
The cards temps idles at 36 C's and goes up to 75 C's on full load (im not sure if thats full coz when i play Crysis 2 it gets to 75 C's)
Will it be safe to overclock it with 50mhz more?
Thanks ^_^