Discussion Starter
·
#1
·
GTX 460 1GB vs. GTX 465: Battle of the Fermis


With the release of the GTX460 now a month behind us the dust has started to settle and the nVidia GPU pricing landscape is falling into place. This leaves consumers with a few compelling choices in the performance mid-range segment. One of the most hotly contested and intriguing of them is the competition between the 1GB GTX460 and GTX465 lines of graphics cards.
Both present an outstanding value and both have their unique strengths and weaknesses. I have compiled a short but telling list of benchmarks comparing these two cards at varying clock speeds spanning several popular synthetic and game benchmarks to give you a good idea of their relative performance. I'll also chime in on the ancillary attributes of the cards as well and provide a brief summation of my opinions. I hope you find this review relevant and useful for your GPU-purchasing process.
As always, please feel free to ask me any questions and don't hesitate to post!
Thanks for dropping by,
StarYoshi
Introduction
With the introduction of the GTX460 line of graphics cards, the GF104 Fermi architecture has been unleashed upon the world. How does this compare to the previous GF100 architecture? Lets investigate briefly.
GF100
The original GF100 architecture, as seen in the GTX465, GTX470, and GTX480 lines of graphics cards, is comprised of 4 graphics processing clusters (GPC), each containing 4 simultaneous multiprocessors (SM). Within each SM are 32 CUDA processing cores. This would theoretically allow for a GPU powered by 512 CUDA cores. However, nVidia's current flagship graphics card, the GTX 480, has a single SM disabled resulting in a total of 480 processing cores. Each GF100-based GPU features a unique memory bus and size as well. The GTX480 sports a 384-bit bus and 1536MB of memory, the GTX470 320-bit and 1280MB, and the GTX465 256-bit and 1GB.
The GTX465 model is significantly cut down, with 5 SMs disabled. This results in a total of 3 GPCs, 11 SMs, and a total of 352 CUDA cores.
Pictured below is a high-level block diagram of the GF100 architecture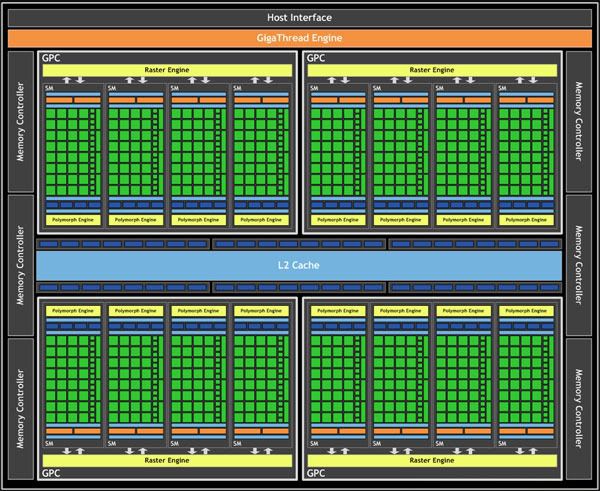 Below is the GTX465 GF100 diagram, grabbed from Tom's Hardware.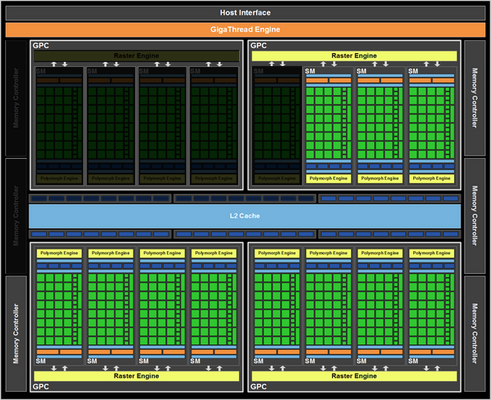 GF104

The new architecture debuting in GTX460 graphics cards has been dubbed GF104. It's Fermi alright, but it certainly differentiates itself from its older brother. The GF104 features 2 GPCs (Reduced from four), each containing 4 SMs (As with GF100). However, each SM contains 48 CUDA processing cores, a 50% increase from GF100's 32 cores. Theoretically this will allow for a graphics card containing 384 CUDA cores. Like the GTX480, the GTX460 has a single SM disabled. This results in a graphics card featuring 336 CUDA processing cores. The GTX460 comes in two flavors: one featuring 1GB/256-bit and one with 768MB/192-bit memory and bus widths respectively. There are other technical details which I will not address in this review. For further information consult one of the many online articles regarding the Fermi architecture.
Pictured below is a high-level block diagram of the GF104 architecture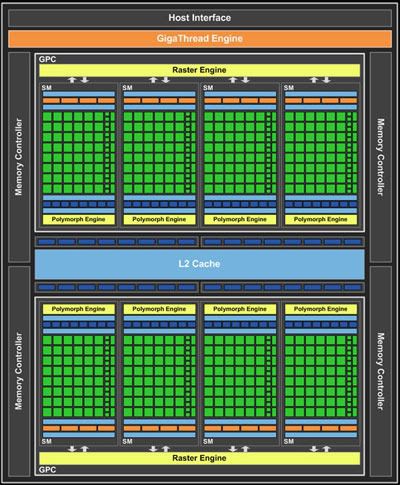 GTX460 vs GTX465 - Specifications

Here's a quick chart I put together for both cards. It's far from comprehensive but it contains useful info.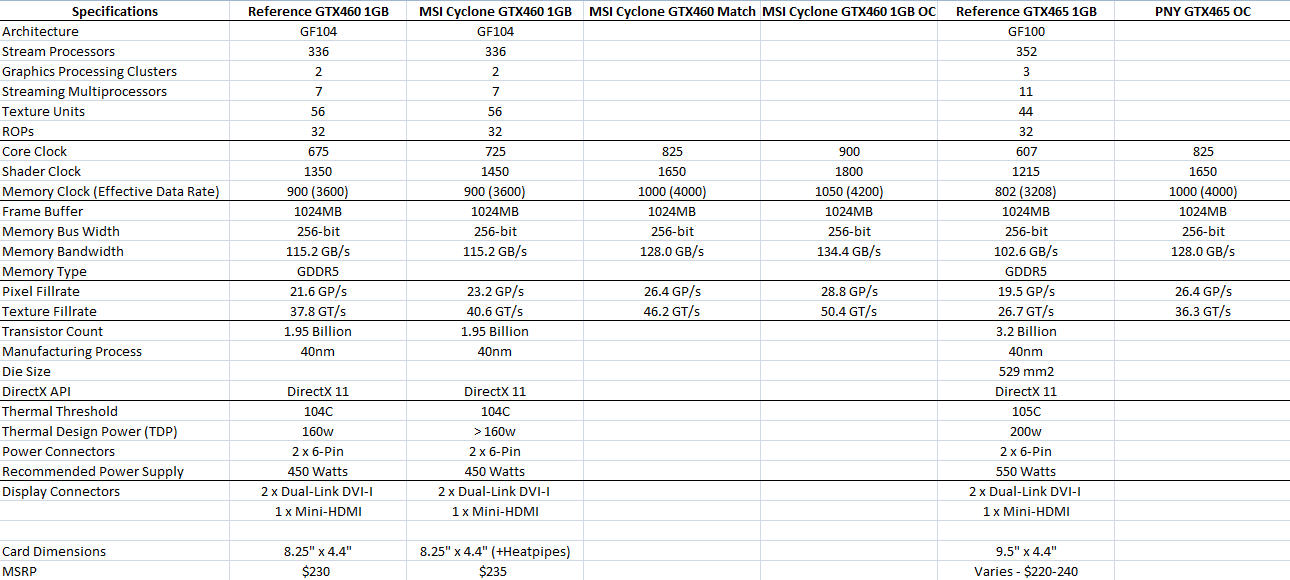 Images: GTX460 and GTX465

Here are a few images for your viewing pleasure. Note differences in PCB length, heatsink/fan size, connectors, etc.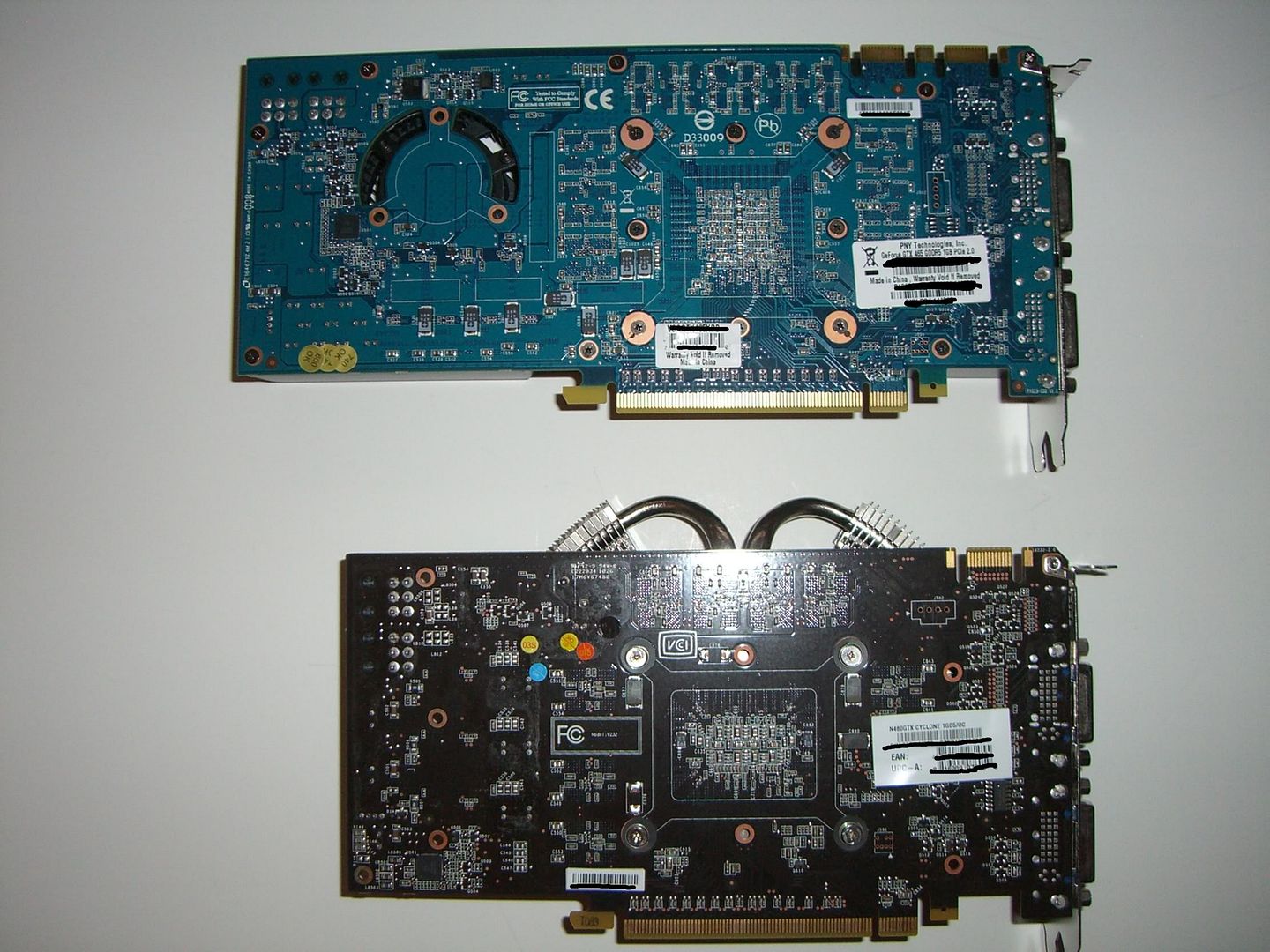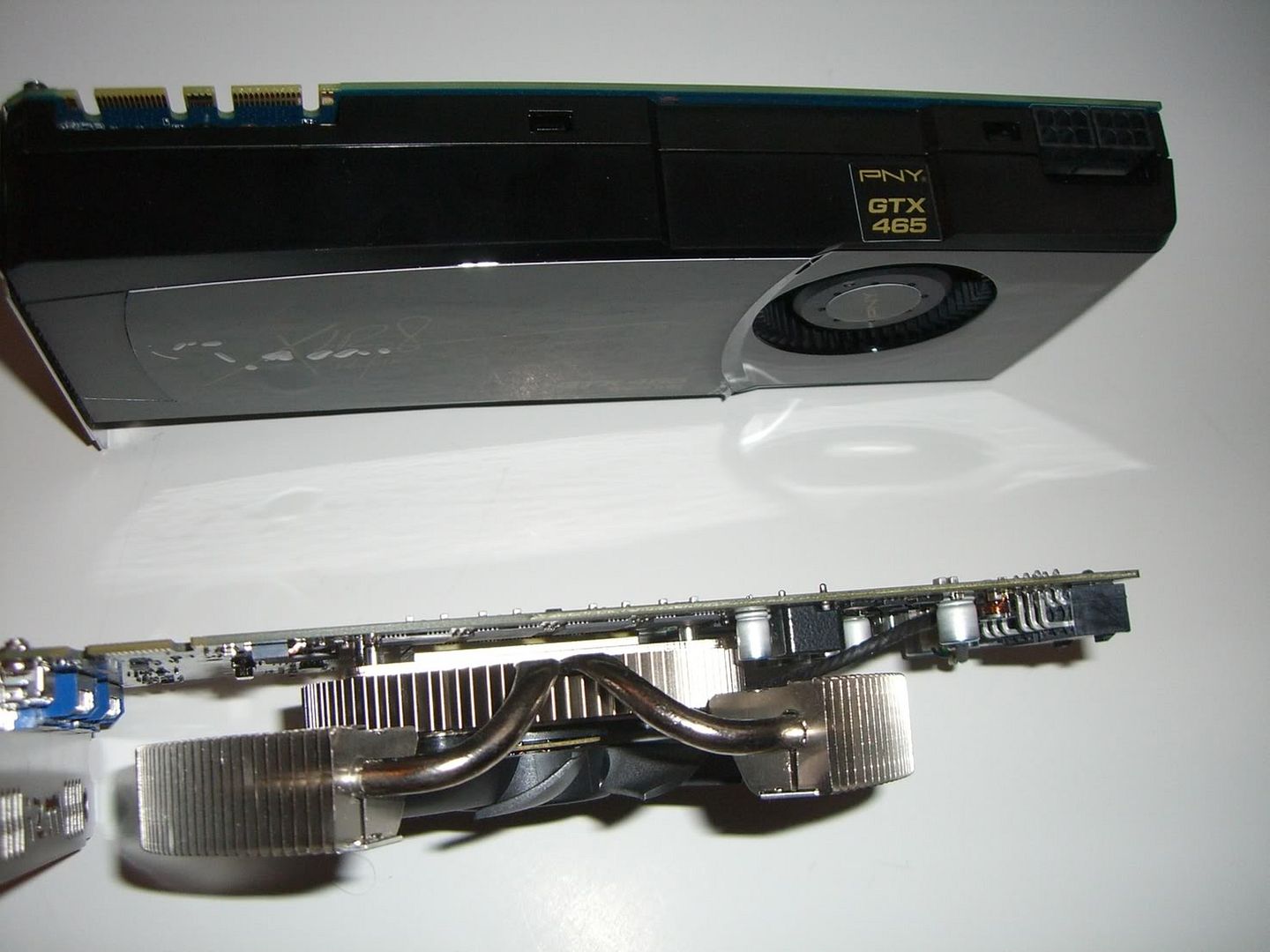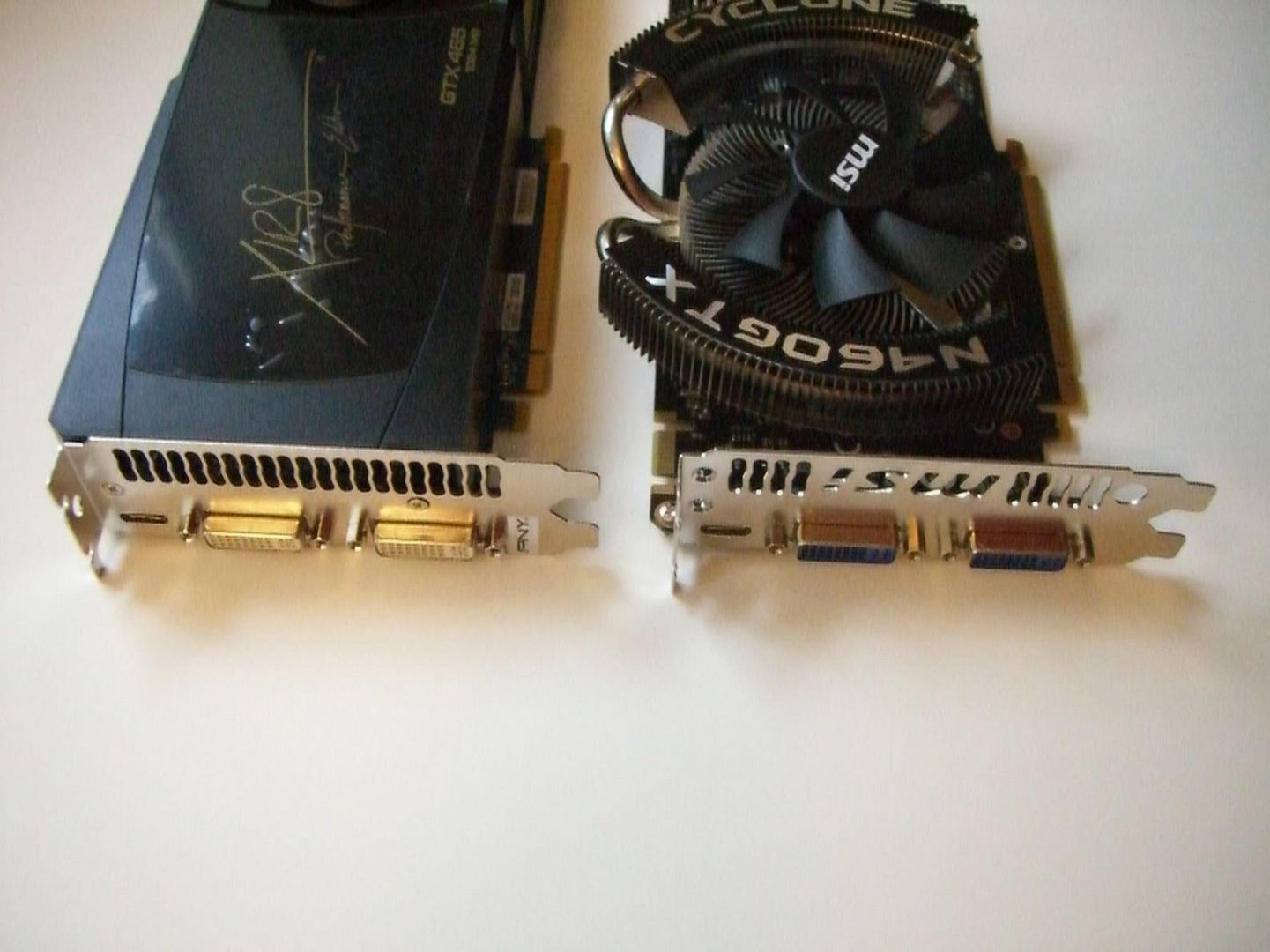 Test System Configuration
Processor: Intel Core i7 860 @ 4.0Ghz (w/HT)
Memory: G.Skill ECO DDR3-1333 7-7-7-21 @ DDR3-1600 8-8-8-24
Motherboard: Asus Maximus III Gene
Hard Drive: Samsung F3 Spinpoint 1TB
Power Supply: Corsair 850HX
Operating System: Windows 7 Home Premium 64
Drivers
-Display: Forceware 258.96
-PhysX: 9.10.0513
Overclocking

Both the GTX460 and GTX465 have proven to be very capable overclockers. The MSI Cyclone model comes clocked at core/memory speeds of 725/900(3600 Effective) - My particular model reads 726Mhz for the core. The PNY GTX465 is clocked at 607/802(3208) by default. I was able to reach a maximum overclock of 825/1000(4000) on the GTX465 at 1.087v. Temperatures were very warm and the fan was run at high-speed. It is not a configuration I would run 24/7 due to the noise pollution. For testing, I ran the GTX460 at overclocks of 825/1000(4000) for direct comparison clock-for-clock and 925/1050(4200) at 1.087v for a maximum overclock. Temperatures and noise levels are immensely more tolerable for this card at its maximum overclock. I will go into more detail regarding fan profiles, noise, and temperatures later in the review.
Synthetic Benchmarks
-3dMark 06

--This reliable standby is mildly interesting at this point. It's too CPU-limited to be a true measure of GPU strength at its default settings, but I'll include anyway. I have the performance figures, why not?
-
3dMark Vantage
--Much more relevant than 3dmark06, Vantage is a great gauge for relative GPU strength as it is capable of tearing up even the most high-end of graphics cards. Testing was conducted at performance and extreme presets.
-
Stone Giant
--A DirectX 11 benchmark featuring varying grades of tessellation. Tested at 1680x1050 and 1920x1200 resolutions with tessellation set to high.
-
Unigine Heaven
--The most prevalent tessellation benchmark, like Stone Giant it's a good measure of a graphics card's tessellating capabilities.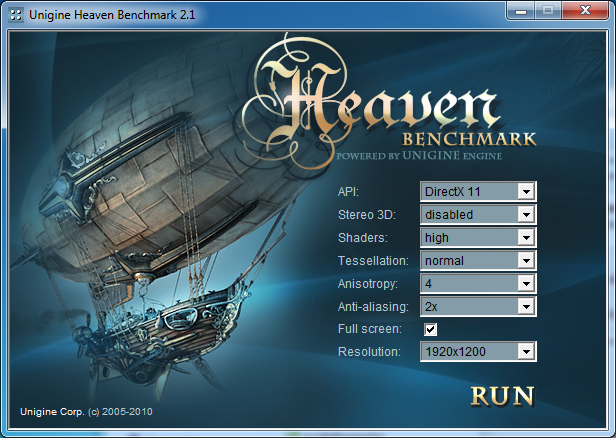 Game Benchmarks


-
Batman Arkham Asylum
--A fantastic game, Batman AA implements PhysX well and should prove to be a useful benchmark.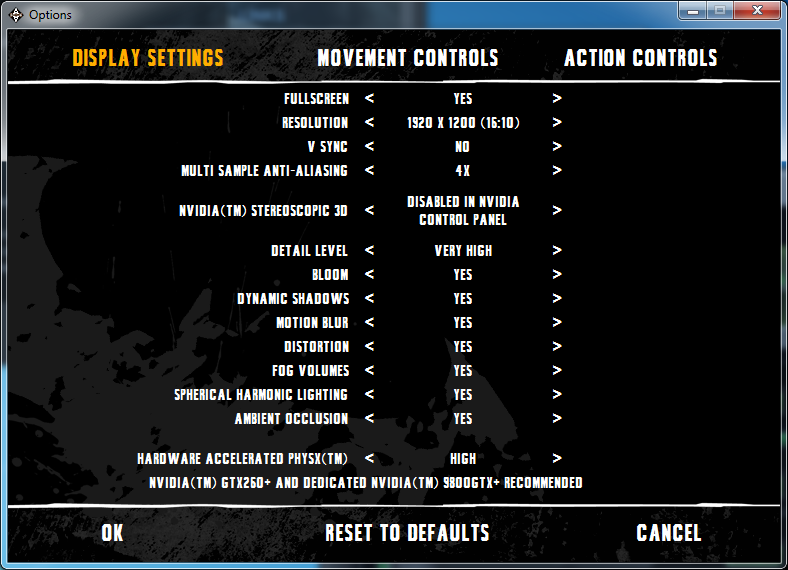 -
Dirt 2
--Run at 1680x1050 and 1920x1200 resolutions using the High preset and 4xAA. Dirt 2 is a good measure of DX11 GPU performance, utilizing new technologies to deliver a graphically-breathtaking experience.
-
Far Cry 2
--A bit outdated, but still a good measure of GPU performance. Tends to favor nVidia cards.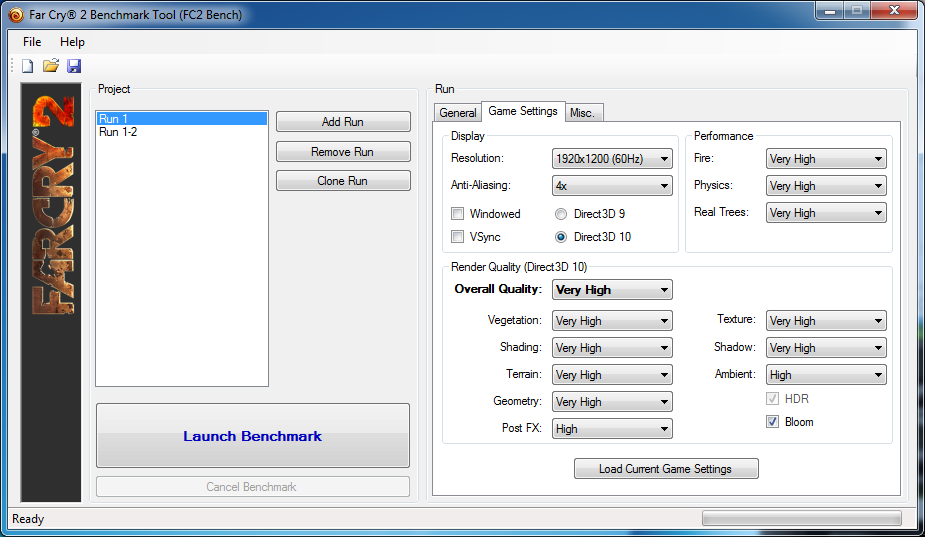 -
Just Cause 2
--One of the most graphically demanding games out there featuring one of the largest virtual landscapes to date with incredible detail, Just Cause 2 is my favorite sandbox game in years. I disabled GPU water simulation for the purpose of benchmarking. Testing was run at 1680x1050 and 1920x1200 resolutions at the specified settings.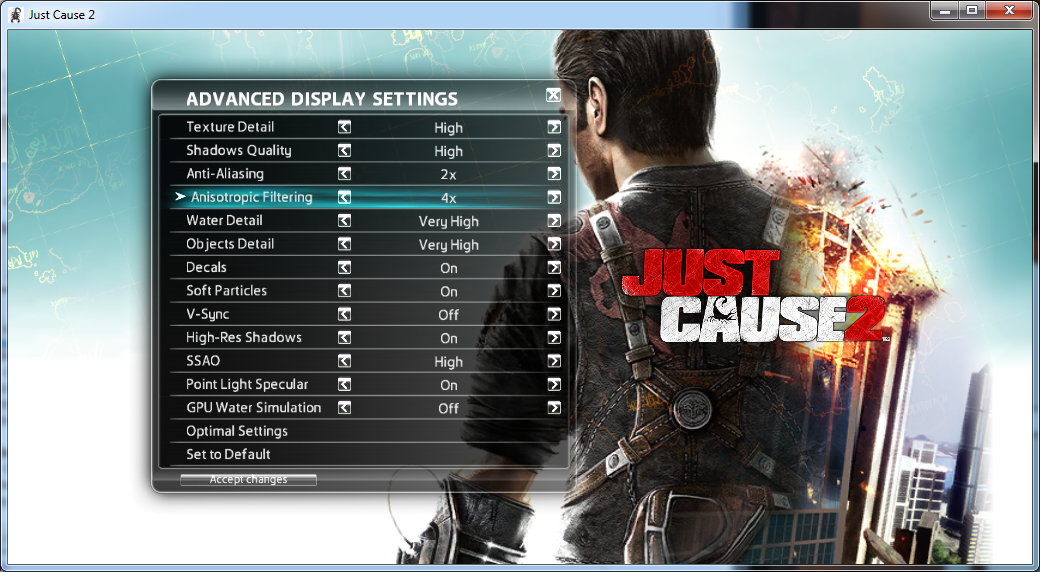 -Mafia II

--The newly released Mafia II demo features a built in benchmark. The game makes heavy use of PhysX, which would appear to be poorly-implemented currently, but that should change. Relative performance measures are still possible to obtain and will be useful.
-
Resident Evil 5
--Not a game that I care for, but the benchmarking tool is useful. Testing was run at 1680x1050 and 1920x1200 resolution at max settings using the fixed benchmark.
-
Stalker: Call of Pripyat
--Testing was run at 1680x1050 and 1920x1200 resolution at the pictured settings. The "Day" and "SunShafts" benchmark scores are included.
-
Street Fighter IV

--While not the most resource demanding of games, SFIV scales very well and is useful for measuring relative performance. Testing was run at 1920x1200 resolution at max setting using the "Ink" effect.