Discussion Starter
·
#1
·
It've been more than two months since nvidia released GeForce GTX 460 videcards and competition between ati and nvidia got noticably hotter, and guess what its great for us - consumers. Personally at the moment of gtx 460 release i was using Sapphire ati 5850 Toxic on my primary pc, but i was very curious how close gtx 460 can get to 5850 and to its bigger brother GTX 470, so i decided to test them all and to make this mini review to possibly help those who can not decide between these great cards.
So here they are: EVGA GTX 460 (768 mb) vs PNY GTX 470 vs Sapphire Radeon HD 5850 Toxic: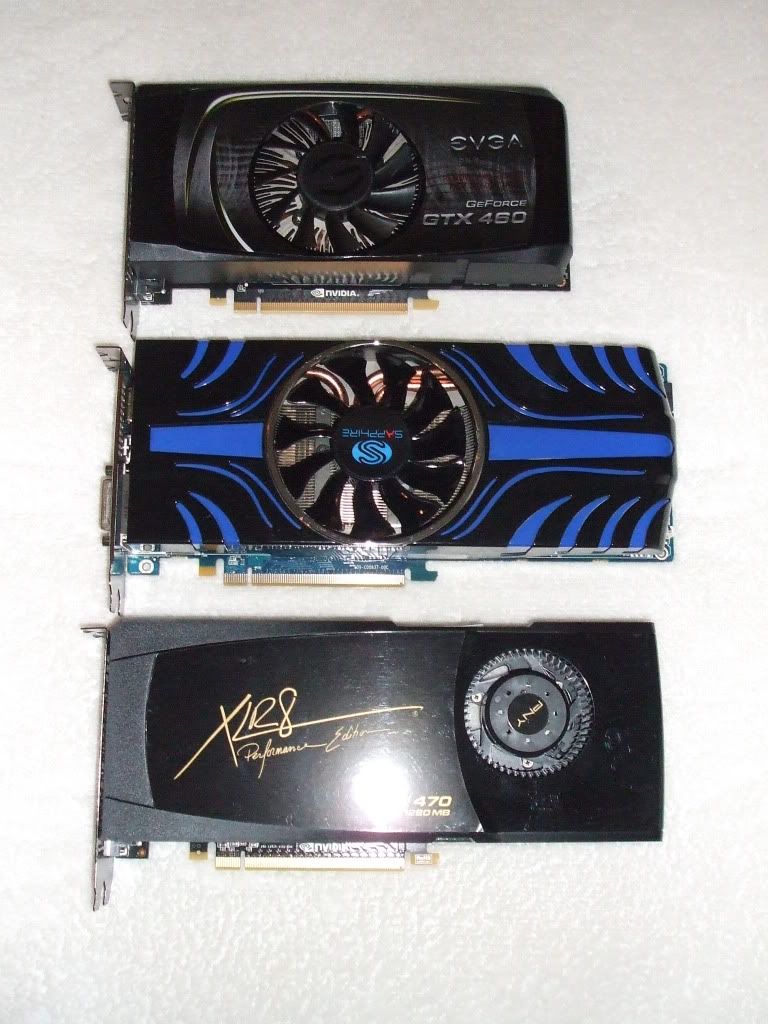 Sapphire 5850 Toxic comes factory overclocked @ 765/1125mhz instead of reference 725/1000mhz. Both Evga GTX 460 and PNY GTX 470 are reference design, running at 720/1440/1800 and 607/1214/1675mhz respectively. Ive decided go for 768Mb version of gtx 460 over 1Gb version because of its price - its $169 after nvidia surprised everyone with the price drop, and cause its potentially a great overclocker.
My test system is in my signature, its an overclocked to 4.0Ghz i3 540 and 4 gb of Wintec Ampx 1333 ddr3, which is more than enough to avoid any bottlenecks for the videocards.
I am using Catalyst 10.9 for the Radeon and Nvidia 258.96 drivers. OS is Windows 7 x64 Home Basic. All benchmarks performed at 1900x1200 resolution. Cards were tested stock and overclocked. I ran these titles:
Battlefield Bad company 2
Crysis
Far cry 2
Unigine Heaven Benchmark
Lost planet 2 Benchmark
Metro 2033
Call Of Duty Modern Warfare 2
Overclocking details:
5850 toxic - 805/1285
GTX 460 - 810/1620/2140
GTX 470 - 745/1490/1745
So lets start with
BFBC2
Settings: everything maxed, Vsync-off, hbao-on, 4xAA, 4xAF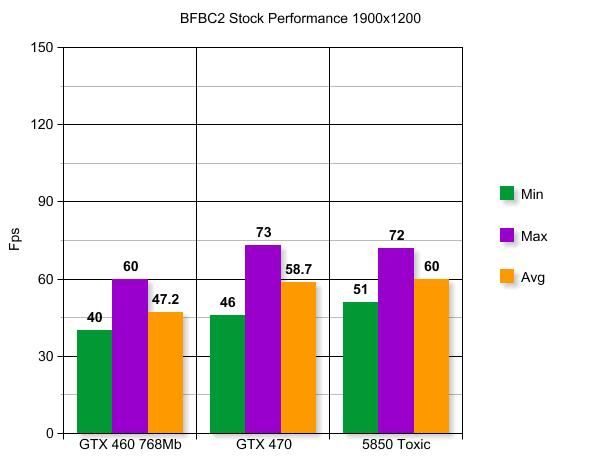 Crysis:
Settings: everything High, noAA, no vsync
Far Cry 2:
Settings: everything maxed, 4xAA, 4xAF, no vsync.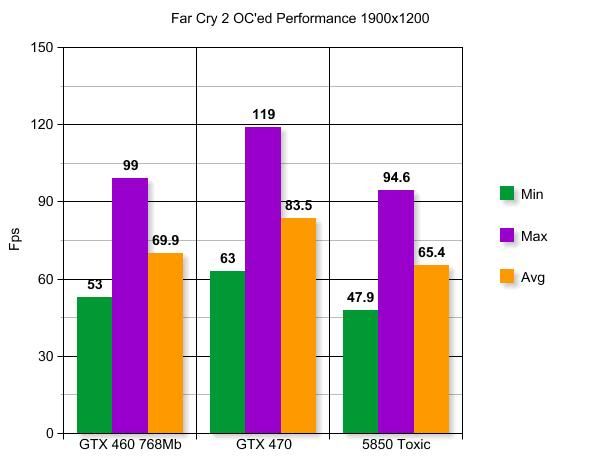 Heaven Benchmark:
5850 stock: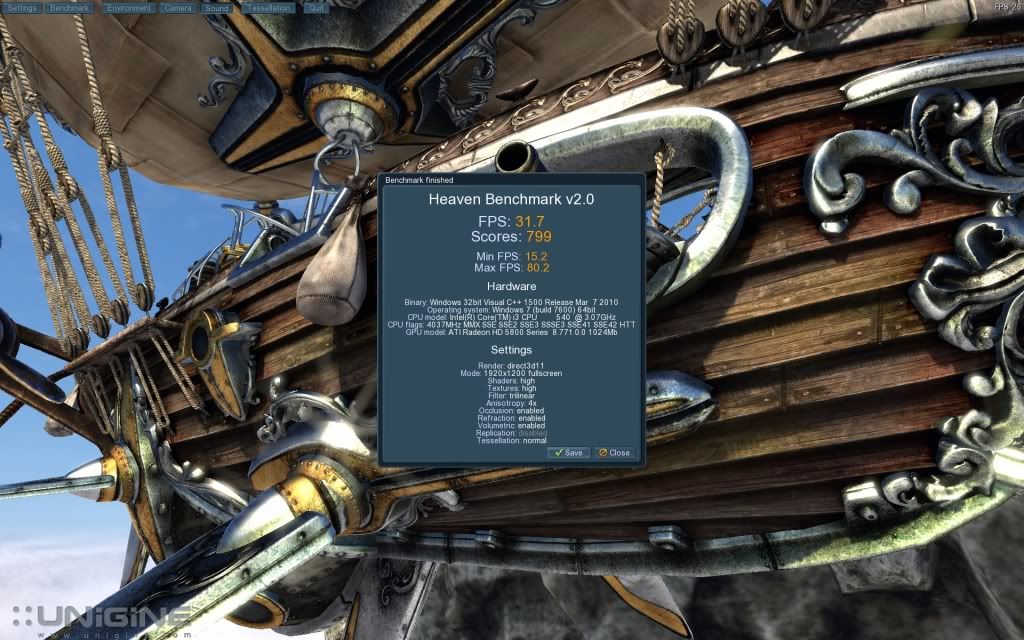 5850 OC: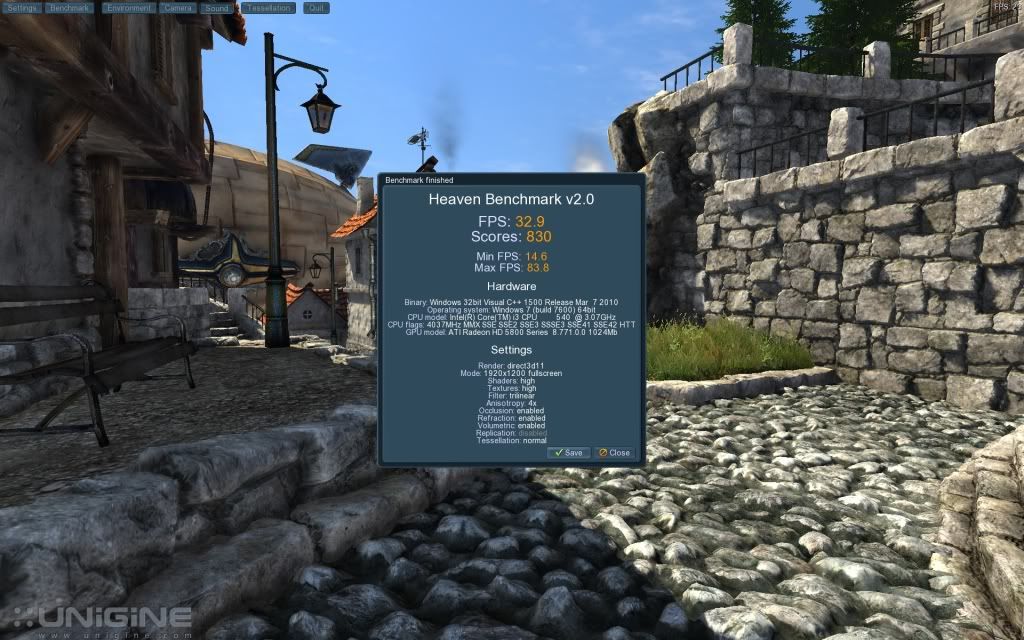 GTX 460 stock:
GTX 460 OC:
GTX 470 Stock:
GTX 470 OC: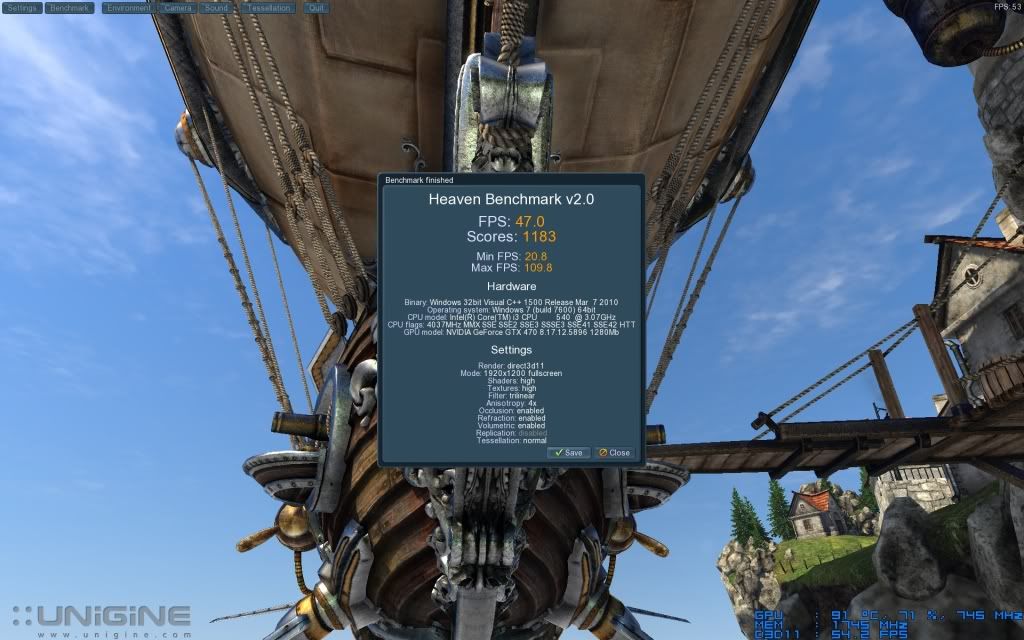 Stay tuned the rest is coming up...