Discussion Starter
·
#1
·
Hi all! I decided to do my own guide for enabling PhysX with an ATI primary card. I know there are a bunch of guides out there already, but I think this would be helpful for people who need the extra details, and are using a single monitor.
How to enable ATI primary + Nvidia PhysX on single monitor:
12/23/2009
What you need:
- Windows XP or 7 OS (I'm not sure with Vista, haven't tried nor seen it yet - I'm using Win 7 Ultimate 64bit)
- Any Nvidia Geforce 8 series and above (recommended: 8800GT or higher)
- DVI to VGA adapter (this comes free with most GPUs)
- 3 pcs 68 ohms 1W resistors
- Existing ATI Driver (I had the official ATI 9.12, not the hotfix one)
-
Nvidia 195.XX Driver or later
(I used 195.62)
-
Nvidia PhysX 9.09.1112 Driver or later
(optional - no need if already have an older version)
-
PhysX patch/mod/crack (1.02)
(The old PhysX patch/crack v1.01 won't work with Nvidia 195.XX drivers)
1. Plug in your Nvidia gpu to be used as a dedicated PhysX.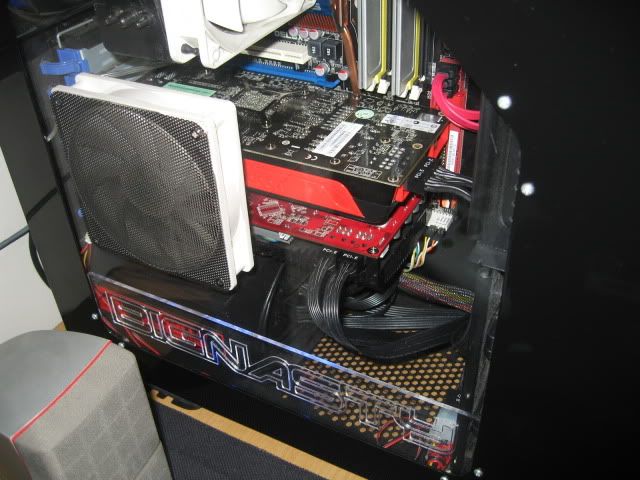 2. Make yourself a dummy vga to be plugged into your Nvidia GPU. This is needed to fool your gpu into thinking it's running on another monitor. Here are a few guides:
link1
,
link2
.
Here's how I did mine:
3a. Boot to windows and install: Nvidia drivers, do not reboot yet.
-it's ok if windows 7 automatically detects your drivers, just install on top of it w/ the new Nvidia driver.
-no need to uninstall existing ATI driver
Optional 3b. Install Nvidia PhysX if you don't have it yet. If you have it already, it's ok not to install OR you can install the new one on top of the old one - doesn't matter
4. Run "msconfig" and choose to boot into safe mode
5. Once in safe mode, apply the PhysX patch. Choose the "cake" option (no need to check backup).
6. Boot into normal mode, go to desktop, right click and go to screen resolution.
7. Once there, you'll see 2 monitors. 1 - your current monitor, 2 - Generic Non-PnP Monitor (from your dummy VGA).
Click detect and you'll see 2 grey imaginary monitors.
Choose one and from the Display drop-down select "available display output on [nvida video card]", leave resolution and orientation as is. Then choose "try connect anyway on vga" and Apply. On the Multiple displays drop-down, select "extend desktop to this display".
In the end it should look something like this: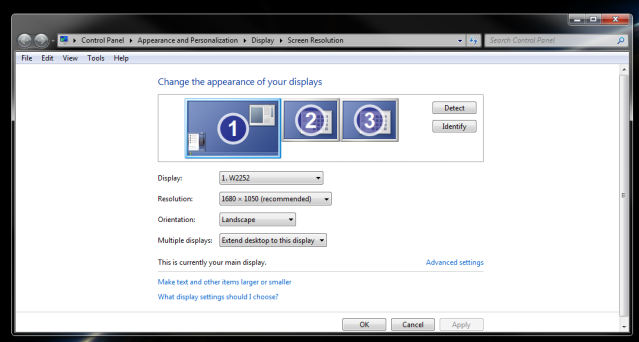 7a.
**USEFUL TIP:
If you're tired of having your mouse pointer suddenly disappear as it goes to the extended monitor, you can try moving some of the extended monitors to the top right corner of your main display... to do so in Windows 7..
a. go to desktop
b. right click > screen resolution
c. now drag the 2nd and 3rd monitor to the top right corner of your main display
d. DONE! now your mouse won't go over the edges of your main display.. except for the top right corner (which the mouse rarely goes to anyway) It should look like this: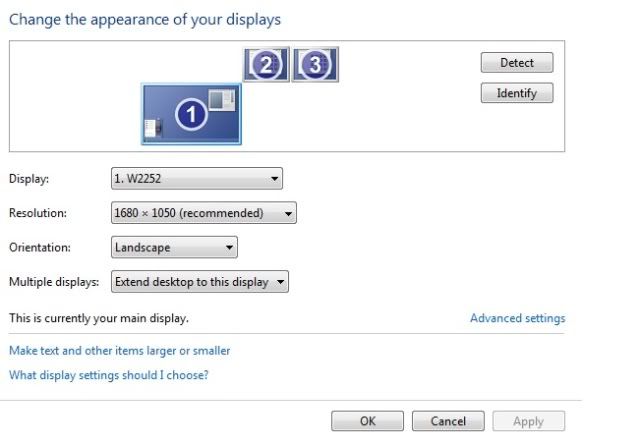 8. Go to Nvidia control panel> 3D settings> Set PhysX configuration> Enabled
9. Pat yourself on the back for a job well done
To check if PhysX is really enabled, download Fluidmark v1.1.1 and upon running, you should see "Hardware PhysX".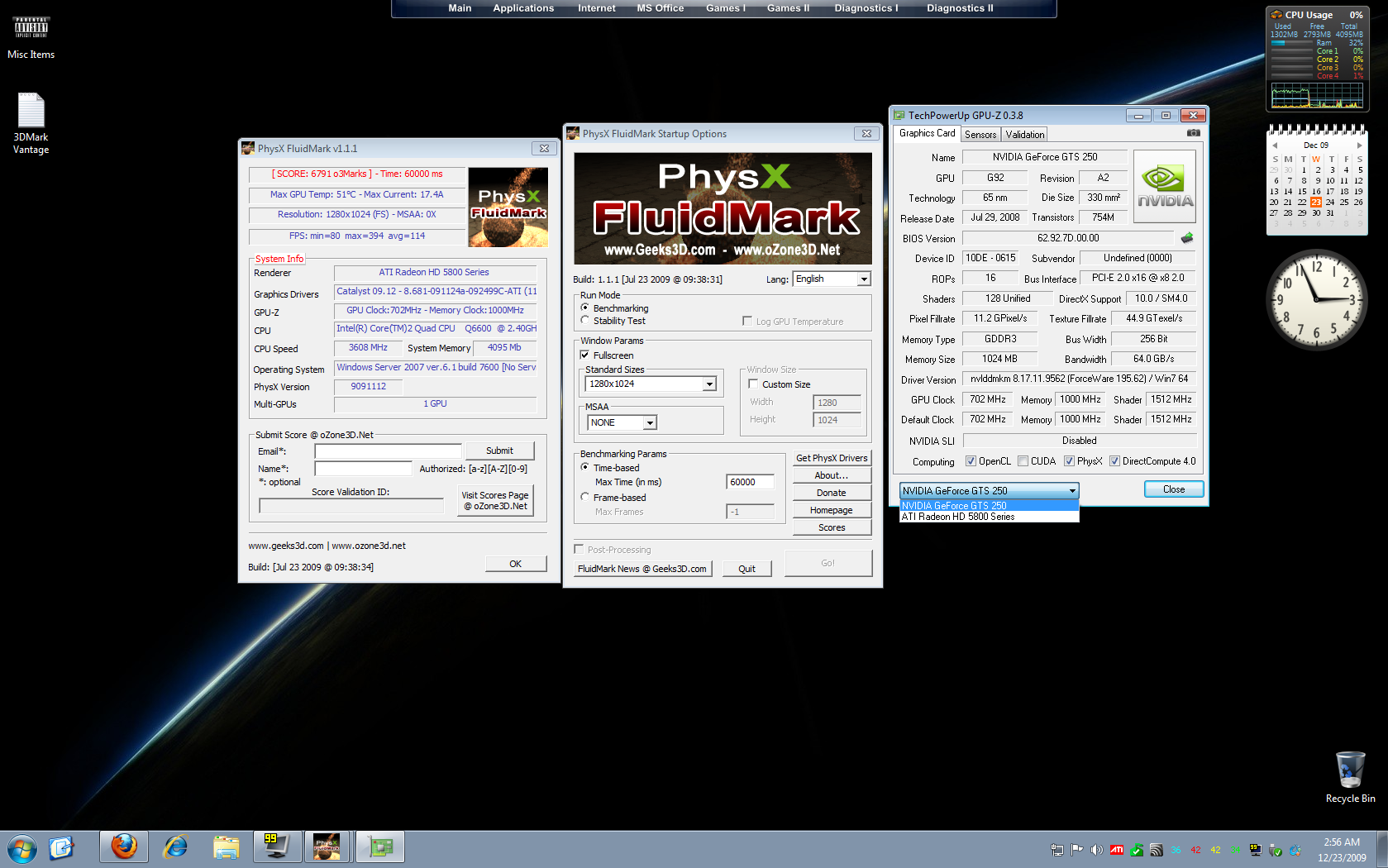 3Dmark Vantage score before PhysX card
With PhysX card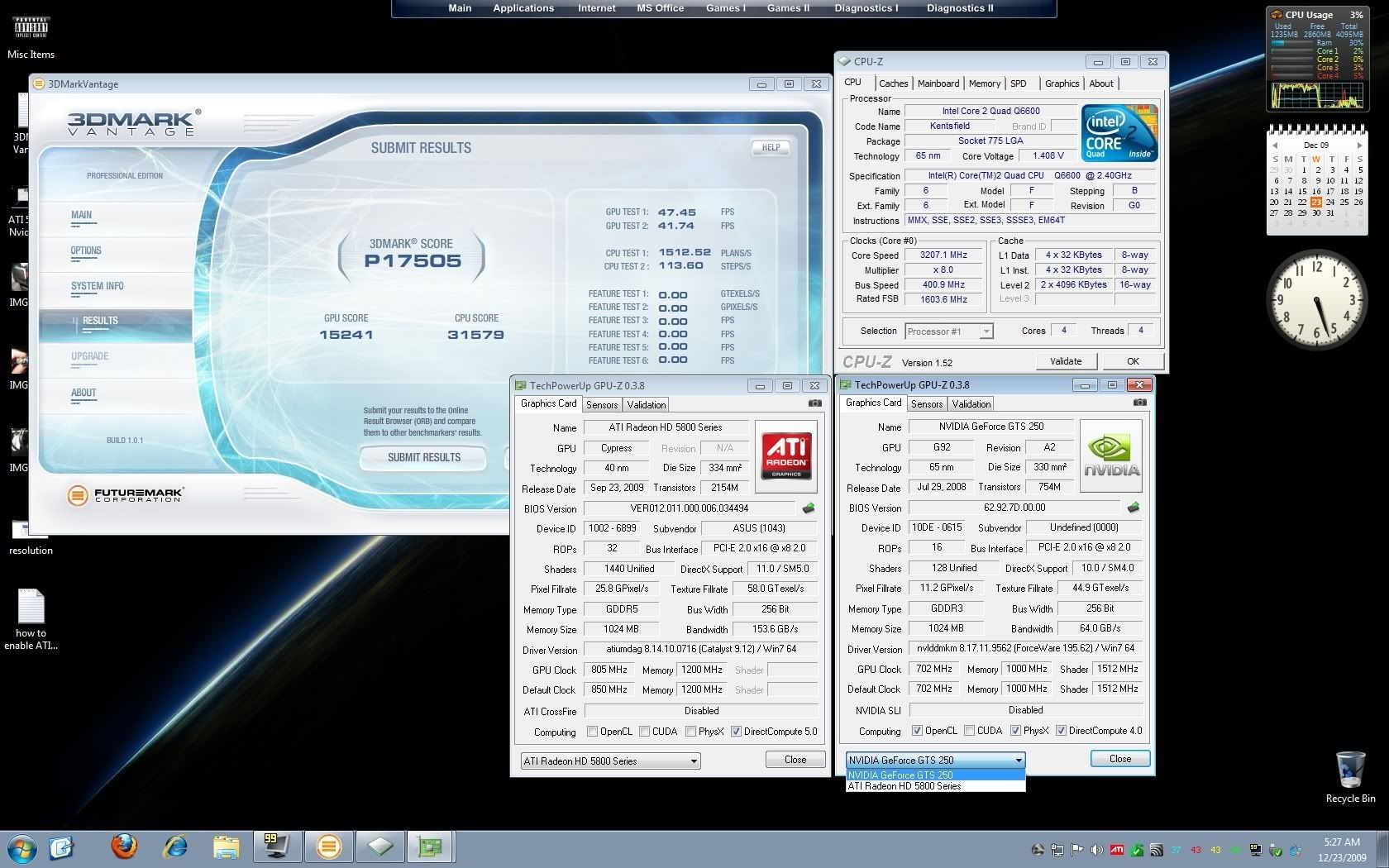 to Grunion, Pandemahaos and a bunch of others in my
original thread
for helping me out
Games using PhysX:
From Nvidia site
,
From wikipedia
Other guides I used:
link 1
,
link 2
,
link 3
,
link 4
Updates:
Added step 7a (1/19/2010)