Discussion Starter
·
#1
·
Minecraft dedicated linux server guide (Ubuntu)
This guide will detail how to install a dedicated minecraft server with the ability to run headless as well as with remote management capabilities. This will be achived using the
Cryengine 3
(nah, I kid).
Actually, we'll be using McMyAdmin (available freely from the author's website,
link below), an open source implementation of the the .NET framework for running windows applications in Linux (its not all that scary actually), and the remote management capabilities of "McMyAdmin" which is free for personal use.
Once set up, this server will be able to do basically anything you could imagine, including painless management of mods and such.
1. Prerequisites/materials
a. Comfort with using the command line. (don't worry, you'll be given all the commands you would use, and there is almost no chance of breaking anything)
b. Compiled version of "mono" - see below on how to set that up
c.SSH on the linux computer (optional, but required if you want to make this a dedicated headless server)
d. VNC (also optional, but required for dedicated headless server)
e. Thought this was implied, but I'll say it anway - Ubuntu desktop. As of this writing, the latest version is 11.04.
f. McmyAdmin - free for personal use.
http://www.phonicuk.com/Software/McMyAdmin.aspx
All (most) of the commands that I use below can be used with either the terminal or via SSH
Luckily for you Ubuntu users, mono comes pre-installed, so you don't have to compile it yourself!
However, if you are not running Ubuntu, you should check to see if mono is already installed. If not, its not too hard to install.
PART B: Getting the minecraft server to start.
Make a new folder called minecraft server (its up to you, just remember it).
Download MCmyAdmin and extract the contents of the zip file to that folder. Do NOT rename anything.
At this point that folder should look a little like this:
Then, open up a terminal window and type this in:
Code:
Code:
sudo apt-get install libmono-system-web2.0-cil libmono-i18n2.0-cil
At this point, you should be prompted for the root password. Type it in and press enter. Confirm the installation of the packages and let it finish installing.
Then, type these commands in:
Code:
Code:
cd Documents/<minecraft folder>
mono McMyadmin.exe
BTW, this HAS to be done locally on the machine until the initial setup is complete. After that, you can manage it remotely.
Let it run through its initialization sequence, you'll probably see a bunch of errors, but that normal. Once that is complete, open up your browser, and navigate to "localhost:8080". While the initialization sequence is running, your screen should look like this: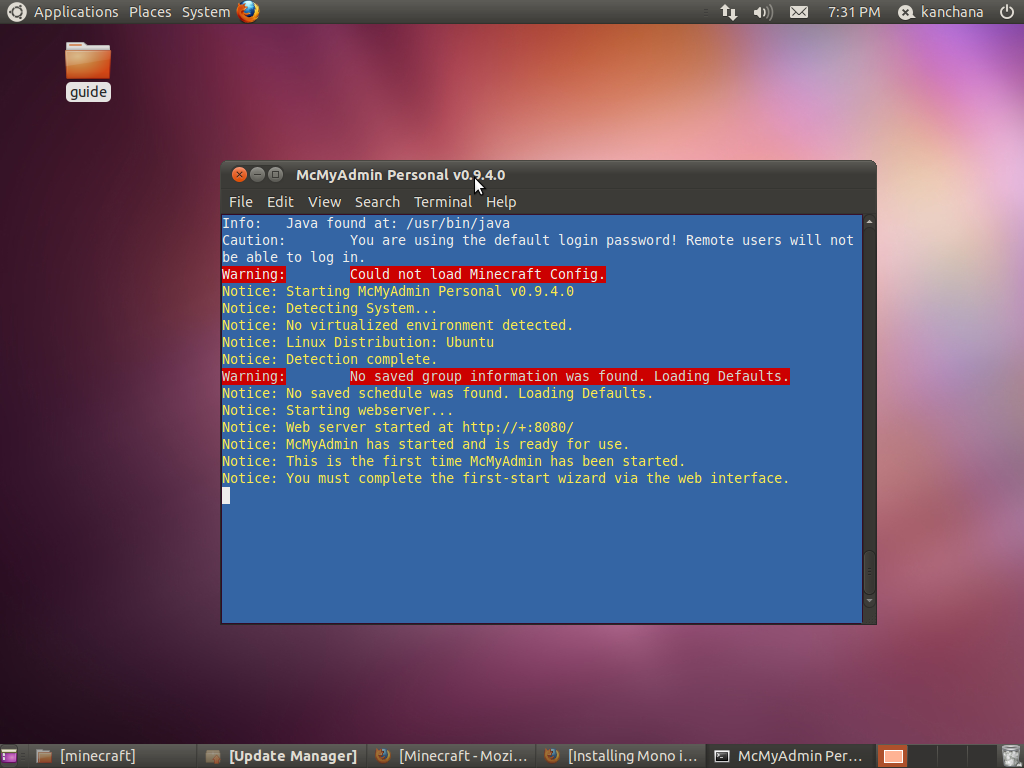 What should happen is that a screen similar to the one below should appear.
A login prompt should appear, at which point, you should provide the
username "admin" and password "admin".
Click "continue" and follow the steps as outlined - set a server name, max players, set if it should be publicly available, etc.
Once you're done setting those up, click "Start from new Template". Pick a world you would like and let the server do its thing. About 30 seconds later, your screen should change from this:
to this
PART C: Setting up the server for optimal settings.
Now that you've got the preliminary settings complete, you can go ahead and play on your own server for a bit. Or, you could finish setting everything up completely.
First things first - change the password. Click the "Preferences" tab, and click the "Change Password" option on the left. Enter in the old password ("admin" without the quotes) and set a new password. Then, close this browser tab/window, and navigate to that page again.
At this point, you can use a remote computer. Just type in the IP address of the server and add ":8080" at the end of it. You might have to port forward the port if this computer is not based inside your own network. If its inside your network, use the internal IP address.
Then, log back in using your new settings. After that, go back into the "Preferences" tab and play around with the settings. See what suites you best.
After you finish setting up your Preferences, click the "About section". Then, click the "Updates" section on the left. You should see a chart type graphic that shows your minecraft version as well as the latest verison. If there is any disparity between the two columns, click "update minecraft".
Then, click the second button
"Update/Install Bukkit"
. This is the plugin system for adding and managing various different plugins - basically like extensions for firefox, but plugins for minecraft. These plugins greatly increase the capabilities and functionality of your minecraft server. After bukkit finishes installing, Go back to the main tab "Server Status", restart your server (or start it if its not running).
Now, you should really be completely done. You should be able to remote manage your minecraft server as well as have the backbone for adding plugins later on.
Now, a few caveats:
Everytime you restart your computer, you have to open up terminal, navigate to the minecraft folder and run "mono McMyAdmin.exe". Secondly, you cannot close that terminal window - it is what is running that process behind the scenes. I still haven't figured out how to make it invisible.
The steps that follow are OPTIONAL
I will explain how to add plugins later on.
PART D: Setting the server to autostart on login.
If you want to run this server completely headless, then its normally a good idea to set it up to start on login. This is quite easily achieved. Make sure you ubuntu installation is set to autologin, or else your server won't start. It will only start once you're at the desktop.
On your Ubuntu desktop, click the "System" subheading, got to "Preferences" and then to "Startup Programs".
Click "Add", then fill out the fields like such:
Code:
Code:
Name: <anything you want, reccomended Minecraft
Command: gnome-terminal -x sh -c "cd Documents/minecraft && ./start.sh"
Comment: Whatever you want.
Make sure, that the directory for the "cd" command is the one where the minecraft server is.
Then click "Save" and you close the "Startup Programs" Window.
Now, the server will start automatically on system startup.
PART E: Installing Plugins

This is again a quite easy step. Go to this site:
http://plugins.bukkit.org/#ti=&ta=all&au=
Find a plugin that you would like, download it, then make a new folder "plugins" in the root directory of your server installation. Then, drop that downloaded file into that folder, go back to your web administration console and click "restart server". After the server restarts, your plugin should be working. (Make sure your don't put those plugins in the "Addons" folder, it wont work)
You can keep adding plugins (sometimes there will be compatibility issues, your best bet is just to wait it out) into that folder. Just remember to restart the server every time you add a new plugin.
NOW, YOUR SERVER IS COMPLETELY AUTOMATED, HAS A WORKING PLUGINS SYSTEM, AND CAN BE REMOTELY MANAGED.
This is my first Guide/Tutorial, but I will keep updating this as newer and better methods arise. Also note that this is not fully complete, (especially the plugins part), but I will update them over the next couple days.