Discussion Starter
·
#1
·
It's been a while since I built my rig, it gave me quite some satisfactions and never had troubles with it until now!
I've been able to bring my CPU overclock up to a stable 4.6/4.8GHz with ease, but as the temps reached the lower 70°C I decided to stop there. My GPU finds itself comfortable in the 90°C+ range when I game hard, so the thought of OCing it is pure utopy as of now!
I also would like it to be more silent, and even though my AP-15s are not so noisy, I'm looking for even more!
The solution to this my friends, as you will all agree, is watercooling!
I'm a stubborn planner when it comes to my build, so I took myself [more than] enough time to read reviews, hear suggestions and designing my possible loop.
I also decided to change the color scheme, which will be black with some hint of blue, silver and inevitably red (damn you ASUS Maximus!).
The name has been changed too! Crimson Blade is dead... and to its place shall arise...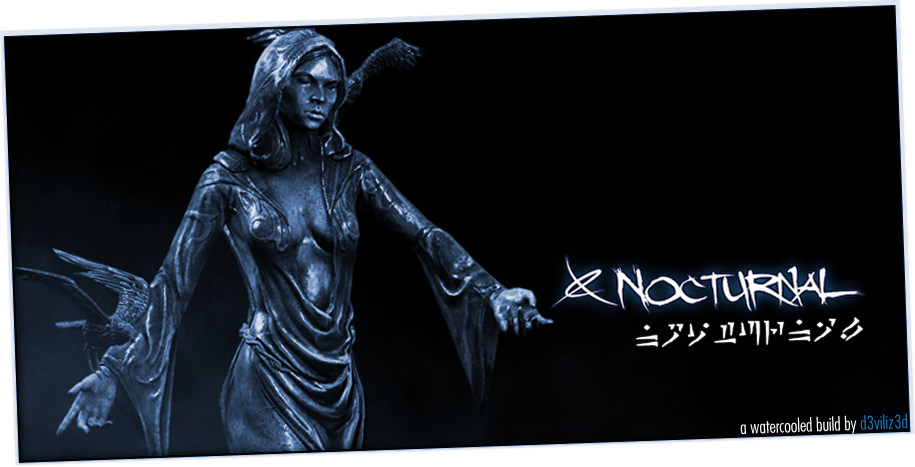 NAVIGATION:

✓ Initial Build log
-
Boxes in the mail
- Watercooling! (coming soon...)
- Sleeving (future project)
THE INSPIRATION:

Skyrim erased my social life, Bethesda you did it again xD
Quote:
Nocturnal is the Daedric Princess of darkness, luck, and the night, known as the the Mistress of Shadows, The Unknowable.
...and so my build shall be, dark and silent, especially at night when I need it the most!
SPECS:

Processor:
Intel 2600k @ 4.8GHz
Motherboard:
ASUS Maximus IV Extreme RoG (Socket 1155)
Memory:
Corsair Vengeance 8GB (4GBx2) 1866MHz 9-9-9-24
Graphics Card:
EVGA Geforce GTX580 Superclocked 1536MB
Hard Drive:
Western Digital Caviar Black 1Tb WD1002FAEX Sata III
CPU cooling:
Corsair H70 in push-pull exhaust
Optical Drive:
LG BH10LS30 Blu-ray writer
Fans:
2X Schyte Gentle Typhoon AP-15 + Corsair case stock fans
Case:
Corsair Obsidian Series 800D
Monitor:
Samsung PX2370 23" FullHD LED 2ms
BUILD LOG:

I smoothed up a bit the whole log, I removed some of the unnecessary photos and made some order. Nothing new here but you might want to take a look of what I did until now. So here it is!
Mobo on place! The 800D is massive, it can hold whatever you need! Let's make use of this space!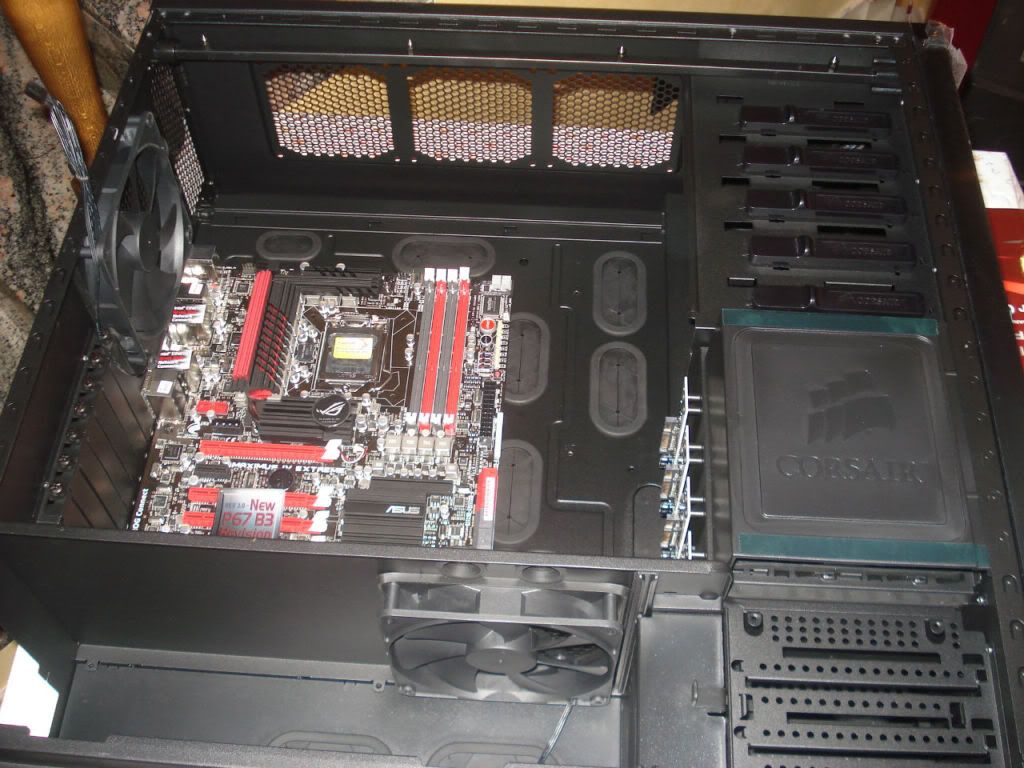 Some tools and the Builders Bible (ASUS manual hahaha) on top: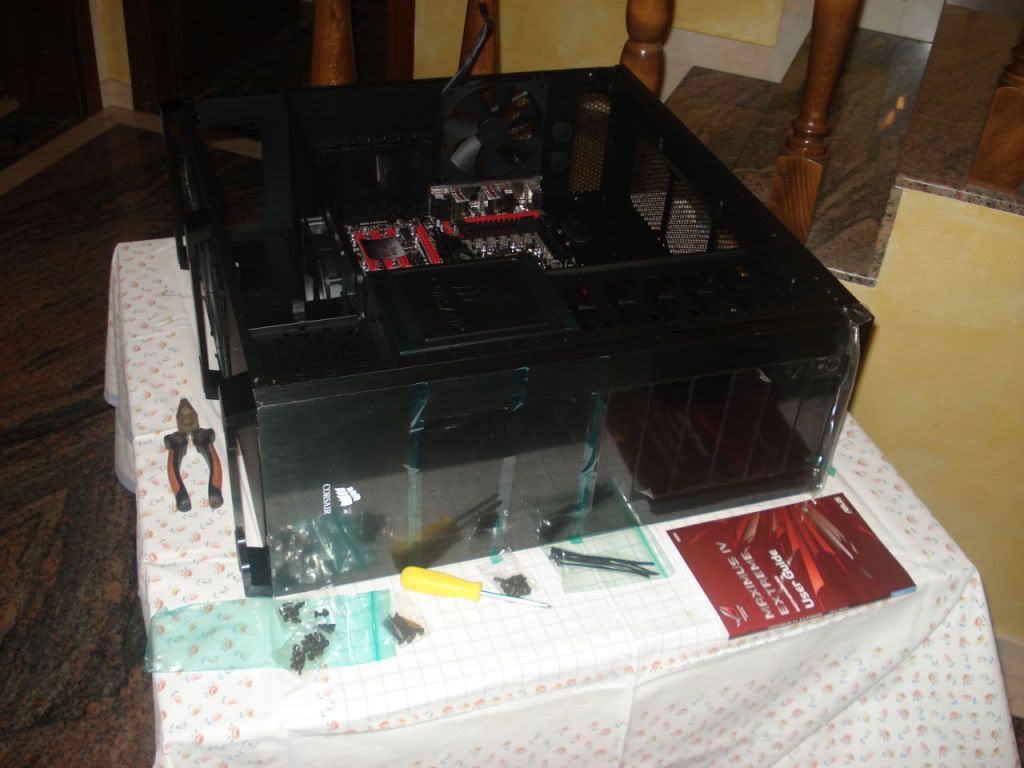 Sorry bro, seems like there's no place for you =/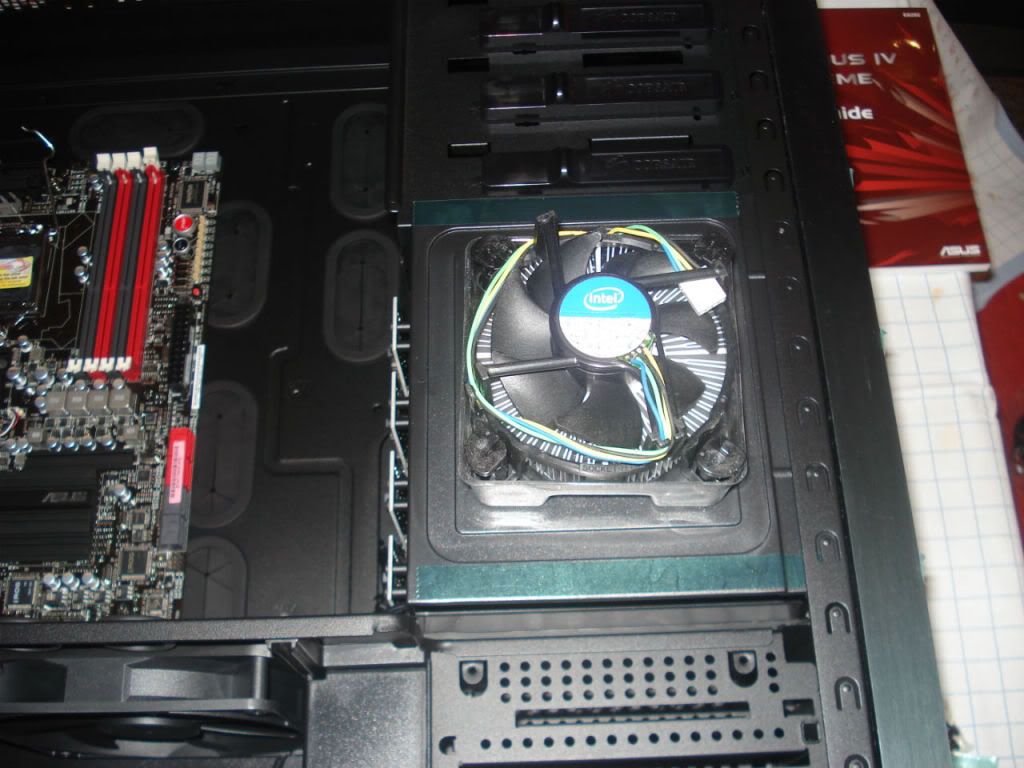 The power of the Sun in my hand! At the beginning I just went to the best CPU available, but eventually it turned out to be one of my best purchases ever! One of the best performance/energy saving ratio ever seen!
Socketed! It almost feels like sex when this baby is going in so easily xD
Close up shots:
RAM ready on the go. Strange enough, I've been sold the 1866MHz kit 0,50€ less than the 1600MHz
. Good for me!
They even put a Nanosuit on these DIMMs... boy world is going mad...
PSU time. Another well though purchase, system stability is a must if you plan overclocking!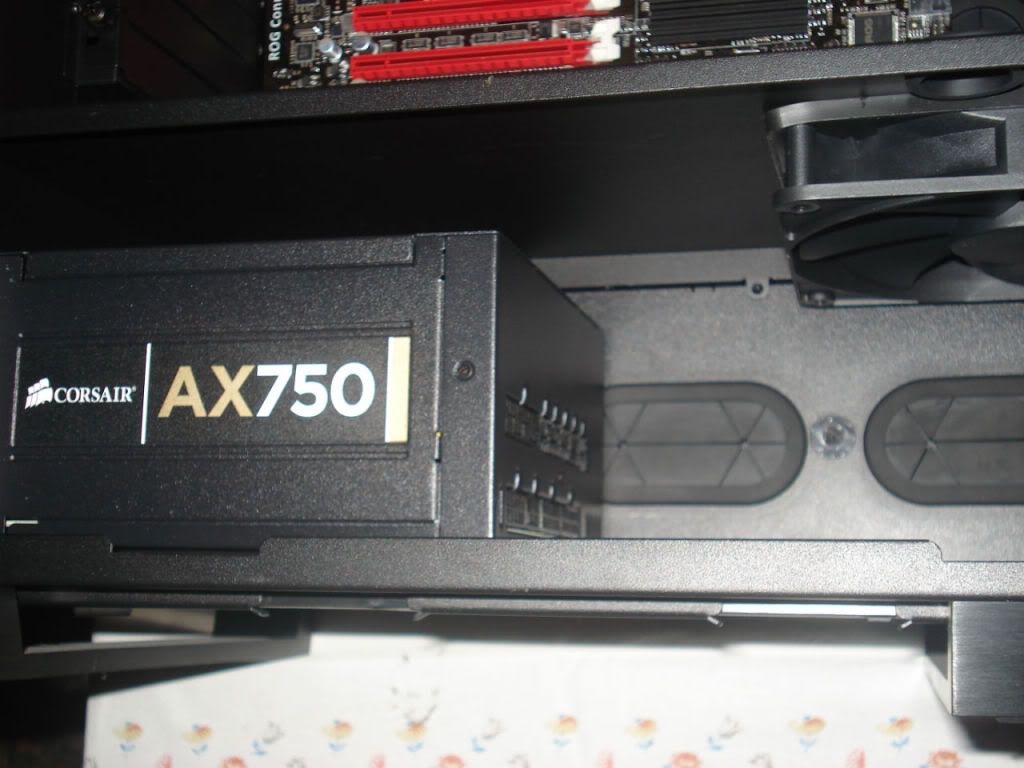 Gaaaah! Raaaawwwwrrr poweeeer!
The beauty is in the details:
Let's move on to the hot plug bay!
1!
2!
3! Done!