Discussion Starter
•
#1
•
Hello everyone,
i need some help cause i need to change my case. I actually have a NZXT S340 that doesn't work properly with my configuration:
CPU: AMD Ryzen 1600 @3.8Ghz
CPU cooler: Schythe Fuma
Mobo: Gigabyte AX370 Gaming-5
RAM: 2x8Gb TeamGroup DaP 3200Mhz CL16
GPU: XFX GTS RX580 8Gb
SSD: SanDisk Plus 240Gb
HDD: Toshiba P300 1Tb
PSU: Corsair RM650x
Case: NZXT S340 Black&Red
Fans: 4x Noctua Redux 1200 rpm.
I'm looking to lower the temperatures, and I need help on how to make the airflow work properly.
How can i do that? What kind of fans do you suggest to buy and which case should I use?
I would like to get a setup like the one in the following drawing – I need help to find the right fans and the right case for the situation.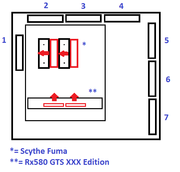 Thank you!