Discussion Starter
·
#1
·
Quote:


Graphics doyen Jon Peddie noted that graphics shipments plummeted in Q4 2008. NVIDIA's not having too great a time of it and ATI's brought out no new desktop GPUs at CeBIT 2009.

Sapphire, ATI's largest board partner, has been looking further afield in the name of diversification, and along with the nice-looking digital photo-frames you can now buy that are adorned with the company logo, Sapphire is now branching out into selling PSUs.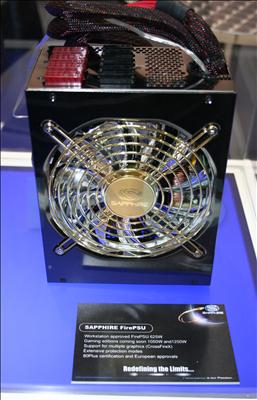 Shown above is the Sapphire FirePSU 625W (unfortunate name for a PSU, right?). This PSU is already in the market, of course, and its introduction has more to do with how FireGL cards are bundled in APAC region than anything else. Now, Sapphire will be bringing the FirePSU in larger-capacity models, with 1,050W and 1,250W on the cards.

Based ostensibly on designs by Enermax, Sapphire reckons the innards have been tweaked to better handle the load imposed by high-power graphics cards. No word on pricing just yet, but expect them to cost a touch more than the equivalent Enermax offerings. Let's hope the 1,050W isn't called Sapphire onFirePSU.


Source
Well if they are the Enermax offerings they'll be pretty good, but most likely a bit pricey.