Discussion Starter
·
#1
·
this crap is stupid... people say you are either a claw grip, or a palm grip.
false...
this thread is to show that labels are stupid and there are many ways to grip a mouse. show us how you grip yours
this is how i usually grip my sidewinder x8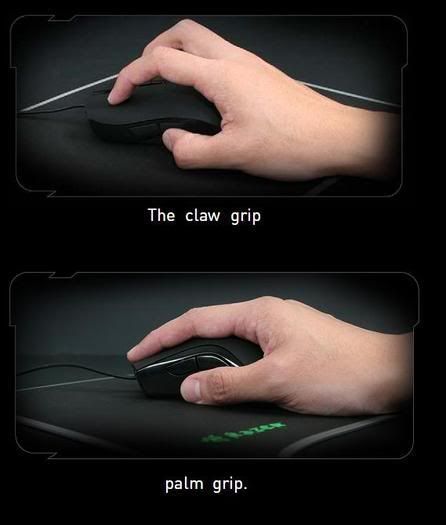 see how claw grip looks nothing like how im gripping my mouse and neither does palm grip?
i have my own mouse grip style and its neither palm or claw. claw is stupid cause your fingers will get carple tunnel after a while and its just uncomfortable after a while. palm grip is stupid cause its just not as efficient having the entire surface of your finger on the mouse buttons.
my grip imo is the best. i pretty much have half my palm gripping the mouse, thumb resting on the side as well as my ring and pinky fingers slightly gripping the inter side, and my fingers slightly arched so they are almost resting on the mouse and only the tips touch the button.i often rest my finger ont he mouse which takes my arch away if i barely ever click... think of it as standby mode to conserve power
how do you grip your mouse?