Discussion Starter
·
#1
·
Hey guys, well first of all I have to say I'm satisfied with my case as it is now, but obviously everything can be improoved and I dont feel that my fan combo is near 100% done, so I'm here for advice.
Also as a note, even though I have an Advance version of the 912 I made a 100% clear plexi side panel since the original vented plexi just sucks for eye candy.
VS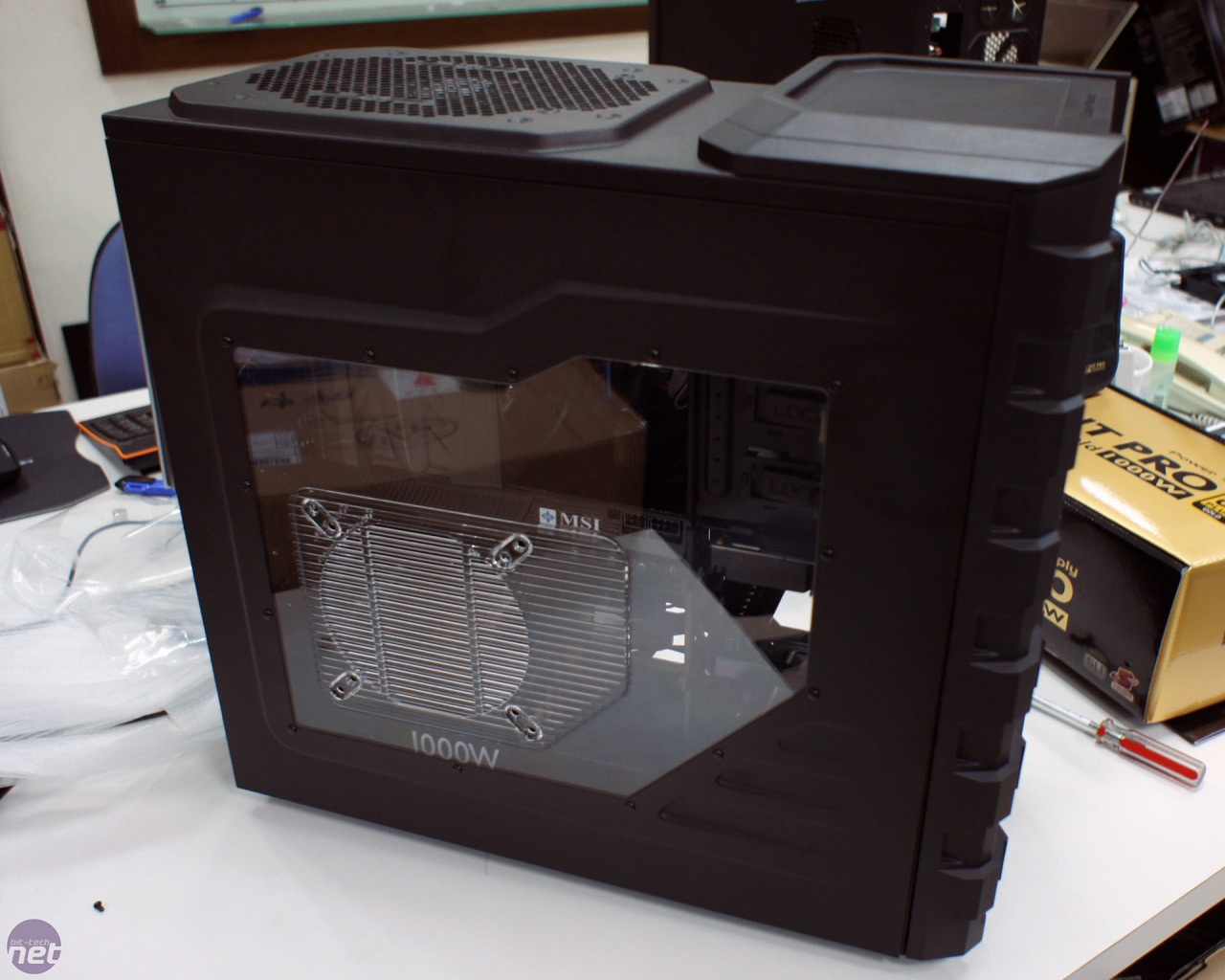 My fan combo right now is:
3 Front Intake Enermax Magma 120mm 69 Cfm @18 Dba
1 Rear Exhaust Enermax Magma 120mm
1 Top Exhaust 200mm Megaflow
Info for Magmas:
http://www.newegg.com/Product/Product.aspx?Item=N82E16835214001&Tpk=enermax%20magma
IMO this magma fans are great, you can tell they push a decent amount of air and almost -0- noise.
BUT ... My cards exhaust hot air into my case, I know they're VERY cool working cards, but since I have a CPU air cooler it sucks part of that hot air and therefore CPU temps are hotter than if I used Prime95 only and no GPU usage.
The fan in the 5.25 bays does a great job pushing air directly into the intake fan of the V6-GT, but as mentioned before the result of having this videocards have their downside and without the 5.25 bay fan I would get worse CPU temps while intense gaming.
So my options I've been thinking so far are:
1.-
Put back the original plexi and use a 120mm intake fan + Filter
http://www.newegg.com/Product/Product.aspx?Item=N82E16811999217&cm_re=fan_filter-_-11-999-217-_-Product
http://www.newegg.com/Product/Product.aspx?Item=N82E16835103083
For this option I will have to cut part of the plexi in the 120mm fan diameter because the filter wont fit and even if it does, theres a lot of obstruction and no use at all of the original plexi.
2.-
Mod the plexi to fit a Silverstone Air Penetrator 180mm + Filter
http://www.newegg.com/Product/Product.aspx?Item=N82E16835220039&Tpk=ap181
http://www.frozencpu.com/products/9998/ffi-46/Silverstone_180mm_Fan_Grill_and_Filter.html#blank
Though with this fan, I dont know if it will hit the CPU cooler and untill next weekend i;ll be able to use my desktop and do some measurements, but looking at the first pic I'm pretty sure it will fit.
3.-
Use a 120mm fan in the original plexi as exhaust and hope the fan sucks out hot air directly from the GPUs since they're just beside the fan and I can forget about moding for airfilter and the airfilter itself, but I'm afraid to produce negative pressure and have dust buildup in no filtered places.
4.-
Use more powerfull 120mm intake fans? Though If I use more powerfull fans that will mean more noise, something I really dont like at all.
I'm leaning towards option #2 since the big air penetrator can push 130 CFM's and most important is that the air is pushing directly to the GPU's and not to the sides like conventional fan designs that even though if they're rated for example 80 CFM's less than half is directed to where I want to, and I dont have space for a duct. Watch the next vide of the Airpenetrator.
[ame]
http://www.youtube.com/watch?v=8m8fC809TK0[/ame
]
Advices and suggestions are needed please !