Discussion Starter
·
#1
·
Hello all, this guide is for all of you who have hissing or crackling coming from your sound card. This is caused by the other parts in your computer emitting EMI (Electro-Magnetic Interference) which interfers with parts on your sound card. This can be reduced or even completely stopped by using EMI shield which you can make at home.
Although there are better methods than mine, this is the cheapest and most readily available. Both mine and solo's methods would work.
For all of those who thing this will not work, try it out for youself. It works wonderfully and got rid of nearly all the static I use to have.
Supplies you will need:
Aluminum Foil
poster board (or card board from a cereal box)
super glue
Double-sided foam tape
tape (duct tape or electrical tape)
fine tip permanent marker
scissors
Sorry about some of the pics being poor!
Step 1:
Lay your sound card on your poster board or cereal box, and trace out its outline.
You should get something like this when your done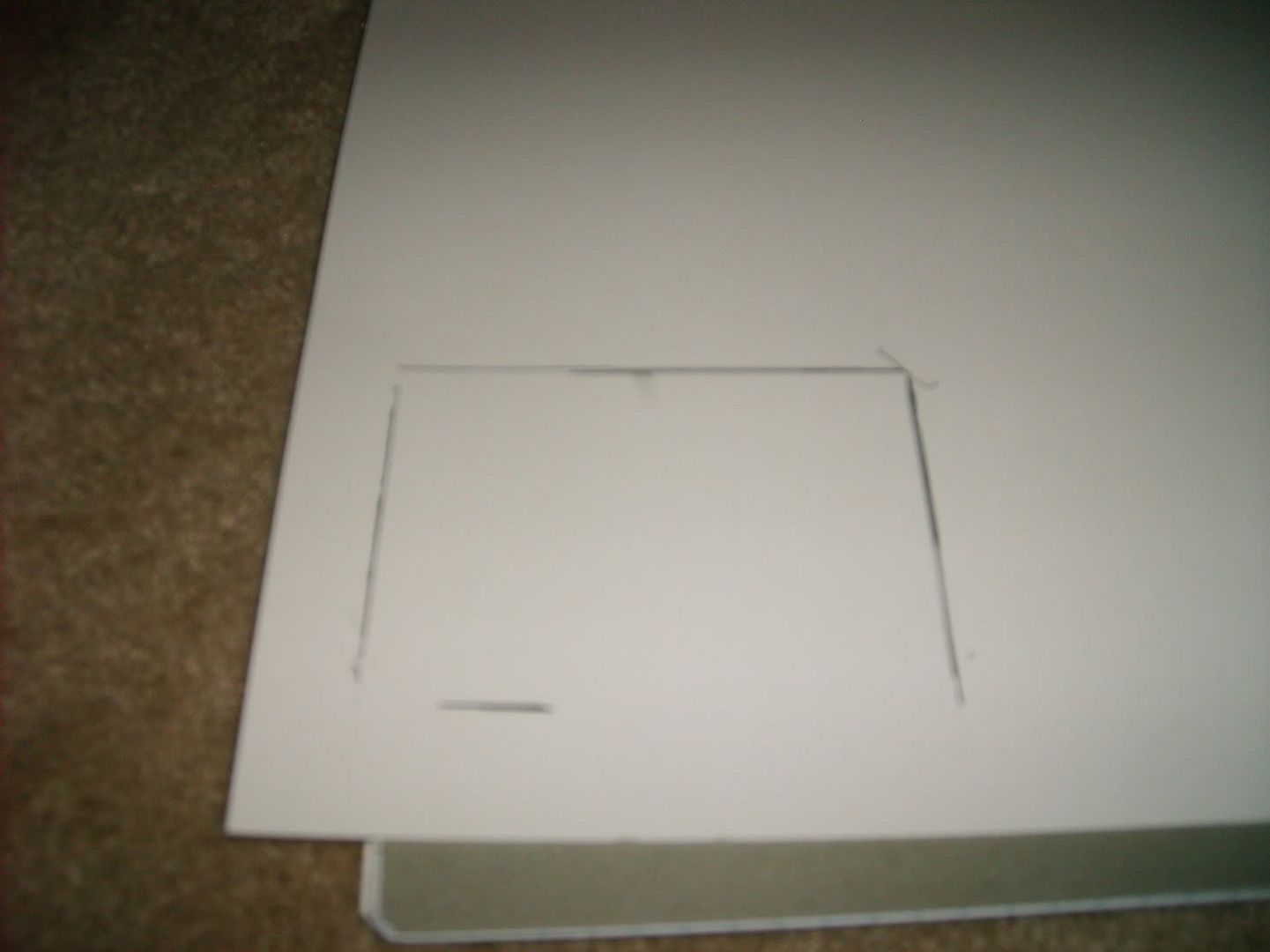 Once you are done outlining your card, cut it. Then you need to make 3 of the same cutouts.
Step 2:
Lay out one of the paper/card board cut outs onto the Al foil and trace it out.
cut out 3 sheets of aluminum foil:
Step 3:
Glue 2 sheets of aluminum foil together then glue those two sheets onto one of the sheets of paper/card board
Then glue another sheet of the poster board/cereal board on top of the Al foil glued board. Then glue the final sheet of Al foil onto that board.
You will have something that will be like this:
poster board > Al foil > Al foil > poster board > Al foil
Step 4:
Take your double sided foam tape (DSF for short) and put pieces on the back of your card like this: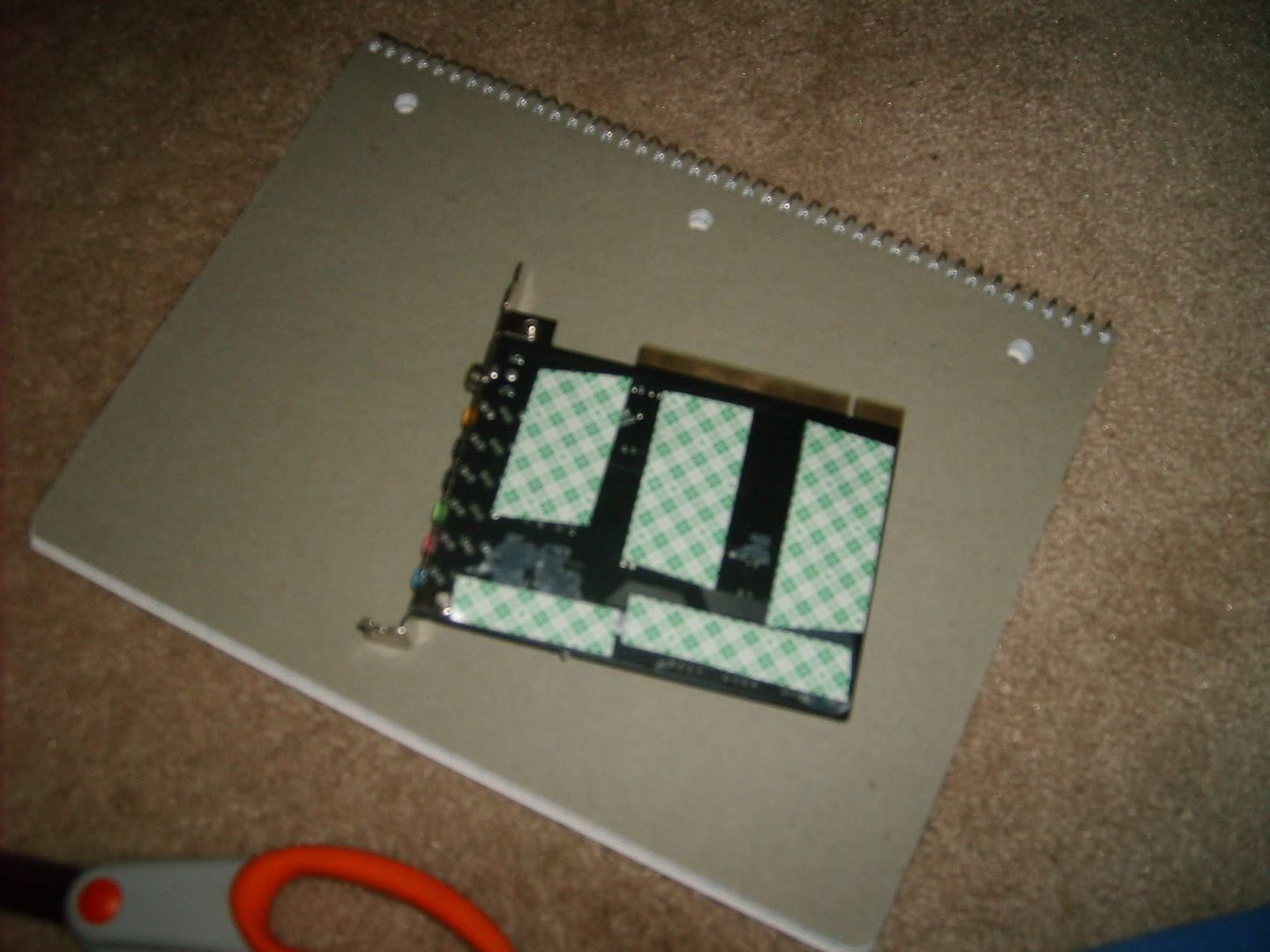 Then lay the Al foil poster board thing down onto the DSF so that it covers then entire back side of your card.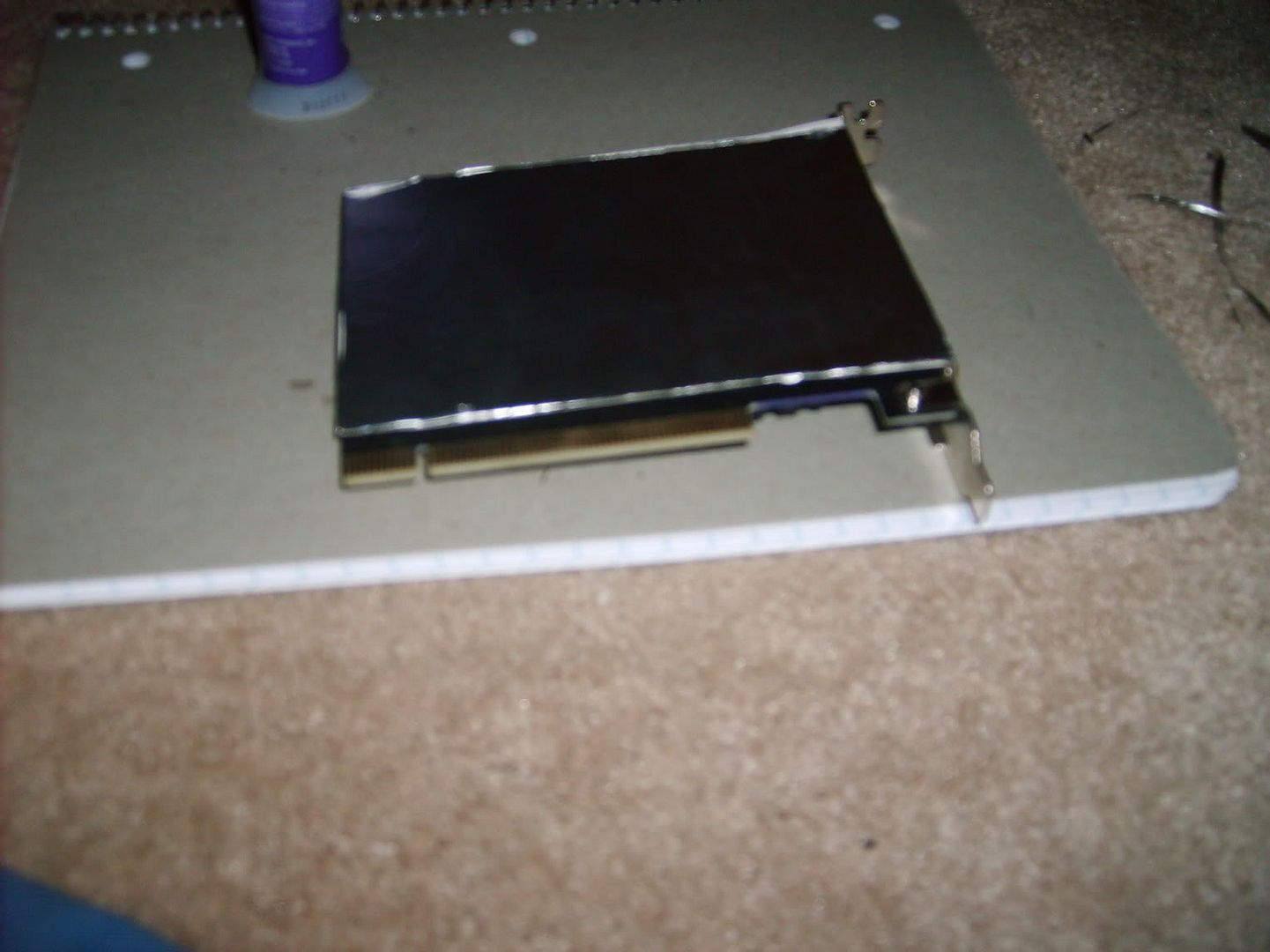 Once you are done, put some tape over the aluminum foil so that it cannot come into contact with any other electroics and shorting them out
From here on out is optional!
Step 5
:
Cut out one more piece of poster board and glue to sheets of aluminum foil so you have a sheet that will be like this:
Poster board > Al foil > Al foil
Step 6:
Stack your DSF on top of each other to pile it up and serve as a support for the Al poster board thing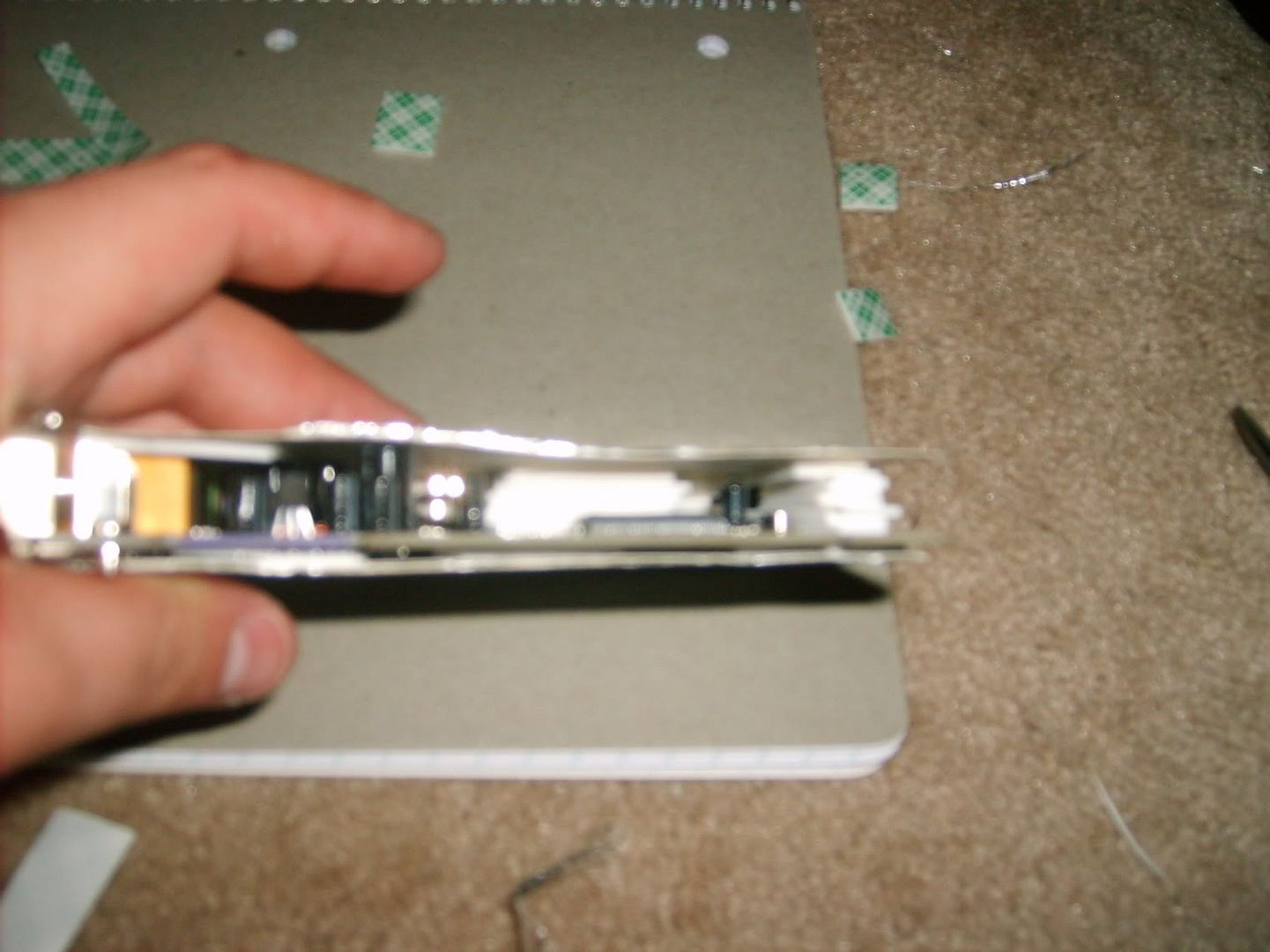 Step 6:
Tape up your card so that no Al foil is exposed and could possibly short out other components in your computer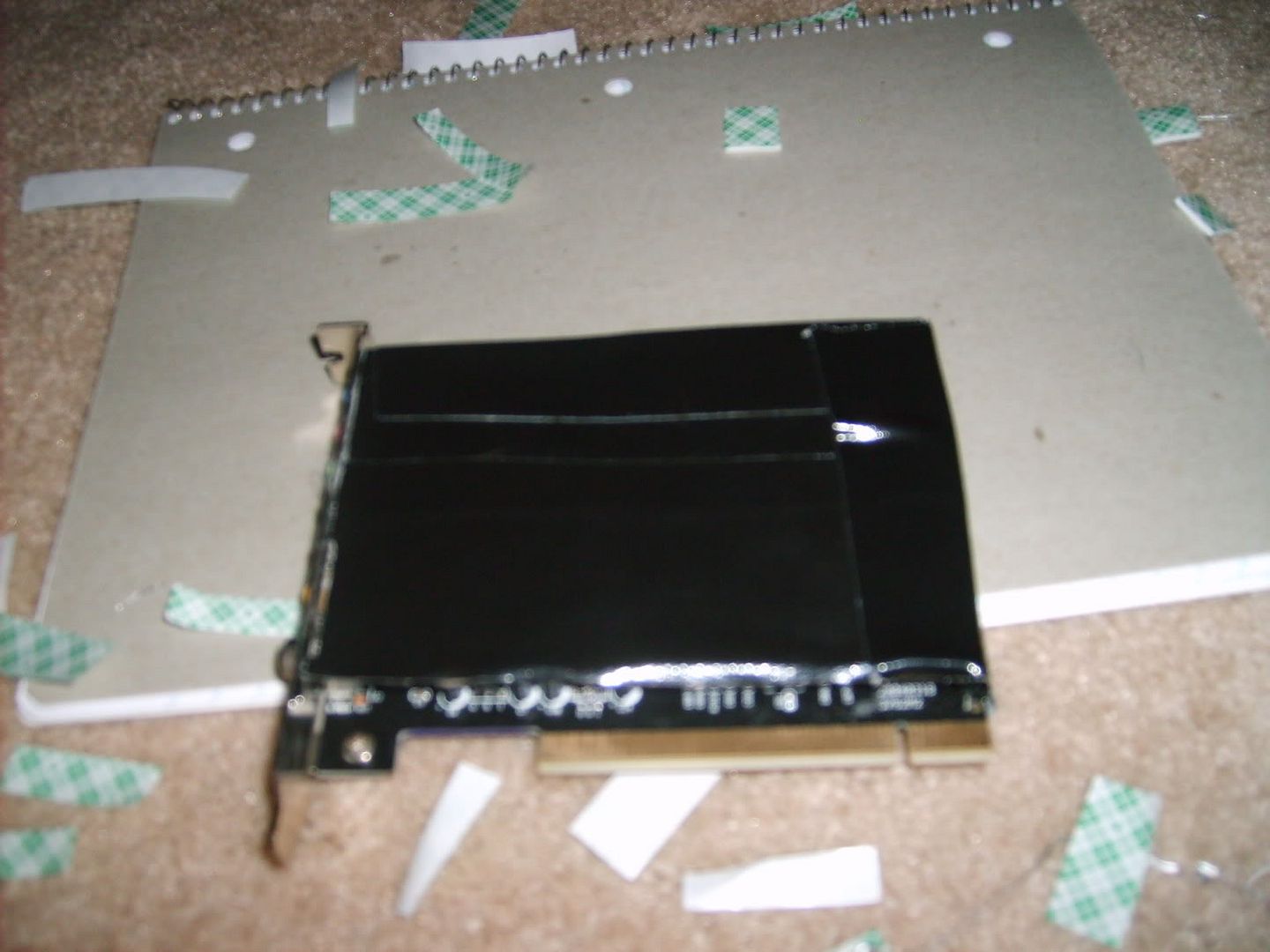 DONE
You now have some EMI shielding on your card which will help get rid of that annoying hissing static-y sound (if not eliminate).