Discussion Starter
•
#1
•
First things first, I'm not 100% this is the right section, the Nvidia section has quite a few!
Edit:
CONFIRMED video cards
-- 8800GTX
-- 8800GTS 640mb
-- 8800GTS 320mb
Also, I'm not 100% sure this will work with 8800GTX or 8800GTS 640mb, but I don't see any reason why it wouldn't Could anyone with those cards verify for me, please? I use a 8800GTS 320mb, but they should be the same. Also, this can be done with any driver version. I applied it while running the 97.92 drivers, and am now using the 158.19 drivers, and it still works just fine.
Ok, I know a lot of people seem to think nTune is the only way to get the fan speed set, and that solution simply SUCKS. Plain and simple, resetting it EVERYtime is a huge hassle.
How do I do it? I use RivaTuner.
First, load up RivaTuner, and click here.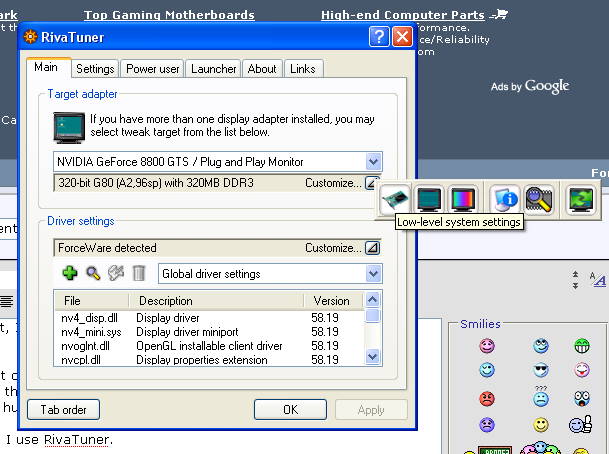 This SHOULD bring up a screen that looks like this.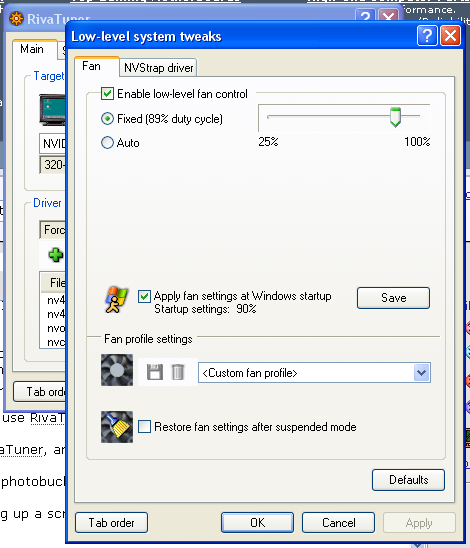 From here, it's very self explanatory.
Click "Enable low-level fan control" to allow yourself to move the slider.
The next step is a VERY complicated one, so PAY ATTENTION!
Click "Fixed" and (Pay attention now!) DRAG the slider to the percentage you want. You can also use the up/down arrows or probably the left/right arrows as well, if you want to get an exact percent.
Next, click the checkbox that says "Apply fan settings at Windows Startup" and hit "save" to save your selected percentage. Click Apply/ok, then make sure that Riva loads when windows starts.
This can be accomplished by opening Riva, and clicking the "Settings" tab at the top. From here, hit "Run at Windows startup" and select whichever method you prefer. I use the registry key because it seems more fancy and maybe makes it load sooner that way when Windows boots. Click apply/ok.
You are done, now everytime you boot into Windows, your fan will automatically run at the set percentage. Well, mostly. Mine is set for 90% and it runs at 89.7% or something.