Discussion Starter
·
#1
·
Mission: To improve the overall quality of images found on Overclock.net by teaching some of the core fundamentals of photographing complicated subjects such as black, shiny, led-lit computers.
Why?: Many of us spend countless hours researching, building, perfecting, polishing, and benching our systems. We are proud of them, and want to share them with the world. However, even the best rigs can look like trash when the same care attention to detail is not taken with the camera. To do our rigs and community justice, we should know how to capture images of these machines that are appealing and nice to look at.
I'm going to be using a plain old P&S camera, a Samsung S730:
Some key concepts:
1) Good photographs come from people, not cameras. Even a cell phone can be used to take amazing photographs when the photographer has prepared everything else correctly.
Don't believe me? Here's a link to a high-fashion photoshoot done entirely with an iPhone 3Gs:
http://fstoppers.com/iphone/
2) Photography is the capture of LIGHT. Therefore, LIGHTING is everything. Without going into a masters thesis on it, there are a few basics.
Hard Light vs Soft Light: Hard light is undiffussed and direct, like the sun on a clear day. It leaves sharp, defined shadows. Notice how a car with little imperfections in the paint shows it all in direct sun light? Soft light is diffused, like an overcast sky. It creates very little shadow. Getting the right kind of light for you photo is absolutely essential.
Large source vs Small source: A smaller light source creates hard shadows, and a larger one softens them. That's why a camera flash can look so terrible. It's a tiny light source and throws huge ugly shadows. A larger light source (like an open window in a room) makes softer, more appealing shadows.
So, now we translate that to photographing our rigs.
The worst kind of photo that we see on these forums a lot uses the camera's flash straight into an open case, letting huge reflections come back at the camera and destroying all lighting effects in the case. UGLY.
The next kind of sub-par image we see is a blurred one. This happens for one of two reasons (or both). Either A) The camera did aquire focus, or B) The photographer moved the camera during the exposure, creating motion blur.
Solution to A: Hold the shutter button halfway down first to activate the camera's focus mechanism. Wait for a focus confirmation, usually a green light or 'chirp', then GENTLY press the button all the way, being careful to keep it steady. If you are too close, the camera will not focus without being switched into 'Macro' mode (usually a flower icon).
Solution to B: Lay off the caffeine, or use a tripod. Photos don't happen instantly. There is a time when the camera is exposing the image. This time changes depending on amount light. Given that our rigs are usually dark and in dark places, the times are long, making blurring the photo easy to do. If you can't hand-hold it, USE A TRIPOD.
Missed Focus:
Motion Blurred:
There is also the problem that comes along with digital cameras called "Noise". This is a phenomena seen in dark areas in a photo. This can be reduced by turning the camera's sensitivity down, known as the ISO. Images are cleaner at lower ISOs, but they also take longer to expose, which increases the risk of motion blur.
So far, this is enough information to take shots of rig in ambient light. 'Ambient Light' means the light that already exists in the area you are taking the photo. This works for showing of your case lighting ONLY. It really doesn't display you system very well, and people will have a hard time seeing your hard work.
So, we need to add a light, one that we can control.
Option 1: Open Window
Window light is generally soft and directional, and you have the ability to adjust the angle of your case to it to control the reflections. This is the most effective cheap way to light up something nicely.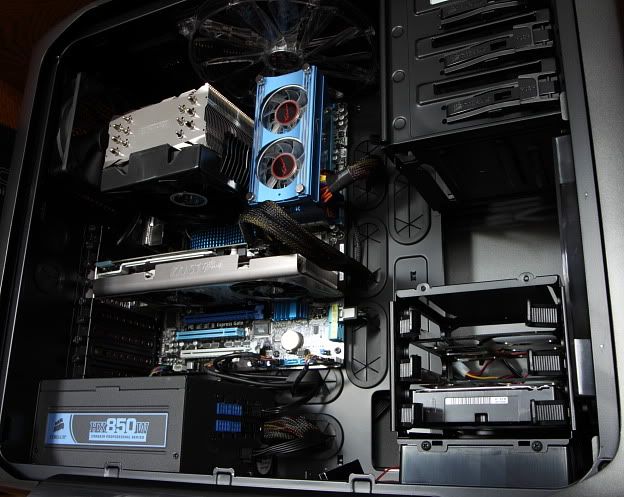 Photo above by denydog
Option 2: Reflect Light from a lamp
By aiming a light at a large white surface (like a poster board) you make the source larger. This gives a window-light effect that you have more control over. Reflect the light on to the rig, and adjust as necessary.
Option 3: Use you monitor (My personal favorite for a quick, great looking photo)
You can set your background on your monitor to blank white, and then turn your monitor towards your computer for a large, even light source.
My old 775 system:
Helpful Tips:
-Use different angles to position reflections where you want them
-When photographing anything shiny, light up the area around it instead of the object itself
-Use camera angles to emphazize the good and disguise the bad
-Strive to make it look good in camera without the need for editing programs
-If your camera has a mode that allows you to adjust the ISO, turning it down low (100-200) will help get rid of the excessive grain. This will also lenghten the shutter speed, so make sure you're on a tripod.
-Be creative! Show us why your case rocks, give us a reason to look at the pic for more than a second or two
Some of my best shots, using a Point and Shoot:
Alright, get out there and start shooting!