Discussion Starter
·
#1
·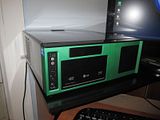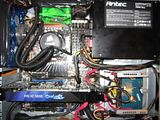 How I did it?
Take the case, remove all rivits for the mobo tray, rear wall, and all front mounted things. Flip it upside down, and remount the mobo tray. Modify the top optical drive bay to fit the plugs for the full sized hd5830.
For the H50, I had to remove 2 of the copper fins for the NB heatsink, and then make a shroud and use an 80mm fan instead of the stock 120mm.
I then undervolted the Processer to keep it clean, its running stable after being prime95 stressed for 24h at .985v. Then, I OC'd the ram to 2004mhz.
Outcome, tiny system, 12gb ram, stable processor that is 35 degrees at idle and 62 degrees at max load after 24h. NB does not ever exceed 40 degrees, and the video card never sees 60.
The downside...
If you had more then 1 3.5inch hard drive, you would have to find a home for it. I have 1 3.5 inch drive and 2 2.5inch drives running in raid 0. They average 300mb/s.
Another downside...
Because of the PSU I use, it intakes from under the case (which is on the stock feet) and exhausts out the front. Gets a lil warm blowing on me when I play based on the location of the rig..
Overall, IT IS POSSIBLE! but with the many cuts to my hands, hours of trying to fit everything into the case, and then the cable management problems (YES, thats the best I was able to get it), its a pain...
Oh, and the power button is upside down...
If anyone has input, or cable management ideas, they would be welcome!!