Brilliant stuff, just the kind of examples I have been looking for, great comparisons.
I've booted "X299-B" up, this has not had my 30 minutes of google / realbench / cinebench yet. (*Edit, it is NOT stable, google stress test proved it!)
7800X @ CPU x45 Cache x32 DDR-3600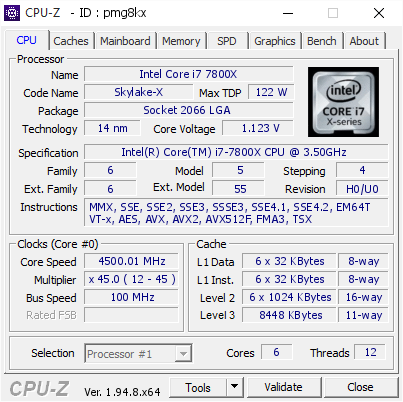 [pmg8kx] Validated Dump by PJ-X299 (2021-05-02 11:31:56) - MB: Asus ROG STRIX X299-XE GAMING - RAM: 16384 MB

valid.x86.fr
Thaiphoon data on the RAM kit
AIDA: 7800X
RAM KIT: Corsair Vengeance 3600 (CMK16GX4M4B3600C18 v4.24) (
Link
)
Read: 77.863
Write: 94.648
Copy: 72.587
Latency: 64.8
In comparison, the 10900X (running at 3733) is doing
RAM Kit: CMW32GX4M4D3600C18 4.32 / C-Die (
link
)
Read: 106.05
Write: 82.892
Copy: 87.027
Latency: 61.3
The difference in write performance is frustrating!