Discussion Starter
•
#1
•
ATTENTION: If anyone has anything to add please do. Respect is a must. I won't put up with disrespectful people and you will be reported.
UPDATE:
I will be adding real photos in the near future to better demonstrate my process.
Lapping Kit
Lapping your CPU and Heatsink any make or model
Materials you will need.
Misc
: Cotton rags, Rubbing alcohol/Isopropyl alcohol 90%-97% Walgreen's or Wal-Mart will carry this.
Aluminum Oxide Sandpaper
: Grits ranging from 400 to 2500 depending. Normally 400 to 1500 will do. It's really how far you feel you should go. This can be purchased at any automotive store. I would suggest 4 sheets per grit. So if you want to lap both CPU and Heatsink, then you would need 8 sheets total for each grit.
Product search
Oil
: 3in1 oil will work just fine and this can be purchased almost anywhere. Grocery store, drug store…etc
Metal Polish & cloth
: I would suggest a high grade metal polish, but the cheaper metal polishes will work. As far as polishing cloth the cotton rags will work fine, but if you want or feel you need the pricey stuff it's up to you.
Product search
Poduct search
Glass base
: ¼ inch thick piece of glass measuring 6x6 inch or 8x8 inch will be just fine. You really do not need to go any bigger. The reason to use a glass base to lap on is the fact that it is perfectly flat and that is exactly what you want.
Tape
: Pretty much any tape will do, gift wrap tape/painters tape. Painters tape is probably better.

Starting
Take a Black Sharpie marker and either mark an
X
on the surface to be lapped or you can cover the entire surface. Either way will work.
After you have taped the sandpaper down and starting with the lowest grit. You want to start by move the CPU/Heatsink back and forth for a few seconds. Example below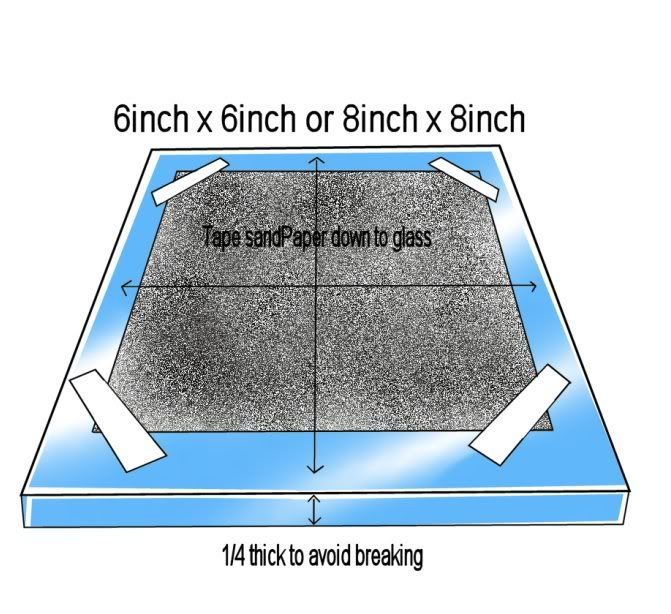 Then rotate the CPU/Heatsink 45 degrees and repeat. Example below
After doing this repeatedly, you will have gone full circle with the CPU/Heatsink. Example below
As the copper starts to build you can now add the oil. Personally I do not add the oil until I reach the 800grit paper. Some people use oil during the entire process. Either way is fine. Just remember when starting on the lower grits "dry" the CPU/Heatsink will want to jump/jitter forward because of the friction.
One important thin to remember is to ALWAYS stay flat. Your hand automatically wants rock back and forth when you sand. Apply even pressure to the CPU/Heatsink, but to not bear down on it or you could damage your parts or even crack the glass.
Heatsink: Some people assume just having the middle lapped is fine. That is incorrect. See Examples below. The reason you want both CPU and Heatsink both 100% lapped is to ensure they are both connecting and able to transfer the heat as much as possible. Remember some heatsinks are large and heavy and when mounted onto the CPU they tend to bow the motherboard or lean down. Making sure both are 100% lapped will ensure is does not do this. For those with large heatsinks, it is a good idea to brace/tie down the heatsink so it does not lean down while the PC is standing upright.
Now if only the middle part is lapped you run the chance of actually having worse temps than when you started and only lapping the CPU or the Heatsink is pointless. Both need to be lapped to drop your temps because neither is perfect from the factory.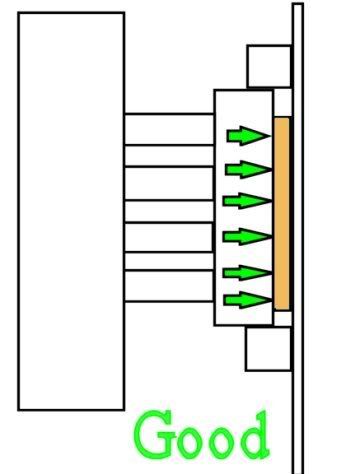 Please
: Anyone that is experienced please add info or PM me so I can add to this. I am not an expert at this, but I see a lot of people wanting to lap without the knowledge needed. Advise and question are welcome.
Rude comments,obnoxious behavior will be reported.
Here is a great tutorial over at DFI boards
Picture Tutorial - How to make things shine
Best of luck!
A little help from HatesFury. I will add more and straighten things soon.
Quote:

Originally Posted by HatesFury

Stay with 400 grit until you have a level HSF, the increase in grits is only to incrase smoothness, 400 is what you want to use to remove copper. Look for a pattern to the high spots (such as one side, or one corner). Adjust to correct high spots (apply MORE pressure on the high spot than on the low spot) make a few passes (3-5) and check the level again. Applying more pressure to part of the HSF is going to make drastic changes to it, so you only want to make a few passes then recheck or you'll grind too much off


Every guide i've ever seen tells people to use uniform pressure for lapping. This is true when you're trying to maek the HSF smoother, but not when you're trying to level an uneven HSF. If you're holding uniform pressure on a HSF that has a slop, you're sanding the whole surface at once, which makes the HSF hold the slop. To correct uneven blocks you must apply pressure to the high spots to wear them down, then go to uniform pressure once you've worked the highspot out to get a nice level finish, then you polish. This is more complicated than a simple polish job, and it takes more care.