Discussion Starter
·
#1
·
Hey.
Well, I've been in the market for a new mouse mat for a while now. I wanted one that was not only big, but also of very high quality.
The only mouse mat that fitted this criteria was the XTrac Ripper XXL. After looking around the internet, I determined that there was none to be found in the UK. Slightly put off by this, I e-mailed XTrac and asked if I could perhaps get one from them, in order to review for OCN.
Well, I did get one, and here I am now, roughly 24 hours after receiving it.
Specifications:

Quote:
36"w x 18"h x 1/8" (914mm x 457mm)
Sure Grip rubber backing
Cloth mousing surface
Features:

Quote:
Whisper quiet cloth surface
Frey resistant edges
Soft and comfortable
Sure Grip rubber backing
Extra heavy duty
Maintenance Instructions:

Quote:
How to clean your Ripper XXL:
1.) Dampen a cleann cloth.
2.) Add a small drop of liquid dish soap to the cloth.
3.) Rub the Ripper XXL using back and forth strokes (with the cloth).
4.) Allow to dry completely.
I know... everything's useless without pics, so let the pics commence...
The mouse pad's packaging. This is just over 1'5" long, so you get some idea of how big it is.
I'm not sure if you can read that or not, but it's basically the instructions for cleaning it, and the mouse mat's specifications. I'll type those up later.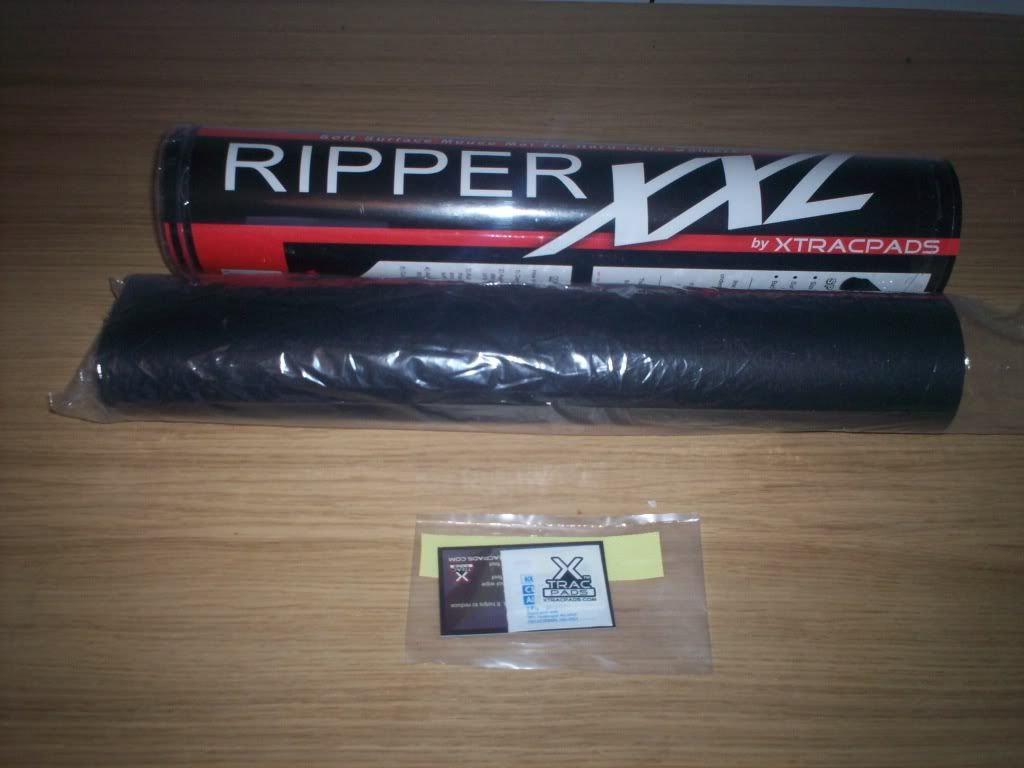 The mouse mat out of its shell, and the bundled accessories.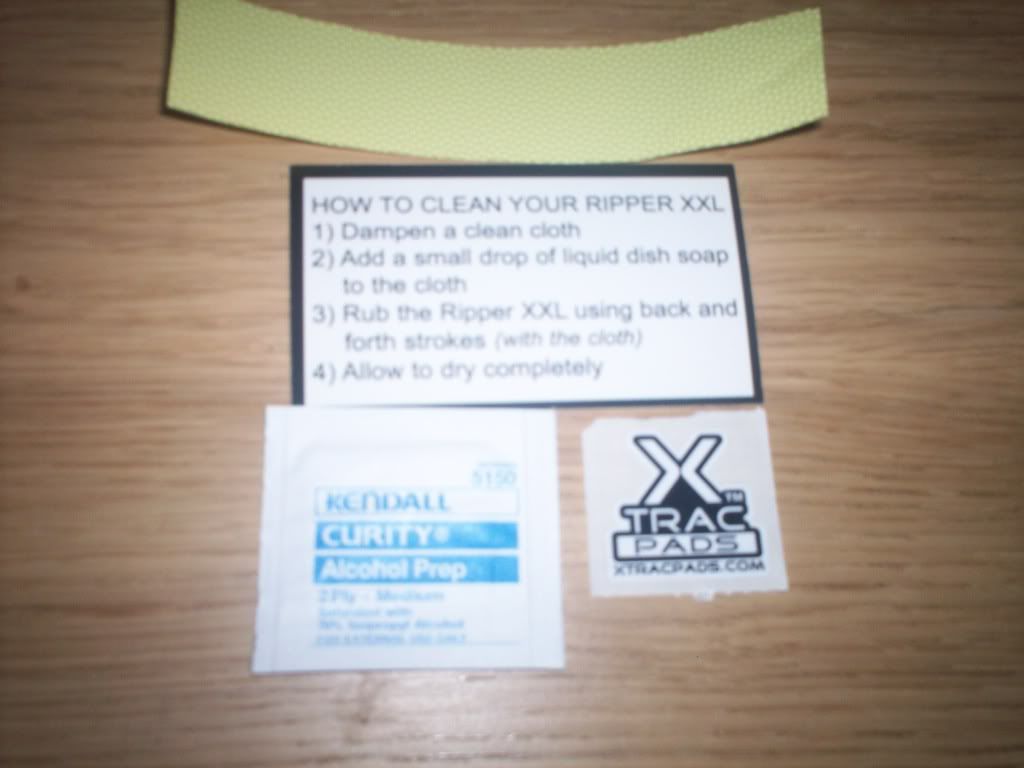 Here is the XTrac case decal, the mouse tape for the feet of your mouse and the instructions for cleaning your mouse mat, as well as instructions for applying the bundled tape, and an alcohol wipe to clean the mouse's feet with for optimum contact between the tape and the mouse's feet.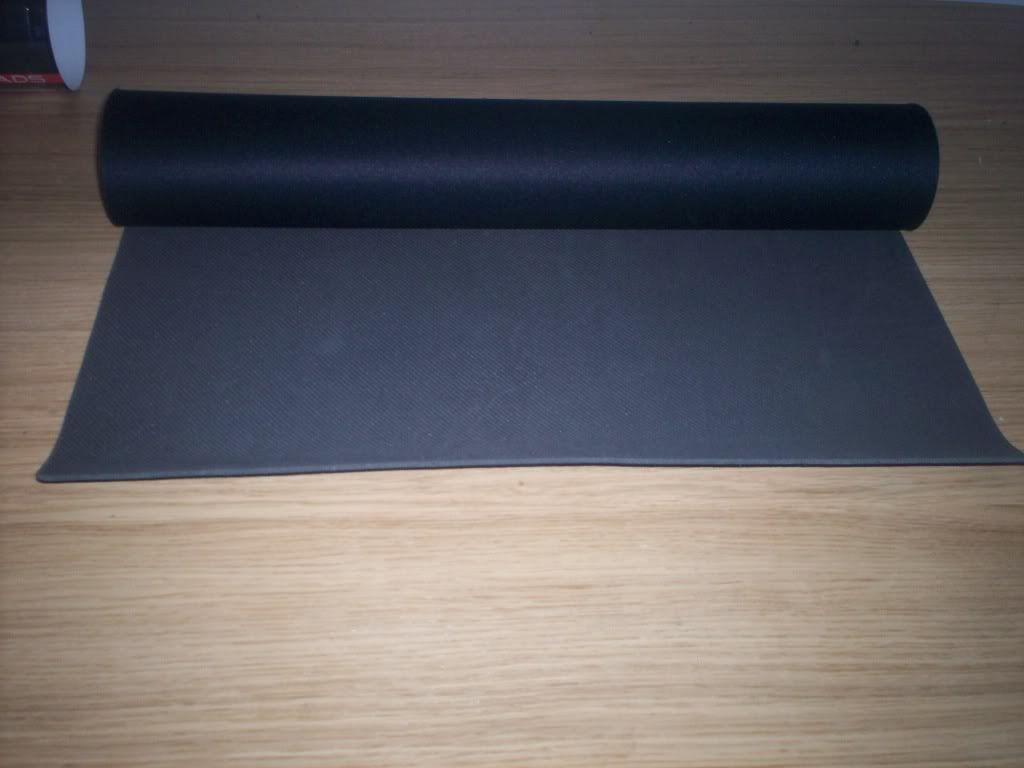 Starting to unroll...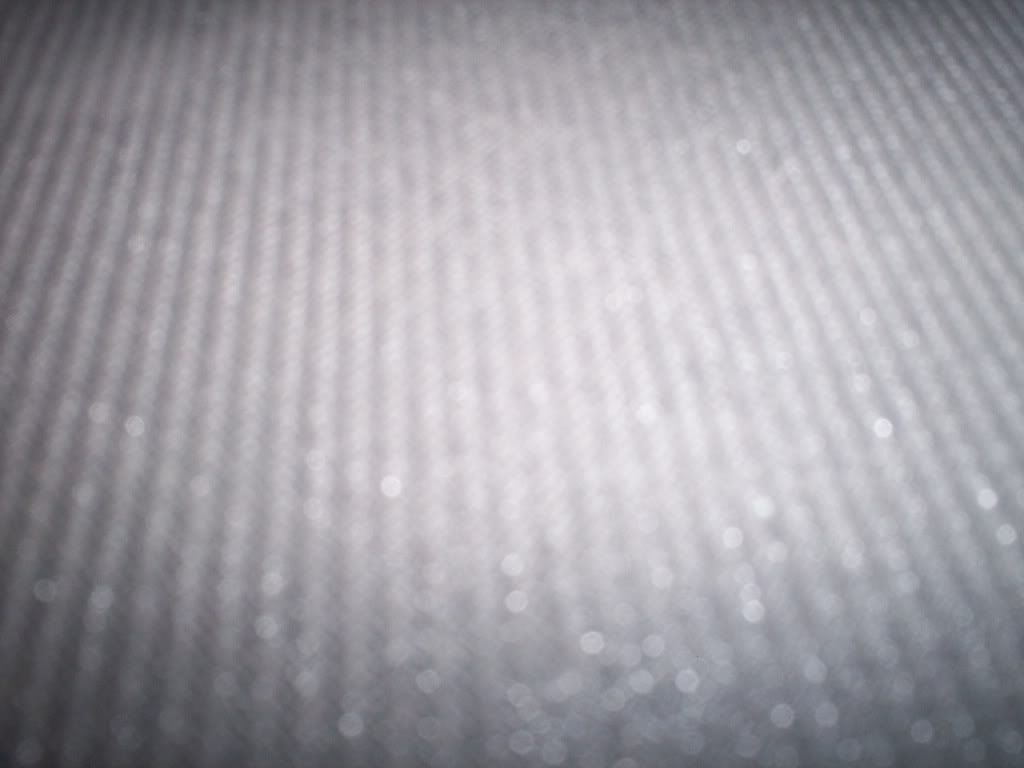 The rubber backing of the mouse mat. This is the best picture I could get of it using my point and shoot camera, sorry for the awful-ness of it.
Here's a better one:
Spread on my desk for the first time. You can see a speaker cable and a few fan headers in the background. You don't really get a measure of how really large this thing is.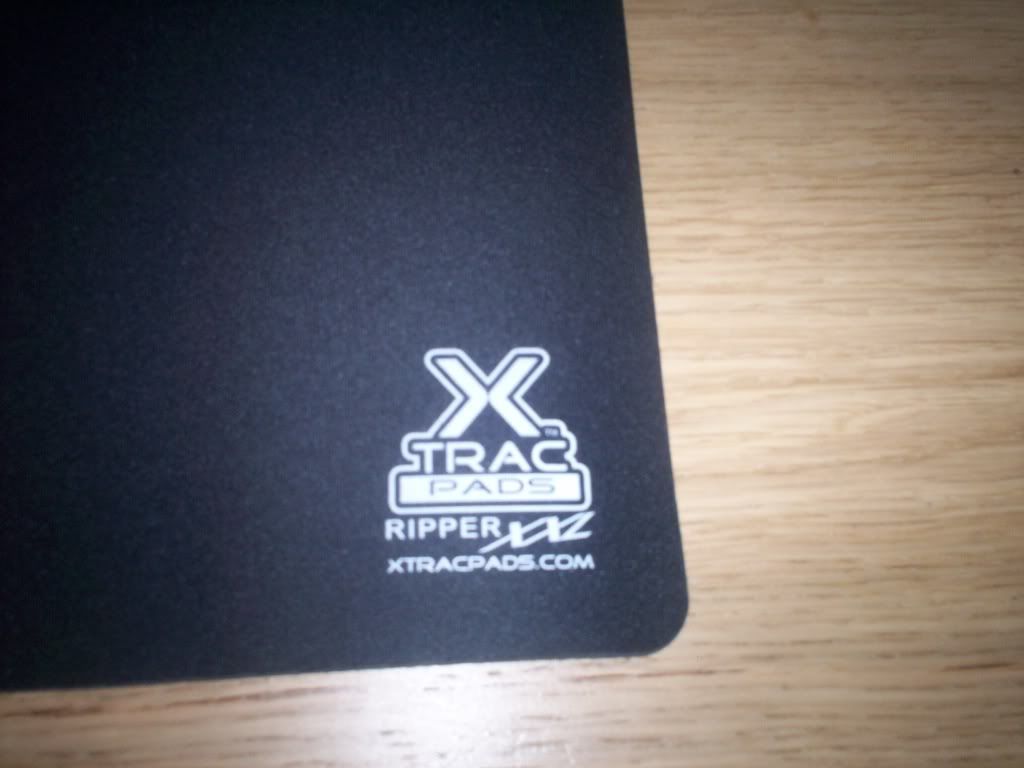 The XTrac Logo, in the bottom right hand corner of the mouse mat, perhaps 2" x 1.5" in size.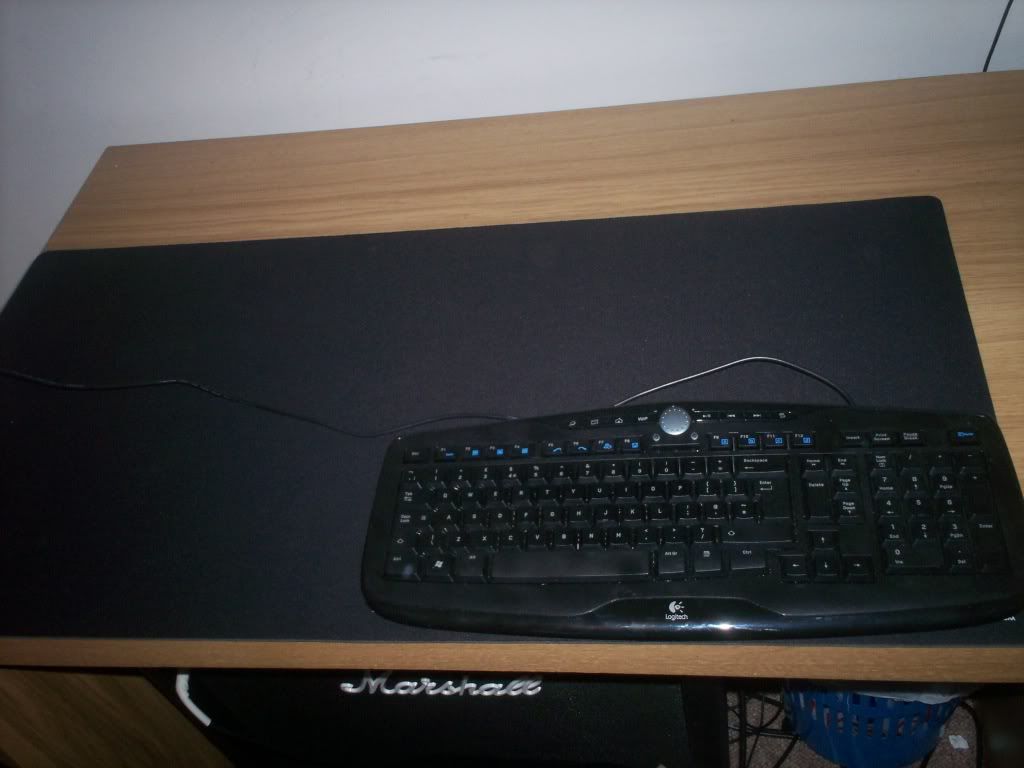 Spread on my desk. No. That's not a mini keyboard. This mouse mat is so huge that you could easily have 4 keyboards on here. That's a Marshall MG100DFX guitar amp too, in case anyone was wondering.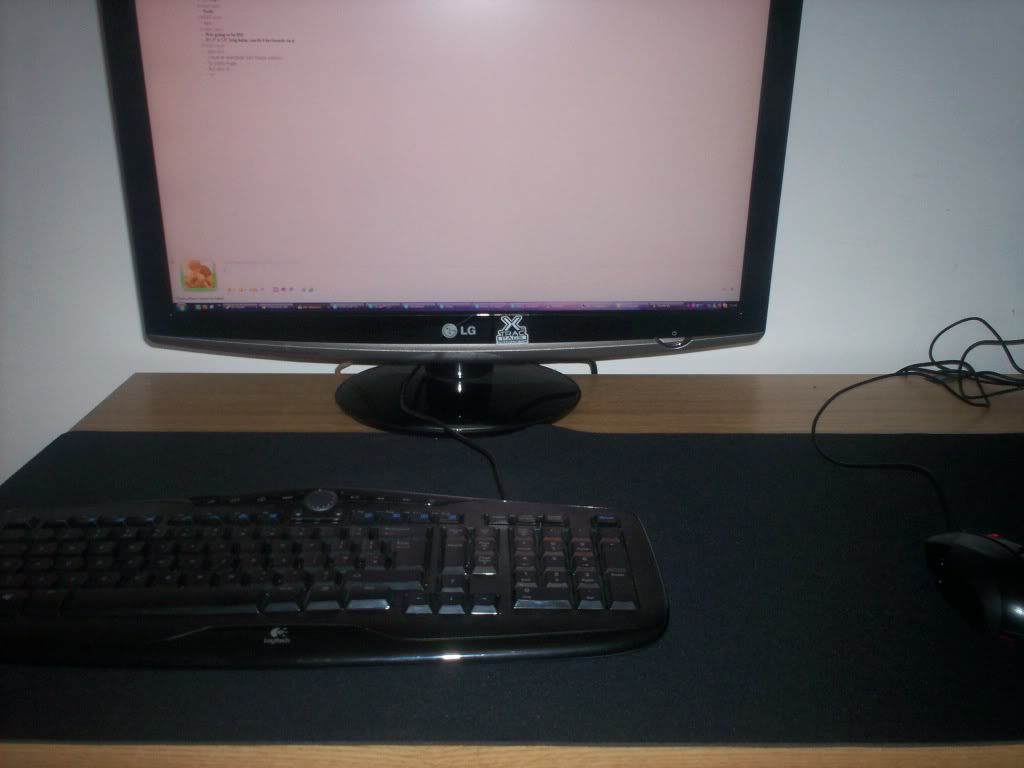 Using the mouse mat for the first time, with my Microsoft Sidewinder X5 mouse.
Impressions:

Compared to before, everything I do with my mouse feels... effortless. It glides smoothly and softly. Tracking is excellent. I can definitely notice increased accuracy with this. RTS games became a pleasure to play, no more fiddling around with the mouse in order for it to go where you want... it seems to know exactly what you want it to do, and carry that out, flawlessly.
The mouse mat itself is of very high quality. The rep that I spoke to from XTrac -- Christoper -- informed me that their mouse mats are made in the US unlike most competitors' mats, and he can therefore personally oversee the quality control himself, making sure that they're up to standard.
It has made my experience with using my computer a lot, lot more pleasurable. It's exactly as the box says: like putting shock absorbers onto your desk. It's very, very comfortable to lean on, and also looks very, very good on my desk, with my keyboard, mouse, DAC and headphones on here.
It's awesome having enough room with my mouse to move in big arcs if it's required, not that I ever really need to do that. As a result of its texture, the things that aren't supposed to slide about on the desk -- like keyboards -- stay put and in position, until you try and move them. The mouse glides on its surface smoothly, and is very enjoyable to use.
I admit... I was slightly sceptical as to whether the mouse mat would be as easy to keep in pristine condition as they say, and whether cleaning it would be as simple as they said. To test this, I spilled a milkshake (okay, it wasn't actually planned, but I thought that I'd make good use of it) on the mouse mat, and allowed it to dry in, which left an unpleasant stain. To further worsen things, I spread some crumbs about the mouse mat too. I followed the instructions, and rubbed the stain with a damp cloth with some liquid dish soap on there, then left it to dry. When I came back, the mark was gone. The crumbs simply brushed off.
This thing actually enables me to make less noise with my typing and mouse action, too. It's a shock and noise absorber for the keyboard, which means that all you hear from the keyboard is the click of your keys; not the usual click of the keys and the noise your keyboard makes when it is hammered down into your desk.
Where can I buy this mouse mat?
Well, if you're in the US, you can buy them from a number of places. There's one available at
Directron
for $21.99. Honestly, for this price, it's a bargain. I wouldn't hesitate about buying one if I needed to replace this, if I could get it for that price.
For us UK/EU people... well, things aren't quite so easy. There's nowhere in the UK that stocks them, however
XTrac
will ship one to you directly if you
contact
them, explaining your case.
My rating:
I can't think of anything wrong with this mouse mat. Like seriously, I've tried to think of a single gripe I have with it, and I couldn't find one. You can fold it back up again, put it in its original packing fine, it cleans well, it performs well, it's comfortable to use, easy to set up on your desk, it's aesthetically pleasing... combine all that with its price, and this gets a well deserved
10/10 from me.
Special thanks to Christopher at XTrac for providing me with this. Without him, it would never have been possible.
Oh, and "XTrac" is pronounced "Ex-Track", not "Ex-Trace" as most people think.