Discussion Starter
·
#1
·
EDIT:We're in the news!
EDIT2: More news added.
EDIT3: Another news source added.
EDIT4: We are now on Tom's Hardware. I think we made every major Tech news source except Wired.
http://www.tomshardware.com/news/win...inux,8616.html
http://www.engadget.com/2009/09/08/m...yees-how-to-t/
http://www.electronista.com/articles/09/09/07/best.buy.told.to.misrepresent.linux/
http://www.overclock.net/software-news/571869-engadget-microsofts-training-materials-teach-best.html
http://technabob.com/blog/2009/09/08/microsoft-miseducates-best-buy-employees-about-linux/
http://www.dailyfinance.com/2009/09/06/microsoft-indoctrinates-best-buy-workers-with-anti-linux-lies/
http://digg.com/search?s=Microsoft+linux
http://linux.slashdot.org/story/09/0...Talking-Points
http://www.neowin.net/news/main/09/0...-targets-linux
http://blogs.computerworld.com/14687...urce=rss_blogs
http://arstechnica.com/microsoft/new...inux-users.ars
MIRROR HERE:
http://quaoar.ww7.be/ms_fud_of_the_y...-probably.html
So I work worked at Best Buy (insert boos and hisses) and I was doing some Microsoft ExpertZone training.
Well, the new one for Windows 7 allows me to get a $10 retail copy of Windows 7 after completing the courses. So I figured I'd get it and sell it for a quick buck. Its a "NFS" version... Now, during my training modules, a "Linux vs Windows 7" module appeared.
Here are screenshots of the lies Microsoft is portraying.
Okay so this one isn't so bad.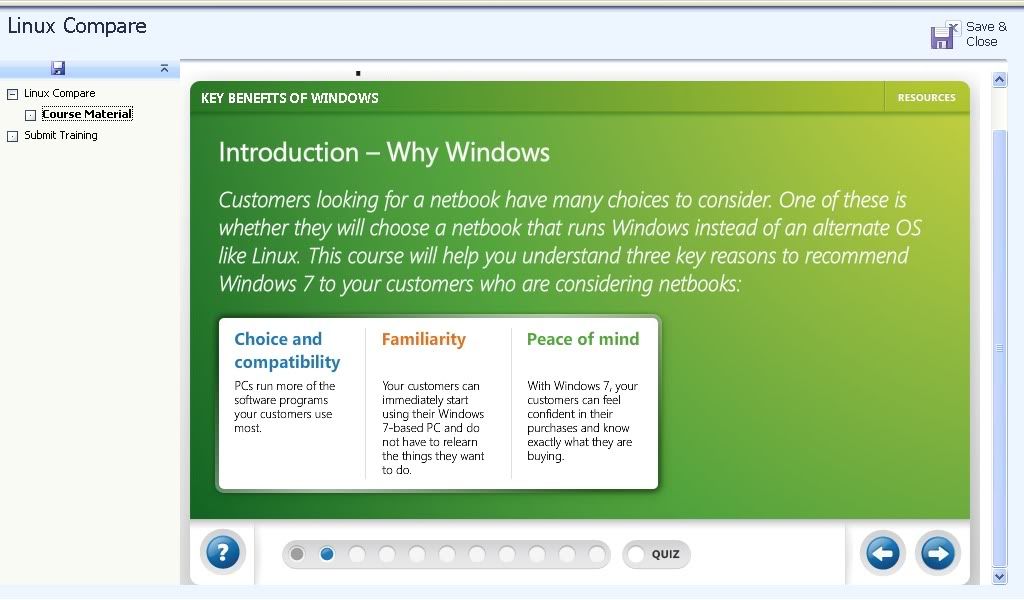 Again, this one isn't so bad either.
Okay so here's where it starts getting bad.
No iPod support?
Really?
And the Zune doesn't work on the Mac either although there has been some progress from the Linux community. And I've never had any problems pulling pictures from cameras.
I've yet to see a printer that doesn't have a driver. You might have to download it from the products website though (gasp!).
Yeah yeah. Software. Although WINE has been vastly improving lately (we even got around that stupid Secu-ROM).
There are free alternatives to all of the Windows Live "essentials".
WOW. Of all the games to mention, they mention World of Warcraft. I wrote a tutorial on how to get WoW running on Linux not to long ago. Its probably the easiest game to set up with in WINE.
Authorized support? Well you have
Red Hat
and
Canonical
, oh I guess you can count
Novell
...
Video chat with
Pidgin?
Or
Skype?
I don't have time to refute the rest, but I'll post the screenies.